Homes in the UK have a range architectural variety, the bay windows are definitely part of a typical UK home.
Bay windows are constructed to project outwards from an outside wall, this makes it important to keep it covered.
Covering your bay windows with shutters are the best way to bring the light into your indoor space, by keeping out dust. Shutters over bay windows help you get privacy in your home.
Finding affordable bay window shutters
£10 BONUS OFFER: Earn easy cash by watching videos, playing games, and entering surveys.

Get a £10 sign up bonus when you join today.

Join Swagbucks here >>
Finding your ideal fit of shutters for bay windows at your home is a task in itself. When you have a budget for fixing shutters, you have to know affordable ways to do it.
Bay windows are iconic for Victorian buildings, and it's hard to find old buildings without one of this in the UK. Homeowners and commercial buildings are choosing bay windows for its aesthetic appeal.
Bay windows give a Victorian touch to your buildings, at the same time it somehow looks really modern for homes.
Dating back to the 19th century, bay windows weren't that popular until the 1870s. But, after that since the late eighteenth century, there's no looking back for bay windows for having a place in British architecture.
The bay windows' appeal comes from the protruding three sided Victorian bay with 6-foot-high double-hung windows that projects 2 to 3 feet from the wall. This protruding projection gives the home's proper ventilation for air and light to circulate.
The most interesting upside of bay windows is that they give a look of more space in the indoors. This bonus space is ideal just to relax and bask in the sunlight. This might become problematic if it's not properly covered, and you need bay window shutters for this.
Why not just curtains?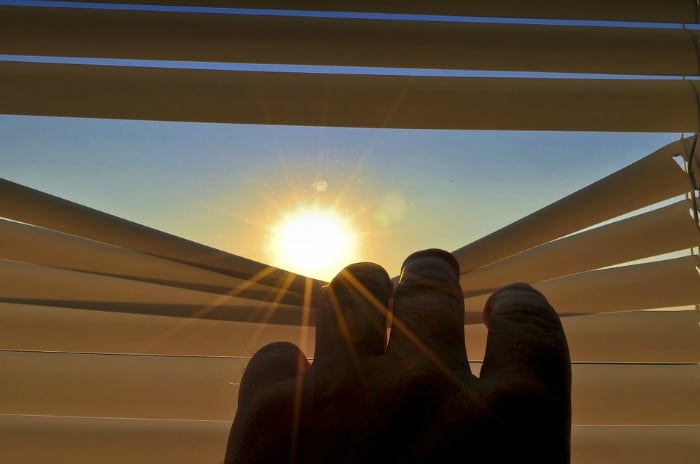 You might be wondering why not just fix curtains or blinds to a bay window, but the special construction of bay windows makes it complicated to fix curtains.
The curtains require special rails, and it can be quite tricky to fix this. The blinds can become fiddly over the multiple window panels.
This makes shutters ideal for bay windows, they can be flexible to fit different windows of all types of styles, sizes, and shapes.
Two most common shutters used for bay windows are tier on tier shutters and wooden shutters, these give you open space indoors and privacy from outside.
The bay window shutters provide a level of security since a bay window can be a pretty big space to enter your home and shutters keep that option away.
The large spaces will be completely covered to protect you. If you are thinking not to install bay windows thinking about its accessibility from outside, you shouldn't worry if you have a bay window shutters.
Affordability of bay window shutters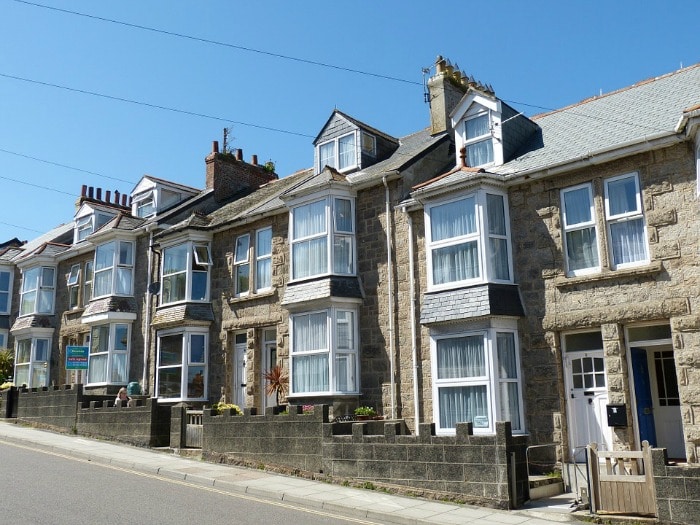 If you are thinking about hiding your beautiful bay windows with heavy curtains you'll lose so much light and air, so think again.
All you need is to find the right bay window shutter supplier that is cost effective and gives you the correct fitting for the windows.
Shutters give you choices to keep it dark inside and have privacy or bring in light and air.
However, finding the right place to get bay window shutters should be finalised by considering the cost that each shutter providers are ready to install bay window shutters.
Generally, it's thought that it's a bit costly to install shutters in bay windows, but if you consider a high-quality curtain including its rails, accessories and service cost, then shutters have the same cost.
Given all the advantages of shutters, it's an excellent option to consider even if it's slightly costly at first.
Window shutters can be a long term part of your home, unlike curtains which have to be changed periodically.
If you think about the added value in the real estate angle to your home, then shutters become all the better option. This is ideal to give your home an added selling point to improve the appeal of your homes.
Affordability goes hand in hand here with the advantages of bay window shutters.
Advantages of installing shutters for bay windows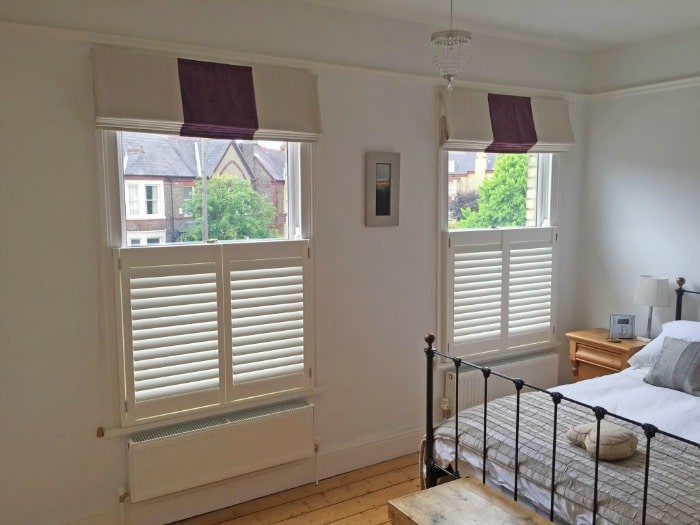 1. Insulation for rooms are improved by bay window shutters
Bay window shutters provide natural insulation for indoors.
The darkness while closing shutters give you heat and protect you from the cold winters of UK.
When you close your windows at night, the heating requirement drops drastically.
If you are wondering whether it'd be hotter in the already warm regions after closing the shutters, then you'd be relieved to know that the shutters will keep indoors colder when it is hot outside.
2. Bay window shutters keep indoors private and cosy
The large bay windows often raise the question of privacy.
You won't worry about privacy after installing bay window shutters as it gives proper coverage from the outdoors.
Curtains or net curtains can let people on the outside see into your private space, but shutters just give protection.
3. Easy to clean the large bay windows and its shutters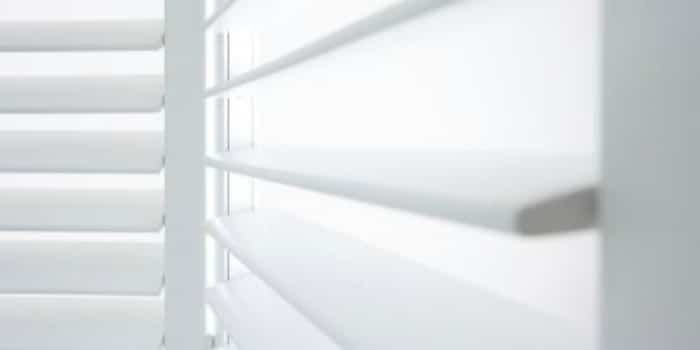 It's a gruesome task to wipe off the dust from curtains and rails.
Think about removing all the large curtains of bay windows, wash them periodically, dry them and then reinstall it again. It just takes a lot of effort to do that.
But when you install bay window shutters, you can avoid the washing, drying and then reinstalling it.
You just have to clean it with a wet cloth, once in a while, and that's it.
It doesn't take a lot of time and energy to clean the shutters.
4. Add value to your home in the real estate market
The bay window shutters are an eye-catching attraction for homes, and they add to your home's value in the real estate business.
If your neighbours have a big bay window without shutters and you have one with shutters, yours will definitely be worth more for a long term.
This makes the bay window shutters an investment to raise the value of your home.
Jake Strong from the shuttercraft.co.uk explains that choosing the right shutters or blinds for your home can increase the resale value by more than triple the cost of the shutters themselves.
5. Noise control of shutters are unmatched
Curtains don't actually help to control noise from outside, but window shutters just shut out all the outside noise.
There's no better solution if you're living in a busy neighbourhood or you just want to keep noise out of your home than to install window shutters.
6. Added aesthetic value to the Victorian look of bay windows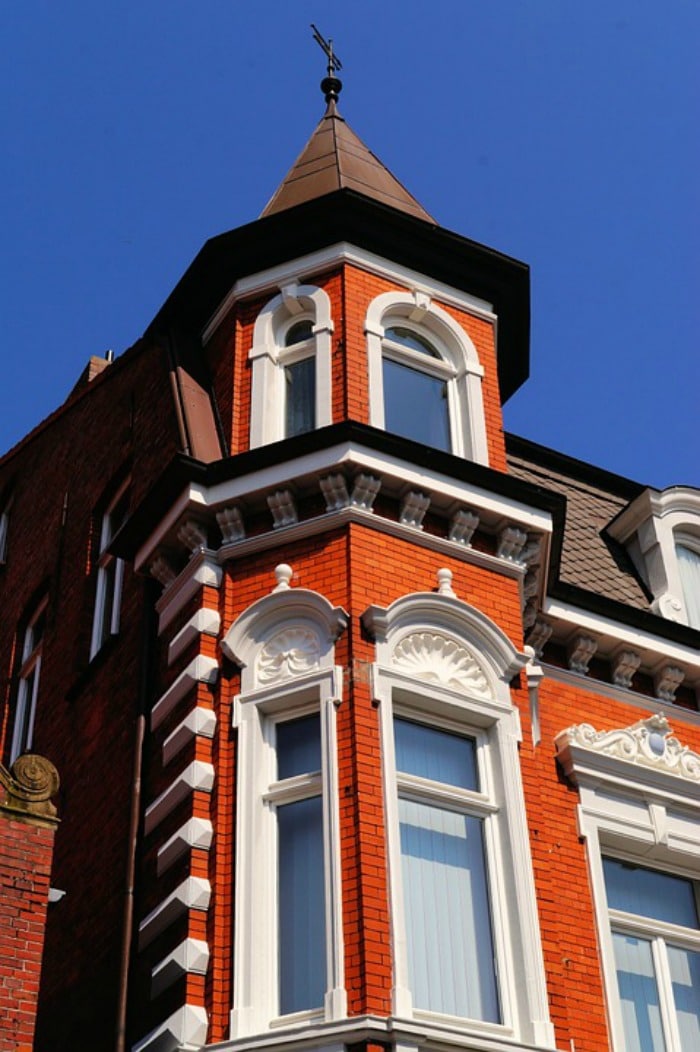 The curtains and blinds won't do justice to your beautiful bay windows.
The windows are part of English history and architecture, why cover its aesthetic appeal?
Flaunt your Victorian piece of architecture in your homes and commercial spaces by adding these simple bay window shutters.
7. High durability of shutters
Most shutters are known to last for a long time, anywhere from five years to twenty years.
This is a testament to its quality and high standards.
You don't need to change them very often, and the bay window shutters still add value to your home.
8. Make it a DIY project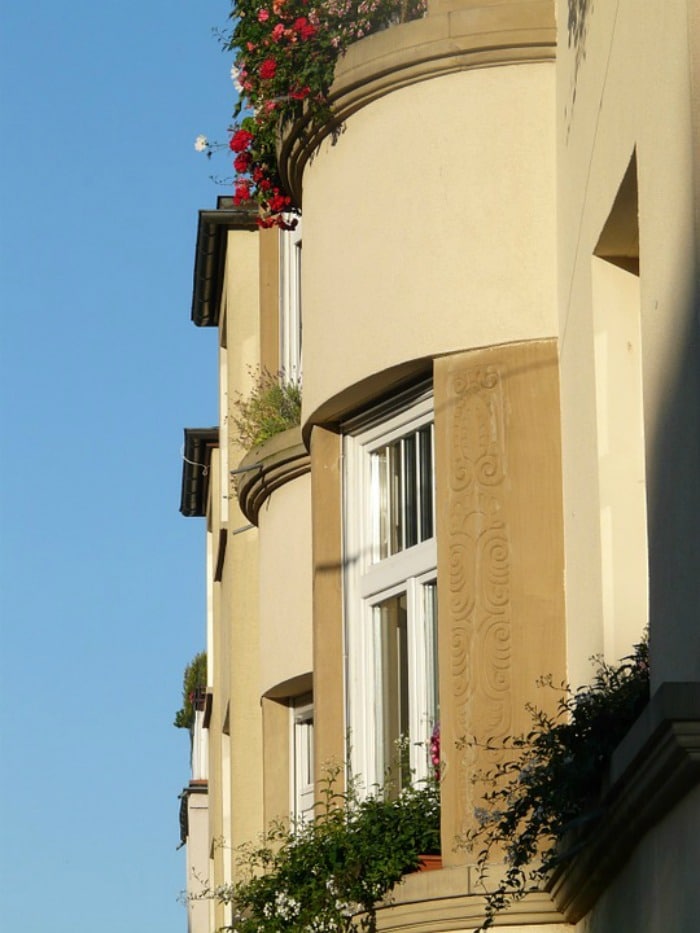 If the shutter manufacturer provides the complete set necessary to install window shutters with a set of direction, then you can definitely install it on your own.
This reduces the price point of installing bay window shutters, all you have to do is to follow instructions carefully.
However, if you think it's too complicated to do it on your own then choose a good shutter installation company to do it for you.
9. Customisation of shutters
The shutters need not be plain and simple, but it can be painted to go with the walls and interior.
This is such a great way to beautify your home by bringing in the other advantages of shutters like controlled lighting, privacy, and insulation.
10. Different types of materials available for bay window shutters
Window shutters come in different sizes and varieties, the range of materials used in shutters vary from MDF based products to real wood shutters.
MDF is a high grade, composite material which performs even better than solid wood. It is made from recycled wood fibres and resin.
These products are then machine pressed to produce dense fibre boards. The MDF boards are more stable than solid wood, and they perform better under heat and humidity.
MDF based shutters are not suitable for large window installations, but it is ideal for small to medium sized windows. MDF boards come with a polypropylene coating to make them last longer against heat, rain, and snow. It is better to use shutters based on real timber for large bay windows.
The woods used for shutters include teak, pine wood, cedar wood, redwood, and even mahogany.
Most common types of affordable bay window shutters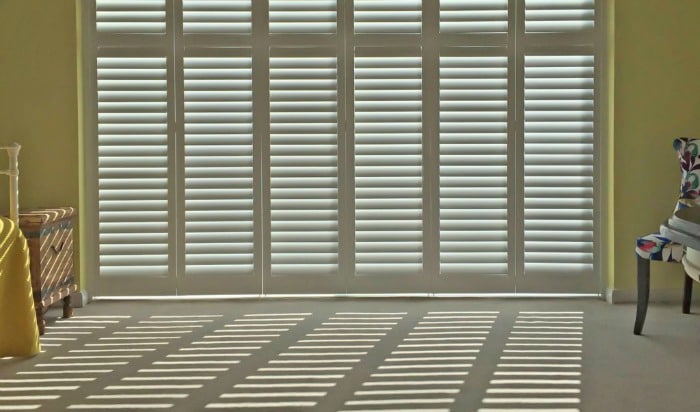 Bay windows are most commonly found as angled three sections of windows protruding to outside.
Covering these windows in perfectly fitted shutters are a task to fulfil.
There's a need to understand the different types of bay window shutters for all of the three types of bay windows. Consult your supplier for finding the right fit for your window.
Make sure you get your manufacturers to take the correct measurements and fix the shutters perfectly fitted on to the window panels.
Choose the material, colour and features you need in your window shutters and get them customised to blend in your home.
Types of bay window shutters for different kinds of bays include:
Curved bays which have a curved finish, and calls for highly customised shutter shape. It is possible to cover this kind of windows with shutters more easily than imagined.
Bays with eight sections are beautiful to have in homes, and these are possible to be covered by window shutters.
Bay windows with several sections in squares or box-shaped structures are covered with shutters in all these sections.
You can choose the different types of shutters for your bays.
The most common types of shutters used to install in bay windows are: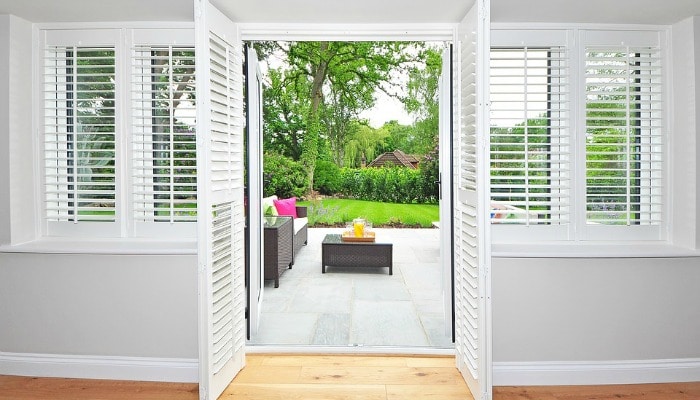 Solid panel wood shutters are ideal for period homes and modern homes. They definitely give you a highly poised Victorian look to your homes. These shutters are strong, sturdy and long lasting. Wooden shutters give you more security and keep your rooms really warm. The cost of wooden shutters is, of course, higher than the other options.
Tier-on-tier shutters can cover the entire windows, and they are ideal for really long windows. These shutters come in a range of options to control light and privacy in rooms. These shutters can control the opening of each component of shutter giving you a lot of control.
Cafe-style shutters can cover only the lower portion of bay windows. This style gives you plenty of light while maintaining your privacy. These shutters can also be with curtains.
Full height plantation shutters offer a simple and elegant look to bay windows. This type is gathering a lot of popularity in the interior design community.
Bay windows are visually appealing, and it adds value to your home.
Don't hesitate to install window shutters for bay windows by thinking about cost.
They come in different varieties and a lot of different options.
You can get customised shapes and sizes from shutter manufacturers. There's an option to get the shutter boards painted, and it has really long durability.
Why go for curtains and rails which diminish your window's appeal while you can make it look Victorian and regal, yet simple.
The shutters are a great way to add insulation and security to your home.
The indoors remain warm and noise-free when the shutters are closed, removing the security issue one might raise having a large open bay window in your home.
Manufacturers usually give a minimum warranty of five years, and this shows how durable these shutters are.
The bottom line is that you get so many practical advantages and aesthetic appeal to your bay windows.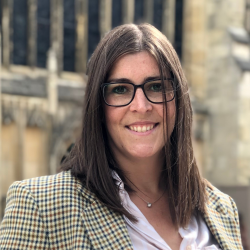 Latest posts by Naomi Willis
(see all)