I'm thinking about sending my daughter abroad for the summer, and I'm wondering – are summer schools really worth it?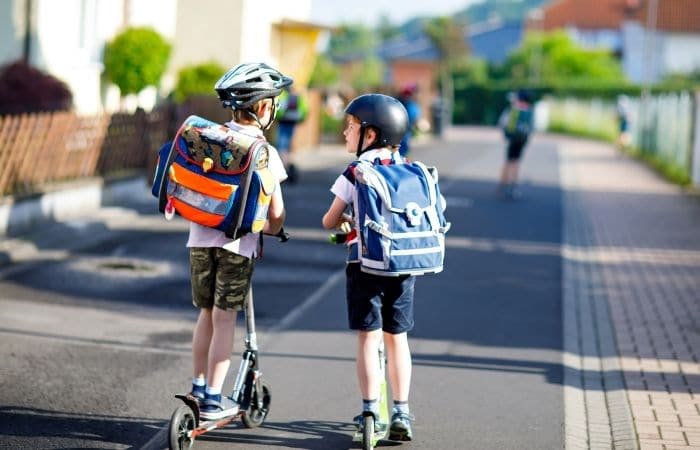 £10 BONUS OFFER: Earn easy cash by watching videos, playing games, and entering surveys.

Get a £10 sign up bonus when you join today.

Join Swagbucks here >>
The chance to experience amazing new cultures, gain new skills and find your direction in life. It sounds tempting! However, summer schools are often expensive, and you might wonder if they're really worth your time and money.
What are summer schools?
For those who don't know (and I was one of them, until recently), summer schools are courses for students during their summer vacation. They usually last a week or more, and offer tuition in different subjects, as well as activities and trips. Often, students will live on-campus at a school or university.
Summer schools come in all shapes and sizes, from programmes for younger students and those at secondary school, to undergraduates and adults.
Why do students attend summer schools?
I looked up the common reasons students attend summer schools, and they are:
To improve grades, or gain extra preparation for upcoming exams.
To stand out on university applications. Students may put their experiences at summer school on their applications, to show they've gained knowledge and taken initiative outside of school.
To increase career prospects and transferrable skills for the future.
To improve the chances of getting into a better university.
Fun! The chance to look into subjects you're interested in, and go on extracurricular trips and activities in a new country or city.
Are summer schools worth it?
After looking up the reasons students attend summer schools, I still had some questions.
So, I did a little research and looked into eight summer schools around the world. I've listed their prices and age ranges. I've also explored their tuition, cultural programmes and activities.
Let's find out whether summer schools offer enough value for the future to make them worth considering.
(The information on these courses may change subject to Covid-19 developments).
Hong Kong
The Chinese University of Hong Kong offers summer schools for both undergraduates and secondary-school students.
What do they offer?
Secondary School students
CUHK offers the Summer Institute course for secondary school students. This 5-10 day programme allows young learners to explore teaching and life at university. The Summer Institute "challenges students' inquisitive minds", and allows them to explore a variety of different subjects.
Undergraduate students
CUHK offer the Summer Undergraduate Research Programme for international undergraduates. You'll do research for eight weeks with the support of a world-class CUHK academic. You'll be able to develop research skills and knowledge in your areas of interest.
Prices
Summer Institute
Summer Undergraduate Research Programme
Help with costs
CHUK offers a financial assistance scheme.
Is it worth it?
CUHK has a world-class research team. A big plus for CUHK is also their location – a chance to explore one of Asia's most famous and vibrant cities (Hong Kong) is a once-in-a-lifetime opportunity for many.
Oxford, Cambridge, Imperial College London, St Andrews (UK), and Yale (USA).
Oxford Royale Academy (ORA) is one of the UK's leading summer schools for international students. ORA gives you the chance to experience life as a student of an elite institution.
What do they offer?
A once-in-a-lifetime experience of a world-class university, and the chance to shape your future in historic settings. ORA offers world-class tuition with top academics. They also have very small class sizes, so that you can get the best of your tutors' expertise. ORA has a wide range of courses for ages 8-19+, from Robotics and Cryptocurrencies to Business and Architecture.
ORA offers a high number of contact hours (around 40 a week), meaning that students will have constant access to the latest thinking. You'll be able to study subjects that you couldn't do at school, such as iOS app programming.
ORA is also prepared for the uncertainty of Covid-19, with a strong digital learning programme.
Prices
Help with costs
ORA does offer scholarships to students, but these are currently suspended due to Covid-19. Check their Scholarships page for updates.
Is it worth it?
ORA courses are expensive, but you're paying for an experience that will inspire you for the rest of your life. ORA promises the authentic experience of a top university, from your dining experiences to the famous libraries you'll study in.
Studying on the campus of a world-class institution could spark an interest in a subject that motivates you to apply for top universities, and map out your career. You'll have lectures and debates in famous locations such as the Sheldonian Theatre, and enjoy a prestigious graduation ceremony to celebrate your hard work.
South Korea
Korea University International Summer Campus (KU ISC) offers you the chance to study in Korea, and have immersive academic experiences.
KU summer courses are for students in a college or university with at least one semester of attendance. KU ISC also offers a Pre-College programme, for high-school students.
What do they offer?
KU ISC
KU ISC offers a world-class education with "renowned academics", and a semester's load of study in four or six weeks. KU ISC tutors are often academics from the world's top universities, including University of Cambridge and Stanford University.
A wide range of courses which focus on international issues. Subjects include:
Business
Economics
Humanities
Fine Art
International Relations
Science
Korean Studies.
The chance to experience the famous culture of Korea. Students will go on trips to places such as Gyeongbok Palace, Lotte World and the Demilitarized Zone (the strip of land separating North and South Korea – one of the most heavily guarded places on earth). Students will also have extra-curricular activities such as Taekwondo and K-pop dance.
KU Pre-College
KU pre-college allow high-schoolers and high-school graduates to experience university-level teaching, ready for their future in higher education. Students will have lectures and classes by scholars from prestigious universities, including the University of Cambridge and Cornell University. Courses include:
Critical Thinking and Writing
Introductory courses in humanities
Social Sciences and Natural Sciences
Students will also enjoy special activities and events, and get to know the unique culture of Korea.
Prices
Tuition from: USD 1,480
Accommodation from: USD 530
Help with costs
Early Registration Discounts
Re-Enrolment Benefit
Scholarships (for international fee-paying students only)
Is it worth it?
KU ISC and KU Pre-College do seem like high-quality courses, if you want explore the fascinating country of Korea. Their courses offer credit, which you can generally transfer to your home institution.
KU also offers internships at companies and organisations in Korea. Getting work experience in another country and culture is definitely a great opportunity.
Australia
Summer schools for teaching English are very popular. English is the most spoken language in the world, so it makes sense that parents who would want their kids to have this useful skill. Kaplan English School in Sydney offers a variety of English programmes, from courses in business English, to support with English exams.
What do they offer?
The chance to learn English in the beautiful, dramatic and world-class city of Sydney. You'll enjoy Sydney's beaches, stunning gardens and unmissable museums. You'll have a large study centre, a library, student lounge and barbecue. Sydney English school offers classes such as intensive English, Cambridge Exams and IELTS Exam preparation.
Prices
Help with costs
Kaplan does offer some financial aid, but you have to be a US Citizen.
Is it worth it?
Kaplan English School in Sydney does boast a stunning location, with beautiful beaches and cultural landmarks. They offer a social programme to help you explore the city and build friendships.
However, I'd be more likely to choose a summer school which explicitly states that it has world-class tutors, in a strong, academic setting.
Canada
VCG International College Teen Summer Camp offers two courses for teens. These are: High School Preparation (an English language course), and the Young Executive Programme (courses in business skills).
What do they offer?
High School Preparation Programme (ages: 13-18)
A "complete Canadian adventure", where you'll have English language lessons, and experience Canadian culture. You'll have a full day of studies, and learn English that is relevant to the daily life of a teen.
You'll also get the chance to experience Canada's famous wilderness. You'll enjoy swimming in pristine lakes, canoeing, campfires, and the taking photos of the stunning Rocky mountains.
Young Executive Programme
Three individual two-week business programmes – Leadership, Entrepreneurship and Marketing through social media.
You'll enjoy the same structure and opportunities as the High School Preparation Programme.
Prices
Help with costs
You can also find out about help for costs on the VCG Teen Summer Camp website.
Is it worth it?
The outdoors elements of VCG's summer school is exciting. The combination of rigorous study, with swimming in lakes and canoeing, is a very attractive prospect. Academics and English learning also seem sound. By the end of the course, students will gain the skills to communicate effectively in English and gain a good knowledge of different academic subjects.
USA
Harvard Summer School is extremely prestigious, given its connections to Harvard: the highest ranked Ivy-League school. Founded in 1871, it offers summer courses for high school (secondary school) students, and adult and university students.
What do they offer?
High School Students
The chance to immerse yourself in university-level academics, at a world-famous institution. You'll be taught by by Harvard academics and their colleagues at other top universities. Harvard Summer School offer high school students either a two-week or a seven-week programme.
Adult and University Students
The chance to achieve your academic and professional goals, in a world-class, Ivy-League setting. You'll enjoy a wide range of courses. These include:
Arts, Writing and the Humanities
Computer Science
Foreign Languages and Literatures
Sciences
You'll learn from Harvard faculty and industry experts, build your network, and access Harvard's renowned libraries, museums and computer labs.
Harvard Summer school also offers a rich array of concerts, dances and sports activities to students. You can row across the Charles River, enjoy Harvard's gym facilities, and orchestras and bands. For budding writers, and poets of the future, there's the Harvard Summer Review, a literary journal which highlights students' writing.
Prices
Help with costs
Harvard Summer School offers scholarships to students on its Secondary School Programme.
Is it worth it?
The course is undeniably pricey. However, you're paying for an experience that is totally unique. The chance to immerse yourself in an institution as renowned as Harvard with its historic and academic tradition, could inspire your future in unexpected ways. The tuition you get at Harvard will be truly top-notch, with academics who are matchless in their field.
Germany
Schloss Neubeurn offers a boarding school experience for students ages 12-14. You'll live and study in a fairy-tale castle, nestled in the magical Alps.
What do they offer?
A chance to experience life at one of Germany's leading boarding schools. You'll wear uniform in class and enjoy an enriching two weeks of lessons, project work, sport and creative activities – just like a real border at Schloss Neubeurn. You'll learn with the latest technology during class and then have screen-free time, with activities such as high-ropes, coding and robotics in the beautiful surroundings. Classes are no more than eight pupils, meaning you'll get the most out of your teachers' expertise.
Prices
Help with costs
Contact the school if you have any questions about finances.
Is it worth it?
Schloss Neubeurn's summer course is aimed at students who might want to become full-time boarders at the school. It offers some incredible experiences (the chance to stay overnight at the school's own hunting lodge on Heuberg is a particular highlight). This summer school has a very specific target group – parents of children aged 12-14 who are interested in international boarding schools. If this is the case for you, Schloss Neubeurn looks like an amazing and productive way to spend a summer.
Paris
The American University of Paris (AUP) Summer School gives you the chance to immerse yourself in French culture, and earn credits towards your degree.
What do they offer?
A mixture of intensive learning in class, and the chance to explore the world-famous city of Paris. You'll engage in lively discussions and debates and enjoy rigorous workshops with professors and students from around the world. Courses include:
Art History, Fine Arts and Film
Fashion and Luxury Branding
International Business
International Journalism
French Language and Culture
Genocide and Memory Studies
Is it worth it?
The American University of Paris offers an amazing chance to explore Paris, one of the world's most famous cultural cities. AUP's courses sound really fascinating, and I imagine they would be even more interesting to study in Paris, an epicentre of art, fashion and business.
After researching these different summer schools, I've realised something. Summer schools are definitely worth it. The chance to have high-quality teaching in subjects you might not encounter at school, and accelerate your confidence and skills in a challenging setting, offer huge positives for the future.
The summer school you choose depends on the experience you're looking for. If you just want some good teaching in a safe environment, with some cultural activities, you might choose a cheaper option. However, if you want a unique and authentic experience in matchless, world-class settings, you might decide to invest in schools like Harvard Summer School and Oxford Royale Academy.
Latest posts by Skint Dad Contributor
(see all)