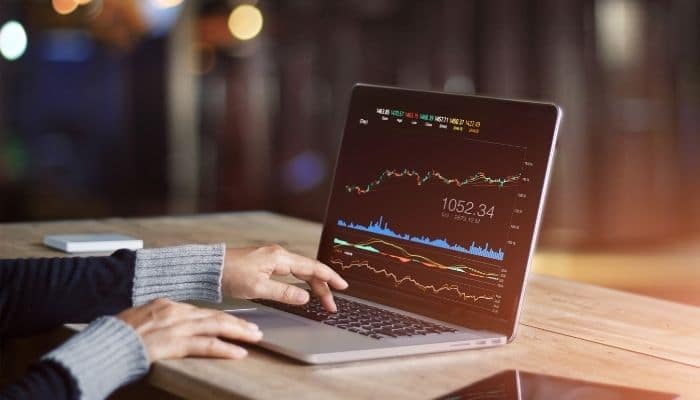 £10 BONUS OFFER: Earn easy cash by watching videos, playing games, and entering surveys.

Get a £10 sign up bonus when you join today.

Join Swagbucks here >>
Stock investment can be a daunting prospect, especially for newcomers.
Some look at the markets and simply view them as complicated — the task of buying stocks, monitoring prices, and timing sales seeming like too big of a job for an amateur.
Others look into investments and consider it akin to gambling (an understandable outlook, though one founded on some erroneous thinking).
Whatever the reason, the bottom line is that stock market investment can be intimidating, and this can dissuade some from using these markets to grow their wealth.
The best way to get around these questions and doubts is to take the time to learn about investments, study the markets, and ease into things slowly.
Like so many other things, investment becomes somewhat less intimidating the more knowledgeable you become about it.
That said, another way around some of the popular concerns market newcomers have is to find ways to simplify investments.
This can mean looking into methods slightly different from regular trading, such as some of the following:
App Trading – App trading is quite literally just another way to buy and sell stocks, meaning that in some respects it's the same as what we might call "ordinary" investing.
However, it can still be a little bit easier for newcomers because of some of the factors involved.
The best investing apps will now allow users to set up accounts and start trading with very small amounts of money.
They also offer automated tips and advice, in some cases, and in many instances, they don't charge fees for transactions.
All of these factors make for somewhat softer conditions for beginners and can be helpful in facilitating a gradual introduction to market investment.
Options Trading – The idea of trading through options is quite simple: a buyer has the right to purchase an asset at a set price by an agreed-upon date (and a seller can do the same in reverse).
This is a form of what's known as "derivative trading," and it provides a twist on investment that a lot of newcomers will appreciate.
That twist is that transactions are based more on predictions than timing. If you agree to be a buyer, for instance, you are ultimately buying a given asset — but you're doing so at a set price based on your own prediction as to whether or not that price will be a good value at a given point in the future.
Some view this as being somewhat less stressful than taking immediate possession of an asset and then having to choose when to sell it to profit.
CFD Trading – Another alternative investment method that is based on predictions rather than purchases is CFD share trading.
This is a method through which the direction of a share price — positive or negative, over a set period of time — will determine your return. Rather than buying shares yourself, you simply need to make a prediction and purchase a contract that represents that prediction.
It's a method that still requires significant knowledge and insight regarding the market at hand, but one that some beginners may find appealing.
Managed Funds – There are also various ways of investing in the stock market simply by buying into a fund that already exists and is managed by someone with professional experience.
This might mean paying for private management of your own portfolio by a seasoned trader or investment firm. It may mean contributing to a mutual fund, in which several people's money is managed at once.
In any case, a professionally managed fund gives you a way to build wealth in the market without having to make the decisions on your own.
ETFs – An ETF is basically a fund like the ones just described, but one that can be traded rather than simply bought into.
In other words, when you buy into a mutual fund you're supplying money that investor pools and makes decisions with; when you invest in an ETF, you're basically buying or selling a bundle of assets, as opposed to a specific stock.
Choosing an ETF is a complicated decision, and may strike some as being akin to direct stock investment.
But it's still an alternative method that can appeal to some as a simplified version of market trading.
The truth of the matter is that there are a lot of ways to attempt to profit off of stock movement!
Many who are interested ultimately wind up doing it the old-fashioned way and building up portfolios of their own.
But for those seeking other ways of investing, the ones detailed here are worth exploring.
Latest posts by Skint Dad Contributor
(see all)