The Dyson DC59 – Not Bad For A Lightweight
Last Monday I travelled to London for a blogging event held by Dyson. As well as finding out about current and future products I was also very lucky to be given a Dyson DC59 to test drive.
As a stay-at-home-dad, I am always looking for ways to help me around the home with cleaning so I can concentrate on the important stuff like playing hide and seek. So when this opportunity arose I was salivating at the thought of getting my hands on this piece of kit! (a little sad, I know).
Anyway, I hate vacuuming with a passion. Actually if I'm honest, I don't like any cleaning but vacuuming is my worst nightmare. All this changed though when I was introduced to the Dyson DC59.
Let me set the scene to what is a normal Monday morning when I have cleaning to do. I do the dusting and polishing, tidy away the toys and put on a load of washing. I then turn my attention to the dreaded vacuuming.
I call it dreaded as our current vacuum is big, bulky, doesn't pick up well and is a real pain to lug around our home. That's without trying to contend with my daughter, C, who loves to mount the vacuum, or worse pull the lead as I struggle up the stairs.
This all changed when we let the Dyson DC59 into our lives.
At first glance you'd be mistaken to think that the DC59 is a futuristic ray gun out of the Men-In-Black franchise. Yes, I admit, I've already hidden behind doors in my house, Dyson in hand, pretending that some green-eyed alien from outer space was gonna get it.
Well I can assure you it's a lot, lot more!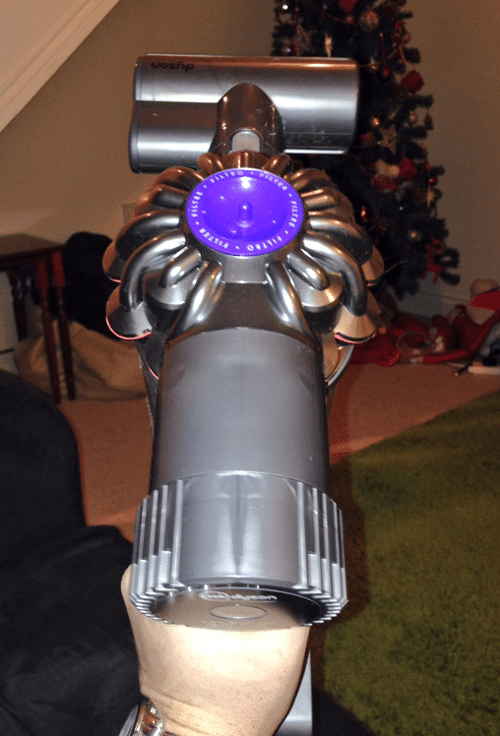 £10 BONUS OFFER: Earn easy cash by watching videos, playing games, and entering surveys.

Get a £10 sign up bonus when you join today.

Join Swagbucks here >>
No longer do I have to struggle around the house with a big clunky machine. No longer do I have to wrestle the lead off of my daughter as she tries her best to play tug-o-war.
Now I hold in my hands the power to bust-the-dust without busting a gut. The DC59 packs a mighty punch for a small lightweight piece of kit.
The first time I tried it out was after we made some more of our delicious 11p mince pies. The children helped with making them which meant lots of mess and I would normally spend ages with the vacuum trying to pick up all the crumbs and flour in the most awkward of corners.
This time with the ray-gun Dyson DC59, the job was effortless. As it's so lightweight and versatile I could easily manoeuvre into the most awkward of places – high and low. The other thing which makes this a winner in my book is that it's cordless but the power is phenomenal!
What I really noticed about my new toy is how well it picks up and how light it is. I was taken aback the first time I played vacuumed with it in the living room. I do clean. I do keep my house tidy but this little machine sucked so much dust out of my carpet. I was dumbstruck. It had got my carpet so clean so quickly and it looked much cleaner afterwards.
Next was the stairs. The long wand came off and I crawled up each step in just a couple of minutes. This was so easy.
The battery life is only 20 minutes which may not sound like a lot but I managed to get the whole house done. The machine is quite small which is perfect for storing but, I did need to empty it a few times (it didn't fill up as quickly since I've been using it more – obviously less dirt).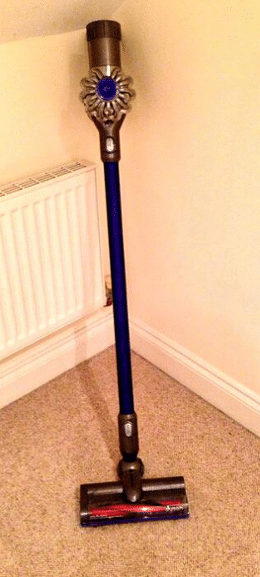 That said, the idea of using the DC59 is that you do little and often, meaning that the battery won't run out and that the bin won't get totally full. It takes the hassle out of cleaning and makes it so easy that doing 5 minutes here or there isn't a mission.
I really don't know how I managed without it before? It makes my life so much easier and my home so much cleaner. Being a stay-at-home-dad that gets to play with awesome toys is ace!
It's quite an expensive bit of kit but it's worth it. This little machine does twice what my previous clunk of plastic (that took up an entire corner of my kitchen) used to do. Being so lightweight, having no power cord, and having amazing suction this Dyson DC59 is my new best friend.
Now when the time comes to vacuum there is a frenzy in our house as who will get their turn using it. It has become so serious that we have thought about drawing up a rota!
Anyway, I must dash, I'm in line to vacuum the children's bedrooms and I wouldn't want someone else getting their grubby mitts on my new toy!
No longer am I the lightweight when it comes to vacuuming. That's the Dyson DC59's job.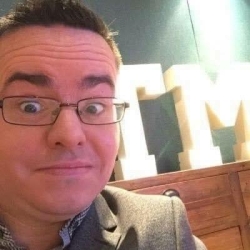 Latest posts by Ricky Willis
(see all)