Sign up for the latest eBay promotion
£10 BONUS OFFER: Earn easy cash by watching videos, playing games, and entering surveys.

Get a £10 sign up bonus when you join today.

Join Swagbucks here >>
 for the chance to make some serious cash. Just sell an item for at least £25 and eBay will give you a £25 voucher. This is a limited time offer and you need to list your item soon.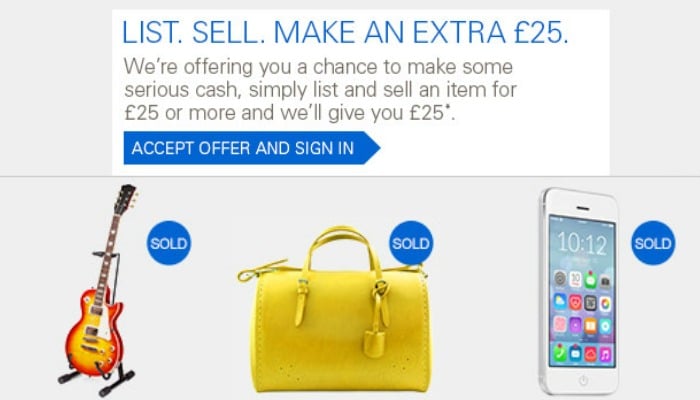 I look around my home and can see things that we're no longer using; kids toys, old games, an old mobile phone and books that we no longer read.
I don't like clutter and it's amazing how quickly our home becomes overrun with things that we no longer use, normally because we grow out of them.
A good question I ask myself when thinking if I need to part with it is – have I used it in the last six months? If it's a no then maybe now is the time to sell.
We're generally quite good with clear outs as selling our unwanted goods is a great way to make extra cash. However, I have to admit, as we've been quite busy lately, clearing out our unused stuff has been at the back of my mind.
Earn an extra £25 with eBay
I'm glad I've been holding back with the sales (and you may be tempted too) as right now you can make a bit of easy money with eBay.
They are running an offer where if you create a listing using an auction or fixed priced format and it sells for £25 or more, they will give you a £25 eBay voucher!
For the more active users, you will have a different option and if you sell an item for £50 eBay will give you a £50 voucher!
A few things to make sure you follow:
You have to follow the link to actively opt in via the eBay RSVP link (if you don't opt in, they won't pay out)
The listing has to be live on eBay UK before 4 June 2015, and
It must sell before Sunday 14 June 2015 23:59:59
This will be for new listings only so you can't relist an item for this promotion and it's not for items sold in the Cars, Motorcycles & Vehicles and Property categories.
Just to make you aware, this offer is not available to all eBay users. If you don't meet the minimum sellers performance standards (5 or more detailed seller ratings) it will be likely that you can't take part.
If you follow the RSVP link (it will confirm if you can take part) and make the sale, the £25 voucher will be sent to you via email within three weeks after 14 June 2015.
Happy selling! Let me know how you get on.
If you're an avid eBayer then I guess you like to buy as well. Check out our useful guide on eBay outlet bargains for the ultimate saving.
Or, if you're looking for other ways to sell your stuff then read this.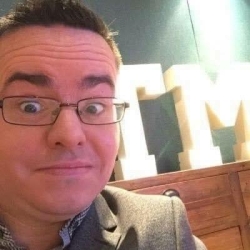 Latest posts by Ricky Willis
(see all)