While stock market trading and gambling involve elements of risk and choice to make money, investing in stocks is usually a much safer and effective method for generating long-term financial gains.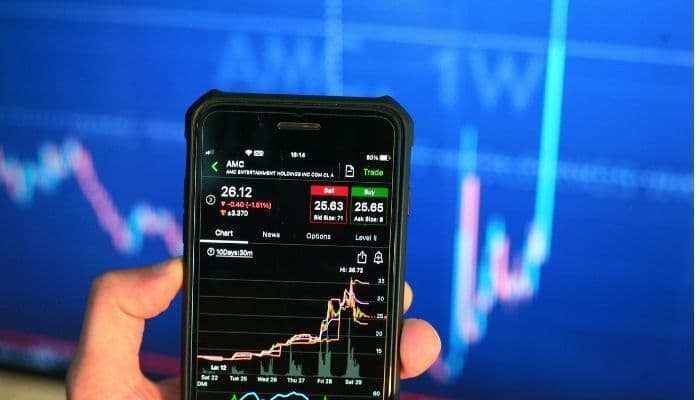 £10 BONUS OFFER: Earn easy cash by watching videos, playing games, and entering surveys.

Get a £10 sign up bonus when you join today.

Join Swagbucks here >>
That's because traders can expect a positive return on average from their efforts when making use of relevant market information and mitigating losses through strategic decision making. In contrast, there is a negative expected return on average when gambling due to the uncertain outcomes and the bookmaker's or casino's edge. Gamblers struggle to make profits consistently for this reason.
However, that's not to say that trading on stock markets cannot exhibit elements of gambling. If a trader uses money recklessly to buy stocks at random without any research and sees the activity as a vehicle to replace traditional gambling, then it can very much veer into that territory.
How does investing differ from gambling?
Investing is very different to gambling. The value of stock markets has soared during the last 20 to 30 years, so a trader who has invested with due diligence during that time is likely to have made ample returns on their investments in the market. According to a Barclays Gilt Study, British stocks have delivered annual returns of 5% since 1899. This means that stock trading is a proven method for generating cash flows consistently.
The same cannot be said for gambling. Staking money on a contingency is fraught with risks as the outcome is highly dependent on chance. While professional gamblers do deploy risk management, it is not enough to overcome the house edge, so the probability of losing is always higher. This means it is unlikely to be used by anyone as a means of securing long-term gains.
When does trading become gambling?
However, stock trading can veer more towards gambling when a trader begins to make reckless or risky decisions based on little or no market information on stocks that they may have picked at random. How a trader approaches stock trading has a notable impact on potential profits and losses, so it is possible to replicate the experience of gambling with stocks.
The recent rise of "meme" stocks has raised questions within the industry about the similarities of day trading with gambling. Notable analyst Jim Cramer said the process of trading meme stocks is "exciting" and "fun" but believes it could be a problem due to the potential losses.
He added: "If you're going to play it, I think that you can, I don't know, go to the casino. These should be offered at the casino. Why are they offered at the New York Stock Exchange?"
Traders on Reddit have recently been buying low priced stocks like GameStop (GME), AMC Entertainment (AMC) and Blackberry (BB) in huge amounts, which has resulted in significant share price rises for those respective companies. AMC is currently up 2,500% for the year-to-date.
Experts agree that trading around these hot stocks and gung-ho strategies outlined on Reddit and other social media platforms is a hallmark of market gambling. Other factors that make investing more like gambling include a focus on highly volatile, cheap stocks, very frequent trades, and short holding periods.
When a trader invests for entertainment with the target of making a quick profit in a similar way to betting, it is also a sign that stock trading is veering towards gambling. While long-term losses are possible, professional traders use stop-losses and other instruments to limit the risks.
How can I implement the right strategy?
Trading stocks is inherently risky so you should select a reputable broker for the peace of mind that your account will be secure and accessible daily. The review for True Potential Investor will give you a clear idea about what to expect when partnering with this broker. You will be able to see what account types, platforms and payment methods are available before you start trading.
To make money in stocks, it is important to implement a risk-averse strategy to begin with. That means you should be studying historical performance and current trends for stocks to inform your decisions. You should also avoid penny stocks, use stop-losses to mitigate losses, time your trades during less volatile periods of the day, and be realistic about profits.
Focusing on the long term is vital. Only when stratagems go out of the window entirely and traders start focusing on fast gains with risky stocks for entertainment does stock trading start to resemble gambling.
Latest posts by Skint Dad Contributor
(see all)