With car insurance, home insurance, pet insurance and a long list of others, do we really need to add another insurance product to our roster?
You might be rolling your eyes, but hold your horses – this one might just be worth considering.
£10 BONUS OFFER: Earn easy cash by watching videos, playing games, and entering surveys.

Get a £10 sign up bonus when you join today.

Join Swagbucks here >>
If you have an income and haven't considered income protection insurance yet, then it might be time to do so.
What if you were suddenly unable to work due to illness or injury, how would you cope financially?
If you are now wondering what on earth you'd do to keep things afloat, just keep reading.
How does income protection work?
By taking out an income protection insurance policy, you are, well, protecting your income!
It pretty much does what it says on the tin.
You can't protect all of your income.
You can typically cover up to around 80% of it, but this might make for pretty pricey monthly premiums.
Generally, people opt to cover around 30-50% of their income.
Upon making a successful claim on their policy, they would begin to receive tax-free regular payments to the value of this percentage either monthly or annually, you can decide.
It is designed to provide you with financial relief if you were unexpectedly to become seriously ill or injured and no longer able to go to work.
Now, you might be thinking that the likelihood of this is pretty low.
And not to burst your bubble, but the statistics are pretty telling.
The Association of British Insurers reports that one million workers a year suffer a serious illness or injury that leaves them unable to work.
Additionally, a fifth of workers find themselves needing to take more than three months off work due to illness or injury at some point during their working life and one in three workers who spend more than six months off work as a result of illness or injury continues to be off work five years later.
When might I not need income protection?
Although this is an insurance product that every working person should consider, it's true that for some people, it probably just isn't worth it.
Let's say for example that you qualify for Statutory Sick Pay (SSP) from your employer and the amount it pays out would sufficiently cover your outgoings.
Perhaps you are lucky enough to work for an employer with a sick pay scheme that would give you income for 12 months or longer.
In this case, income protection might not actually be worth it.
Similarly, you might be able to get by on government benefits.
If you think this is the case, just double-check how much you could actually be entitled to.
It can often be tricky to work out.
If you are really organised, you might have sufficient savings to fall back on, or perhaps your partner or a family member would be willing to support you financially while you recover.
Lastly, you may be approaching retirement age.
In this case, perhaps you could afford to retire and take your pension early if returning to work is not possible.
Plan for the future
Of course, no one plans to fall seriously ill or injured and not be able to earn money.
But no one is invincible and anything can happen – surely the pandemic has taught us that much.
If you can afford to pay for an income protection policy, why take the risk of losing your home if something were to happen to you?
If you have children, what would their lives look like if something happened to you?
The peace of mind of income protection means that life can continue ticking along as financially interrupted as possible when things get tough.
Plus, there are all kinds of income protection policies, so you are likely to be able to find one that fits within your budget if you work with an experienced broker.
Just be careful that you don't just opt for the cheapest and then regret it if you should ever need to claim.
Whether income protection is worth it or not will depend on your personal circumstances, but it's certainly something to seriously consider.
Some might say it's more important than life insurance.
After all, are you more likely to pass away or become seriously ill or injured before retirement?
Probably the latter!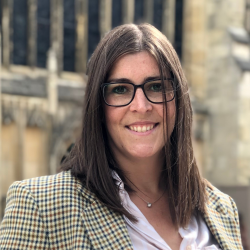 Latest posts by Naomi Willis
(see all)