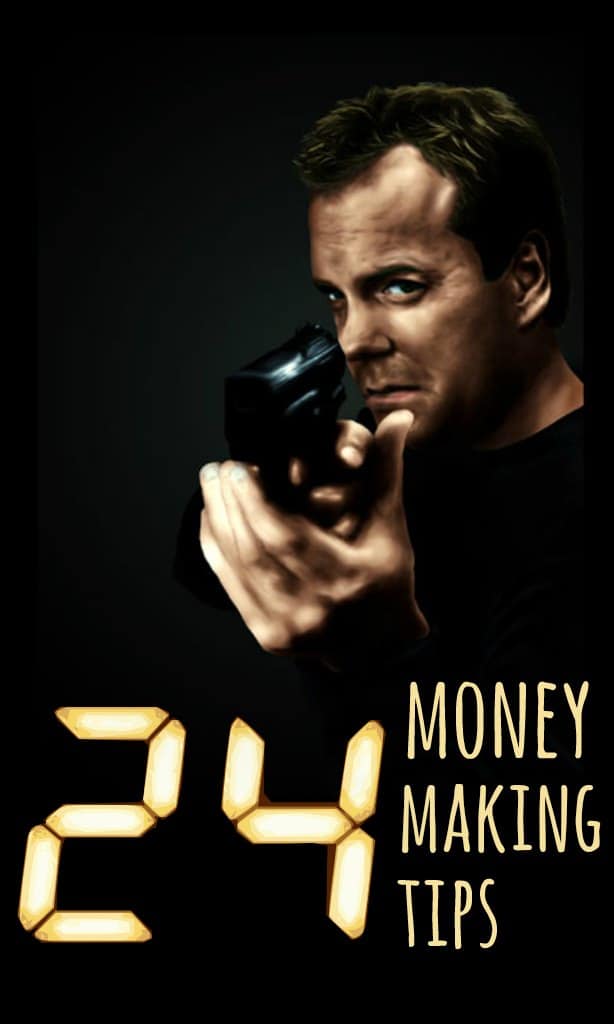 This site contains affiliate links. We may receive a commission for purchases made through these links.
[Learn more]
For those who don't watch 24 (there can't be that many of you?), Jack Bauer, who is the toughest thing since Chuck Norris broke his tooth on a dinosaur burger, sets about his day as normal until world war 3, or similar, nearly breaks out. Jack spends the next 24 hours, in real time, saving the planet.
When Jack isn't saving the planet, I like to think of him as a savvy money saver and money maker, spending his down time looking for deals, shopping smarter and making an extra buck.
Because of this, I've put together what I think would be Jack Bauer's 24 top money making tips.
You'll have to imagine the countdown beeps yourself – beep, beep – beep, beep!!
Enjoy!
24 Money Making Tips
When searching for your next target online, make sure you use a service such as Nurago who will pay you whilst you search.
To stop being tracked by the bad guys, you regularly need to change mobile phones. Don't just dump the old ones, recycle them instead with companies such as Envirofone to earn some cash.
You've been in the field for a number of years and have some amazing stories to tell. Why not capitalise on that and write an eBook. It could be a best seller!
As a Counter Terrorist Agent you have a wide range skills. Why not put this to good use and start selling gigs on Fiverr?
Being able to impersonate someone is all part of the job. This also makes you a perfect candidate to get a job as an extra in a film or TV commercial.
Your job takes you to some of the most exotic places in the world. While you're there, take some amazing photos which you can sell on places such as iStock or Fotolia.
So your assignment means that you're away from home weeks on end. Take advantage of not being there and rent out your car parking space. Easy money!
Knowing when someone is telling the truth or not is a speciality of yours. Put this skill to good use and earn some extra money by becoming an interviewer.
Chasing bad guys keeps you in tip top shape. To use this uber fitness to enable you to up your income, offer one-to-one personal training sessions in your spare time.
You've been in plenty of nasty fights and because of this you're not scared of hospitals. Use this to your advantage by taking part in medical trials which can top up your earnings!
So you've been in the Outer Hebrides for months on a secret mission. Whilst there you didn't have a haircut and you're in need of a trim. Don't just cut it off and throw it away. Instead make some money by selling it.
Being an undercover agent means you need easy access to cash. Over the years you've had numerous bank accounts which you may have left some cash in. Use My Lost Account to find those lost bank accounts and get that cash back.
Once you retire as a spy, instead of keeping those juicy mission stories to yourself, why not sell them to a newspaper or magazine. You don't have to use real names.
You've had some pretty close shaves in the past and have been lucky to escape from serious situations. Use that luck and start entering some competitions. You never know what you might win!
Travelling all over the world has made you an expert on languages. Why not work as a freelance translator in your spare time?
Your job involves plenty of mystery which you can put to good use by signing up and become a mystery shopper – they'll never see you coming….
You travel light which means you have room for a suitcase or two. Make money by buying lost luggage at auction and selling it on.
Because you are away from home a lot, let out any spare rooms to lodgers or host foreign students. Just tell them you are a travelling salesman if they become suspicious.
All the supplies (and there are plenty of them) bought by you quickly add up. Why not use a cashback credit card and make some money in the process.
So you're a bit of a Jack Bauer wannabe, maybe you look like him too? Rake in the cash as a celebrity look a like at parties, events or even supermarket openings!
Nimble fingers and being quick on the pulse not only makes you an expert spy but an expert gamer as well. Put this to good use and make money playing video games.
Being a weapons expert, you know how to keep your gear super clean – why not start up your own cleaning business and clean other people's stuff too.
There's a fine line between being on the right and wrong side of the law. With those rugged, don't mess with me looks, why not get paid to take part in an ID parade. Try calling your local police station for more details.
You're a master of the set up and capturing the bad guys is your thing. Capture the moment on camera and, if funny enough, earn £250 if it's featured on You're Been Framed.
If you have a special set of skills, what other ways can you think of to make some extra cash? Let me know in the comments below.
Photo: flickr
Latest posts by Ricky Willis
(see all)