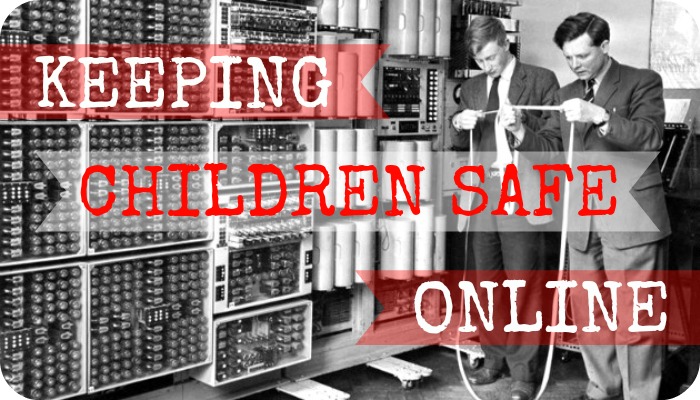 Today's post is a little bit different to the normal 'how to save money' content I usually write. I have been reading more and more about how we should be keeping our children safe online and I wanted to share some helpful content with you.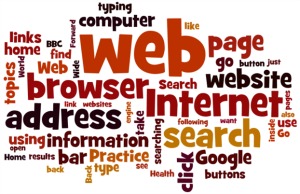 We all love the internet right? Well of course we do as you wouldn't be able to read The Skint Dad Blog otherwise ;-). I was lucky in the sense that from a young age I'd always had access to a computer and when the internet came along I was able to embrace it with both hands.
Today though, every child will know the internet as part of normal everyday life. Technology has moved so fast over the last 15 – 20 years and for my children being able to read about their favourite bands, watch funny cat videos, chat to friends on Facebook or play games against opponents on the other side of the world is the norm. I'm happy for this to happen as well.
I've always embraced technology and to me the internet is the biggest teaching resource in the history of the world. I mean, who wouldn't want their children to experience this! And although I'm happy for Chloe to use my phone to connect to CBeebies or Daniella to join the virtual world of possibilities that is SmallWorlds, there's still a part of me that worries if they are safe.
Keeping Children Safe Online
Without scaremongering, we all know the potential risks. Whatever steps you take, you cannot guarantee that your children will be 100% safe; whether someone tries to connect to your child online or your child comes across content online that she/he should not be subject too – whatever steps you have put in place (apart from not letting them online) things can still happen.
So what can we do?
Well I was recently in touch with the antivirus and internet security company Kaspersky Lab and was able to put some questions to David Emm who is their senior security researcher (see below). Within the answers are golden nuggets of advice and hopefully after reading them you'll know a little more on how to keep your children safe online than you did previously. As an added bonus, Kaspersky Lab have provided me with two copies of their security software PURE 3.0 to give away. You can enter for a chance to win a copy below the Q&A.
Kaspersky Lab Q&A 
Other than installing anti-virus software, what simple things can I do to protect my children and computer?
Share their online experience at a young age, so they know you're as involved in this aspect of their life as any other.  This establishes a dialogue about online experiences that will mean that, when they use the Internet independently as they get older, they will understand the risks and will have absorbed the 'online common sense' that you've developed when  they were younger.
Talk to them about the potential dangers. e.g. explain the importance of passwords and keeping personal information secret; and that, just as in the real world we don't talk to strangers, they shouldn't do so online either.
Encourage them to talk to you about their online experience and, in particular, anything that makes them feel uncomfortable or threatened.
Set clear ground-rules about what they can and can't do online and explain why you have put them in place.  You should review these as your child gets older.
Use parental control software to establish the framework for what's acceptable – how much time (and when) they can spend online, what content should be blocked, what types of activity should be blocked (chat rooms, forums, etc.).  Parental control filters can be configured for different computer profiles, allowing you to customise the filters for different children.
My children like to play online games, which I do monitor and try to limit, but how can I let them have their fun without coming across too strict?
It's important that the controls we set on our children's online activities don't come out of the blue, but are an organic part of a dialogue we have with them from a young age.  That way, they seem less like arbitrary impositions than protective fences.   The types of control and monitoring will vary depending on their age.  But it's important to use the age restrictions that are available on tablets/smartphones, games consoles and online portals like YouTube.  Think also about the financial aspect of this too – by using the available controls to prevent in-app purchases.
What are the different dangers between hand held devices, like phone and tablets, compared with desktop and laptop computers?
There is a common misconception that smartphones and tablets don't need the same level of protection as a PC, but this way of thinking needs to change. Just because a threat is out of sight, it doesn't mean we shouldn't keep it front of mind. Protecting children from cyber bullies is especially challenging with smartphones as they can be targeted in so many ways, especially out of view of their parents. Deal with cyber bullying as you would in real life by encouraging children to be open and talk to a trusted adult if they experience any threatening or inappropriate messages. Numbers and contacts on apps can both be blocked if they are making children uncomfortable.
Is there such thing as 100% safety online?
No, there isn't.  First of all, because those who wish to cause harm (steal our money, steal our online identity, harm our children) are always looking for new ways to do it.  Since technology is always changing, it offers new ways for them to operate.  Second, there's always a human aspect to security, i.e. all too often it's something we do, because we're caught off-guard, which jeopardises our own security, in spite of technology that's there to keep us safe.  That's why it's really important that we all take steps to understand the nature of the threats that we face online, understand the methods used by cybercriminals to harm us and ensure that we don't become the weakest link in the security of our computers.
If my children come across something inappropriate, what action should I take?
I would say it's important to talk to them about what they've seen or experienced, explain that the Internet is full of good things but that there are also not so nice, grown-up things that aren't meant for children, and that there are those online who try to take advantage of children.  Use it as a springboard to stress how important it is for them to share with you anything that makes them feel uncomfortable.
There are so many products on the market when looking for anti-virus or security software, what type of thing should I be looking for when choosing a product?
Always choose a product from a reputable vendor, rather than clicking on random popups or link on web sites – these can install fake products that do not protect your computer and may steal your card details and other personal information.
Choose a program that is comprehensive.  We sometimes use the term 'AV' or 'anti-virus' as an easy description for security software but make sure you use a program that goes beyond simple anti-virus and includes a firewall, anti-spam and other proactive defence technologies (e.g. safe banking module, application control or whitelisting, heuristics, etc.)
Before using a free anti-malware product, consider what you get – it is unlikely to include the comprehensive features that a paid-for Internet security product or technical support provides.
Look at the results of independent test bodies like AV-comparatives (www.av-comparatives.org) or AV-Test (www.av-test.org), to check that the product has a consistent track record in independent tests.


As promised, you can enter to win a copy of Kaspersky Lab's PURE 3.0 Total Security software below. The competition will run for two weeks starting from today and there will be two lucky winners receiving a copy each. Good luck and stay safe!
Like what you've read? Wanna read more? Well click here, sign up to my newsletter and get every future post delivered straight to your inbox. 

Latest posts by Ricky Willis
(see all)