What price would you put on keeping your family & home safe and secure? Well it's this question I asked myself when Panasonic recently got in touch to see if I would like to review their very clever Smart Home System.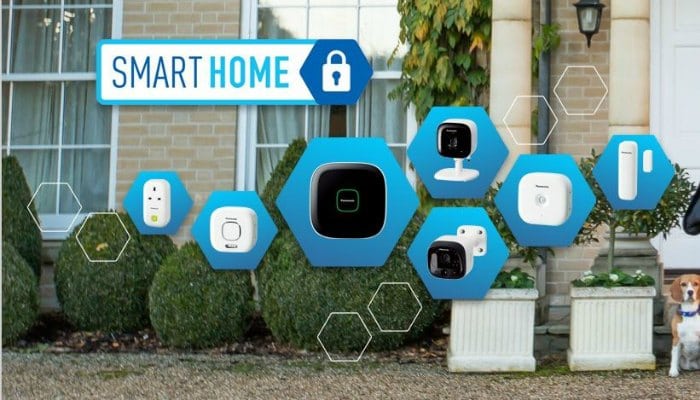 £10 BONUS OFFER: Earn easy cash by watching videos, playing games, and entering surveys.

Get a £10 sign up bonus when you join today.

Join Swagbucks here >>
The Panasonic Smart Home System is designed so that you can keep an eye all the most important things in life. I suppose the simplest way to describe it is a home monitoring system which (depending on the package you buy) includes door sensors, smart plugs and video cameras.
When Panasonic first approached me to give the system a go I was quite apprehensive. With the starter kit on offer costing £129.99 I was conscious that it may not appeal to the people who read my site. Anyway, after speaking to Skint Mum we decided to go ahead. I suppose although it's not the cheapest of gadgets, if it could prevent a burglar or keep our children safer then it's actually priceless, and far cheaper than having a full security system installed.
In the box
We received the starter kit and it included an indoor camera, smart plug, two door sensors and a hub.
It's this hub that is central to the whole system and wirelessly controls everything else. It uses DECT ultra low energy wireless to communicate which, from a security point of view, is safer than your conventional WiFi!
With it being a wireless system we found it quite straightforward to set up and with the easy to follow instructions, we'd paired everything to the hub within 20 minutes and was ready to test it out.
Oh, one thing I haven't mentioned yet (a quite important thing) is that once the system is all set up, you can download an app onto your phone to control and monitor the whole system wherever you are.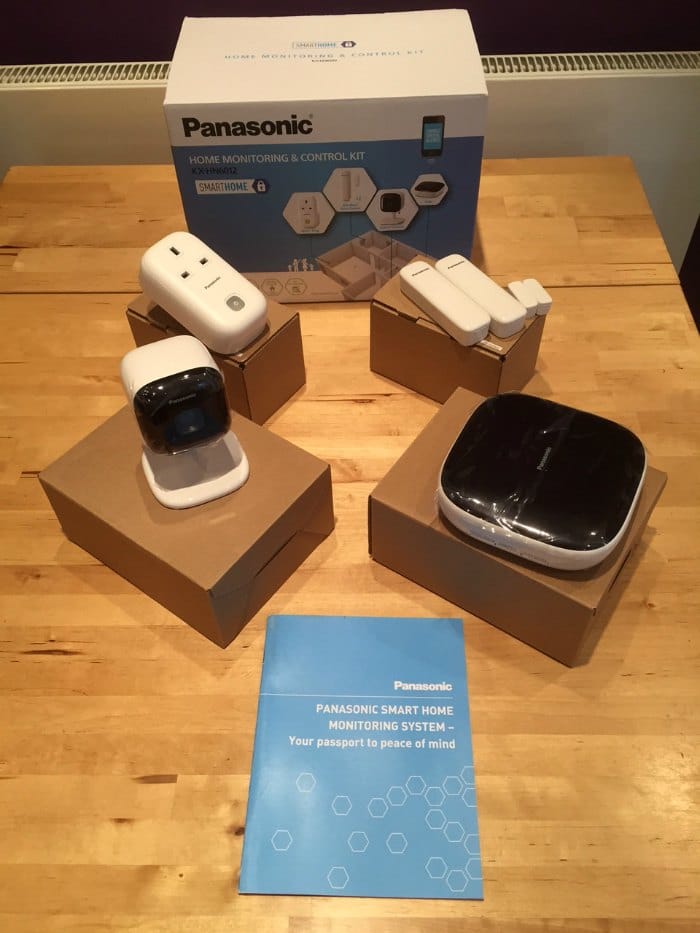 Let's look at the items in a bit more detail
Smart Plug
This is a fantastic part of the kit as, once plugged into a socket, you can then control whatever is plugged into the Smart Plug. For example, if you're going away on holiday you can use the Smart Plug to control a lamp. Controlled via the app, you can set it up to come on a different times of the day to give the impression someone is at home. Really handy if your home is in a remote area and you want to deter opportunistic people.
Door sensors
Now the most obvious thing this is for the door sensors to alert you when someone comes home. This could be a child home from school, a parent getting home from work or someone unwanted entering your home.
What I quite like the idea of the door sensors is to alert me of someone going out. As a work from home dad, there are occasions when I'm on the phone and Chloe (my youngest) is left to her own devices for a while. Now this was fine, until she started growing and can now reach the front and back door handle. I've resorted to actually locking the door which isn't ideal but, with the sensors, I can be safe in the fact that if she does head for the exit, my Panasonic Smart Home app will notify me straight away!
Indoor camera
Again the indoor camera has a number of uses like the other bits in the Smart Home System.
For us it would definitely come in handy with Chloe. She's only three and, like every three year old, is into everything! At least if I'm working and she's upstairs playing in her room, I can use the camera in conjunction with the free app to keep an eye on her without disturbing her play!
If you're a new parent the indoor camera can be used as a baby monitor which will alert you not only to sound changes but temperature changes too. Really useful!
How useful is it really?
Well, after using all the different bits for over a week now, I can honestly say that it did come in handy. If I'm home with Chloe but working at the same time. I have a tendency to go check on her every five or so minutes, which obviously stops me from getting a great deal done.
With the indoor camera in place and the door sensors, instead of checking on her every few minutes, I could get on knowing that she was safe and not running down the road!!
Another thing which I found quite handy was the Smart Plug. Every day I get up at around 5:30am (!) to go out for an hour walk/jog and every morning and Skint Mum tells me off for putting the light on (well it is pitch black). So for the last week instead of switching the landing light on, I've used the Smart Home app with the Smart Plug to turn the downstairs lamp on instead. No waking up the family and no falling down the stairs for me!
Extra modules
As well as the starter kit which we had you can also expand it quite extensively to include four cameras (outside or inside), motion sensors and up to 50 Smart Plugs!! The cameras will also record if used with a memory card and a standard 8gb will hold 60 hours of video.
Final thoughts
The Panasonic Smart Home monitoring system is a really great bit of kit. If you're conscious about home safety and are in the market for something like this then for £129.99 – with no monthly subscription – it offers quite good value for money overall.
For more information you can check out their website or if you're interested in buying the kit you can pick it up from Curry's.
We were gifted the smart home system for review but all opinions are our own.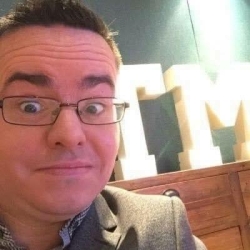 Latest posts by Ricky Willis
(see all)