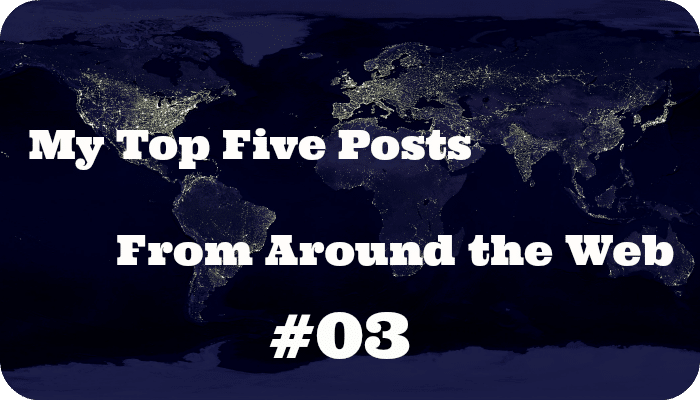 Happy Wednesday everybody! Here we go with another weekly round-up of my favourite blog posts of the last 7 days. This week we have some real diamonds. If you haven't read any of my previous round-ups let me enlighten you.
Every Wednesday I will be sharing my five favourite blog posts from the last seven days. Being savvy with both making money and saving money, the five blogs featured will all have something in common and that is MONEY. I will be highlighting posts of various topics from bloggers around the world that will help your cash go further, put a little extra into your pocket or give you sound advice when it comes to money issues.
There are so many wonderful and informative bloggers out there who are churning out excellent content on a consistent basis and I intend to help them spread their message that little bit further.
What I would like from you is to visit these blogs (if you haven't already) and read their post. Leave a comment maybe or follow them on Twitter.
Whatever it is, try and make a connection because I know from my own experience that it's always nice to get a bit of recognition. However little it maybe. So in no particular order, here are the posts.
How Do You Keep Yourself From Becoming Who You Don't Want to Be? from MyMoneyDesign
MyMoneyDesign is an American personal finance blog which helps you to develop strategies so you can achieve financial freedom. The site covers topics such as personal investing, saving money and budgeting and financial education.
The blog has been around since August 2011 and, because of this, it's full of valuable content. I also love the weekend wind down category which is where MMD writes more personal posts. How Do You Keep Yourself From Becoming Who You Don't Want to Be? is a post that I can relate to quite a bit.
It's all about what you don't want your future self to become and is quite thought provoking. For me, I don't want to be the person in 10 or 20 years who looks back and regrets the chances I should have taken.
It's an excellent post and one you must pop over and read. You can follow MyMoneyDesign on Twitter here.
9 Things To Tell Yourself If Your Life Is A Financial Mess from Ready to be Rich
Ready to be Rich is written by Fitz Villafuerte, a Filipino entrepreneur, who in 2007, established the blog in the hope to inspire others on a journey of financial freedom.
The blog is full of informative, inspirational and excellent posts covering topics such as managing your finances, frugality and mindset. 9 Things To Tell Yourself If Your Life Is A Financial Mess is an inspirational post which lists lessons learnt when Fitz was in a financial mess back in the early 2000's.
There are nine lessons he shares and each one of them is valuable. No. 3 is about not listening to the negativity and one I wholly agree with. This post is definitely one to read if you feel like you're stuck in a rut and don't see it ending any time soon.
You can follow Fitz on Twitter here.
What I Don't Miss About My Day Job from Making Sense of Cents
Making Sense of Cents is a blog I've only come across in the last week or so but I wish I had come across it sooner. Written by Michelle, an ex-financial analyst, the blog is full of really useful posts about saving money.
Categories include budgeting, debt, career and wedding (Michelle recently got married). Also on the site is a section where Michelle writes about her income made from the blog. This really interests me as I intend to start documenting my income as well.
What I Don't Miss About My Day Job is what it says it is in the title. After Michelle left college she found what she thought was her ideal job but, after a few years, she realised she had lost any passion she once had. Michelle then goes on to list all the things she doesn't miss about the job.
I love this post as I loved my last job and was sad to leave, I thought. Now though I wouldn't change a thing and love working for myself. It's another great read.
You can follow Michelle on Twitter here.
Challenge Everything from Budgets are Sexy
Budgets are Sexy is (for me) one of the top personal finance blogs in the world. J.Money who is the author is an engaging writer who covers a wealth of topics such as family finance, money management, side hustles and budgeting.
I only stumbled across the blog a couple of months ago but I've been hooked ever since. He really does tell it like it is and it's because of this Budgets are Sexy is a must read.
Challenge Everything is a post about how cutting back on monthly expenses can over time be more valuable than increasing your income. It really is an interesting read and J sets out some challenges not just for himself but for his readers as well.
I loved the post because it got me thinking in another way. The post also contains a great except from Mr. Money Mustache. Go check it out.
You can follow J. Money on Twitter here.
And that concludes this week's top five posts from the last week.
From saving money with social media to what you miss about your day job, this week's posts are the cherry on top of the cake.
If you don't want to miss out on posts like this, make sure you sign up to my email list below.
What is your favourite post from the last week? Let me know in the comments below as I am always on the lookout for a good read.
Latest posts by Ricky Willis
(see all)