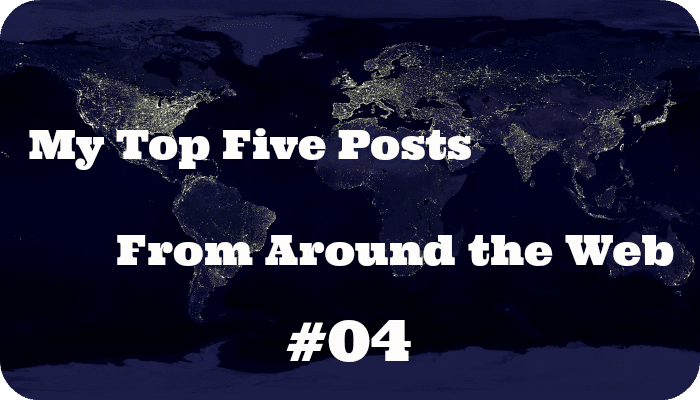 Welcome to another round up of my top five posts from around the web. Last week I featured some awesome posts from even more awesome bloggers and this week is no different.
If you don't know what this is all about then let me explain.
Each Wednesday I share my five favourite blog posts from the last seven days. Being savvy with both making money and saving money, the five blogs featured will all have something in common and that is MONEY.
I will be highlighting posts of various topics from bloggers around the world that will help your cash go further, put a little extra into your pocket or give you sound advice when it comes to money issues.
There are so many wonderful and informative bloggers out there who are churning out excellent content on a consistent basis and I intend to help them spread their message that little bit further.
What I would like from you is to visit these blogs (if you haven't already) and read their post. Leave a comment maybe or follow them on Twitter. Whatever it is, try and make a connection because I know from my own experience that it's always nice to get a bit of recognition. However little it maybe.
Let's get into it.
Are you missing out on free money? From Money Bulldog
Money Bulldog is a UK personal finance blog written by Adam. The blog has been around since 2012 and sets out to help you on your way to financial freedom. The blog covers topics such as starting a new business, increasing your net worth and budgeting. Two stand out categories for me are investing and consumer help which feature some really useful information.
Are you missing out on free money is all a great article about renegotiating your outgoings. Whether it's switching energy suppliers, re-mortgaging your house or getting a better deal on your mobile phone contract, this post covers it all. You know the saying "there's no such thing as free money" well this article shows you that there is.
You can follow Money Bulldog on Twitter here.
How to Make Your Own PPI Claim from Help Me To Save
Help Me To Save is personal finance/lifestyle blog written by canny scot Karen Bryan. The blog is a wonderful resource covering a wealth of topics to help you manage your money better and keep more of it. As well as writing posts such as 'How to (Try to) Plan for Tomorrow' and How to Live Below Your Means', Karen also produces an engaging podcast.
How to Make Your Own PPI Claim is a really informative post for anyone who wants to claw back mis-sold PPI payments, but doesn't want a 3rd party involved. Karen goes into detail what you need to do and how you need to do it. What makes the post even more valuable is a detailed infographic showing you how to find out if you've been mis-sold and how to claim a refund.
You can follow Karen on Twitter here
Spaghetti Carbonara and a bonus of 'kisses' from the Money Principle
The Money Principle a favourite personal finance blog of mine written by Maria. The blog mission is to help the reader increase their wealth, whatever situation you are in. I find Maria's style of writing really engaging and everything she writes is full of value. A standout post for me is '£100,000 ($157,000) to zero in three years flat: we are debt free!' in which Maria explains how exactly they became debt free. Really inspirational!
Spaghetti Carbonara and a bonus of 'kisses' is a recipe and one of my favourite dishes. Last week I published the same recipe and after speaking to Maria, she promised to share her take on it (a recipe entrusted to her by the mother of an Italian friend). As well as the recipe for the Carbonara itself, Maria includes a delicious bonus recipe which you will have to pop over there and see for yourself ;-).
You can follow Maria on Twitter here.
Improve Finances by Giving Away Stuff (for Free)? From 20's Finances
20's Finances is a blog I have only just come across and it's fab. Corey who writes the blog created the site after speaking to college friends who related to him how difficult it was to find information about money. The site covers investing, budgeting, financial goals and college finance. A stand out post for me is 'How to Break a Spending Habit'. Definitely go check it out.
Improve Finances by Giving Away Stuff (for Free)? is a post that makes you think about things in a different way. It's all about the stuff you collect and buy, and how much you actually need and use. Corey has a great theory about getting rid of the items you don't need and instead of selling them, give them away for free instead. It's a great post and I will be keeping an eye to see if Corey's theory is correct.
You can follow Corey on Twitter here.
50 Thrifty Ideas for the School Summer Holidays from Family Budgeting
Family Budget is an awesome UK personal finance/parenting blog written by Becky Goddard-Hill. The blog is aimed at families who want to save money and it's full of wonderful posts that do exactly that. Becky covers so many wonderful topics on her site so there is something for everyone! From days out, product reviews, recipes and craft, this site is a must visit for anyone who needs money saving inspiration.
50 Thrifty Ideas for the School Summer Holidays is the ultimate guide to keeping your little ones busy over the long summer holidays, without breaking the bank. Becky delivers so much value in this post and gives ideas for the children such as 'creating a boredom jar' and 'keep a gratitude journal'. If you have kids you need to read this post today.
You can follow Becky on Twitter here.
And that concludes this week's top five posts from the last week. From recipes to giving stuff away for free, this week's posts are full of utter awesomeness that you definitely need in your life.
If you don't want to miss out on future posts like this, make sure you get on me email list here which will deliver the goods straight to your inbox.
What is your favourite post from the last week? Let me know in the comments below as I am always on the lookout for a good read.
Latest posts by Ricky Willis
(see all)