What would your kids do with £5,000? Share their ideas in this competition to win £200 worth of Love2shop vouchers plus a year's family membership with the National Trust.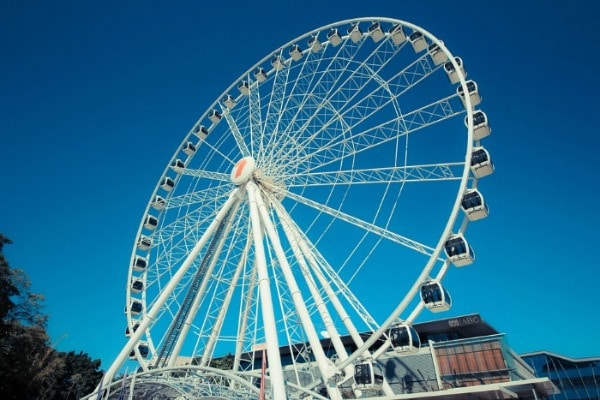 £10 BONUS OFFER: Earn easy cash by watching videos, playing games, and entering surveys.

Get a £10 sign up bonus when you join today.

Join Swagbucks here >>
The chance to get hold of £5,000 in cold hard cash is an eye opener. In itself, £5k isn't really that big a sum of money. While there is no way I'd not happily accept the money, it's not enough for a house, couldn't get you a brand new car so would have to be used for a smaller purchase.
As an adult, there are loads of things I could do with money (not that I can decide right now what I'd settle with). I could be very grown up and save it all or I could spend the lot, or do a balance of both.
We could get a family holiday, a new sofa, new school uniforms for the kids, I could invest into my ISA or buy some new dinner plates (we've accidentally smashed three recently). My idea of what to spend money on really sounds utterly boring, and I am starting to show my age!
But what if you gave a child £5,000 of cash. What would they do?
£5,000 to spend on ANYTHING
Foresters Friendly Society want to find out how children understand the value of money by asking them to share what they would do with £5,000.
If you're looking for something to keep your kids entertained this summer holiday then this may give them something to do for a while.
They are running a competition to get kids creative by drawing or painting their dream spending plans. It doesn't matter how silly, daft, odd-ball or off the wall the idea is, as long as they work out what they would do with £5,000.
What would your child do with £5,000?
If your child was given a lump sum of £5k what would they do with the money?
Would they splash the lot in a Disney Boutique, plan a trip with all their mates to Go Ape, redecorate their room with the latest tech, revolving wardrobe and bed with slides, build a shuttle to the moon or even buy a pony for the back garden!
Well now you can ask them to show you and be entered for a chance to win in this competition.
To be eligible to enter, your child needs to be aged between 5 and 10 years old. When entering please make sure to include the first name and age of the child on the image.
When they've drawn their entry, be sure to upload using the entry form it at the bottom of this page.
The prize!
The best entry in this competition will win £200 worth of Love2shop vouchers plus a year's family membership with the National Trust.
Once your child's competition entry has been submitted, feel free to share it on social media too using the hashtag #LittleSpenders with @ForestersFriend on Twitter or on Foresters Friendly Society's Facebook page. Don't forget to give @skintdad a mention on Twitter or tag Skint Dad on Facebook so I know you've entered too.
What would we do?
Well I asked my daughter what she would do. It didn't take her too long to make a decision but she didn't want to share it with me. She grabbed a bit of paper and started drafting her thoughts.
Here is what she came up with – a treehouse.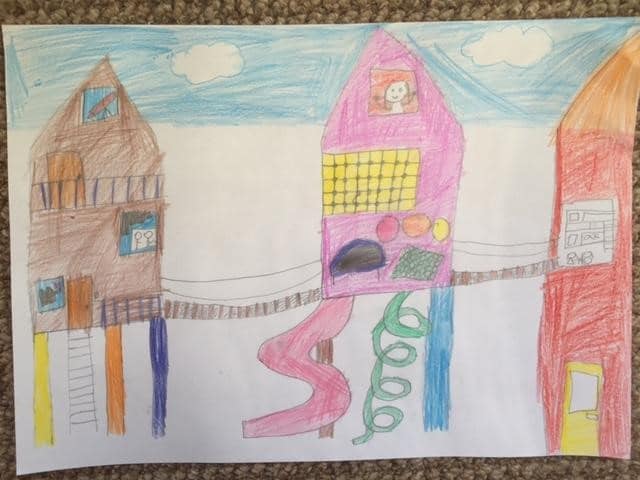 How she would spend £5,000
I asked her for an explanation of her design and she had obviously given it a lot of thought.
Even before getting a treehouse, she had made plans. She was going to get a machine into the back garden to knock down the walls, then have a tree lifted and planted into the middle of the garden.
Next came building the treehouse, which was fully fitted with hot chocolate machine for constantly warm drinks, TV with every games console and every music and "decent" kid channel. Then there was the play area with trampolines, giant ball pit and climbing wall. Plus – this is the important bit – there would be connecting pathways and slides from the tree house to her bedroom so she wouldn't need to come downstairs again!
She estimated the total cost of ripping our garden apart, installing the treehouse and all mod-cons would be £4,500. The rest of it would be saved to buy popcorn, fizzy drinks and sweets as and when she runs out.
Quite an imagination!!
The competition will be open for entries until midnight on the 29th August 2016.
I wish you the very best of luck.
Written in collaboration with Foresters Friendly Society
Daniella's drawing is not being submitted to this competition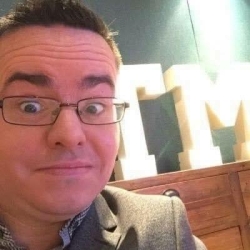 Latest posts by Ricky Willis
(see all)