When you are getting married, it is common practice that the wife adopts the husband's surname. However, if this practice does not sit well with you, you can always go down a different road.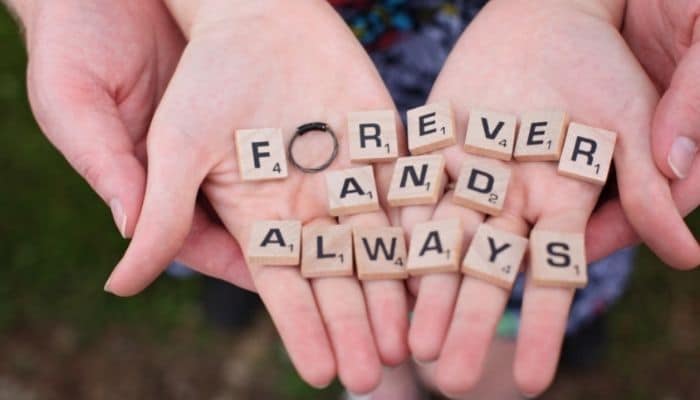 £10 BONUS OFFER: Earn easy cash by watching videos, playing games, and entering surveys.

Get a £10 sign up bonus when you join today.

Join Swagbucks here >>
You have some options available at your disposal. These often include either using different surnames or mashing your existing names to create a surname you both can use. The latter is known as Name Blending.
Name Blending is a relatively new concept, and most couples might not be aware of it. However, we are here to change that. This article comprises everything under the sun about Name Blending.
Check it out.
Name Blending – what is it?
Name blending is the practice of blending or mixing two names – typically surnames – together. Two types of Name Blendings often seen are Double barreling and Name Meshing.
Double barreling your surname refers to combining your and your partner's surname with or without a hyphen. That double-barreled surname would then be the one that you both will use after marriage. For example, the surname Ross and Parker can be double-barreled as Ross-Parker or Parker-Ross.
As a slightly more recent trend, Name Meshing refers to combining your existing names to create a new surname altogether. For example – Mckenzie and Laughlin can become McLaughlin.
Process of Name Blending
If you decide to Double Barrel your surname, you need to specify it in your marriage certificate. This procedure holds only and only if you are not making any changes in the spelling of your names.
However, if you decide to mesh your names to create a new surname altogether, the process is a little lengthier. For this purpose, you will need to fill up a Deed Poll, which you can order from the UK Deed Poll Office.
Find out how much does it cost to change your name?
Is Name Blending in trend?
Many people across the UK have blended surnames. This practice is gaining momentum slowly, and couples have been increasingly adopting this practice.
Many celebrities and musicians have either double-barrelled surnames or meshed surnames. Helena Boham Carter and Alexa PenaVega are some famous examples.
Are there any advantages of Name Blending?
Besides the reasonable avoidance of disagreement between the partners over the adoption of surnames, name blending also holds sentimental value for some couples.
It signifies a new phase in their lives which they are entering with their better half.
How to make my Name Blending official
If you opted for a new blended surname, at least one of you would be required to fill a Deed Poll. You can get one from the UK Deed Poll Office.
One of you can change your surname before your marriage. Then you can use your marriage certificate to make the change official for the both of you.
If you decide to go down this road, it is advisable to request at least three copies of your marriage certificates. Doing it will enable you to send multiple name change requests after the ceremony.
Another option you have at your disposal is that you both change your surname by a Deed Poll post-wedding. Then, you can tell the person toasting your ceremony how you'd like to be addressed as newlyweds and incorporate it unofficially in your ceremony.
However, if you wish to go on your honeymoon with your new surname, you need to make preparations at least four to six weeks in advance. Because, in this case, you will need to fill up a PD2 application along with a request for your passport renewal way before your wedding date.
If you opt for a double-barrel surname, you will not need a Deed Poll to make things official. You can change your names on your marriage certificate, and that would work.
But, you will still need to notify government bodies, organizations, and agencies of your name change. For the submission of relevant documents in these agencies, your marriage certificate will suffice.
Conclusion
Name Blending has been gaining much fame these past couple of years. So if you are one of the people who wish to blend your and your partner's name, this article will surely help.
Latest posts by Wendy Rogers
(see all)