Parents and parents to be – here's how to get free packs of WaterWipes sensitive wipes for newborns free from Amazon.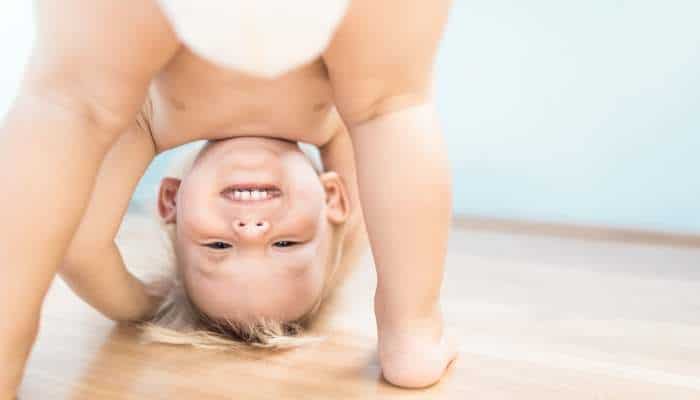 £10 BONUS OFFER: Earn easy cash by watching videos, playing games, and entering surveys.

Get a £10 sign up bonus when you join today.

Join Swagbucks here >>
When it comes to our little cherubs, one big cost is hygiene. Whether you need to grab a pack of wet wipes to do a quick change, you need to mop up a bit of dirt from their hands on the go, or you're dealing with a nappy explosion – wet wipes are your best friend!
While they're not overly expensive, you get through a lot of wipes in the first year – potentially over 1,000 in the first 12 months!
How to get free WaterWipes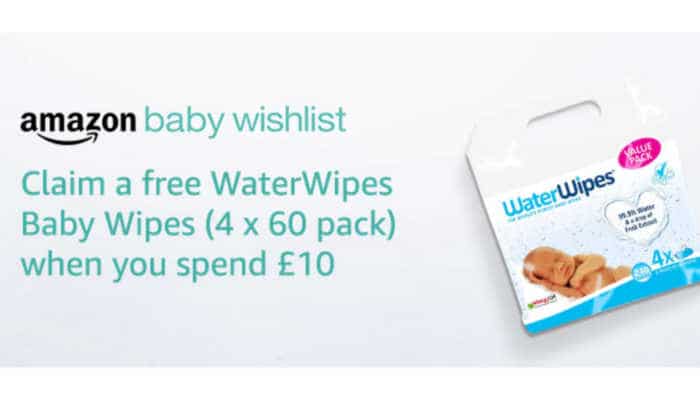 Amazon is giving away 4 packs of 60 WaterWipes (240 baby wipes in total) when you create a Baby Wishlist and make a purchase to cover the minimum spend.
Whether you're expecting, a new parent, you will likely need to get essentials (you can never have too many nappies).
So, create a Baby Wishlist (if you don't have one already) and add what you really need, as well as a list of wants which you can share with family and friends (new baby gifts?).
Once you've created a Baby Wishlist, add these packs of WaterWipes to your Wishlist, along with at least £10 of other eligible baby products from the Baby Store.
Selected everything you want?
Add any products you need to buy now (as well as those WaterWipes) to your shopping basket. When you head to the checkout, you'll see the promotion has been applied, and you'll get the wipes for free.
For instance, we added this Tommee Tippee Healthcare Kit and the wipes for the offer to kick in.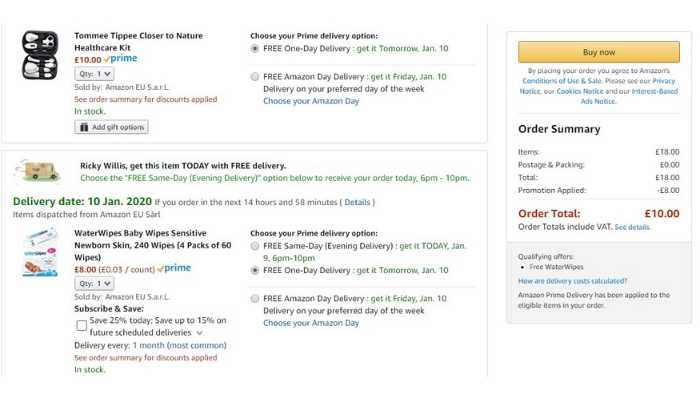 This promotion is running until 31 January 2020.
Step by step
Step 1: Create a Baby Wishlist (if you don't have one already).
Step 2: Go to WaterWipes (4 packs x 60 wipes) and add it to your Baby Wishlist.
Step 3: Add at least £10 worth of eligible baby products from the Baby Store (excluding nappies, formula, baby food and books) to your Baby Wishlist. Eligible products are those dispatched and sold by Amazon.
Step 4: Add your selected products (including the WaterWipes) to your shopping basket. Proceed to checkout, choose the same delivery option for all items being shipped, and you'll see the free promotion has been applied.
Step 6: Click "Buy now" to complete the transaction.
Anything to know?
You're only able to get the wipes for free for items "sold and dispatched by Amazon" and when it's products from the Baby Store.
You can only claim one freebie person, and if you've claimed a Baby Wishlist Welcome Bonus in the past, you cannot claim this one again.
What is Amazon Baby Wishlist?
A wishlist on Amazon is for something you want or need, but don't necessarily want to buy right now.
Perhaps you've got your eye on something, but think it costs too much money today, or you want to chat to the other half? Maybe a relative has promised to buy a gift for the baby?
Using your Baby Wishlist, you can keep everything together so you can cross-check, don't overspend, as well as share gift ideas with others (and having the option to send thank yous).
You're also able to get up to 20% off items in your wishlist with these Amazon promo codes.
Use the following Amazon promo codes:
Spend £200 to receive 10% off. Use code WISHLIST10
Spend £500 to receive 15% off. Use code WISHLIST15
Spend £800 to receive 20% off. Use code WISHLIST20
Codes valid until 31 December 2020.
:: Come and join thousands of other savvy shoppers in the Reduce Your Supermarket Spend Facebook community to find out tips and tricks to save money on your shop.
Enjoy this post? Why not also sign up to receive our newsletter.
We send out all the best money saving news and tips from the site and as an added
bonus you'll get an exclusive £16 cashback from Quidco (new members only)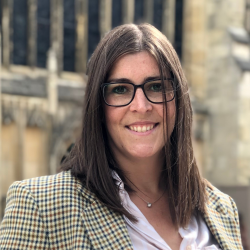 Latest posts by Naomi Willis
(see all)