Using the best paid survey sites is an easy way to make money in your spare time, with very little effort.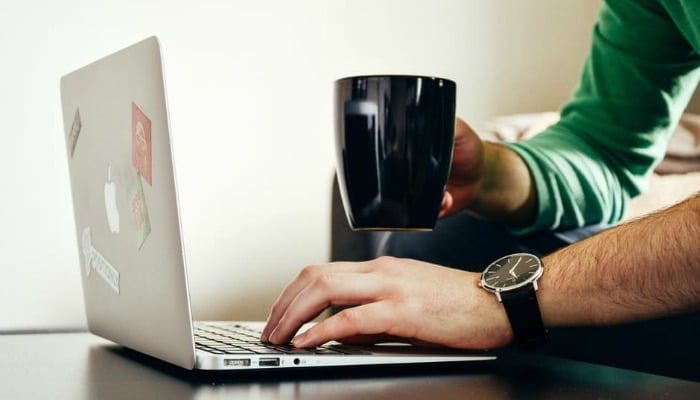 What are the best paid surveys UK?
The best paid surveys are not just the highest paying, but the ones that allow you to cash out quickly and not get consistently screened out.
We believe those are Swagbucks, YouGov, Prolific and i-Say. You can also add PrizeRebel to this list.
Entering online paid surveys is a totally legitimate way to boost your earnings without leaving the comfort of your sofa (unless you find somewhere with free WiFi).
Plus, entering surveys is such an easy task that you can fit it around whatever else you may have on.
It's certainly realistic to get paid £1000 per year.
While joining one paid survey site is fine, we would advise signing up to multiple survey sites mentioned above and below for maximum earning potential.
The truth is that when it comes to doing an online paid survey, you may get screened out (where they don't need anyone else who fits your profile).
So if you're signed up to multiple online survey sites, you'll get more email invites, have more chances of completing the surveys, and getting paid.
So, in no particular order, here are the best paid surveys we suggest signing up to. We have also included some top tips at the end of the article to get the most out of entering surveys.
Swagbucks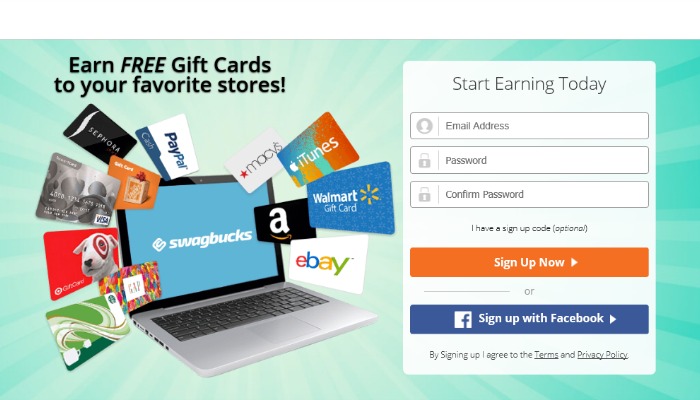 Swagbucks is one of the best-paid survey sites we use and have earned a decent amount from them over the last 12 months.
Using Swagbucks earns you "bucks" which you can trade in for cash, vouchers and prize draw. Tasks aren't just in the form of surveys, but can also include watching videos, using a search engine, playing games and shopping. This means lots of additional ways to earn easy cash.
They also hand out extra "bucks" for finding codes on Facebook, Instagram or just be being you.
Once your points reach the minimum payout of 1 SB (40p), you can exchange them for high street gift cards or cash payment via PayPal.
Use our button below to claim an exclusive £3 signup bonus.
Payout method: Cash via PayPal, gift cards and prize draws
How much can you make per survey? On average 70 – 150 Swagbucks (SB) (100SB=$1/77p) so, from 50p – £3 a survey
Payout threshold: Depending on the reward, as little as £3
---
---
LifePoints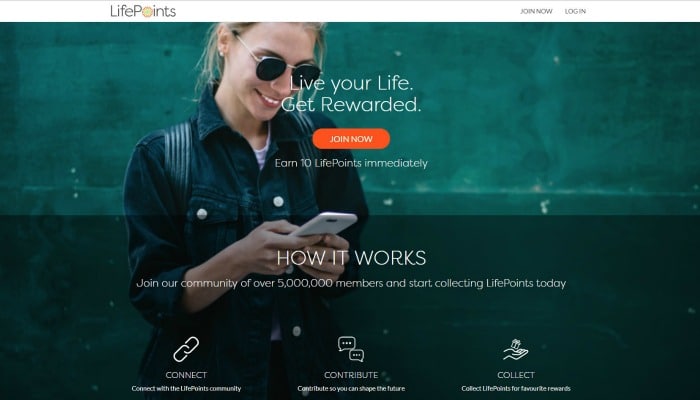 LifePoints gives you the chance to enter paid online surveys, take mini-polls, record diaries and take part in product tests and earn LifePoints.
Topics can be anything from health, sport, travel or other things that happen as part of your daily life.
You earn points for each task you complete and you can then swap them over for products, gift cards, e-certificates, vouchers, money or you can donate your rewards to charity if you wish.
You'll earn 10 LifePoints immediately when you sign up.
Payout method: Cash via PayPal, Amazon vouchers and high street gift cards
How much does this survey site pay? Around £1 per survey
Payout threshold: 550 points or £5
---
---
YouGov paid surveys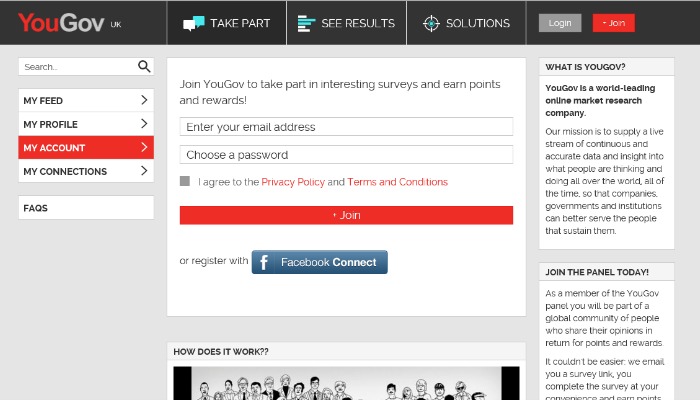 The opinions of YouGov members are talked about widely in the press (not individually but anonymously as a group).
If you've got an opinion, this is where to share it to be heard!
Surveys last around 7 minutes to complete each and you earn 100 just for registering to get you going.
There is quite a high payout for YouGov, but it's worth waiting for.
You need to save up 5,000 points, and then you're able to cash out £50 as a bank transfer (via BACS payment).
Payout method: Cold hard cash by bank transfer
How much can you make per survey? From 50p to £3 a survey
Payout threshold: 5,000 points or £50
---
---
Toluna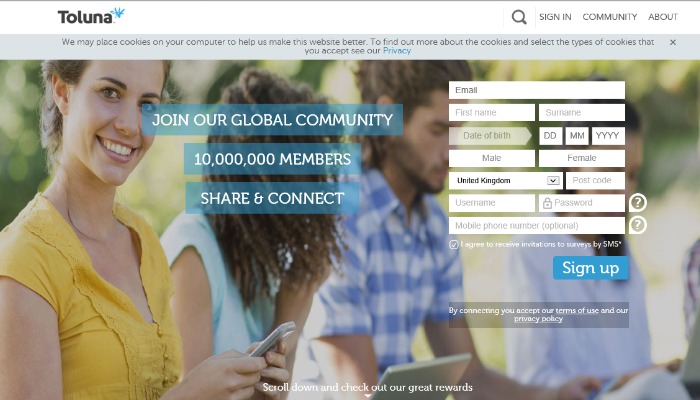 Toluna is all about paying surveys, product testing, market research and focus groups.
Make sure you complete your full profile when you sign up so you'll be more likely to get through a survey without being screened out (you'll also earn points for doing this).
You get 500 points just for registering plus another 1,300 for completing your profile.
Once you collect enough points, you can cash them out for vouchers, PayPal transfer or can even opt to try a Giftie instant win.
This is where you could win the virtual gift in real life.
Payout method: Cash via PayPal or high street gift vouchers
How much can you make per survey? 1,200 – 50,000 points
Pay out threshold: Varies by reward, but 27,000 points can get a voucher (or enter a prize draw for 500 points)
---
---
Opinion Outpost paid surveys
Opinion Outpost is one of the most popular survey sites with readers and Skint Dad community members.
You get regular emails with paid survey invitations as soon as one is matched to you and you earn points for each one you complete.
You can take part in as many or as few as you like.
The minimum pay out is £2.50 with Opinion Outpost, which is the same as 50 points.
To be paid in iTunes vouchers, you need to save up 200 points for a £10.00 iTunes Gift Card Code.
For cash via PayPal and Amazon payouts, you can claim 50 points/£2.50 at a time.
Payout method: Payout via PayPal, Amazon vouchers and high street gift cards
How much can you make with Opinion Outpost? Around 50p a survey, but up to £2.50
Payout threshold: From £2.50
---
---
Maximiles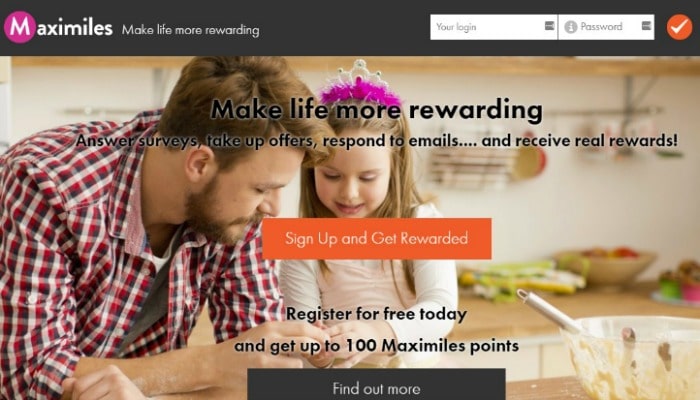 Maximiles is a UK survey site which allows you to collects points for giving your opinions on surveys.
Get 100 points when you sign up today, then complete surveys to get even more points.
When it comes to redeeming your points, you're able to swap them against hundreds of products from the rewards catalogue. You can get all sorts, like beauty and grooming products, electronics, experiences and more.
You can also earn more by completing tasks and by replying to emails.
On top of that, you can collect points when you enter competitions and when you play games!
Payout method: Redeem points for products
How much can you make per survey? Varies
Payout threshold: varies
---
---
PrizeRebel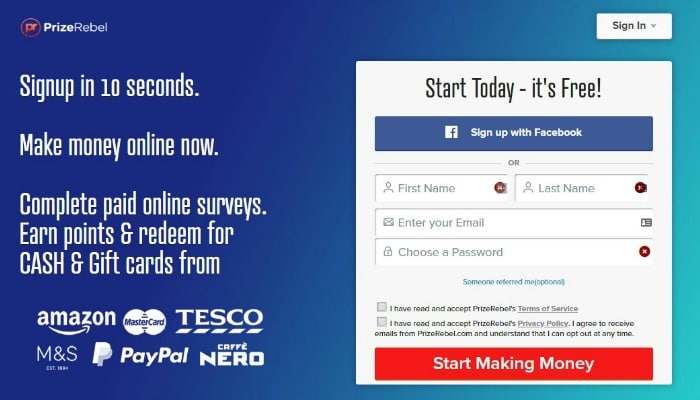 You're able to earn money in all sorts of ways with Prize Rebel. You can choose to take part in market research surveys, but can also make money completing offers and tasks. New offers are popping up all the time.
If you don't mind a video playing in the background while you're online, you can earn points every day by letting their videos play.
As a little tip, check the Gold Surveys section to get the most survey site.
When it comes to cashing out, swap your points for gift vouchers for places like Amazon, Starbucks, Tesco, M&S, Pizza Express or New Look, or choose to get paid via PayPal.
Payout method: Cash via PayPal, Amazon vouchers and high street gift cards
How much can you make per survey? Around 50p – £20
Payout threshold: 500 points for a cash payout
---
---
PointsPrizes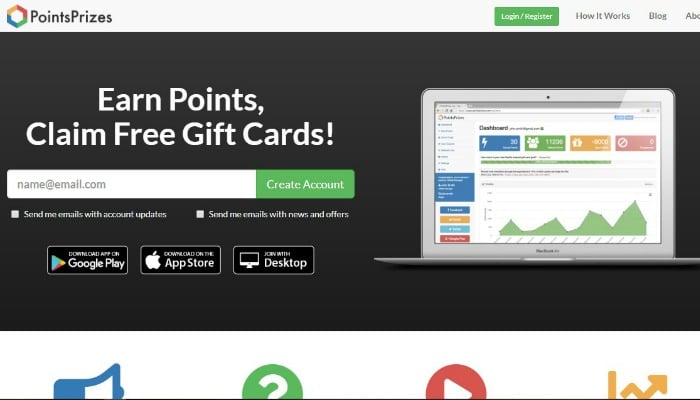 As well as earning money entering surveys with PointsPrizes, you also have the opportunity to learn about free products and services too.
Collect more points by simply watching videos, and there are ways to collect free bonuses and rewards daily.
Once you reach enough points, you can exchange them for digital gift vouchers such as Roblox, Minecraft, Netflix and loads more!
You can, of course, exchange them for cold hard cash via PayPal as well.
Payout method: get paid cash via PayPal, Amazon vouchers and high street gift cards
How much can you make per survey? Varies a survey
Payout threshold: Varies on reward
---
---
InboxPounds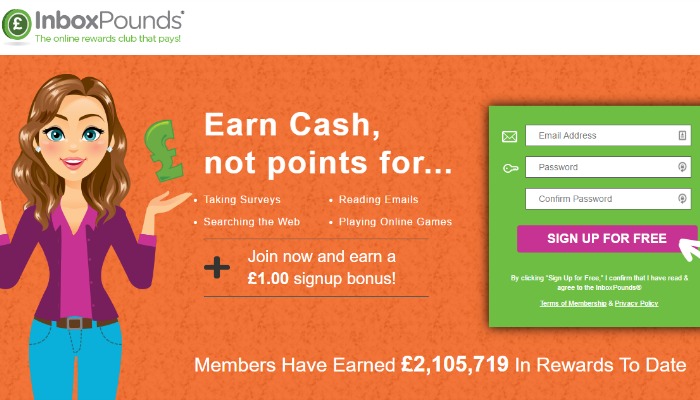 Similar to Swagbucks, InboxPounds is a rewards club aimed at people in the UK. They also run a very popular site in the US called InboxDollars, which has paid out over £40 million in rewards.
InboxPounds allows you to earn cash by taking online surveys, reading emails, searching the web and playing online games. Once your balance reaches £20, you can request payment via cheque or prepaid Mastercard.
Once you reach your first payout amount, you automatically become an InboxPounds Gold member.
Gold members receive extra perks including more loyalty rewards, additional sweepstake entries and most importantly, faster payments
As a welcome bonus, and to get your pot earning quicker, you're able to claim an exclusive £1 sign up bonus using our button below.
Payout method: get paid money via PayPal and vouchers
How much can you make per survey? Around 20p – £1
Payout threshold: £20
---
---
Pinecone Research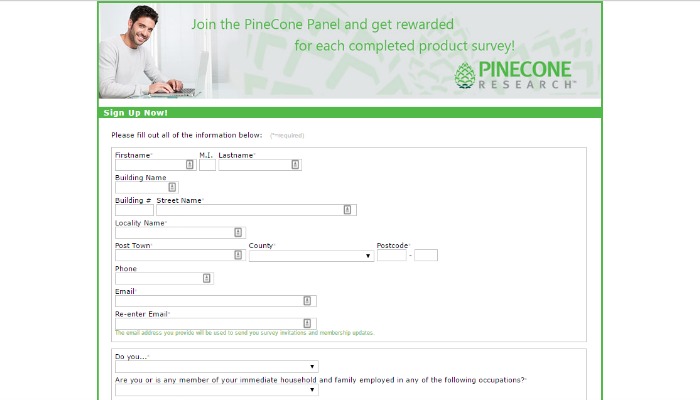 Pinecone is a very popular paid survey site, but it is hard to get accepted onto. Unlike other paid surveys, there is an initial screening process, and if you don't pass, you don't get in I'm afraid.
That said, this does not mean you can't try another month as they open up applications for membership all the time.
They pay £3 for each completed survey which takes 15 – 20 minutes to complete each.
Payout method: Money or products to test
How much can you make per survey? £3
Payout threshold: No minimum payout – £3
---
---
Valued Opinions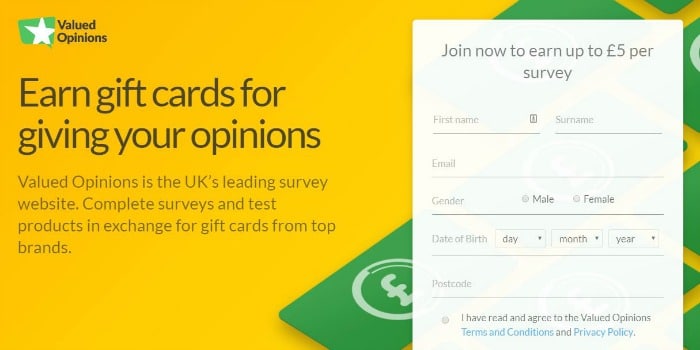 Valued Opinions asks you to complete surveys, but they also have other ways to share your opinions.
On top of surveys, you can review advertising campaigns and test new products.
There are different membership levels with Valued Opinions, and you earn badges for making achievements.
You start as a Bronze member and can carry on to reach the highest tier of Diamond.
You can earn up to £5 a survey which you can cash out in gift vouchers for places like Amazon UK, John Lewis, M&S, Boots and many more!
Payout method: High street gift vouchers
How much can you make per survey with Valued Opinions? Around £1 – £5 per survey
Payout threshold: £10
---
---
Prolific Academic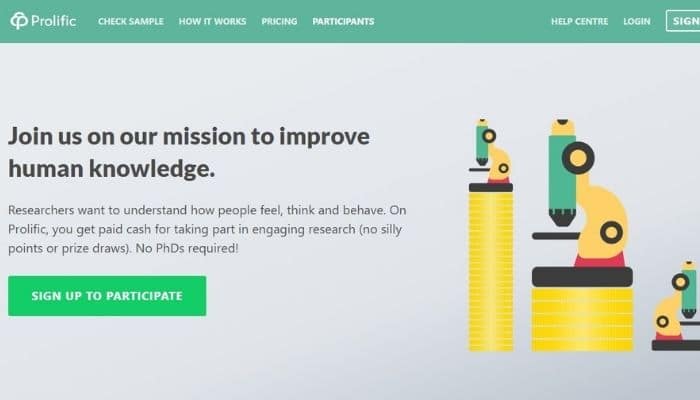 Prolific run behavioural and market research surveys and studies for companies, but also for universities and research studies.
You get a wide range of topics, which makes the surveys quite interesting. Some may be multiple choice, but others can ask you to take part in more psychometric type online surveys, and others are part of wider focus groups with others.
Participants are considered some of the most truthful across all panels (watch out for the Crispin-Buxley Phenomenon question!)
Surveys take a few minutes with Prolific Academic, but some can go one longer – over the course of days! This can be extra bonuses and more money! I've been able to earn extra per hour many times with this site.
You get paid $6.50 per hour and can cash out to PayPal.
Pay out method: PayPal
How much can you make per survey? from $6.50 per hour, with surveys taking anywhere from 3-15 minutes
Pay out threshold: £5
---
---
Qmee
Qmee is a browser extension that pays you when you search for what you'd normally search for via the add on.
You can also take surveys for cash.
Sign up here to get an extra 50p when you first cash out.
Pay out method: Money via PayPal, then do a bank transfer to get the money to spend.
How much can you make per survey? 30p
Pay out threshold: 1p – yes you can pay out immediately
---
i-Say (formally IPSOS)
Not very many surveys, but the threshold for payment is low for the reward you get each survey.
Pay out method: Gift vouchers for online or high street
How much can you make per survey? From 5p – £1.80
Payment threshold: £10
---
OpinionPanel Community
Each paying survey with Opinion Panel can take around 10 minutes to complete and the site works well on mobile.
Pay out method: Gift vouchers
How much can you make per survey? 50p – £4 per survey
Threshold for payment: £25
---
PanelBase
Earn £3 when you first sign up.
You don't get screened out if many surveys with this one.
Pay out method: Get paid in cash and vouchers
How much can you make per survey? 50p up to £10
Payment threshold: £10
---
TRP Surveys
These surveys are about TV, radio and media. The survey site asks about what you've been watching in the last 24 hours and you can sometimes give feedback on new programmes.
Pay out method: Amazon vouchers or donations to charity
How much can you make per survey? 12p – £5
Pay out threshold: £5
---
Survey Bods
Get £1.50 when you sign up and complete your profile with this survey site.
Pay out method: Cash out via PayPal or vouchers
How much can you make per survey? 25p – £5
Pay out threshold: £15
---
Opinion Bureau
Get a £5 bonus when you sign up. There aren't very many surveys though so this will take longer to cash out.
Pay out method: PayPal or gift vouchers
How much can you make per survey? £1 – £10
Threshold for payment: £10
---
Marketagent
Due to a large user base, there are a lot of surveys offered.
Pay out method: PayPal of vouchers
How much can you make per survey? 10p – £3.60
Threshold for payment: £10
---
Hiving
You can earn around 50p for each online survey you complete. Each survey takes around 10 minutes to complete, which means it'll take about an hour and 20 minutes to earn £4.
Pay out method: Get paid in PayPal
How much can you make per survey? around 50p per survey
Pay out threshold: £4
---
Panel Opinion
This survey site has a low payment threshold and you can also access your surveys money directly with a bank transfer.
Pay out method: PayPal or bank transfer
How much can you make per survey? 50p – £4
Pay out threshold: £10
---
iPoll
iPoll works well on mobile if you don't have a desktop or laptop, but they don't have very many surveys.
You get a good number of surveys from this survey company.
Pay out method: PayPal or vouchers
How much can you make per survey? 40p – £1.70
Threshold for pay out: £20
---
PopulusLive
You can earn around £1 for every 5 minutes of surveys you complete, but they don't have many surveys so it can take some time to get to the pay out threshold.
Pay out method: Cash
How much can you make per survey? From £1
Threshold for pay out £50
---
New Vista Live
You can earn £5 when you sign up.
Watch out for quality control so you don't get prevented from having future surveys.
Pay out method: PayPal and prize draws
How much can you make per survey? Around £1 for each completed survey
Threshold for pay out: £50
---
Crowdology
Pay out threshold is low for this survey site and they add up cash, rather than counting points.
The more of the profile you complete, the number of surveys you get sent goes up.
Pay out method: PayPal and gift vouchers
How much can you make per survey? 40p – £20
Payment threshold: £4
---
YourSayPays
They don't always send out emails, so it's best to log in and check for new surveys.
These online surveys for money UK are quick and easy to do.
Pay out method: PayPal
How much can you make per survey? 50p
Threshold for pay out: £20
---
Branded Surveys (formallly Mintvine)
Branded Surveys recently rebranded as was known as Mintvine.
You can get 100 points (same as $1) when you sign up and can potentially get paid within a week.
Take part in surveys on the go using the Branded Surveys mobile site and redeem when you hit 500 points
Pay out method: PayPal, Amazon vouchers, pre-paid virtual cards and other retailer gift cards
How much can you make with Branded Surveys? up to $3
Threshold for pay out: 500 points / $5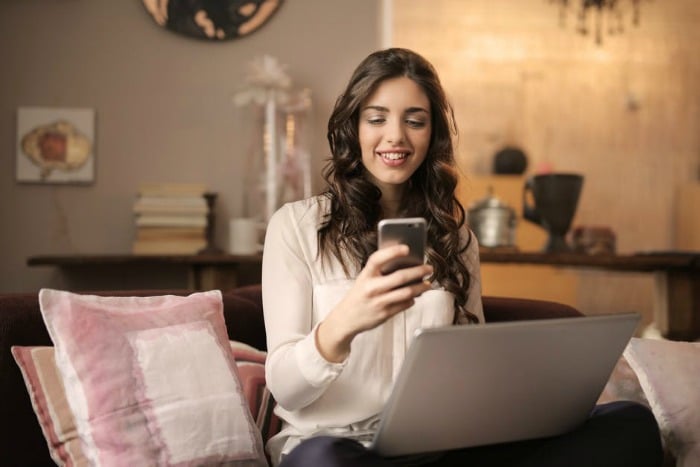 10 top tips to make the most money from the best paid surveys sites
When you start with online paid survey sites, it can seem quite daunting.
There can be a fair bit of initial form-filling to get your profile set up so you can get the best surveys.
Here are some tips so you can get earning faster and quicker with online surveys.
Sign up to all the online surveys panels
We mentioned this at the beginning of the guide, but it's important so we'll nudge you again.
By joining all the best survey panels mentioned, you should always have loads of surveys to enter instead of waiting days at a time for one to become available.
If you're looking for other ways to make some cash, check out this guide on how to flip money.
The guide gives some great tips which include selling books and flipping domains.
Answer all per survey joiner questions
When you first join a site, you will be presented with loads of questions.
They will take a fair amount of time to answer, but they're worth doing.
Some paid survey sites will give you a small reward to complete them, but many don't.
You'll be answering things about your demography, pets, car, family, work, health, hobbies, education, beliefs, shopping habits, personal finance, whether you smoke or drink.
Now, this can seem like a lot, but it helps make sure that they send surveys your way that you'll be able to answer.
It will also stop you from getting screened out of too many online surveys.
Use a different email address
Using a different email address isn't completely necessary, and it's not about avoiding junk.
Just to add that these surveys sites won't bombard you with junk or spammy emails.
They are legitimate online survey companies that carry out market research, and wouldn't want to risk their business by sending out dodgy mail.
Anyway, back to my point, if you're signed up to multiple survey panels, you may find you start to receive a ton of panel opinion surveys and emails that you don't need clogging up your primary inbox.
Also, by having a separate email just for surveys, you'll keep them all in one place and never miss an opportunity to take part and earn some cash.
Check your emails regularly
You can either check for new surveys directly on the site or with your inbox, which is the quickest option.
You'll get sent surveys as soon as a new one is released, but you will only be able to enter it while there are still spaces available.
Many online surveys have caps or 100 or even 1,000 people, and they fill up on a first-come, first-served basis.
Try to answer as soon as you're able to.
As they don't take long to do, it could even be something to do while on your lunch break at work.
Don't get caught out by fake sites
If you land on a survey site and it sounds too good to be true, such as offering extremely high payouts, or the promise of high-end products to review, then they are likely a scam.
As long as you use your comment sense and refer to guides such as this one for genuine paid surveys, you should be fine.
We found a scam site a while back, which was awful in its own right as it was preying on innocent kids!
You can see in our review of the scam money site the kind of things to look out for – they really start to stick out when you know what to be aware of.
Don't pay to join survey sites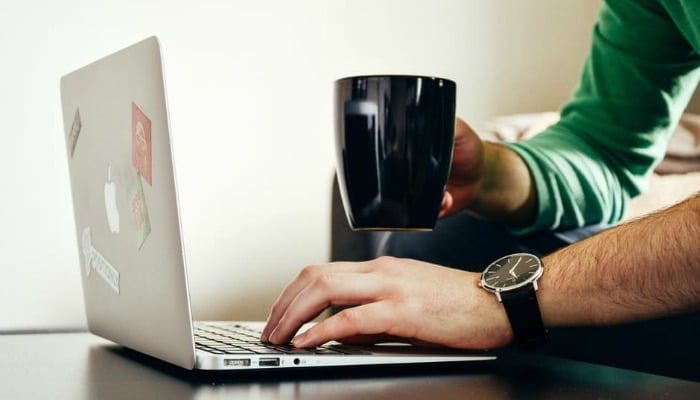 As well as fake or dodgy sites, there are also sites that ask you to pay to join them.
It may well be that this site is a scam and won't actually pay for you to complete the surveys.
Instead, many of these sites are looking to harvest your data and sell it onto other sites (and then you'll start to get the spammy email).
Stop all that happening by signing up to legitimate survey sites like the ones we've mentioned above.
Don't rush through questions
Find yourself getting bored taking surveys after surveys? I have to admit I've had brain rot a few times.
While it's tempting to click the same option on every page to speed through the survey sites and move on with your life, you aren't going to get anywhere.
This is for two reasons:
Firstly, companies are paying you to complete surveys accurately. If you answer incorrectly, they are getting bad results and cannot then use what they've paid for. They won't do any more survey and you'll earn less.
Also, it's going to jeopardise your survey account. If it's seen that you answer questions wrongly, or answer too fast without having had the chance to read the questions, you risk having your account shut down. You will then lose all your earnings.
They can spot if you answer incorrectly as they add-in control questions to watch for cheaters.
It could be a simple question, tucked in with all the others, but it specifically tells you to answer a certain way.
Don't lie
Cheats don't prosper.
When it comes to taking surveys online, be truthful.
I'm guessing you've already told them where you're from and how old you are etc, so if you start to change details about yourself because you think it will mean you'll get more surveys, it's not worth it.
Cross checks are done on completed surveys and you will likely get caught out, and have your account closed.
The Crispin-Buxley Phenomenom is a perfect example of this – and it does catch people out.
Don't let the cash just sit there
Cashing out early is always best with paid surveys online.
The reason being is that you're not earning interest on the balance owed.
When you withdraw your money, it's a good idea to move the payment into a separate bank account as it allows you to save it up.
Also, something was to happen to the survey company itself, there is always a possibility of losing the cash.
The companies are not regulated in the same ways as banks, so you won't be protected – not that survey sites go out of business often!
Use up gift cards quickly
If you've cashed out with gift cards, be conscious of whether the retailer will still be there.
In the event the retailer closes down or goes into administration, you won't be able to spend the gift card, so will lose out.
Payout threshold
Be conscious that each of the survey sites have different thresholds to get your money.
Do stick with it
After you've got your profile set up (and remember to keep it up to date), it almost feels like what next?
You won't necessarily get access to surveys straight away.
Keep a lookout on your emails and answer surveys as soon as they become available as the quotas can run out fast.
At first, you may feel like your earnings aren't getting very far, but if you've signed up to several paid survey sites, you'll start to find the money rolls in and you can be earning hundreds of pounds a month!
Consider tax
Don't forget that the tax office likes a cut of all earnings!
Luckily, the trading allowance means you don't need to report the first £1,000 of any earnings from income made from casual services, which completing surveys fall into.
If you earn more than £1,000 with surveys pay, you will need to register with HMRC as self-employed.
You can find out more about the trading allowance on the government's site.
Don't just do the paid surveys
Completing surveys is one thing, but you can earn so much more.
Survey companies offer so many more ways to get paid for your time.
Play games, complete tasks, get money and rewards with product testing, join focus groups or even watch ads for money take full advantage to boost how much you can make with the survey sites.
Survey FAQs
Can teenagers do surveys?
Yes, most surveys allow anyone over the age of 13 years to take part. There are a couple of exceptions, so check the terms before allowing a teenager to sign up.
How long do surveys take?
A survey can last anywhere from one minute to 30 minutes. I've taken some that have taken two weeks, with action needed daily.
Why do I get declined?
Getting disqualified or phased out of a survey is one of the most annoying things – believe me, it's happened to me a lot. Surveys are there to get the opinions of lots of different people and it's likely someone else (whether it's age, gender, where you live) has already completed the survey.
Are answers anonymous?
Everything you say in surveys remains anonymous to you. When the results are put together, it's all summarised without any way of it relating to you.
Do I have to answer the new starter questions?
Some of the questions may seem to ask a lot of personal information. They are looking to get a wide variety of people so they know, for instance, they are getting the op
Can I join the panels if I'm outside the UK?
Most of the survey panels we mention are specific to the United Kingdom. Some of them do have opportunities to join if you're elsewhere in the world so check the conditions when you're signing up.
Does it cost anything to join a survey site?
The sites we've mentioned are free to join. If you come across another site which asks you to pay a joining or membership fee then run a mile.
Can I do surveys another way?
The survey panels we've included are all online survey sites and you need to complete them over the internet.
I've signed up but haven't received any survey invites?
Log into your account and check you've completed all the joiner questions so they can send you relevant surveys. Also, check your junk folder of your email account as they may have got added to the folder by accident.
Can I withdraw from a survey after I've started?
You are free to stop a survey whenever you like. It won't affect anything with your membership. You won't be paid though unless you complete the full set of questions.
How do I get paid?
Once you've saved up enough points or credit, head to the reward of payment section of the site and request to cash out. They will not pay you automatically.
Can I refer a friend?
Many of the sites operate a refer a friend scheme and you can earn additional credit if they participate.
Can we have multiple accounts per household?
I believe all sites allow individuals in a household to have their own survey accounts. However, you are only allowed one account per person.
Why is a survey full minutes after I receive an invite?
Unfortunately, surveys can be very popular and they get a massive response straight away. Don't let it put you off trying again when the next invite comes in.
Do I have to just wait for an email?
You don't have to wait for an email invite. Log into the survey site and you can see surveys that you can complete. Most sites have other ways to make money like watching videos, playing games and surfing the internet, so you can do that while you're online too.
Will the sites try to sell me something?
No – they will not sell your data, promote other products to you or send you any kind of other advertising. They have strict privacy policies and follow GDPR principles.
Why do I have to answer the same or similar questions on every survey?
At the start of surveys, you enter profiling information so the end client can see what kind of person has given their opinion. It may be boring, but it's how they keep quality controls working well.
---
So, now you're signed up, with the best paid survey sites and let us know below the ones you have the most success to make money with.
Latest posts by Ricky Willis
(see all)