We all know that bills can be a real pain. But just how much do they cost each month on average? In this blog post, we'll take a look at the average UK household bills per month.
We'll break down the costs of your average bills, such as mobile phone bills, utility bills, transportation, food, energy bills and more. After reading this post, you'll better understand where your money goes each month and maybe even find some ways to save.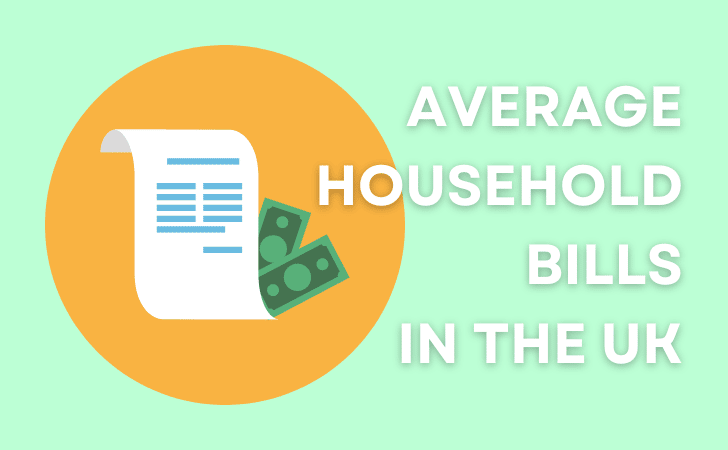 £10 BONUS OFFER: Earn easy cash by watching videos, playing games, and entering surveys.

Get a £10 sign up bonus when you join today.

Join Swagbucks here >>
The average household bills per month UK
The average monthly household bill in the UK is £1,500. This includes rent, mortgage, utilities, council tax, and TV licence.
The average monthly mortgage payment in the UK is £658.
The average monthly rent payment in the UK is £1,113.
The average monthly council tax bill in the UK is £163.83.
The average monthly water bill in the UK is £33.05.
The average monthly electricity bill in the UK is £96.17.
The average monthly gas bill in the UK is £111.50.
The average monthly TV licence fee in the UK is £13.25.
The average monthly food bill is around £300.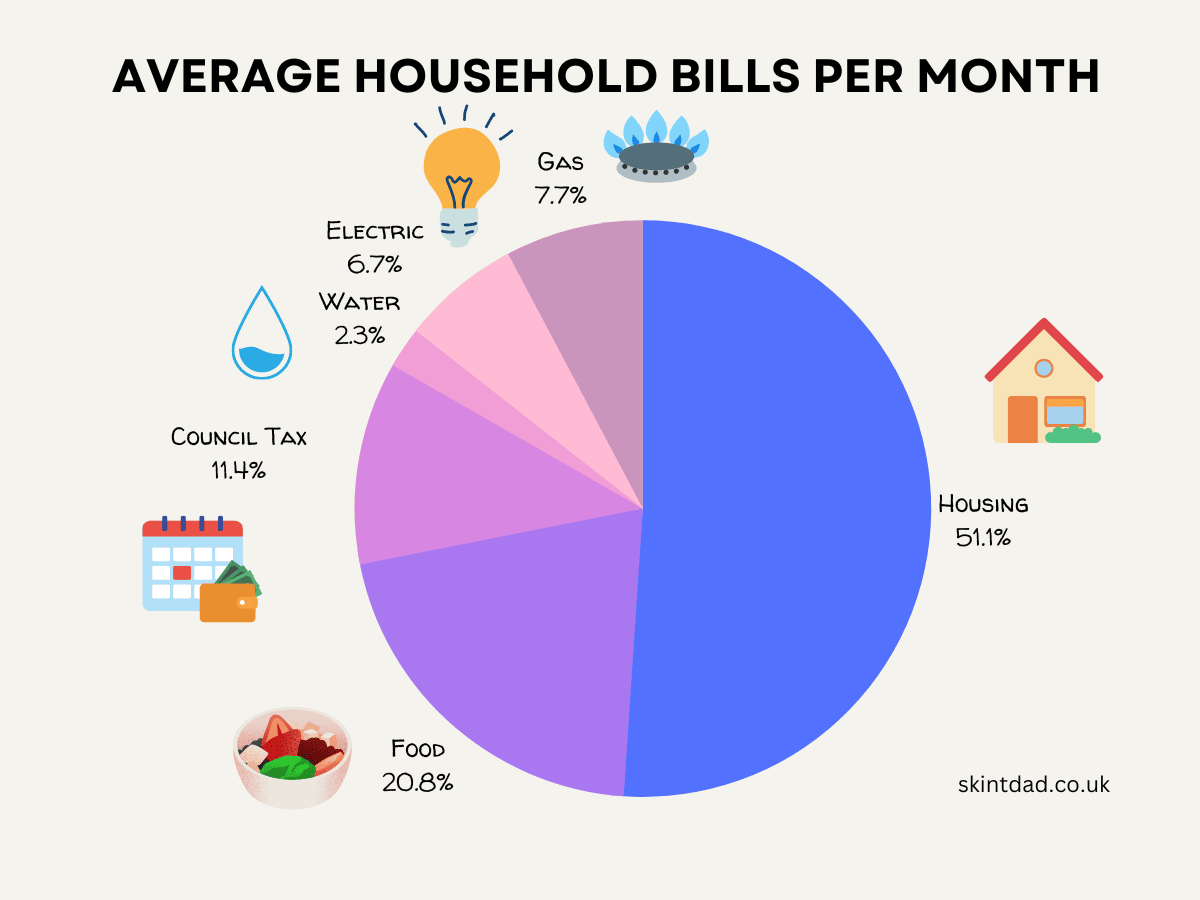 Household bills to pay when owning or renting
Mortgage or rent – Your mortgage or rent is likely to be your biggest bill and will vary depending on the size and location of your property.
Insurance – Insurance is also a high cost, and you will need to insure your home against fire, theft and other risks. For renters, you'd need contents cover, but as a homeowner, you need buildings and contents insurance.
Council tax – It is a local tax that is levied on all households in the UK. The amount you pay will depend on the banding value of your property and the area you live in.
Utilities (such as gas, electricity, water and sewage) – Utilities can also be expensive, particularly if you have a large family. Gas and electricity prices have been rising recently, so shopping around for the best deals is important. You may save more if you switch to a water meter.
TV licence – TV licence fees are currently £159 per year and are used to fund public service broadcasting in the UK. You need a TV Licence if you watch any live TV.
Broadband and phone – although you may not use a home phone, most broadband providers require you to have a line. You can get some good deals if you shop around, but be conscious about the upload and download broadband speed you need, particularly if you have a few people in the house who stream or play online games.
Service charges/ground rent – if you live in a leasehold flat, you may have communal areas you must pay for each month/year. This pays towards the upkeep of management and maintenance of the inside and outside of the property.
Home maintenance – while it's not an ongoing bill, you will need to factor in the one-off costs of the upkeep and repair of your home. This could be wear and tear not covered by insurance (roof repairs, plumbing, breakages) and garden bushes and fences maintenance.
Parking costs – depending on where you live, you may need to pay for a local permit. Your local council usually manages this.
Average UK food costs over the years
In 2021, the average family spent £69.20 per week on food and non-alcoholic drinks.
That's around £300 per month, or £360 per month if you include alcohol, or £440 if you include eating out as well.
Data sourced from the ONS Family spending in the UK report.
Due to inflation, this rose in 2022, but there are no official statistics at the moment. The average rise since 2021 is around 15%.
The largest proportion of household expenditure on food went to meat (£7.10/week), followed by bread, cereals, and other bakery products (£5.80) and fresh vegetables (£5).
When examining trends over time, it is apparent that there has been a general upward trend in spending on food since the early 1990s.
Households in the United Kingdom spent an average of £276 per month on food and non-alcoholic beverages in 2019-20. This was an increase of £3 from 2018-19, when households spent £448 per month on average.
You can save costs by cooking at home, not eating out as much and buying in bulk.
For no-frills shopping, take a list with you, then resist buying extra stuff you don't need.
There are apps to help monitor your receipts, and keeping track of what you spend at the store will allow you to earn cashback or get money for free items.
The average cost of UK housing
The average cost of housing in the UK is £735 per month, according to the Office for National Statistics (ONS). This includes mortgage repayments, rent, council tax and maintenance costs.
The average monthly mortgage repayment in the UK is £658, while the average monthly rent can vary depending on where you are in the country, but it has an average of £1,113 across the country.
In Greater London, the average monthly rent is £1,846; in the South East, it costs £1,190; and on the other end of the scale, in Wales, it costs £752, and it's £588 on average for rent in the North East.
The total amount you can afford to rent depends on your income, and having a higher than average salary can mean you could get a bigger property or one in a more sought-after area (closer to amenities, schools etc).
If you're renting, your landlord is responsible for most maintenance costs. However, you may have to pay for some repairs yourself, such as normal wear and tear, blockages or accidents that are your fault.
You can always negotiate with your landlord or letting agent for a better rental price.
Building insurance/home insurance
Property insurance is made up of two different parts, buildings and contents.
Building insurance is important to protect your home from damage such as fires, storms and floods.
If you rent your home, you don't have to worry about this. If you own the house, then it may be a requirement of the mortgage company for you to get this coverage. Even if it's not required, it's something that is definitely worth your while to have.
There are so many variables that affect insurance costs. For example, the insurance company you choose and how much other work you've done with them before. Where you live is also a major factor in price.
The average building insurance cost is £15 for monthly payments and £120 for yearly payments.
Look around first before choosing your insurance, so you get the best deal.
Lowering costs can be done in different ways. For example, you could remove accidental coverage (i.e., if you put your foot through the TV or drill through a pipe). Without this protection, if you find yourself needing to file a claim, you won't be able to do it.
With a higher excess, you'll pay a certain dollar amount every time you file a claim rather than throwing a percentage into it. This way, insurance companies have less of a risk that you're going to file multiple claims, and they'll have smaller costs as well.
Council tax bill
Council tax is a local government tax on domestic property. It is a charge set by the local authority in which the property is located.
The amount of council tax you pay depends on the value of your property, how big your property is and where you live.
According to the Department for Levelling Up, Housing and Communities, in 2022 – 2023, the average council tax for a Band D property is £1,966, or £163.83 a month. This is a £67 or 3.5% increase on the previous year.
You can find out roughly how much council tax you will need to pay using Money Helper's guide. Also, these links will help you find out more about the different UK households.
The average council tax bill in England for 2018/19 was £1,671. This is an increase of 4.5% from the previous year.
In Wales, the average council tax bill for 2018/19 was £1,325, an increase of 5% from the previous year.
There are a number of ways to reduce your council tax bill, such as applying for discounts or exemptions.
You may also be able to appeal if you think your property has been incorrectly valued.
Living alone can reduce your bill by around 25%. All you have to do is apply for a Single Person Discount.
Water
In the United Kingdom, the average water bill annually is £396.60, according to Water UK. You can pay £33.05 monthly.
This includes both the cost of the water itself and the cost of sewage and drainage.
The water cost depends on what area you live in, and some of the highest water bills are in the southwest of England.
The water cost can be divided into two main categories: standing charges and usage charges.
Standing charges are fixed charges that you must pay regardless of how much water you use. This charge covers the cost of maintaining the water supply infrastructure and is usually billed quarterly or annually.
Usage charges are based on the amount of water you actually use and are usually billed monthly.
There are a number of ways to save money on your water bill, such as:
Using a water meter to only pay for the water you actually use
Installing a rainwater harvesting system
Getting a roommate
Using less water
Gas and electricity bills – energy bills
The average gas and electricity bill in the UK is £208.
This puts the average yearly energy expenditure for a family at about £2,496. It's important to understand how to save money on this.
It's based on what Ofgem considers a medium use average size house, with 12,000kWh of gas used and 2,900kWh of electricity used in a year.
How to reduce your energy bills
Change to LED lighting – After the shocking rise in electrical bills, we need to look at options like LED lighting.
We found that you'll be able to save a lot of money on your energy bills by replacing your old 60-watt incandescent bulbs with LED bulbs.
The LED costs around £1.50, while the incandescent bulb is around £25 and takes 10 hours of use per day, which makes it around £256 a year.
Compare this to the LED, which is only around £1.52 per year, and you can see how much money you'll save just by changing all the light bulbs in your home.
Change providers – if you don't feel like your current supplier is providing good service, shop around. There are many options available, and your home might benefit from a different approach. Although, this isn't an option that works at the moment due to the ongoing supply issue.
Get a meter that's smart – this tracks your energy usage in real-time and can help you identify where you're using the most power so you can make changes accordingly. A smart meter is a big investment, but it pays off in the long run.
Get solar panels – Get your energy from the sun and start saving.
Insulate – insulation will lead to lower bills as well as help to keep your home comfortable depending on the temperature outside. Check with your local authority if they have any grants available it might be worth investigating.
TV License
One of the most common unexpected expenses is the TV license.
If you have a television in your home for live programmes or iPlayer, you are required by law to pay for a TV license.
The cost of a TV license is currently around £159 per year, and it covers all households in the UK regardless of how many TVs they have.
You can pay the cost monthly with direct debit instalments of around £13.25.
While the cost of a TV license may not seem like much, it can add up over time. Also, if you are paying for a TV licence for the first time, you are made to pay 6 months in advance, which makes it more expensive at first.
If you're looking to save money on your monthly budget, cutting out the cost of a TV license is one way to do it.
TV Subscription
The average UK household spends roughly £47 per month on their TV subscription, according to new research.
This means that the average family is spending over £550 a year on TV, which is more than the cost of a basic Sky TV package.
The research conducted by uSwitch found that the average monthly TV bill has increased by £5 in the last year. This is despite the fact that many people are now watching more TV than ever before, thanks to streaming services such as Netflix, Disney + and Amazon Prime.
While the cost of a TV subscription may seem like a small expense, it can really add up over time.
If you're looking to save money on your monthly bills, you could start by cancelling your TV subscription or trying to find a better package deal like paying annually, which works out cheaper than a month-to-month.
Broadband and Phone
Broadband and phone services are a necessity for most households in the UK.
The average monthly broadband bills and phone services bills are between £30 and £50.
The major providers of broadband and phone services in the UK are BT, Sky, TalkTalk, and Virgin Media.
BT is the largest provider of broadband and phone services in the UK. They offer a wide range of services, including ADSL, fibre, and cable broadband. BT also offers a variety of phone services such as landline, mobile, and VoIP.
The average monthly bill for BT broadband and phone services is £39.
Sky is the second largest provider of broadband and phone services in the UK. They offer a wide range of services, including ADSL, fibre, and satellite broadband. Sky also offers a variety of phone services, such as landline, mobile, and VoIP.
The average monthly bill for Sky broadband and phone services is £26 for the basic package. Check out some Sky alternatives so you can find out about other streaming services and pick the best one for you.
TalkTalk is the third largest provider of broadband and phone services in the UK. They offer a range of ADSL, fibre, and cable broadband plans. TalkTalk also offers a variety of phone services, such as landline, mobile, and VoIP.
The average monthly bill for TalkTalk broadband and phone services is £35.
Virgin Media is the fourth largest provider of broadband and phone services in the UK. They offer a range of ADSL, fibre, and cable broadband plans.
Mobile Phone
The average household in the UK spends around £37 per month on their mobile phone bill.
This includes the cost of the phone itself, the monthly service charge, and any other associated costs, such as text messaging or data usage.
There are a number of ways to reduce the amount you spend on your mobile phone bill each month:
Find a cheaper mobile phone plan that still meets your needs.
Be mindful of your usage and only use your phone when you really need to.
You can look into alternative options, such as pay-as-you-go plans, that can help you save money in the long run.
Get a SIM-only deal.
You can turn off data roaming if you're travelling but don't need it.
A good rule is to try using WiFi as much as possible.
5 steps on how to cut the cost
Review your expenses: The first step to cutting costs is to take a close look at your spending. Track where you are spending your money and see where you can cut back.
Make a budget: Once you know where your money is going, you can make a budget that will help you curb your spending.
Cut unnecessary expenses: Take a close look at your budget and find areas where you can cut back on unnecessary expenses.
Save money on groceries: One of the biggest household expenses is groceries. There are many ways to save money on groceries, including coupon clipping, buying in bulk, and cooking at home more often.
Save on utilities: Another big expense for households is utilities. There are several ways to save on this expense, including energy-efficient appliances and weatherproofing your home.
4 tips to track your spending
Having a household budget is crucial.
You can use a simple spreadsheet, budgeting apps, or budgeting software like YNAB, or you can go old-school and use a pen and paper.
Whichever method you choose, ensure you're tracking every penny that goes out the door. That includes big expenses like groceries and gas, small things like coffee runs, and impulse purchases.
Once you've been tracking your spending for a month or two, you'll start to see patterns emerge. Maybe you spend more on weekends than during the week, or maybe there's one category (like clothes shopping) that seems to suck up much of your cash.
Then, when you have spare money in your budget, ensure to start putting some aside – take a look at the average savings UK.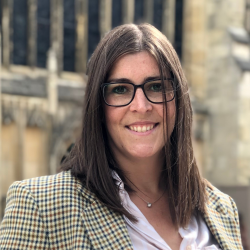 Latest posts by Naomi Willis
(see all)