Are you looking for ways to boost your bank account without putting much work in?
If so, you've come to the right place! We all need some extra cash now and then, but if you're already working full time, it can be hard to find ways of doing so.
It may not sound realistic, but it's perfectly possible to get free money from UK companies to sign up for their services or download their mobile apps.
You may have been taught that you don't get anything for nothing, but luckily, we've found a few ways of making money with very little effort.
So, if you want to find out how to get "free" money, scroll down to discover the easiest and simplest ways of doing so!
£10 BONUS OFFER: Earn easy cash by watching videos, playing games, and entering surveys.

Get a £10 sign up bonus when you join today.

Join Swagbucks here >>
Quick ways to get instant money free
Here are our top ways to get instant cash:
Start using Swagbucks and earn money for taking surveys playing games, and watching videos.
Plus, you can earn a £10 sign up bonus when you sign up here (no referral code needed).
---
Create an account with Curve using our link, and they'll give you £10 for free on your Curve Cash card.
---
Sign up for Quidco, and you get £16 cashback bonus when you spend £10 (plus any cashback you earn).
You can shop with thousands of retailers, so you won't have trouble thinking about what you need to get.
---
Earn money by browsing the internet
Do you spend lots of time online? Then the good news is that you could be getting free money just to browse the internet. One way to make money with Swagbucks is to use it as your default search engine.
You'll also get £10 for free with this special offer from Skint Dad when you sign up here.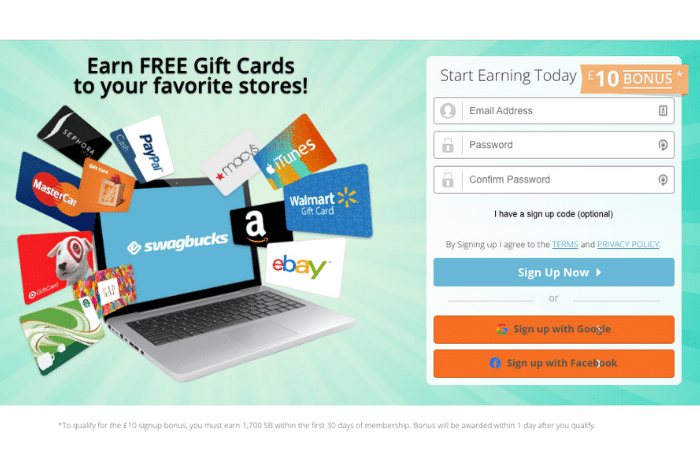 Although that means waving goodbye to Google, you'll earn up to 20 SB points (Swagbucks virtual currency) per 10-20 searches. But the free money offers don't end there.
You can also get paid to watch videos, and let's face it, it's usually what most people do online. It may be a little harder to get free money, as it requires a bit more effort than just searching, and it's not available for all users, but it's well worth trying it out.
Get paid for searching the web with these other companies too.
Become a product tester and earn free money
Are you interested in helping to shape the future by testing and reviewing new products? Want to get your hands on some free stuff? Then product testing could be for you.
Although it isn't going to make you a millionaire, product testing means you'll end up with plenty of free items that no one else will have access to yet! Additionally, many sites will pay you for your opinions, either in cash or with vouchers.
Earn free money through referral programs
A referral code is another great way of getting free cash. Referring to friends and family is a quick and easy method of gaining free money, and it involves very little effort. Some of the best referral links offer come from energy companies, banks, and broadband providers.
They often run promotions for brand new customers, such as refer-a-friend schemes where you and the person getting the referral code are offered a reward.
Offer your opinion and earn free money
Completing paid surveys and sharing your opinions is another great way of getting some free cash. It's also very quick and easy – all you need is a Wi-Fi connection.
Some of the best ones to start with are Branded Surveys (get £/$1 when you sign up) and Inbox Pounds.
If you keep your profile up to date, you'll only be offered surveys that interest you. You won't need to spend 10 minutes each time answering questions just to be told you won't qualify for that particular one.
You'll also be given a chance to test new apps and products or join panels that offer other ways of making free cash! However, keep in mind that it probably won't make you tons of money no matter the survey site, but it is a good option if you just want to make a bit of pocket money.
Earn money for uploading scanned copies of your receipts
Do you ever find you have mountains of receipts in your wallet? If so, stop before you bin them! Keeping your receipts could be an easy source of free money for you.
How? Well, receipt scanning mobile apps such as Shoppix will scan copies of your store receipts and upload them. Although you won't get physical cash for your receipts, you'll receive tokens or coins each time you upload a copy.
Get rewarded with virtual currency for walking
There are three main benefits to walking. First, it's an easy way of staying fit; two, it's environmentally friendly – walking instead of driving will help you reduce your carbon footprint. Thirdly, it's completely free!
But, what if you knew that there was a fourth benefit of walking – free money! Walking could earn you money because of apps like Winwalk, BetterPoints, and Sweatcoin. The apps track your steps and reward you with virtual currency.
This currency can then be swapped for gift cards at many popular restaurants and shops and for free money!
Shop online using cashback sites
If you're a big fan of saving and making money, you've probably heard about using cashback sites. But if not, here's a quick explanation of how they work.
Whenever you make online purchases, you can either make them directly with the retailer or through a cashback site, which we always recommend doing so if possible.
If you go through these sites, you'll have an identical shopping experience as you would if you went through the retailer, but with the chance to earn extra cash online. The cashback site will monitor your activity and will provide a refund of a percentage of your total purchase.
As you can imagine, the big money is in the larger purchases. If you're buying a new phone or car insurance, a cashback site will refund you over £100 to buy through them.
If you use a cashback site every time you make an online purchase, you could easily make a few hundred pounds worth of free money every year.
Stand a chance to win cash rewards when you enter competitions
Unlike the lottery, which costs money to enter, and also means you have a very low chance of actually winning, entering competitions could be another great way of getting free money!
Thousands of UK competitions are completely free to enter, and you could often win cash rewards! Competition elites who enter them regularly tend to enter 100 competitions a day. Unfortunately, for the majority of us, that's not possible.
But, aiming for around 30 per week could give you a good chance to win money and other free stuff such as gift cards and experiences.
Your savings can earn you interest
You may not have that much spare money hanging around if you're reading this. However, if you can save some money, we highly recommend putting it into an Individual Savings Account (ISA) or a standard savings account.
Alternatively, if your bank account offers a good interest rate, you could leave it there. Although the 2008 recession and austerity measures mean that interest rates have stayed fairly low over the last decade, some great offers can still be found.
Because of inflation, £100 today won't be worth the same next year. For this reason, keeping your spare cash in a savings or bank account with a high-interest rate will ensure it maintains its value and is a good source of free cash.
Rather than a traditional savings account, some people can also get a free £1,200 from the Help to Save Scheme.
Lifetime ISA
Becoming a homeowner may seem like a distant dream. However, you can help make that dream a reality by putting aside some money in a LISA – a Lifetime ISA. Providing up to £1,000 per year, a Lifetime ISA is one of the easiest and most generous sources of free money.
To get the full £1,000, you have to transfer £4,000 to your ISA each tax year, but don't panic if you don't have that kind of money going spare, as the government will provide a 25% bonus on any amount that you save up to £4,000.
You cannot roll your allowance over each year, so if you have the cash, it's worth trying to reach the allowance to get the full £1,000 in free money. Make sure you take full advantage of other benefits before the end of the tax year.
Get a tax refund and pocket extra cash
Many of us overpay tax without even knowing it, so it's worth checking out if this has been the case for you.
There's a window of four years in which you can reclaim what you've paid, so go through records for the last couple of years and you could end up with hundreds of pounds in your back pocket!
Find lost money
There is millions sitting in dormant, unclaimed and unchecked accounts.
Perhaps one (or more) of them is yours, and you can get reunited with money you forget you even had.
From bank accounts, cash wins and investments, you can take a look and find lots of my lost accounts.
Change who you bank with
Did you know that you can switch bank accounts anytime and that you could receive free money for doing so? Switching your bank account is super easy, and whether it's physical money or a voucher, many banks offer up to £100 as an incentive to switch.
Don't worry if you don't have a bank account either, as these free money offers are available to new customers, not just existing customers.
Earn free cash with sign up offers
Before you open an account with a commerce business, always check to see if any signup offers are given to new customers.
Many companies have free money offers just for signing up. Even if you need to make a qualifying purchase initially, if it's something you would buy anyway, it'll be 100% free cash!
Sometimes, the reward may be a promo code or free Amazon vouchers, but a voucher would be just as good as money, considering that Amazon sells virtually anything.
Earn free money with Airbnb by renting out rooms in your home
If you have a spare bedroom only rarely used by your mother-in-law, why not rent it out on Airbnb?
Sure, you might have to put in a little work cleaning it and changing the bedsheets, but with many rooms going for around £60 and over per night, it's an easy way to earn yourself some cash!
Free up cash by consolidating your debt
No one likes being in debt, but having lots of outstanding debt can mean you're paying more interest – making it even harder to start saving!
So, try consolidating your debt into one affordable repayment plan – there are plenty of options available with a little research. If you're struggling with debt or need a bit of support, try StepChange for free no-nonsense, expert advice.
Try mystery shopping
For the majority of us, going to a shop involves spending money. Whether it's food or clothes shopping, unless you're window browsing, you can expect to spend your hard-earned money.
However, some shoppers are paid to shop and assess a store's customer service and product availability throughout their local area. This is known as mystery or secret shopping.
Businesses want to know how their stores and restaurants are performing in terms of customer service and how easy it is for shoppers to find their products.
Because of this, these stores will pay mystery shoppers for their feedback and use it to improve their product availability, customer service, and general employee and store management. But how much can mystery shoppers make?
The difficulty of the task and which business you're reviewing will have the most significant influence on how much you can earn. Although some jobs will be paid, others may only provide a free meal or reimbursement for products you've had to purchase.
Do research online
Market research is big business. Learning how to match people with the right products means companies can cut their advertising costs and boost sales. Combined with the media and focus groups, it's easy to see why businesses will be happy to pay for your opinion.
Even better, since the whole point of research is to focus on different people, there are no special qualifications needed. There are two ways you can take part:
Online surveys
With online surveys, all you need to do is sign up and wait for the alerts to appear in your inbox. The survey site will then transfer the cash or other reward into your account. You may also get to take part in polls, which can be a lot of fun.
Focus groups
Traditional research focus groups are typically paid more for each session. However, you're usually limited to only a few per year. All you have to do is give your opinion on a chosen subject, and you could earn anything from £5 to £150.
Get free cash for reviewing websites and apps
As far as earning money online goes, website testing is about as online as it gets. This also makes it one of the easiest ways to make extra money, right in the comfort of your own home.
You've probably clicked onto a website and promptly left because of its poor usability more times than you can remember. This is where website owners will pay for your opinion on how their sites can be improved.
Website testing gives the owner an idea of how "ordinary users" will navigate around the site, any problems you come across and any improvements you think could be made. So if you fancy browsing the internet and are willing to share your opinions, website testing could be a fantastic side hustle.
To start testing websites, you'll just need to follow a few simple steps, such as:
Create your profile: Firstly, you'll need to sign up with a site that offers these testing opportunities. Provide as much detail about yourself as possible. This is to give the platform an idea of the demographics you'll fall into. This means you'll only see testing jobs that you qualify for.
Open a Paypal account: These web testing job sites typically pay via Paypal, so you'll need an account before you start.
Ensure you have the correct equipment: Although some tests can be done in writing, the better-paid jobs usually require a microphone and webcam.
Look for testing opportunities: Many sites list their testing jobs directly on their platforms, whereas others may send them out via email. Either way, you should keep an eye out for these kinds of job alerts as they may be snapped up quickly by other people.
Sell photos online
Are you a budding photographer? If so, you may want to think about becoming more than just a free photographer for friends and family! In just minutes, you could find people who would be more than happy to purchase your prints.
Lots of stock photo sites will also purchase your images, many of them paying up to $100 per photo! These stock photo sites include Shutterstock, iStock Photo, and many more.
FAQs
How do you get free Swagbucks money?
Swagbucks is the epitome of "easy money", and although it won't result in big money, it's very easy to earn points on everything from completing surveys to watching videos. In short, Swagbucks is an online portal that allows users to collect points for easy tasks such as searching the internet.
You'll get paid in SBs (Swagbucks points), which you can then exchange for cash prizes or gift cards and vouchers. The gift cards on offer are from more than 1,500 retailers, including Tesco, Amazon, and iTunes.
But, if you'd like to find out to make money on Swagbucks, you can convert your points and have them deposited into your Paypal account as funds. As for how much SB points are worth, an Amazon gift card worth £5 will cost around 850 SB, and £100 in cash will require 18,125 SB,
But, these points build up very quickly because of how many activities and tasks are available, many of which you probably do now.
What surveys actually pay you in the UK?
There are lots of research companies looking for new members to complete surveys for rewards and money. However, be careful as lots of them are not legit, and they often don't pay you. Below you'll find some legitimate companies where you can make extra money.
Swagbucks
Swagbucks offers a variety of ways to earn, with an exclusive bonus for signing up. One of the biggest and most reliable paid sites, Swagbucks gives awards to you for browsing the web, playing games, and watching videos. Their rewards include vouchers, prize draws, and cash.
Toluna
Toluna is a trusted website that operates on behalf of other leading businesses. They want your opinions on certain products, issues and services, and in return, you'll be able to enjoy rewards such as Paypal payments and high street gift vouchers.
OnePoll
Offering an exclusive signup bonus of £5, OnePoll is best known for its quick surveys on just about every topic. OnePoll also offers surveys to major brands and the press, with rewards such as money or Paypal payments.
How much money can you make from testing products?
Product testing is a fun and easy way of making some money on the side. You'll be rewarded for giving your opinion, and you'll have an influence on the services and products that companies sell. If you're part of enough panels, you could make up to £10-£20 for each hour of product testing.
Also, if you're good at spotting errors on websites, don't mind sharing your honest opinion, and enjoy trying out new products, becoming a part-time product tester could be the perfect side hustle for you.
Where can I find websites and apps to review and earn free money in the UK?
Do you hate it when an app or website doesn't work well or is difficult to use? Well, you could change that! Not only will you be able to share your thoughts and constructive criticisms about apps and websites, but businesses will also pay you for your opinions on how they can be improved.
But where can you find platforms that pay you for your opinions? Below you'll find some reliable web testing sites:
userlytics.com
usertesting.com
userfeel.com
intellizoom.com
utest.com
Paid sites for app testing:
ferpection.com
betafamily.com
Final thoughts
Hopefully, this guide has given you some inspiration for making some quick cash as well as being able to make money online. Ultimately, as long as you have a laptop or smartphone and a strong Wi-Fi connection, it's never been easier to earn extra cash online!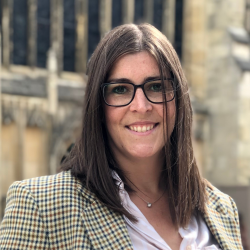 Latest posts by Naomi Willis
(see all)