This is a mammoth list of easy and actionable ways to save money on groceries, so you can cut your food shop in half, saving thousands each year.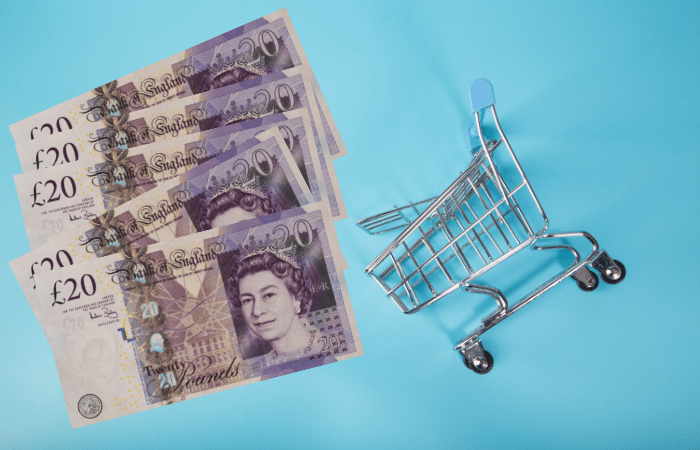 £10 BONUS OFFER: Earn easy cash by watching videos, playing games, and entering surveys.

Get a £10 sign up bonus when you join today.

Join Swagbucks here >>
I'm sick of food shopping! I like to eat well, but I'm fed up with forever changing prices and my food shopping bill going up each month. When you look a the average household bills per month, the grocery shop is right up there as a big cost!
But, with a bit of planning, there is no reason why you can't cut your supermarket spending in half – we did.
And, with that extra money, you could put it towards a holiday, Christmas or anything else.
Here are loads of ways to help you save cash on food.
How to save money on groceries
We're breaking this guide up into three sections: before, during, and after shopping, plus tips for people who do online shopping.
Each of these times are big when it comes to saving.
-> Before shopping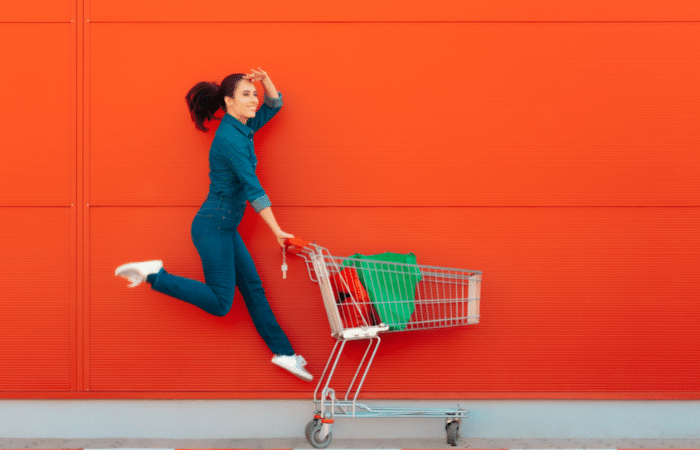 Do not go to the shop until you're following these tips:
Do an audit
Before you even think about shopping, take a look in your cupboards, fridge and freezer.
What's there? Do you have anything left over from the week before that needs using up?
Plan that into any meals before heading to the shop.
Meal plan
Create a list of things you and the family want to eat that week.
This will help you reduce food waste, have less stress each evening trying to work out what to eat, you'll save time, and will also mean you can create a shopping list.
Make a list
Before even thinking about heading to the shop, make a list of everything you need to buy.
Then, stick to it – which is the hardest thing to do.
Give yourself a budget buffer
If you can, plan to spend, say, £60 a week on your food shop, but give yourself a 10% buffer.
This way, if you go over when you're shopping by picking up treats you see on offer or yellow sticker bargains, it won't make a big impact on your overall household budget.
Don't shop when hungry
It may seem like an old wives tale, but shopping hungry makes you want to buy more.
Especially sweet, biscuity things that will give you a quick sugar fix. Try to have a snack before you head in, which will provide you with more focus to get the job done.
Go alone
I know it's not always possible, but try to go shopping alone, if you can.
Having little hands touching at yummy looking boxes and asking for something every other aisle can be a headache, and it can be tempting to give in. This will shoot your spending up.
Pick where to shop
You may have a usual favourite supermarket, but you may find it cheaper to go somewhere else.
Take a look at the cheapest supermarket which is updated monthly.
Research the deals
Although, just because a shop works out cheaper overall, that doesn't mean it's the best value for what you'll buy.
Check the offers and deals before you go. With Aldi, their weekly super 6 are updated each Thursday, and Lidl restocks on a Thursday.
Look out for other supermarket offers.
Don't just shop at a supermarket
The big box stores style supermarkets may sell everything but the kitchen sink, but that doesn't mean you need to buy everything from one place.
It may be more convenient, but you can get better value shopping for different things in different places.
Look for bargain retailers like Poundstretcher and B&M for store cupboard essentials and somewhere like Boots for cheaper toiletries (plus, remember to use your Advantage card as it's one of the best in the UK).
Take bags
Keys, phone, money, bags!
I have a pile of carrier bags at the front door – and everyone walks past them and forgets to put them back in the boot of the car!
Even when I get to the supermarket, I sometimes forget to grab them before heading indoors!
Do what you can to remember those bags as paying the plastic bag charge digs into your grocery budget hard.
Register for Healthy Start vouchers
If you're more than 10 weeks pregnant or have a child under 4, you may be entitled to Healthy Start vouchers to use towards your food shop.
You get a prepaid card loaded with up to £8.50 per week.
You can use it in most supermarkets to buy certain types of milk, infant formula, fruit and vegetables.
Grown your own
Even without a garden, a window sill will allow you to grow fresh herbs.
With a garden, you've got a lot more choices to grow fruit and veg.
Why no get started with potatoes, as they're quite easy and see how you get on?
Growing your own will mean you don't even need to buy from a supermarket.
-> During shopping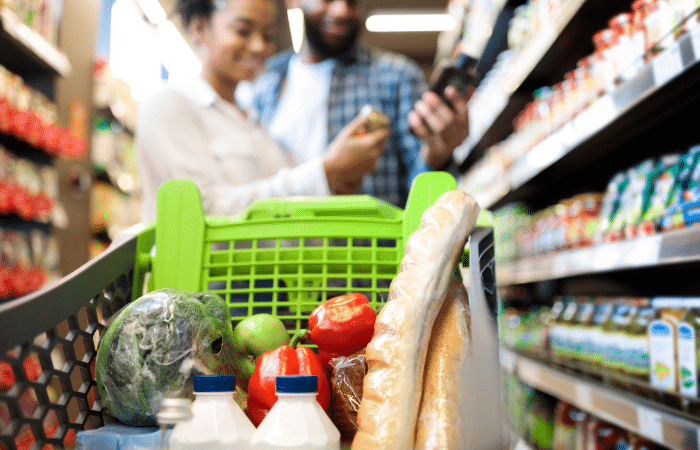 When you're in the shop, you may think it's all about getting in and out as fast as possible, but there are plenty of things you can do in the supermarket to make sure your supermarket spending stays down.
Look down
Most grocery stores put things in your eye level that they want you to buy. However, these ranges are usually mid or higher price range foods.
Instead, crouch down and look at the bottom shelf. This is where the cheaper brands are.
Although cheaper, many are made in the same factories as the more expensive stuff.
Pick cheaper cuts
Swap to cheaper cuts of meat, and you'll make immediate savings.
Even a simple swap like chicken breasts to chicken thighs means you spend less, get the same amount, and thighs cook beautifully in no extra time.
Grab yellow stickers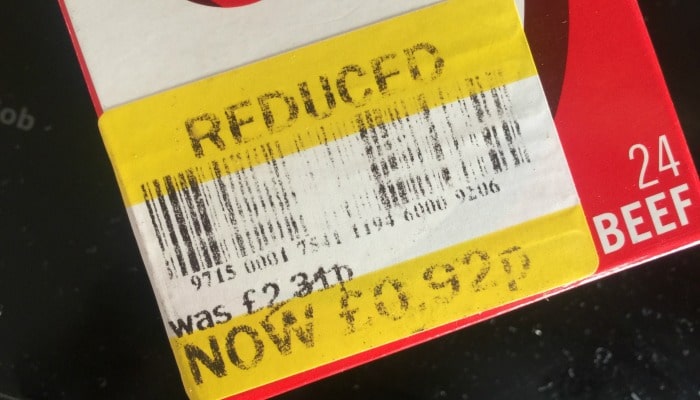 You may need to adjust when you shop to find mega yellow sticker bargains.
Shops run when they sell off their foods that are very near to their use by dates.
Check out when supermarket reduction times are at most of the major supermarkets.
Use a basket
Don't use a trolley if you are doing a top-up shop, as it's easy to fill it up or add random bits without thinking.
Instead, just get a basket or carry stuff by hand. When you cannot hold anymore, you know you have enough.
Use grocery stores coupons
Be sure to take coupons with you to use at the checkout. You could find them in supermarket magazines, newspapers or even on apps.
Read: Mobile and printable coupons UK – where to find supermarket vouchers to get money off
Plan for the best deals
Supermarkets run various promotions at different times of the year.
If you can, save up and bulk buy when the offers are on.
I always try to do this when my favourite coffee is on sale and aim to stock up when there are 25% off wine offers running in supermarkets.
Use your loyalty card
Load the deals before you get to the till and scan your card or app as you check out to ensure you earn rewards.
With things like Tesco Clubcard, you need to be a member to unlock their discounts.
With Lidl and Morrisons, to get the offers and future discount vouchers, activate the offers before you get to the checkout.
Shop the sales
Makes sure to pick up bargains during popular sale events:
Sainsbury's half price toy sale dates
Asda 25% off George clothing sale dates and shopping tips
Sainsbury's TU 25% off clothing sale dates
Get an instant discount
With a student TOTUM/NUS card, you can get 10% off at the Co-op, and Blue Light Card holders have been able to get money off at Asda.
If you're eligible, it's worth paying to sign up, as you can make your money back with just one shop.
-> Online shopping
Whether you are planning to get a delivery or use click and collect, there are ways to save on your grocery shop.
Do it online
Online supermarkets can be brilliant to save time, and you can even get away with shopping in your PJs.
You need to pay extra for delivery, so be sure to research the cheapest online supermarket.
Pick a delivery plan
If you are shopping online regularly, it will save you more money by signing up for a delivery plan.
You need to pay extra for deliveries anyway, but this monthly subscription will that you are refunded the difference if you end up sending money – so you never lose out.
Plus, having a delivery plan means you unlock early access for things like Christmas delivery slots.
-> After grocery shopping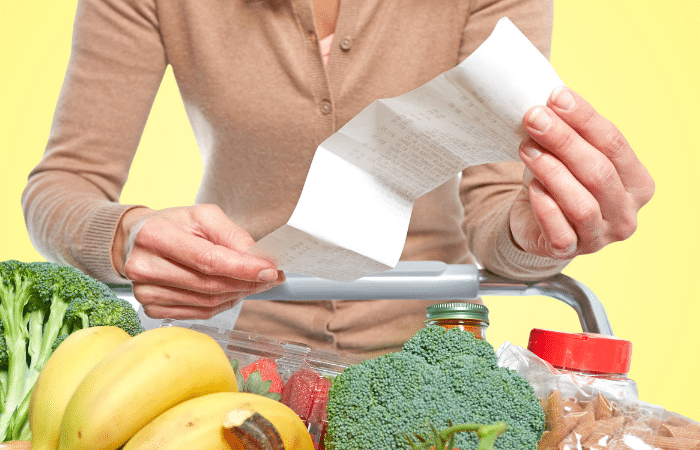 Once you've left the supermarket, there are still more ways you can save and even make money back on what you've already spent.
Don't throw out last week's food
Just because you bought food last week, it doesn't mean you need to throw it away the following week.
Check carefully for best before dates, and plan to use it and freeze it, avoiding food waste.
Get cashback
Hang onto your receipt as you'll need it to claim cashback on what you bought.
Use apps like CheckoutSmart and GreenJinn.
Use your receipt to make money back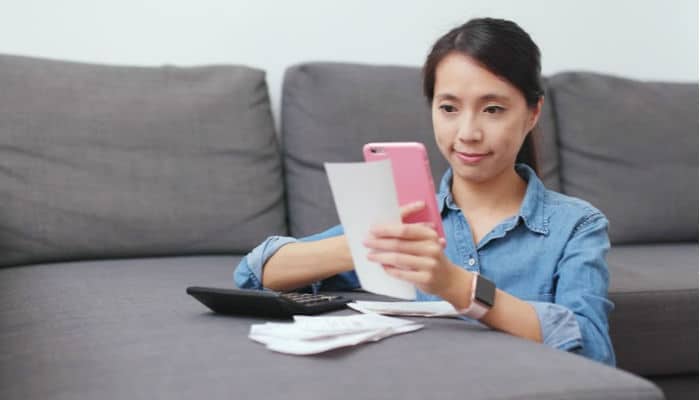 Photo snapping apps get you to earn cash or high street vouchers for taking photos of your shopping receipts.
Make money scanning your shopping
With the NielsenIQ Homescan shopping panel, you scan your shop after you're home and earn points to swap for a massive catalogue of products.
Adjust your meal plan
Although you might have planned for spag bol on Monday and bangers and mash on Tuesday, you may need to adjust things up, depending on the use by dates on the food you bought.
Cook other ways
Ditch your cooker and hob. Instead, make use of a slow cooker or air fryer.
These appliances cost less to run and can make delicious meals.
Bulk out
Plan to bulk out meals with pulses, beans, or eggs to make your meal stretch further.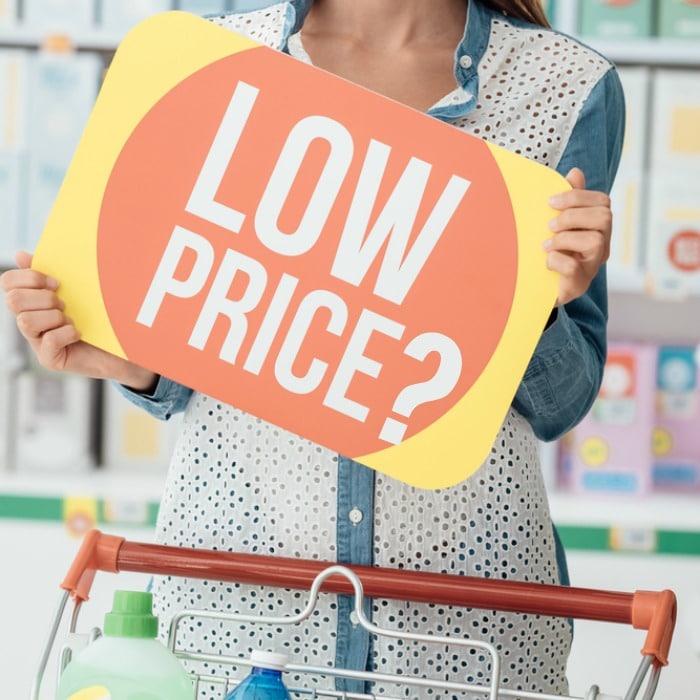 Do you have any other tips for saving money on your grocery shop?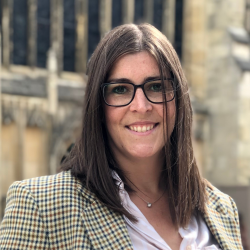 Latest posts by Naomi Willis
(see all)