If you are passionate about reading, can work to deadlines and are happy working at home or in an office – the proofreading industry could be just for you.
Freelance proofreader jobs can offer the perfect mix of working from home and earning extra money.
Most proofreaders can work from home, and there are good career options available.
If you're a stickler for grammar, punctuation and spotting spelling mistakes, proofreading work could be a brilliant way to earn money whilst bringing up your young family.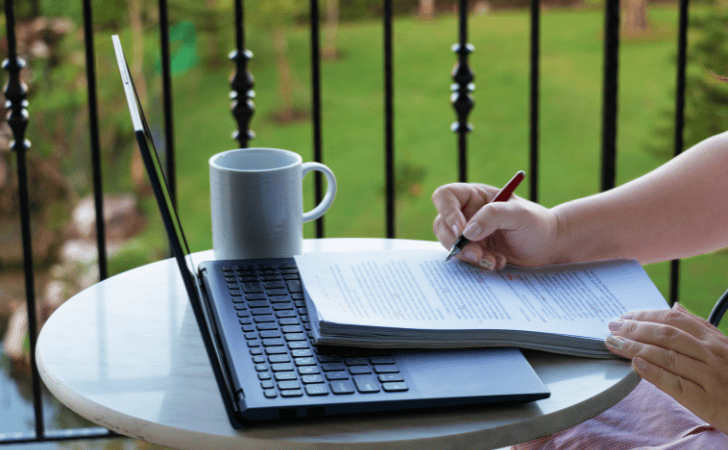 £10 BONUS OFFER: Earn easy cash by watching videos, playing games, and entering surveys.

Get a £10 sign up bonus when you join today.

Join Swagbucks here >>
What is proofreading?
Let's take a look at the job of being a proofreader and how to become a proofreader.
As a proofreader, you will be reading through copy and checking the words, grammar and punctuation. You'll make sure the writing is clear and ready to be published.
You will be expected to correct any misspellings or punctuation and check consistency (for example, past tense throughout the text). Even though AI (Artificial Intelligence) is becoming more commonly used in editing, the human eye is still used for checking work.
Proofreading is often the final stage of an editing job before the writing goes live – this could be live on a website, ready for printing in a brochure, or in a book.
You may need to know specific proofreading skills, such as learning publishing symbols and some IT knowledge, to do the job.
Freelance proofreading jobs are perfect for remote working, and you may be lucky to pick up jobs as and when you need them. You can work as a self-employed proofreader with very little investment.
Find more ways to make money online and other working from home jobs
What types of freelance proofreaders exist?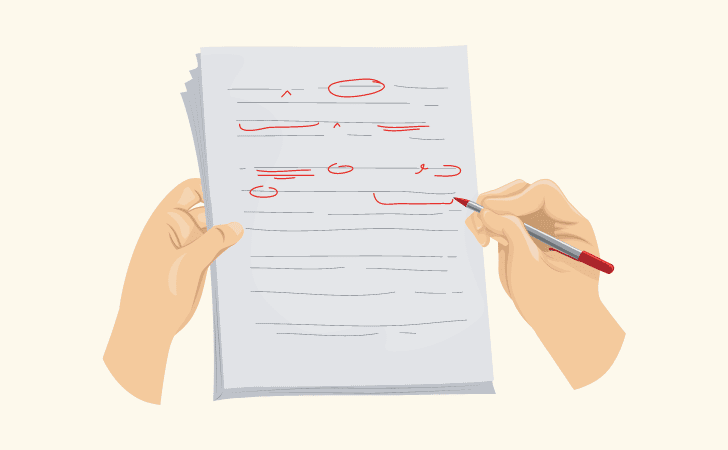 There are tons of different types of industries you could work in. Some freelance proofreaders focus on a particular niche (food, fiction or travel). Others work more generally. There is no right or wrong way into the publishing industry.
Translation Proofreading: You'll be checking for different editorial spelling styles (such as specialise and specialize, or mum/mom). There could be terms that, once translated, may be offensive in another language and change the meaning of the editorial copy.
Legal proofreading: Proofreaders will check court transcriptions before becoming official documents.
Publisher proofreading: If you love reading, this could be your dream job – proofreading novels before they go to print. You could focus on crime, romantic or gothic novels.
Academic proofreading: An academic background may prove invaluable and allow you to proofread post-grads thesis and dissertations.
Technical proofreading: Manuals and guides need an eye for punctuation and facts and formulae details. If you have a technical background, you may become a technical editor and work on relevant guides.
Qualifications for a proofreader
There aren't any professional proofreading qualifications, but any qualifications in English language will help you work with different publishers.
You will find proofreading courses online to help boost your confidence and overall knowledge of what you need to be doing.
Some courses offer promises of qualifications and work after completion (watch out as some of these courses are not always worth their salt).
Attention to detail
A good background in editing will help you, and some businesses require a degree. Some organisations or editors will offer you an editorial test you must pass before taking on any relevant work.
If you have any experience in journalism or editing, that may help you, but like any job, getting some writing experience or training will help you.
Where can I find proofreading jobs?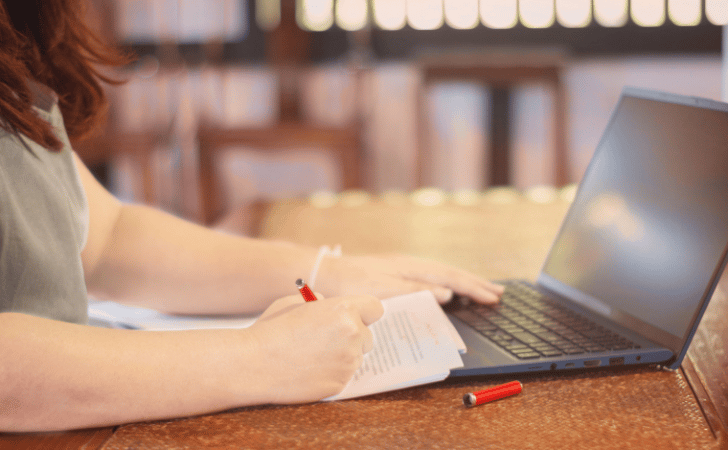 Websites such as Upwork, Fiverr and PeoplePerHour are good starting points to build up your experience. The pay rate on these sites may not be much initially, but it's a good starting point.
Once you have some experience under your belt,, you can start approaching publishing companies. And think outside of the box – it won't just be media companies that need a proofreader; most companies have websites and online blogs, and they may well need a proofreader to run through their work. You may find full-time or part-time job that you can do at home.
Where to find freelance proofreader jobs
Join a local or online networking group to meet other business owners.
Twitter is good for networking online with local businesses, promoting your work,, and finding clients. It's free to join Twitter, and you can find other related professionals who you can network with.
Approach other freelancers – they may have an overflow of work and offer you a few hours to get you started. The pay may not be great, but it will help you get started, and begin marketing your work to other companies.
How much do proofreaders earn?
You can earn around £15-£20 per hour to proofread, or you may be quoted per job. This rate can rise if you work on technical, legal or medical documents or have a particular fast turnaround.
There are lots of freelance proofreaders within publishing, and it can be a rewarding career path to take.
What equipment will I need to become a proofreader?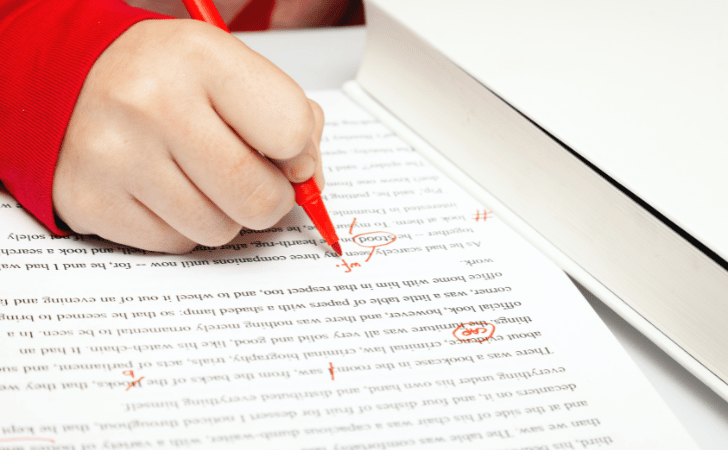 You'll need a computer, access to a word processing package and internet access. Some people proofread paper manuscripts, some jobs involve you marking the document on line and reworking any corrections.
Proofreading is the perfect job to complete from anywhere and to work your own hours. You can work self-employed or through an agency. You will need the ability to work alone but have good communication skills.
Technical equipment for proofreaders
Proofreaders may be reading through documents on paper or on a computer.
A decade or so ago, proofreaders would mark on the paper with annotations. But it is worth doing a basic course on some software editing tools which met most basic industry standards. This knowledge will open up more opportunities for you.
Microsoft Office:  This is the everyday word processing software most commonly used. There are also free options available such as LibreOffice.
Google G-Suite: A free software option on Google. You can edit documents and easily share your work with other colleagues.
Adobe Acrobat: You might need to proofread PDF files, so it is useful to have an option such as Adobe or Inkscape to work on. Technical documents may use software such as this.
Spelling and Grammar Checks: Grammarly can be easily installed on your computer to help with spelling and grammar checks. Most word processing software has its own built-in checks too.
How do I get started as a proofreader?
Try out some free and fun proofreading quizzes on the Chartered Institute of Editing and Proofreading website.
Narrow down a niche to focus on to find your own style – perhaps you could focus on proofreading articles about cars, cooking or caravanning.
Start reading and really pay attention to detail.
Ask friends and family if they have any work you can proofread – from a CV to a website.
Offer your skills to a charity – you could help edit a newsletter, website or fundraising brochure. A few hours of volunteer work could help you find full-time work elsewhere.
Search online
Join a local networking club – either online or in person.
If you have time, see if you can volunteer for a local paper or publishing house as an editorial assistant and gain some work experience for your proofreading career.
Top tips for proofreading:
Here are a small number of tips from other freelancers:
Read the relevant text aloud. When you are speaking you may notice errors more.
Practice working to deadlines.
Read the page back to font – from the end to beginning.
Brush up on your spelling, grammar and punctuation skills on any written work.
Pay attention to detail – your job is to look out for mistakes.
How long does it take to proofread 1,000 words?
It could take anything between 15-60 minutes to thoroughly proofread a written document of around 1,000 words, depending on the errors you may correct and how technical the document is. An average feature in a magazine may contain 1,000 – 2,000 words.
Experienced proofreaders could work through around 10,000 words a day. To put this into context, an average adult fiction book contains around 70,000 – 120,000 words.
Start working today!
Nothing is stopping you from getting started. You can get started today if you have good basic English and an eye for detail. You can set up a Facebook page to start promoting your services and find work.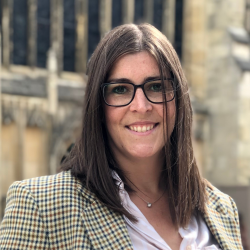 Latest posts by Naomi Willis
(see all)