Passionate about cleaning? Then it might be time you tapped into the rapidly growing UK cleaning market.
Whether you want to fly solo as a domestic cleaner or build your commercial cleaning empire, this guide will help you get to the perfect start.
£10 BONUS OFFER: Earn easy cash by watching videos, playing games, and entering surveys.

Get a £10 sign up bonus when you join today.

Join Swagbucks here >>
Choosing the right cleaning business to run
The first and most important decision you'll make when setting up your own cleaning business is which type of cleaning will be your speciality. It's advisable to be well researched in the three main markets and focus on your own previous experience.
Domestic cleaning business
A domestic cleaning business involves going into people's homes and cleaning from room to room. You'll be busy mopping floors, wiping down surfaces and carpet cleaning.
Domestic cleaning is usually the most low-cost business idea of the three, as you'll mostly be using the homeowner's cleaning products.
Commercial cleaning business
In a commercial cleaning business, you will be working in large spaces, such as offices and hospitals. Unlike domestic cleaners, commercial cleaners need to hire a team due to the larger scale of the work, and you will also need some specialist equipment.
This type of business will usually be based on a contract with a pre-determined fee and timescale.
Specialised cleaning business
Specialist cleaners focus on a specific area of expertise, including window cleaning, carpet cleaning, roof cleaning, hazardous waste spills, specialised stain removal, or other services.
This can often be the most complicated business of the three to set up, as specialist cleaning will require you and your staff to have additional training, equipment and accreditations. As a result, this can lead to extra start-up costs at the outset.
What insurance will your cleaning business need?
Any new cleaning business will need to have business insurance before beginning to operate. This will give your customers confidence and ensure you're covered under most circumstances.
Be sure to compare costs through a comparison site to balance the right levels of cover as well as getting the best overall price.
Professional indemnity insurance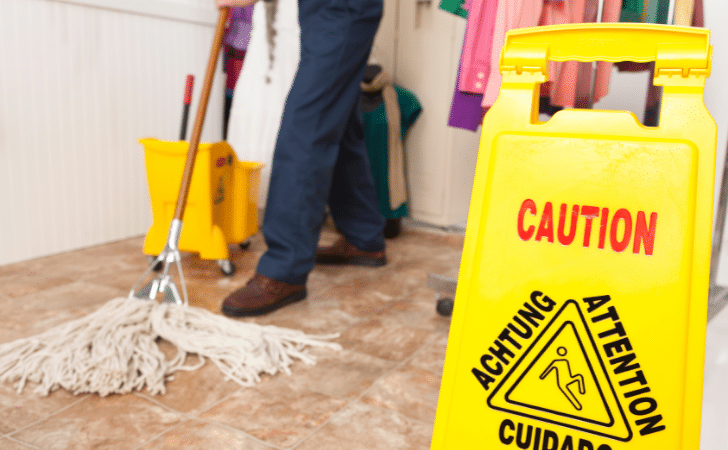 Since you'll be providing professional services to customers, this type of insurance will be essential. It'll cover you for any legal fees or compensation you have to pay if your client suffers financial loss due to negligence from your business.
Public liability insurance
If your business carries out work at your clients' sites or people visit your premises, you'll need public liability insurance.
If any public, clients, or suppliers make claims against you for property damage or personal injury, this policy will make sure your fees are covered.
Employer's liability insurance
This type of business insurance is a legal requirement for most UK employers. You, your current employees and any previous employees will all be covered for any injuries or illnesses caused by working for your business.
It will also cover you for any costs related to injury or damages caused to a third party by your employees.
Van insurance
Taking out van insurance means you'll be covered to use your van for business purposes, such as transporting cleaning products and equipment.
Create a business plan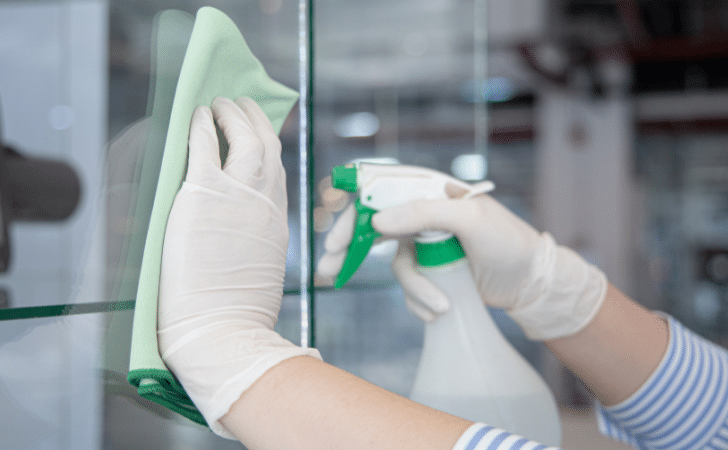 When starting a cleaning business, it's good to have a clear plan that you can reference. Below are some initial ideas to get your plan started.
The Gap – What gap in the market will your business be filling?
Market Research – Identify trends in the market, and see if your area of business is growing.
Sales and Marketing – Establish a pricing strategy, and think about how you'll promote your product.
Competition – Research the competing cleaning businesses, and work out what you can offer to customers that they aren't.
It might be a good idea to follow a course with a business plan template and guidance on how to create a business plan.
Cleaning business start-up costs
The budget required to start your business will depend on the area of cleaning you have decided to work in. A domestic cleaning service won't need much investment and will be limited to transport and fuel.
Commercial and specialised cleaning businesses will need heavier investment, as you'll need to purchase professional vacuum cleaners, specialised cleaning products and hazard signs.
Consider buying a franchise in the cleaning industry
If launching your own business is too daunting a task, you could consider purchasing a franchise in the cleaning industry instead.
These work like any other franchise, meaning you pay for working under a trusted brand and logo. The price will vary widely depending on the franchise you choose, but the costs will usually include expert advice and training.
Qualifications and skills needed to start a cleaning business
The cleaning market you've decided to enter will affect what skills and qualifications you'll need to have. Your level of experience will help you determine how much extra training you need or if you already have all of the necessary attributes.
Either way, it's always good to know what's required before you start contacting clients.
To get started, why not take a course on how to start a cleaning business which will give you an overview of other things like how to handle finances, administration, HR and more!
Domestic cleaning
Usually, domestic cleaners aren't required to hold any formal qualifications. The skills you've developed from cleaning your own home should suffice. However, to meet your client's expectations, you'll need excellent attention to detail and consistent results.
Although the profits may at first be fairly modest, having some general bookkeeping and business skills will be really helpful as you grow your business.
Commercial cleaning
To establish your business as a reputable commercial cleaning company, you'll need to be highly organised, efficient and reliable.
You'll need to make sure that your staff are properly trained, with a detailed understanding of commercial cleaning equipment and chemicals. As your business may be operating in offices, your staff may also require additional training, such as cleaning without causing disruption to computer systems.
Specialised cleaning
As a specialised cleaning company, you'll already have experience in your chosen area of expertise. This could be anything from carpet skimming to removing potentially harmful chemicals.
It could benefit your business if you and your staff gain accredited training from a professional body, such as The British Institute of Cleaning Science.
How much will you charge for your cleaning services?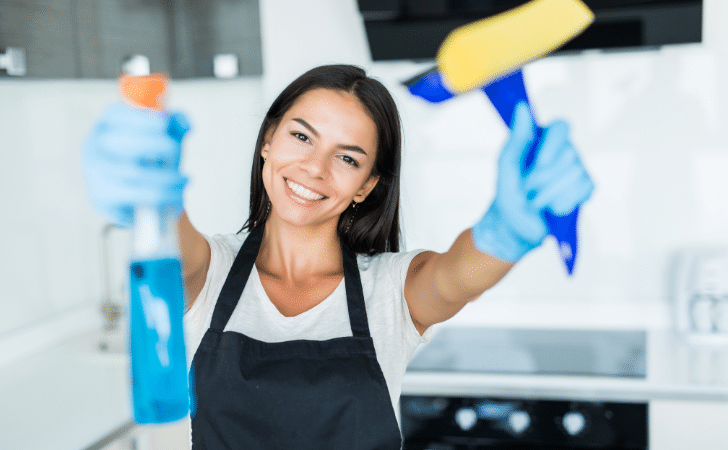 You'll need to consider the best way to price yourself to attract new customers and remain competitive. A good way to start is by comparing yourself to competitors and researching the prices in your area.
You could also consider offering discounts and incentives to make your business more attractive to potential clients. This will also help you differentiate yourself from the competition and stand out.
Looking for another way to make more money? Why not look at other side hustles you can develop into a busines.
Hiring cleaning staff
There will be no shortage of staff available to hire for cleaning work, but you need to take the time to make sure you hire the right people for your business. Ask for references, so you know that they're trustworthy and reliable.
Most cleaning staff will start on the UK minimum wage, which is £10.42 per hour (from April 2023) for someone over the age of 23, meaning staffing your business shouldn't be too costly. But, as an employer, it's vital that you remember to register with HMRC to collect taxes and National Insurance from your employees.
Develop a marketing strategy for your cleaning business
Your best marketing tool will be word of mouth in the early days of a residential cleaning business. Your existing clients will be recommending you to other clients, and you can encourage this by offering new customers discounted services for short periods.
Commercial cleaning businesses can find it more difficult to attract clients. You should find out who manages the cleaning contracts at your target company and introduce yourself. Be sure to ask them when any contracts are due for renewal.
Specialised cleaning companies have a niche, meaning customers will often seek them out specifically. A good way to market yourself is to create a strong online presence.
To do this, make sure to fully advertise on social media platforms, engage customers with email marketing, and build a business website with SEO.
How to structure your cleaning business?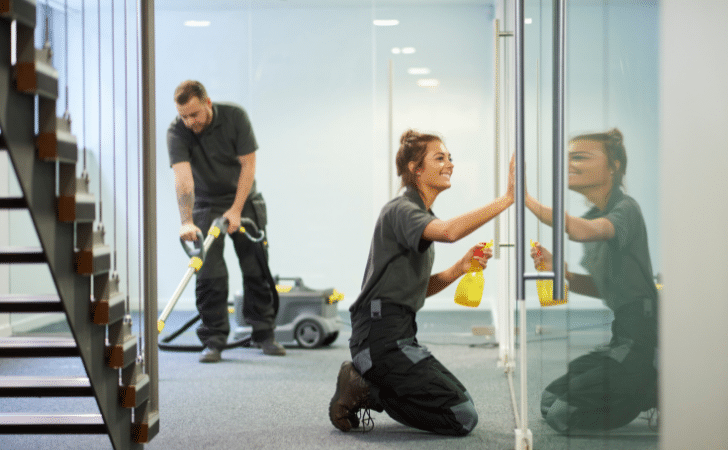 Once you've decided which cleaning services your business will focus on, it's time to decide what legal structure you will choose. The three most popular structures for UK businesses are sole trader, partnership and limited company.
Whichever one you choose for your own business will impact the way it operates, including the tax you pay, the wages you receive and your legal obligations.
Sole trader
At the start of 2018, 3.4 million small businesses in the UK were registered as sole traders, making this the most popular business type.
Under this structure, you'll be self-employed and the only person who owns your business. This means that you'll receive the profits you make but will also be personally responsible for any losses as well.
As the profits of the business will also be your profits, you will pay Income Tax and National Insurance on any earnings.
Partnership
In a partnership, you'll still be self-employed, but you will co-own your business with a partner. As a result, you'll be sharing the responsibilities for all areas of the business.
Both you and your partner will receive the profits of the business, but you will each pay income tax on your share.
Limited company
If you choose this option, you won't be self-employed, as the company will be a distinct legal entity from the business owner.
You'll serve as the director of your own business, making you legally and financially responsible for any business decisions. However, your own finances will be separate from the assets and liabilities of your company.
Limited companies also pay Corporation Tax on any profits, rather than National Insurance and Income Tax.
Create a cleaning business expansion plan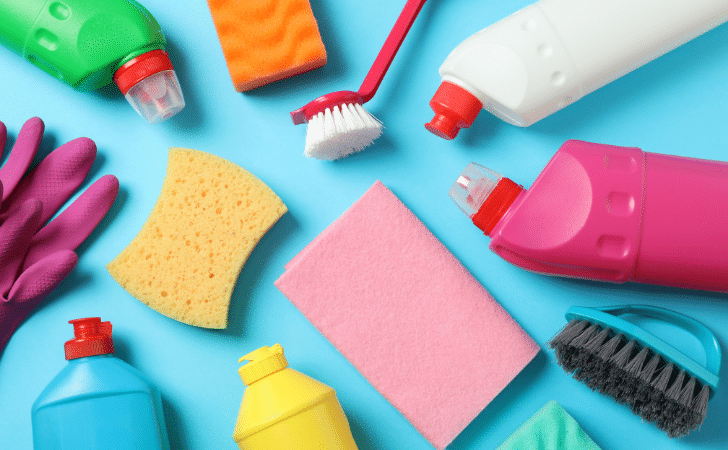 As your business becomes more successful, your profits, budget and staff volumes will grow. You should be prepared for this from the get-go, with a solid business plan and relevant insurance policies.
You'll need to make sure you're up-to-date with any legislation relating to wages as you take on more employees to safeguard the continued expansion of your business.
FAQs
Is it worth starting a cleaning business in the UK?
The UK cleaning sector continues to grow, so now is the ideal time for you to start your cleaning business. As long as you identify which one of the three main markets is right for you, you'll have every chance of success. 
How profitable is a cleaning business in the UK?
If you have a strong business plan and good marketing techniques, then a cleaning business in the UK can prove very profitable. 
How do I start a cleaning business with no money?
If you have a limited budget, the best option is to start your own domestic cleaning business. The start-up costs are low, as you use the customer's cleaning products.
Do cleaners need COSHH training?
No, but any staff handling hazardous chemicals must be trained to use them safely. 
Final thoughts
There's never been a better time to start a cleaning business in the UK, so if our guide has inspired you, dust off those rubber gloves and jump right in.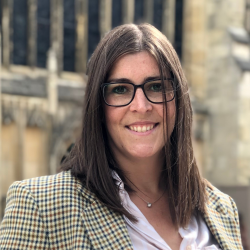 Latest posts by Naomi Willis
(see all)