Co-op are now selling their latest Easter frozen meal deal at selected stores. The deal gets you a whole meal and pudding for the family for just £10 – but is it worth it?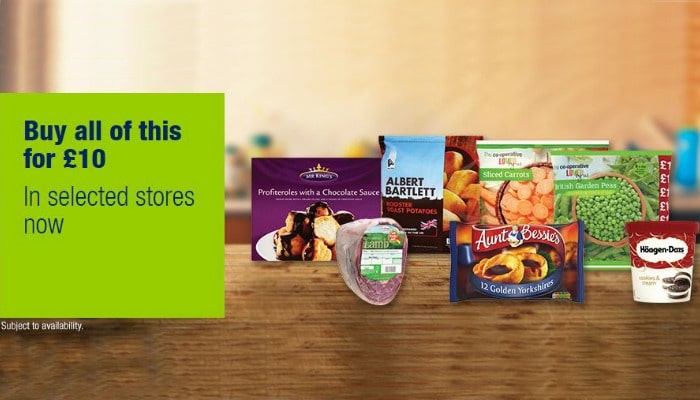 £10 BONUS OFFER: Earn easy cash by watching videos, playing games, and entering surveys.

Get a £10 sign up bonus when you join today.

Join Swagbucks here >>
We are faced with so many "deals" everywhere we turn. In the supermarkets, we are faced with endless BOGOFs' reductions and price slashes that it's hard to keep up. Then fashion retailers and other shops, have end of season sales, blue cross sales, Black Friday sales – there is a sale and a discount for everything.
Getting something cheaper is perfectly well and good but a sale doesn't necessarily mean that you'll get the product cheaper – it just means that you'll get it cheaper from that particular retailer. If you do a little hunting, quite often, you'll get a better bargain and the first "deal" you found may have cost you more money.
So I've seen the latest Co-op Easter frozen meal deal on TV and talked about extensively on social media.
Co-op Meal Deal
The £10 Easter deal gets you:
Half a leg of lamb 1kg
Albert Bartlett Rooster Roast Potatoes 750g
Aunt Bessie's 12 Yorkshire Puddings
Co-op Carrots 750g
Co-op Peas 400g
Mr Kings Profiteroles and chocolate sauce
Häagen Dazs Cookies and Cream Ice Cream 500ml
All this food for £10!
To get the offer you need to buy it in one transaction to get the discount and it's running until 29 March 2016.
This meal deal will make things nice and easy come Easter Sunday. Everything is frozen so there needn't be any food waste and everything is already prepared to just go in the oven or on the hob. Unfortunately, this offer is not running in every Co-op store though. You can check out the stores who are running the Easter deal here.
But how does this deal weigh up against other store's offers?
If you were to opt for the same/similar items could you get it cheaper or is this truly the best deal on the high street at moment?
Easter meal deal comparison
Well we all know that lamb is expensive! Tasty but expensive.
For the lamb alone, Asda is currently priced highest at £9.24 for half a leg, followed by Ocado (online shopping only) at £8.49.
Tesco is coming out at the cheapest at £5.00 for a fresh half leg of lamb – but can Tesco deliver the rest of the list for under a tenner?
Well you could add the following to your basket at Tesco:
Half a leg of fresh lamb – £5
5kg all-rounder white potatoes – £1 (currently cheaper than buying value – and you'd have more left that buying from the Co-op)
Yorkshires – eggs and flour from the store cupboard
X2 tins of value carrots 600g– 38p
X1 tins of value garden peas 300g – 21p
X2 boxes of profiteroles – £2
Tesco's cookie and cream ice cream 900ml – £2 (Häagen Dass is currently £4 from Tesco or £3 in Morrisons but you could brand down and opt for Tesco's cookie and cream ice cream for £2 a tub (and you get 900ml, instead of Häagen Daas' 500ml!)

So, by shopping in Tesco for this same Easter deal it would cost you £10.59. Ok, maybe you've got to make your own Yorkshire puddings and peel and cook your own roasties but some people may not want to cook all frozen food.
For me, there isn't a Co-op near us who are running this deal so it would be cheaper for me to head to Morrisons or Tesco or even Sainsburys that are in my town and spend a few quid more buying the same stuff. To be honest, if I were to buy this, I would even opt to spend more and buy a big bag of frozen peas as I would use them in other meals, and I'd probably buy fresh carrots as the kids like to snack on them.
I'm not saying that the Co-operative's deal isn't great as it's obviously very competitive. Having the food frozen can be a massive convenience for family who are rushing around and would prefer more time eating than preparing and cooking.
The point of all this is that sometimes you need to be aware that a great offer may look wonderful at first glance but if you delve deeper, you may start to find similar offers elsewhere.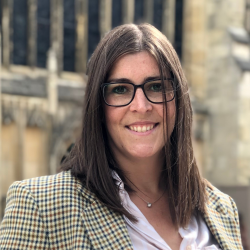 Latest posts by Naomi Willis
(see all)