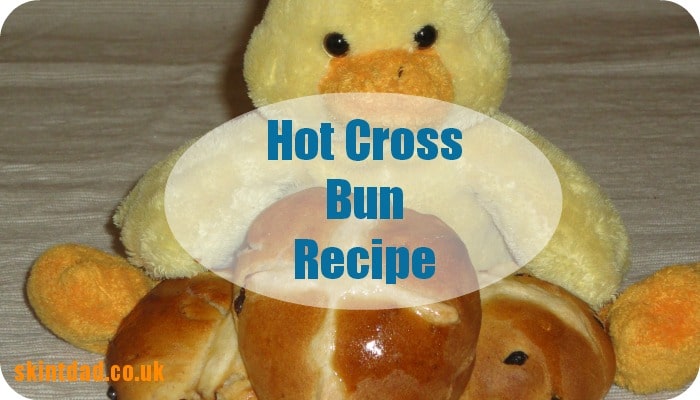 This site contains affiliate links. We may receive a commission for purchases made through these links.

[Learn more]
With Easter around the corner, it means time off school, the promise of spring around the corner, the Easter bunny and chocolate eggs.
The children love Hot Cross Buns too; toasted with butter. Everywhere sells the buns at this time of year (and they normally start selling them not long after the January sales – a bit early I know!).
I decided to bake up my own batch of Hot Cross Buns. They work out at 8.2p for each bun – bargain!

Hot Cross Bun Recipe
Ingredients
Hot Cross Buns
500g plain flour
1tsp mixed spice
50g butter/marg
75g caster sugar
3tsp yeast, mixed with 150ml warm water
1 egg
100ml milk
125g sultanas
For the cross topping:
2tbsp plain flour
4tbsp water
Instructions
Place the flour, mixed spice, sugar and work the butter in with your fingers, then make a well in the centre.
Add the yeast, milk and beaten egg to the well and mix everything in.
On a lightly floured surface, knead the mixture for about 5 minutes, the put in a bowl and cover with cling film. Leave to one side for 1 hour.
After an hour, the dough would have doubled in size. Add the sultanas and knead them in.
Separate into 12 small balls and put onto a baking tray with a little room between them.
Cover with cling film and leave for 30 minutes.
Combine the 2tbsp flour with 4tbsp water and, using a piping bag, make crosses on the buns.
Add the buns to an oven preheated to 200C for 15 minutes.
To give them a nice gloss, mix 1tsp sugar with 3tsp water to brush over the buns.
Notes
The buns turned out light and fluffy, and were perfect toasted. We popped them into an air tight container, hoping that we could keep them for a few days but they were eaten in less than 2 days!
Cost of Hot Cross Buns in the Shops
If you don't have time to spend in the kitchen, it may be worth hitting the shops as there are lots of offers, that will get you the Hot Cross Buns without the washing up.
Hot Cross Bun prices vary shop to shop and get better value the more you buy (prices from mysupermarket.co.uk and are correct as at 13/04/14):
 Asda
 Morrisons
 Sainsburys
 Tescos
 For 6
 £0.85 per pack


 14.2p per bun

 £1 per pack


 16.7p per bun

 £1  per pack


 16.7p per bun

 £1.30  per pack


 21.7p per bun

 For 12
 £1  per pack


 8.3p per bun

 £1.50  per pack


 12.5p per bun

 £1.80  per pack


 15p per bun

 £2  per pack


 16.7p per bun
However you choose the eat Hot Cross Buns this year, I hope you have a very happy and chilled out Easter!
Latest posts by Ricky Willis
(see all)