If you've ever attempted a DIY project, you've probably made mistakes that ended up costing you more than you had originally planned. Unless you're experienced or a professional, it's almost impossible to get it perfectly right the first time. Luckily, there are many resources for DIY novices to start their projects armed with the best knowledge in their back pocket.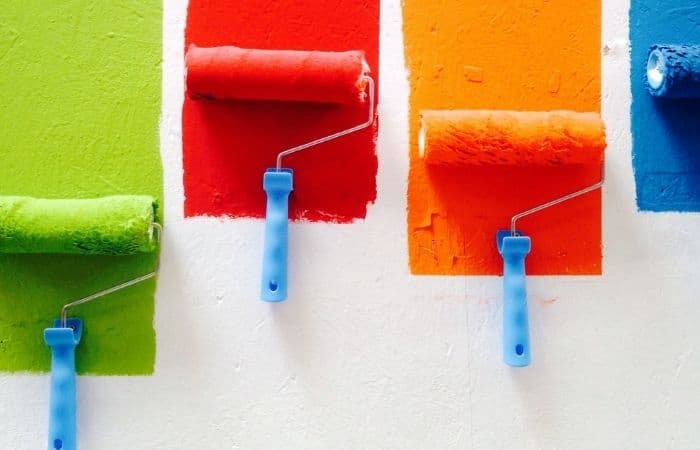 £10 BONUS OFFER: Earn easy cash by watching videos, playing games, and entering surveys.

Get a £10 sign up bonus when you join today.

Join Swagbucks here >>
In today's post, I am going to focus on painting – more specifically, how to avoid costly mistakes and save money by using paint samples.
Yes, those little pots you often don't take much notice of in the shop can come in very handy; here's how!
What are paint samples?
Paint samples or paint testers are small pots of paints used to ensure that the colour and finish are right before fully committing.
Have you ever painted a full room before realising that the colour is too dark, too light or doesn't sit right with you? That's where paint samples come in!
Because a smaller paint pot costs a lot less than a full-size one, you'll avoid spending too much on the wrong colour or the wrong finish – saving you overall for your DIY project.
They're also great for smaller projects where you need only a small amount of paint, so you don't have to spend big on a full-size pot.
They can come in different sizes depending on brands, from as little as 30ml to 250ml – it all depends on what you'll be using them for.
Size and brand will influence how much you'll have to pay for these testers, but on average, you'll find them for £4-£5.
Just make sure you check the price per litre against the area you're working with.
I compare it to those people who buy their fruit pre-packed in supermarkets without comparing the cast if you just lifted a few bananas or apples and used the scale.
Choosing the right paint samples
Just because you're taking less of a risk with a smaller quantity of paint – and a smaller price – doesn't mean that you can buy a bunch of paint samples and hope for the best.
It would help if you still gave some thought about what you need to make sure you select samples that most closely match what you want.
Some people prefer certain brands and decide to start there. If this is your case, you'll have to see what range of hues and finishes they have available for the colour you are interested in.
If you don't have a brand preference, you can focus on the colour and compare what different brands offer.
You may be able to find very similar colours from several paint manufacturers, giving you a choice to select cheaper options when available.
Independent specialists such as The Paint Shed stock several popular brands, so you can easily choose from a large selection. You can view their range of samples here.
If you are certain of which colour you want but aren't sure about the finish, you can get 1 or 2 samples to test each finish for the same colour.
On the contrary, if you feel like you veer towards a certain finish but aren't completely sure about which colour to get, it may help to get a colour you like and pick one tone lighter and one tone darker.
A common mistake to avoid: don't buy more than 3-4 samples at once.
While it can be tempting to select a whole range of hues you like, you will not only spend more money, but you will also make your life a whole lot more difficult!
Spend some time on the colour selection to only pick a few winners in your eyes, or you might end up literally spending hours looking at a wall to compare samples if you have too many.
Don't forget to check the size of the sample you are getting to ensure you have enough paint to visualise the end result.
How to use paint samples correctly
You've now got a few paint samples and are ready to get testing? Great.
The next step is to make sure you are using your samples correctly to make sure you get the most of them.
Getting the process wrong could see you end up back in square one, having to get more paint, fix your mistakes or get more samples.
It may be tempting to apply the sample directly to your surface. Still, it may be difficult to cover up (or take more paint to cover up, which will add to your total expenses).
Instead, I prefer painting pieces of paper or card you can place in front of your wall or any surface you plan on painting.
This allows you to move the samples around easily, compare them side by side and visualise what it would look like.
If you can, you could even paint leftover wallpaper (on the back) or some old Christmas wrapping paper gathering dust so that you could have a better idea of the final result.
Make sure to check your testers in different lights, day and night. Most of us make the mistake of checking the samples, making a choice and just going with it.
Take the time to check them over your surface at different times of day, with natural and artificial light, so you know it will look good at all times.
Reusing leftover paint samples
While samples offer a small quantity of paint, not everyone will use them up during the testing process.
Before heading to your nearest recycling facility, consider using the samples up, so you get the most for your money.
You may be able to use the paint in little craft or DIY projects which could be as simple as painting a picture frame, a wooden jewellery box or any other small accessory.
If you have many colours, you could even consider creating a small mural with geometric shapes that will allow you to use up all the samples. Why not even try yourself at some artwork on a canvas?
If you don't have any use for the samples anymore, consider donating them to local schools, charities or recreation centres, who are usually always looking for creative supplies!
I hope you've enjoyed this post and that you feel ready to tackle your next project, whether that's decorating a whole room, or covering your lounge walls with modern living room wallpaper. You can find all our other money-saving tips here.
Latest posts by Lorna Beattie
(see all)