A slow cooker's ease of use is one of the main features why people like it so much. You can really just throw all the ingredients in at once for most dishes, particularly soups and stews.
Slow cookers are inexpensive to purchase, convenient to use, and perfect to make healthy meals.
If you are running out of time in the morning, you can simply put all the ingredients from the recipe in it before going to work and return home to a home-cooked meal. It is a great choice for a busy day, as the cooking process needs minimal effort.
Some may think slow cooking destroys nutrients in food, but the reality is that lower temperatures will actually help to retain nutrients that can be lost when food is quickly cooked in high heat.
The prolonged cooking methods also result in better flavour distribution in several recipes.
When you are looking for slow cooker recipes, avoid those that suggest a lot of pre-preparation.
There is no end to healthy recipes that lend themselves to slow cooking. For several dishes, a slow cooker can usually be left unattended all day.
Here are some quick and easy recipes that you can try using a slow cooker.
Soup
£10 BONUS OFFER: Earn easy cash by watching videos, playing games, and entering surveys.

Get a £10 sign up bonus when you join today.

Join Swagbucks here >>
Soup is one dish that you can make in a slow cooker. Most soups can cook for 3 to 4 hours at high temperatures or 6 to 8 hours at low temperatures. Reduce the cooking time for vegetable soups as they do not include any meat that needs to be cooked through completely.
Vegetable soups should be cooked for 2 to 4 hours at low temperatures, or 1 to 2 hours at a high temperature.
Everyone loves potatoes and cheese, so it's one of the top-rated recipes. The slow-cooked potato soup is incredibly simple and extremely delicious for those days when you just need to be cosy. Serve with a caesar salad and garlic bread for a full meal.
You must first spray 3 ½ to 4 quarters of the slow cooker with a cooking spray.
In a small bowl, place 1/4 cup of broth, cover and chill, as it will be used at a later time.
In a cooker, combine the onions, the potatoes and the remaining broth.
Cover it and cook it at a low heat for 8 hours, then eventually raise the heat to high setting.
Beat the cornstarch in a small bowl, and the reserved broth until smooth.
Stir the mixture and add it to the slow cooker.
Cover again and cook for another ten to fifteen minutes or until the soup thickens, then mix in the cheese until well melted.
Scatter green onions over the soup for final touches.
Beef stew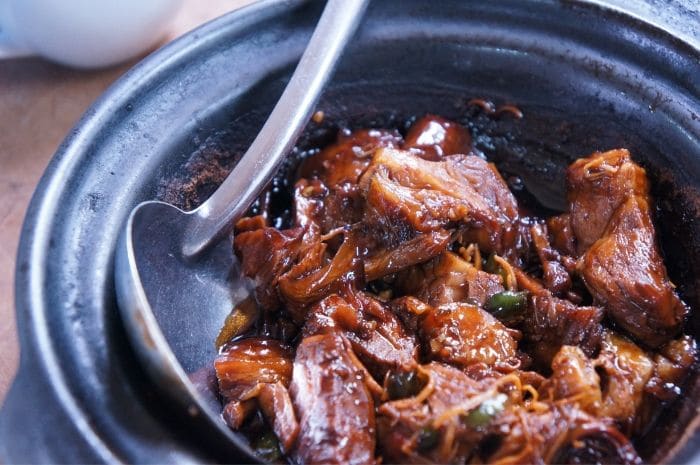 Indulging in a bowl of tender beef stew is like heaven at mealtime. There are smooth chunks of potatoes and carrots inside the thick, beefy broth, and perfectly tender bits of beef falling apart in your mouth. The ingredients are simple, but the stew that results is absolutely delicious.
If you have been craving a beef stew for a while now, then try this recipe, and you will not be disappointed.
This beef stew cooks for 8 hours in a slow cooker.
Browning the beef gives the dish its colour and taste.
After searing the beef, the red wine is used to deglaze the pan.
Cooking makes it easier for the taste to intensify, thus burning some of the alcohol away.
The beef broth promotes the taste of beef, while the tomato paste adds acidity to the stew that makes the flavour richer.
Using beef broth, red wine, and tomato paste creates a robust taste.
Then place the beef in a slow cooker, follow with the carrots and the potatoes.
The layering of beef and vegetables prevents overcooking of vegetables and keeps the beef close to the cooking liquid and slow cooker heat.
If preferred, you can add more salt or pepper after giving it a taste.
The very last part is basically to serve this absolutely delicious stew beef stew in a wide bowl with toasted bread.
Slow-cooked chicken recipe
Honey Garlic Chicken begins with a chicken that is slowly cooked in a delicious honey-garlic sauce with potatoes for a quick and easy recipe.
In a slow cooker, simply pour in the ingredients, set it, and leave for a couple of hours. Note that while sneaking a peek is tempting, it is important to keep the lid closed during cooking as opening the lid of your slow cooker allows heat to escape and reduces the temperature which will affect the overall cooking process.
To get started, prepare the broth consisting of 1/4 cup of honey, garlic, salt, and pepper together in a small pot.
Place the onion and potatoes first, then put the chicken in the slow cooker, pour in the broth mixture over chicken and potatoes.
Cover and cook it for 4 1/2 to 5 1/2 hours at low heat or until the vegetables are tender and the meat is cooked completely.
Once done, remove the chicken and vegetables and place it in a dish bowl with cover to keep it warm.
Keep the juices left into a slow cooker, then add water and cornstarch mix.
Cover and cook more for 20 to 25 minutes or until slightly thickened and bubbling around the edges.
Beat some butter using a whisk on the sauce and add 1 spoonful of the honey as well as soy sauce.
Serve the chicken and vegetables poured with the savoury sauce.
Top it with some chopped parsley or herbs of your choice for garnish.
You may serve it with a side of leafy greens to complete the meal.
A slow cooker brings out the food flavour.
A wide range of recipes, including one-pot meals, soups, stews, and casseroles, can be prepared in a slow cooker. Including tasty meals for the convenience of returning from work to a freshly cooked dinner, most of you would agree that it certainly pays off to have slow cookers.
We hope you'll try these hearty recipes and they'll be part of your favourites list.
Latest posts by Lorna Beattie
(see all)