When it comes to what your kitchen tools are made out of, there are a wide variety of options to choose from; you can choose between ceramic, cast iron, aluminium, and many others.
There are benefits and drawbacks to using all of these kinds of cookware, but stainless steel cookware offers the best ratio of positives and negatives and here's why.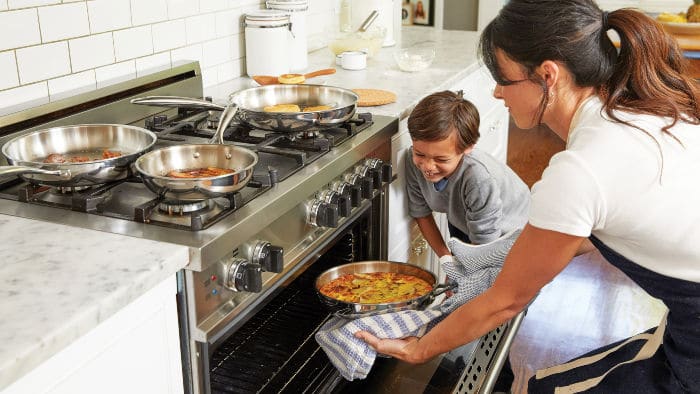 £10 BONUS OFFER: Earn easy cash by watching videos, playing games, and entering surveys.

Get a £10 sign up bonus when you join today.

Join Swagbucks here >>
1. It maintains flavour
Stainless steel offers the benefit of not imparting any metallic tastes into your food; what you cook is what you'll be tasting.
It doesn't react to anything acidic or alkaline (basic), and you'll be left with the satisfaction of knowing flavours won't be changed.
If you're working on a dish with some particularly subtle notes, they won't become overpowered, and you'll be able to fine-tune your meal the way that you want to.
2. Most stainless steel burns evenly
Stainless steel on its own does not impart heat very well, and so many manufacturers have included the addition of aluminium into the pan.
This makes for equal distribution of heat while simultaneously not having any added effect on your food. If you were to purchase an aluminium pain, for instance, it would react with any acidic food such as tomatoes.
By combining some parts of the cookware with aluminium, you get the benefits of both metals, without having the drawback of affected food taste.
If you're looking for stainless steel combined with aluminium, the professionals at thedaringkitchen.com have reviews on some of 2020's sets. They've also included a buying guide when deciding to purchase stainless steel cooking tools.
3. It's.. well stainless
One of the biggest benefits of stainless steel is included in the name. Stainless steel doesn't rust or become tarnished with use.
These can be big benefits, as other metals may experience a higher rate of wear and tear over time.
The chromium in stainless steel makes it neutral, preventing any reactions that would cause damage over your cookware.
4. They're far easier to clean
This is more of a comparison between stainless steel and cast iron cookware, but stainless steel is exceptionally easy to clean compared to cast iron.
You won't put an excessive amount of elbow grease into ensuring your pans are completely spotless like you would with cast iron.
Cast iron also has the downside of needing to be properly kept and may rust over time if you don't have time for the upkeep.
5. Stylish and functional
If you have a polished modern kitchen, you might raise a free eyebrow at a family dinner if you pull out your cast iron pan.
No matter the style of your kitchen, stainless steel matches almost any fashion.
It offers the functionality and ease you're looking for, and it looks great when it's in use or being displayed.
6. Stainless steel can withstand high temperatures
When it comes to stainless steel, you rarely have to worry about the temperature threshold when cooking in the oven.
Cast iron seasonings can start to wear away at higher temperatures, and non-stick pans are going to lose their coating at 500 degrees Fahrenheit.
Copper is also too unreliable given the complexity of copper cookware, and shouldn't be heated to extreme temperatures.
There's something nice about being able to use something on the stove and not needing to worry about a certain temperature threshold to stay within.
7. It can be healthier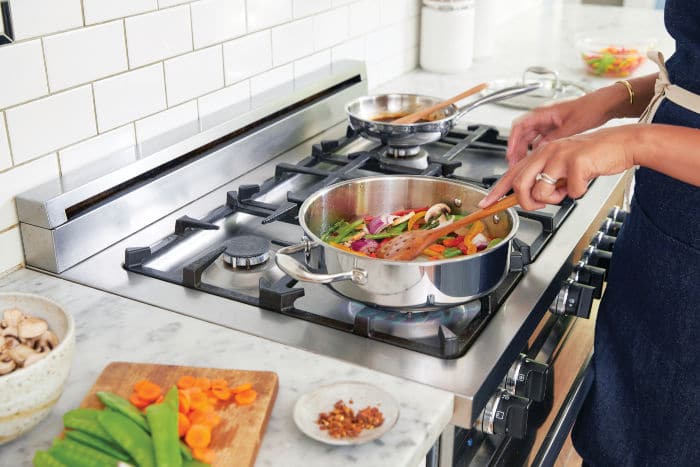 Stainless steel is extremely durable and isn't prone to scratches or leaving particles in your food.
Some of the other metals used in traditional cookware can be harmful if consumed over periods of time.
Aluminium is particularly known for its detrimental health benefits, and while they aren't immediate, you don't want to be ingesting any amount of aluminium.
Nonstick pans can also be scratched and cause the non-stick surface particles to be mixed into your food.
Stainless offers an alternative to using some of the less durable, heavy metals, and provides a safe way to cook and enjoy your food.
8. You'll spend less long-term
Given the durable qualities of stainless steel, you won't be damaging your cooking materials into disrepair rapidly.
Nonstick pans are particularly notorious for this component.
If you've ever burned something onto the bottom of your non-stick you've probably had to scrub pretty hard getting it off, and eventually you'll need a new pan.
Spend your money on stainless steel knowing you won't need to invest more in your cookware in the near future.
9. Most are safe in the dishwasher
If you have any experience with cast iron you probably can't imagine ever placing it in the dishwasher to get it nice and clean.
Since stainless steel isn't prone to rust due to its neutral nature, you're fine to place your cookware in the dishwasher.
If you're looking to clean up after cooking a big meal quickly, this makes it a much easier time.
10. The pro's know it works
If you've ever seen the inside of a restaurant, you've probably noticed that they're using cookware almost entirely composed of stainless steel.
Aside from the benefits mentioned above, stainless steel also offers a non-porous surface.
This means that pesky things like bacteria are going to be easy to wipe off the surface.
If stainless steel meets the sanitary standards of most restaurants, why wouldn't you want to employ it within your own home?
When you're shopping for cookware, you're likely going to be overwhelmed by all the options you have available to you.
There are benefits to using all of them (that's why they're still being sold after all), but stainless steel offers some major benefits over other forms of cooking tools. It keeps the flavour of your food, it's durable and easy to clean, and you won't need to worry about rust.
Stainless cookware is likely to complement your kitchen and can withstand high temperatures; it also won't leach any unhealthy substances into your meals.
We see restaurants purchasing stainless materials to meet their sanitary standards in our day-to-day life all of the time.
If you're still deciding on what kind of cooking tools you want to get, the answer is a resounding "yes" to stainless steel!
Latest posts by Wendy Rogers
(see all)