Weetabix is offering a coupon for £5 off fruit when you buy their promotional packs. Great deal, hey! Or is it really as good as it seems?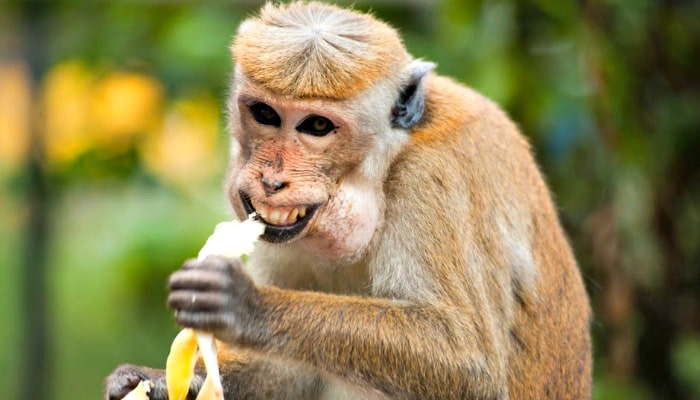 £10 BONUS OFFER: Earn easy cash by watching videos, playing games, and entering surveys.

Get a £10 sign up bonus when you join today.

Join Swagbucks here >>
We get through a fair amount of fruit and veg in our house. While we love fresh it can get really expensive so we also get tinned and frozen to keep our budget in check.
It's not often I can find a coupon or voucher for money off food.
Sure there is the occasional one on an app, but there are few and far between.
So, I was quite excited (sad, I know!) when I saw a new deal to get money off coupons for fruit.
Another day, another deal
With "deals" being thrown in front of us left, right and centre, it's sometimes difficult to work out whether you're going to get a bargain or not.
A quick glance, you think it's decent…..until you really start to look around and realise you could have saved.
And, this latest deal got me thinking.
Is it really any good?
£5 off fruit with packs of Weetabix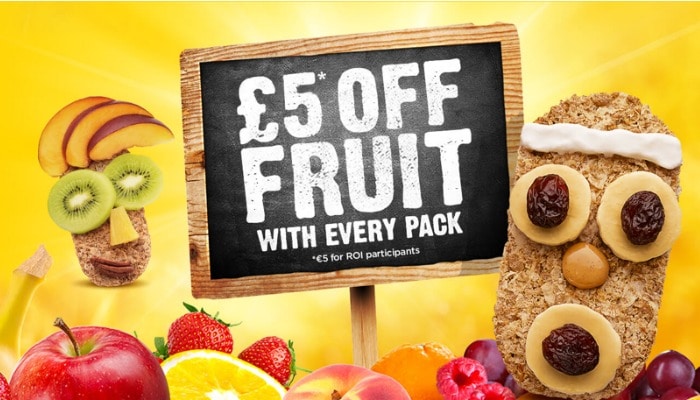 To get the £5 in fruit vouchers, buy a promotional pack of Weetabix, and there will be a code printed on the inside.
Head to the Weetabix Fruit website and fill in the code and your details at the bottom of the page.
You will then be given the coupons, which you must print out yourself, that can be used at supermarkets (excluding Lidl or Aldi stores.)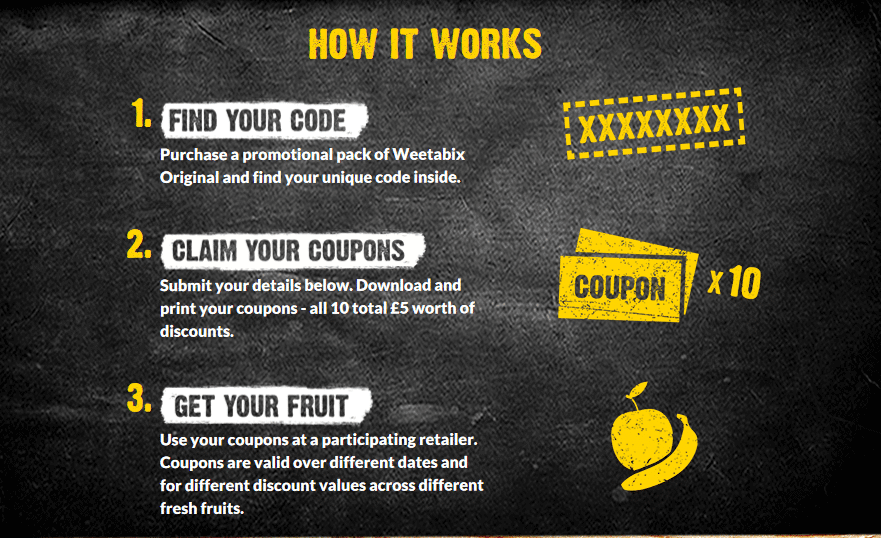 "But branded is expensive"
I know that a lot of you wouldn't even think of buying Weetabix as it's an expensive brand. People on a budget don't buy branded!
Switching to a store's own will save money.
That's a given, right?
Own brand is cheaper
There are lots of people who won't switch brands. Whether it's a preferred taste or just a bad habit to break, buying foods with fancy packaging just costs you more money.
Switch it up and save – loads!
Try out supermarket basic range wheats instead.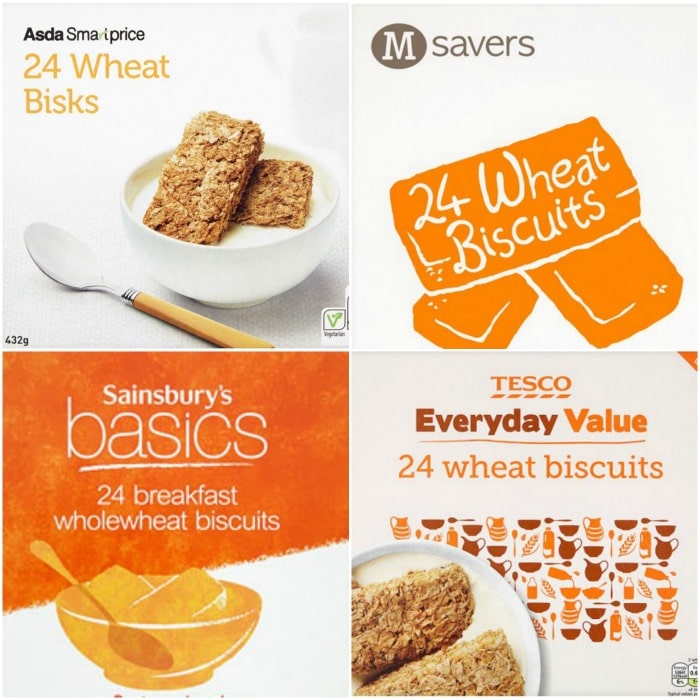 For the same 24 wheats you'll save a lot over the course of a year:
Asda – 69p
Morrisons – 75p
Tesco – 75p
Sainsbury's – 75p
The price of 24 Weetabix can be up to £2.50.
If you buy a box a week (but switch to an own brand) you can save £94.12 in 12 months.
Ok, while that may not sound like huge savings, imagine if you did that for every product you buy! You'd save loads!!
So it's clear that buying non-branded is far cheaper than buying Weetabix.
Can you get a better deal?
When it comes to getting a good deal though, buying branded will win! (this time…kinda…read on)
Spending more money up front on the promotional packs of Weetabix will see you walk away with more.
Branded
Spend on Weetabix £2.50 and get £5 back in coupons.
So you spend £2.50 and get £7.50 worth of stuff.
Non-branded
If you go for the cheaper option and spend 69p on wheats,  then you only have £1.81 to buy on fruit to take you up to the same £2.50.
And the winner…
Weetabix!
This time, buying branded is overall best value.
But…it probably isn't
There are a few catches with this offer.
The coupons are valid over different dates, for different values and for different fresh fruits. The first voucher must be used within 7 days, and the rest in time intervals after that. So, you're not able to use the money off vouchers all in one go.
You've also got to print them off yourself so if you don't have access to a printer, don't bother.
You're also only able to claim this offer once per household.
So, it may be better for you to keep the own brand option as it may prove difficult to use up all the vouchers.
What are the coupons valid for?
Each coupon is for different fruit and needs to be used in a very specific time period.

Would you be able to use them all?
How much?
Looking down that list, I'm starting to scratch my head.
Voucher 8 for grapes. Great – I love grapes :)
But, which supermarket will sell me 400g of grapes for 80p?
This would mean I'd need to pay extra to get my fruit.
Same goes for every single one!
Doing a quick price comparison using the cheapest prices from Asda (correct as at 31/01/18) this £5 off fruit isn't going to get you far.
| | | | | |
| --- | --- | --- | --- | --- |
| Voucher # | Fruit item | Voucher value (UK) | Asda cost (UK) | Extra to pay! |
| 1 | Pears | 40p | 70p | 30p |
| 2 | Apples | 50p | 80p | 30p |
| 3 | Bananas | 25p | 90p | 65p |
| 4 | Strawberries | 50p | £2.50 | £2.00 |
| 5 | Kiwis | 25p | 90p | 65p |
| 6 | Blueberries | 60p | £1.65 | £1.05 |
| 7 | Clementines | 50p | £1.00 | 50p |
| 8 | Grapes | 80p | £1.35 | 55p |
| 9 | Melon | 50p | £1.75 | £1.25 |
| 10 | Raspberries | 70p | £1.65 | 95p |
Using these vouchers will get you money off, yes.
But, you'll need to put another £8.20 of your own money towards buying them.
When is a great deal not a deal? Right now :(
So can you get a better deal? Well, it still works out cheaper overall to get the Weetabix as you're getting £5 worth of vouchers.
Will you use them all? That's really down to what you and your family eat.
We rarely eat melons, so even with a bit of money off, I'd be unlikely to buy it. Straight off, we'd be getting less value.
Take your time
I am really wary when it comes to saving money. I don't like to rush into a deal. I'm a little mistrusting and very cynical; I expect every "deal" is not really going to be the best value.
This deal is just one example that looks great, will see you get a brilliant offer, only to find you've got to part with even more money to take proper advantage.
But, I still think it's worth remembering to keep one eye open and don't just buy the same things week in week out, as you could be losing out on a decent bargain.
How to buy brands cheaper
If you're on the hunt for branded foods at the best price there are a few ways.
For savvy bargain hunters, sometimes, the immediate thought when walking into the supermarket is to look at the very bottom of the shelves and pick up the cheapest product.
But this isn't always the way to make the best saving.
Look for offers
Just one example we saw last week was with tins of tomatoes.
Sainsbury's value tinned tomatoes (perfectly fine to eat, same as all other supermarkets) cost 30p for 400g.
I went, out of habit to pick up two tins, but the shelf four up caught my eye.
They were selling 1kg carton for 60p. For the same price, I could get more (which I would happily use).
I see the same thing on tortilla wraps all the time as well. The branded wraps are quite often on offer, making them cheaper than the store own ones.
Use coupons or cashback
Another way to buy branded for cheaper is by using cashback apps or coupons.
CheckoutSmart is a great app that updates weekly and can bring your costs down by hundreds over a year.
Find products you would usually buy, compare the price after your cashback saving and you'll be pleased to see that the actual cost is probably cheaper.
Doing this every week, or every time you go shopping, can get you trying new food and be able to make savings as well.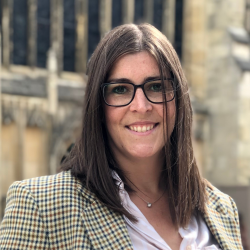 Latest posts by Naomi Willis
(see all)