Trying to get your supermarket spend under control can be tough.
As soon as you think you've settled on a supermarket and are getting bargains, their pricing seems to change and you're spending more and more.
A lot of shoppers are ditching the big retailers and turning to Aldi and Lidl to buy cheaper food – and they really have seen immediate savings.
However, the budget supermarkets are now facing big competition as there's a new kid on the block – Jack's Supermarket.
Jack's low price supermarket
Tesco unveils new brand, and stores inspired by and named after the original value champion and Tesco founder, Jack Cohen pic.twitter.com/lGG2jh5ms2

— Tesco News (@tesconews) September 19, 2018
In a similar way to Aldi and Lidl, Jack's is using the slogan 'When it's gone, it's gone'.
As well as stocking low-cost food, they will sell other merchandise, so you may look to walk out with non-food bargains as well.
The plan for Jack's is to offer great-tasting food "at the lowest possible prices" with 80% of the food and drink products having been grown, reared or made in Britain.
Jack's will be stocking a simplified range of products, have no fancy fixtures or fittings, and have no added extras – meaning they can keep the prices low.
Usual Tesco stores have around 35,000 products on offer, whereas Jacks will stock a much tighter range with only 2,600 products.
Where will the new Jack's stores be?
There are two new Jack's stores opening on 20th September in Chatteris, Cambridgeshire and Immingham, Lincolnshire.
They are opening on current Tesco sites and making use on space that isn't being used.
Tesco has said that they plan to launch another 10-15 Jack's stores in the UK over the next 6 months.
I spoke to the Tesco press office and was told they couldn't tell me at the moment where the other new sites would be.
However, after a little research, I've been able to find that Jack's are looking for new staff for the following five sites:
Edge Hill, Overton Street, Liverpool, L7
St Helens, WA9
Rubery, B45
Castle Bromwich, B34
Middlewich, CW10
Tesco plans to use brand new sites, sites next to existing stores, or convert a number of current Tesco stores.
Are they going to offer lower prices?
Well, that's meant to be the whole plan.
Dave Lewis, Tesco CEO, "promised" the BBC that Jack's will be the "lowest cost for customers in the marketplace" and that they intend to be cheaper than Aldi and Lidl.
A few of the products I've seen priced are:
Jack's little gem lettuce twin pack – 65p vs Tesco little gem lettuce twin pack – 49p
Jack's broccoli 350g – 48p vs Tesco broccoli – 55p
Jack's closed cup mushrooms 300g – 69p vs Tesco closed cup mushrooms – 95p
Jack's baked beans – 29p vs Stockwell and Co baked beans 23p or Tesco beans – 32p
Jack's bread – 45p vs Tesco bread – 55p
I'm really confused how they've "promised" to be cheaper, yet some items are more expensive than Tesco…?!
And, while they want to beat discounters Aldi and Lidl in the price wars, it still doesn't appear that they can beat Tesco themselves!
If you plan to buy something branded, Jack's is working out more expensive than Tesco for Marmite, according to this tweet.
So, as ever, just be sure to always check prices and shop around!!
#Jacks from #Tesco may not be the bargain it claims.. Tesco stores are cheaper on branded items 😂 pic.twitter.com/Q1gQDwTeIO

— Back the BBC (@back_the_BBC) September 19, 2018
It's not Tesco…
Tesco is making a point that this is being run separately to their mean Tesco stores, but is "part of the Tesco Family".
Because this is being run differently, the benefits on offer to staff are different to those offered to Tesco staff. Also, I've seen on Twitter that Tesco staff will not be able to use their Colleague Discount Card in the new Jack's stores.
I wonder if that will also stop people from being able to use the Clubcard to collect points, or even use Tesco gift cards on their shopping?
I'm sure we'll find out more soon enough.
Jack's Shop Smart app
Jack's shoppers will also be able to use the Shop Smart app.
The app will help you get in and out of the store quicker.
While shopping, you simply scan your shopping as you go, keep track of how much you're spending, and then can check out quickly at the end of your shop.
It all seems very similar to the similar Sainsbury's Smartshop app.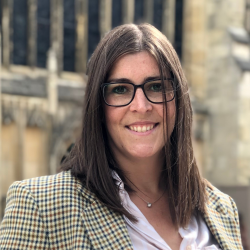 Latest posts by Naomi Willis
(see all)