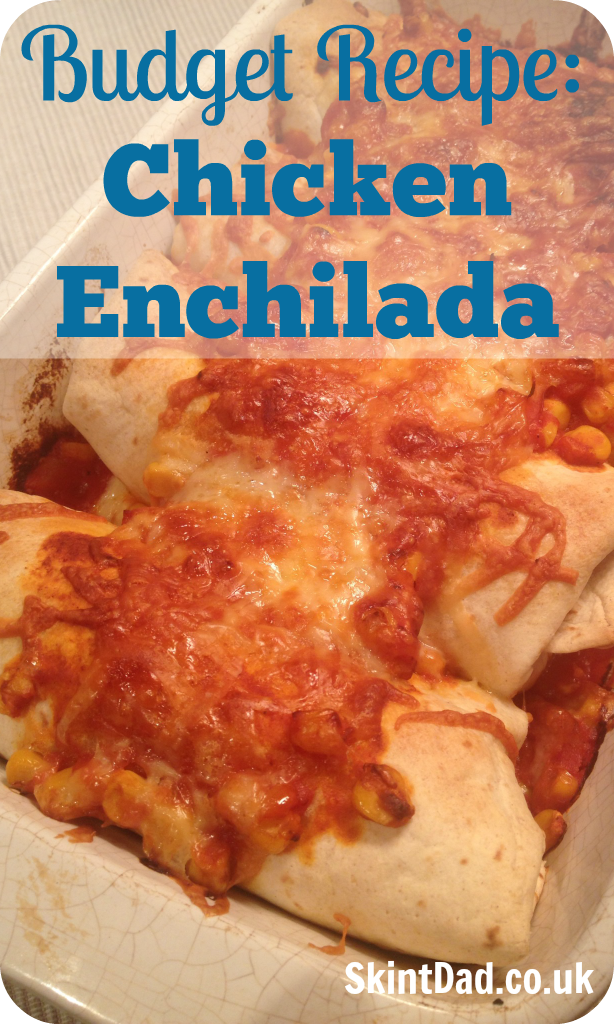 These chicken enchiladas are not only quick to prepare but taste pretty damn scrumptious too!!
This site contains affiliate links. We may receive a commission for purchases made through these links.
[Learn more]
This is the kind of dinner that works really well on a week night when things are a bit of a rush. It takes a few minutes to prepare the ingredients and, once the you've got the wraps made, you can sit back (or do everything else that needs to be done during the mad rush that is pre-dinner time) until the bell rings.
As with all the cheaters recipes, if you have the ingredients stocked up in your cupboard it makes cooking easy food like this a doddle.
Instead, if you buy the pre-made kits to make this, you are going to pay out more money. For just the kit, mySupermarket show it costs £3.19 – plus you'd have to add in the cost of the chicken, cheese and vegetables.
Buying the individual ingredients instead and making the food from scratch really helps cut the costs of your food shop!

Budget Recipe: Chicken Enchilada
Ingredients
500g chicken, cut into strips (£2)
1 onion, sliced (12p)
1 tin of passata (43p)
1 can of sweetcorn (35p)
1tbsp oil (1p)
½tsp chilli powder (3p)
1tsp cumin (8p)
1tsp paprika (6p)
8 flour tortillas (69p)
100g grated cheese (48p)
Total cost: £4.25 - £1.06 each for a family of four
Instructions
Heat the oil in a pan and, when hot, add the onion.
Once the onion has softened, mix in the spices and cook for 1 minute.
Add in the chicken and cook for 5 minutes.
Mix in the passata and sweetcorn and leave to thicken for 5 minutes.
Remove the heat from the pan and preheat the oven to 180C.
Put a few tablespoons of the chicken into each of the tortillas and wrap them.
Spoon half of the passata into the bottom of an oven proof dish and arrange the filled tortillas on top.
Drizzle the other half of the sauce over the top and cover with grated cheese.
Cook in the centre of the oven for about 20 minutes, until the cheese is golden.
Notes
We usually serve with cous cous or rice and a side salad
Each week another recipe from the 
top 20 list of cheaters food
 will be added to the site.
Sign up here
 for the recipes to land straight in your inbox.
Why not share your budget recipes to our budget recipe board on Pinterest too.
Latest posts by Ricky Willis
(see all)