Saturday Night Fakeaway is back with an America classic.
I decided to create slider burgers, rather than big ones. Slider burgers seem to be on the menu in a number of bistros and funkier restaurants lately, which is odd as they are still just a burger, but smaller…
I thought that the children would find them more fun, and easier to hold that a bigger quarter pounder.
So here goes, my take on burger and fries!
________________________________________________________
Fakeaway 15 March 2014
"Slider Burgers, French Fries, Apple Pie and Banana Milkshake"
Total cost £4.98 for a family of 4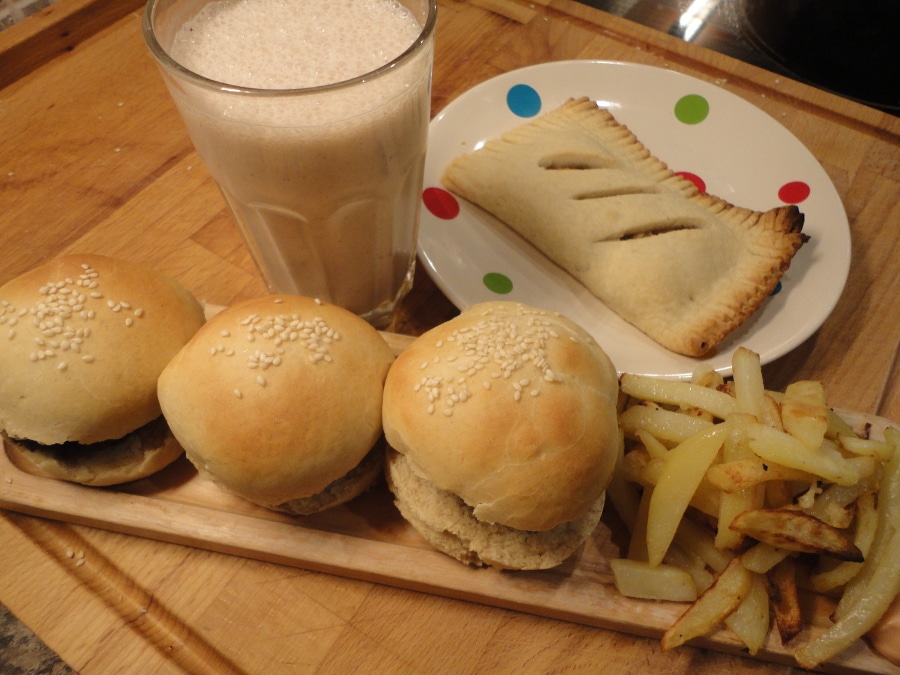 £10 BONUS OFFER: Earn easy cash by watching videos, playing games, and entering surveys.

Get a £10 sign up bonus when you join today.

Join Swagbucks here >>
Ingredients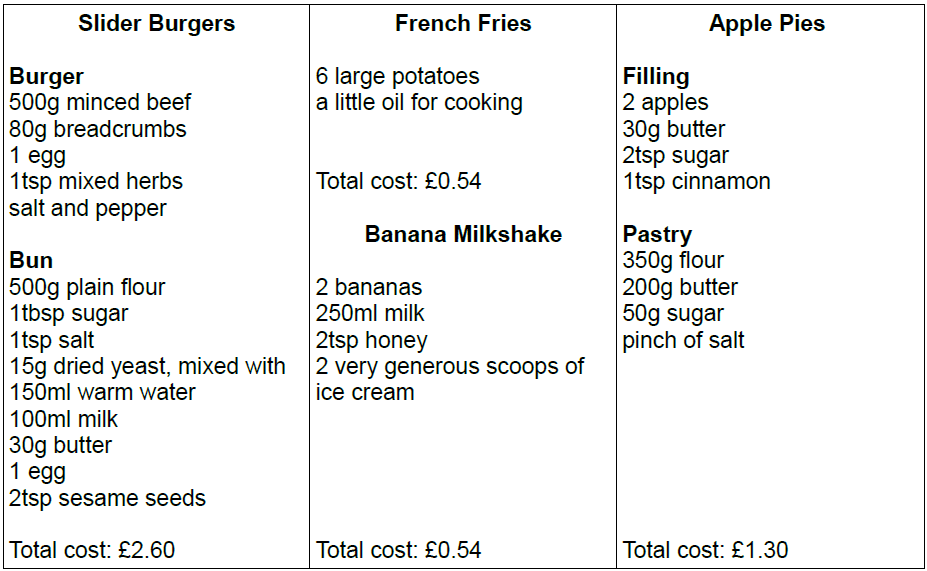 All ingredients used were either supermarket own brands or the lowest price.
We calculated the cost of each of the ingredients separately by looking at the item's total value, then working out what the amount we would need. For example, mixed herbs are £1.39 for 100g, for a 5g teaspoon full it would be 7p (£1.39/100 x 5 = 0.0695).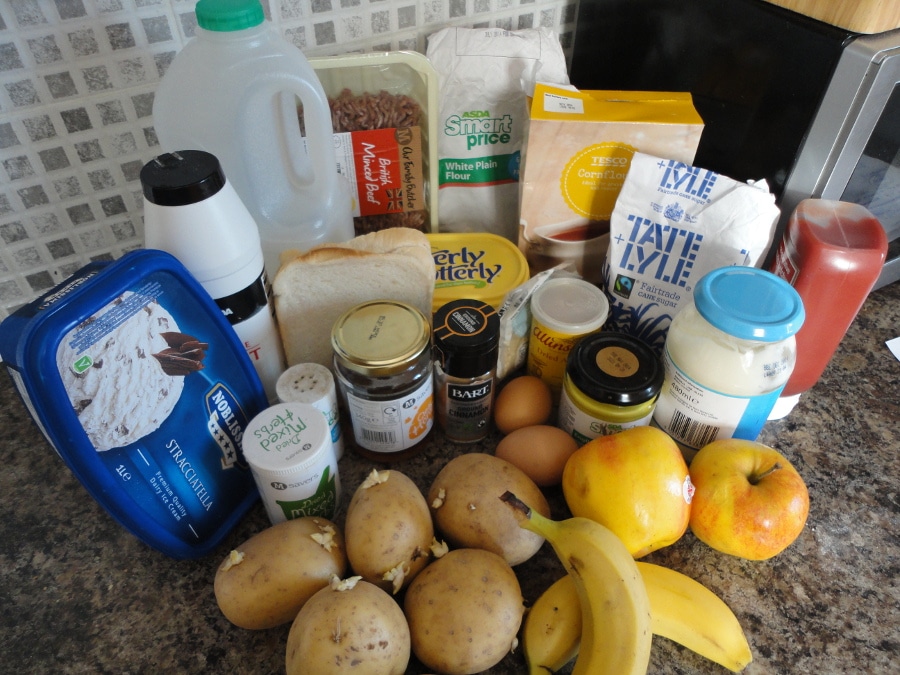 Slider Burger – Buns
Mix the flour, sugar, salt and butter into a bowl.

Add the milk, beaten egg and yeast to the bowl and combine.

Turn out onto a lightly floured surface and knead for 10 minutes.

Put into a bowl, cover with cling film and leave for one hour to rise.

After an hour, separate into 12 small balls.

Cover and leave for 30 minutes.

Sprinkle the buns with sesame seeds.

Bake in a preheated oven for 10 minutes at 200C.
Slider Burger
Put all the ingredients in a bowl together, mix and form into 12 burger shapes.

Chill in the fridge for 10 minutes before cooking.

Heat oil in a pan and when hot, add the burgers.

Cook for about 5 minutes on each side.
Cut the burger buns in half and pop a burger inside.
If you have a little more budget, why not add sauce, salad, cheese, bacon, fried egg, pineapple…the list is endless.
French Fries
Peel the potatoes and slice into fries.

Rinse under cold water and pat dry.

Place the fries onto a baking tray and sprinkle with a little oil.

Cook in a preheated oven at 200C for 30 minutes, shaking halfway through.
Apple Pies
Pastry
Mix the flour, sugar, salt and butter together.

Turn out on a lightly floured surface and knead for about 5 minutes until the pastry is smooth.

Wrap in cling film and place in the fridge for at least 10 minutes, or until you are ready to use it.
Apple Filling
Melt the butter into a pan.

Peel, core and chop the apple into small pieces then add to the pan, along with the sugar, cinnamon and 2tbsp of water.

Mix so the apple is coated, reduce the heat, and cook for about 10 minutes until the apples have softened.

If you like a smoother filling, use a potato masher to mash the apple, otherwise, leave it chunky.
To make the apple pie
Take the pastry from the fridge and roll it out to about 1/2cm thick.

Cut into 4 large squares.

Place one tablespoon of the apple filling on one half of the pastry.

Fold the pastry in half, and use a folk to seal the edges.

Cut three slices in the top to help with cooking.

Place in a preheated oven at 200C for 20 minutes.
Banana Milkshake
Put the bananas, milk, honey and ice cream into a blender.

Put the lid on the blender and turn on.

Sneak a drink while no one else is watching!
Yum yum – yee haw!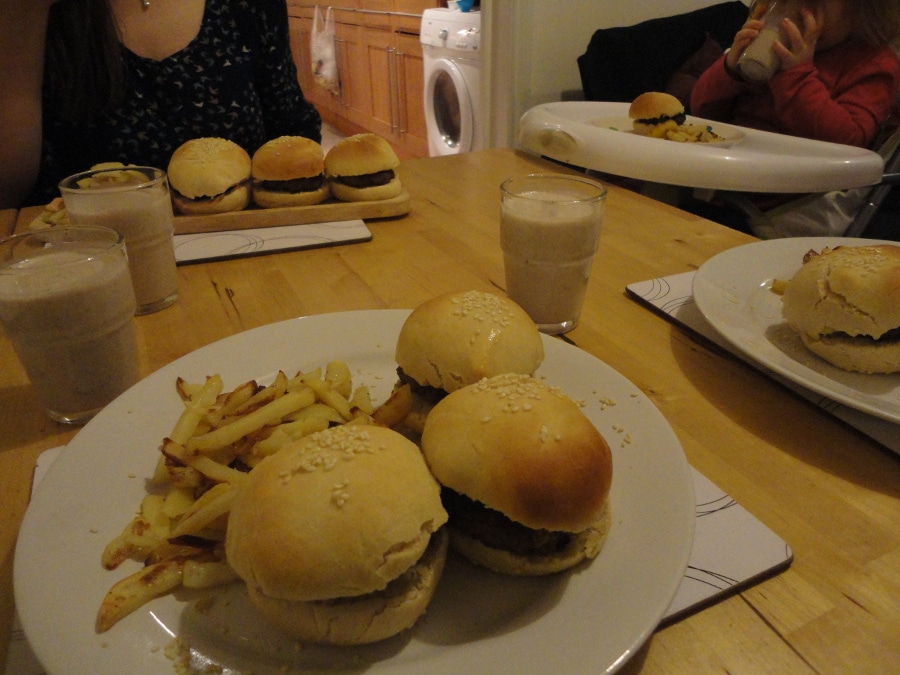 ______________________________________________________
Although it's fast food, it's not that fast to make, but it was worth it.
All in all, it took just over two hours to make our fakeaway but, considering we had fresh (and extremely tasty soft buns) it was definitely worth it!
The children were very involved in making this too. They all took turns to knead the bread and roll out the pastry. In fact, in some of the photos, you can see little fingerprints where Chloe decided to help a little too much when trying to make the apple pies.
We actually had a little leftover pastry so made full use of it and made some jam tarts too. Perfect treat with a cup of tea the next day, although I only was allowed one of them.
If you're a vegetarian or are cutting down on meat, why not make this using quorn or make veggie burgers with kidney beans instead?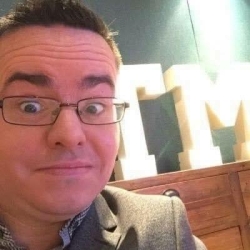 Latest posts by Ricky Willis
(see all)