Space saving is on our mind. We're considering moving to a more affordable, smaller property but we're worried about the lack of space we'll have.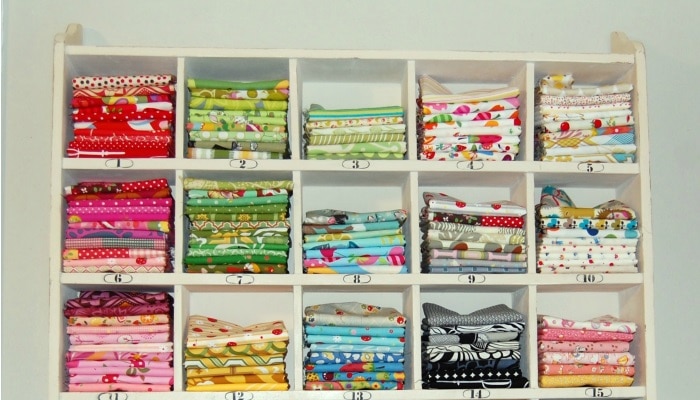 £10 BONUS OFFER: Earn easy cash by watching videos, playing games, and entering surveys.

Get a £10 sign up bonus when you join today.

Join Swagbucks here >>
For the last few months, we've been umming and ahhing about whether we should move house so that we can pay less rent and the spare money can go towards existing debt.
We live in Tunbridge Wells in the South East of England and it's not cheap. We could move away to a cheaper area but my eldest daughter doesn't live with us and it would mean seeing her less. I don't want that. We also grew up here and all our family live here.
So instead of moving to a different area, we have started to look at renting a smaller, cheaper property. Having a quick search on rightmove.com if we went from a 3 bed to a 2 bed we could potentially save £200 per month. That's a nice chunk towards our debt!
So what's stopping us?
Well, frankly it's space. Although there are only four of us in the house, we do have my other daughter stay with us every other weekend. The girls are different ages (3, 10 and 15) and they do need their own space.
If we moved to a smaller two bedroom property, space would at a premium and every other weekend it would be a nightmare with five of us.
We could invest in expensive storage solutions but the whole reason to move would be to save money, not spend more!
I reckon we could cope though if we were smart with the space we had – even on a budget!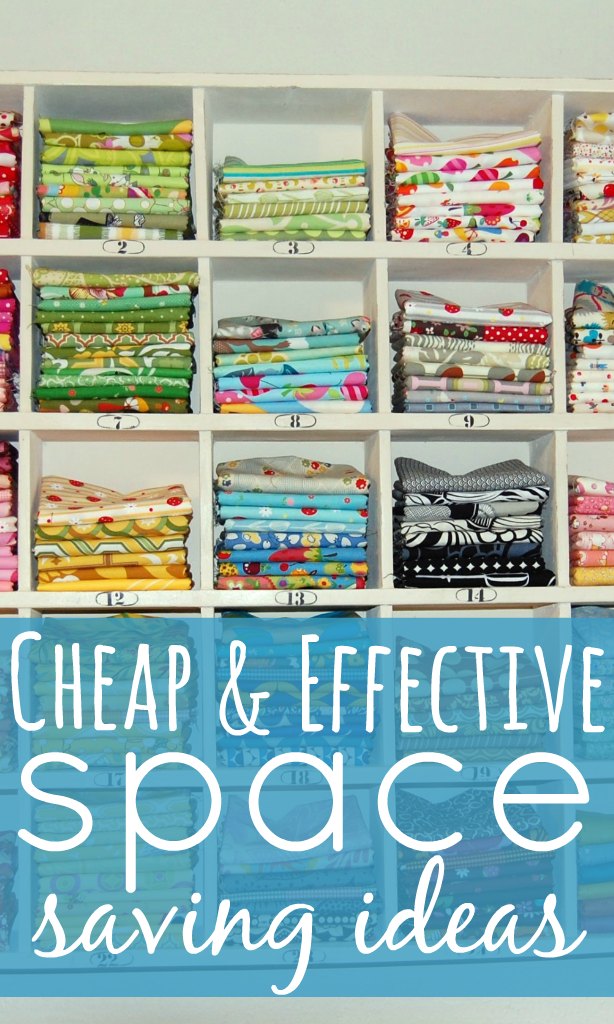 Cheap Space Saving Ideas
When faced with limited space the first thing you need to do is get rid of the junk. You know – all that stuff you own but have never used, ever!
Grab two black sacks and room by room purge your junk! Use one bag for the stuff that is just rubbish and needs throwing away and the other bag you can use for stuff to either sell on eBay, Gumtree or give to your local charity shop.
Once this is done not only will you free up much-needed room, I can promise you'll feel a whole lot better for it as well.
Utilising limited space
Living room
For a small lounge area with a limited floor area, the obvious thing to do is make use of hanging space. If you currently have bookcases, replace them with fixed shelving which you can pick up cheaply either at your local DIY store or maybe look for second-hand shelving on eBay.
The television is normally the focal point in most living rooms and with screens getting bigger and bigger, the TV stands are taking up more space as well. To combat this get rid of the stand and hang the television on the wall.
Wall mounts use to be quite expensive a few years ago but you can now pick them up quite cheaply.
Now comes the clever bit.
As I mentioned previously, if we were to downsize from a 3 bed to a 2 bed there would be an issue every other weekend with my daughter visiting.
To get around this we could invest in a reasonably priced sofa bed for the lounge which she can use when she stays.
Not only will I have saved the issue of where the girls can sleep but I will also save money on not having to fork out for an expensive sofa. Add a couple of throws and cushions and it will feel cosy.
Kitchen
In a confined kitchen it's the worktops where you need the room for cooking and preparing the meals. Again, if you don't have much space in your kitchen units, start to think vertically. Saucepans and kitchen utensils can be hung up on a rack and door hooks could be used to hang bags of potatoes or other vegetables.
If you have any space down the side of your fridge freezer then I've also come across an amazing idea which is cheap and will save you even more space in the kitchen.
Lastly, and if you can afford it, why not look to completely renovate your kitchen with a company such as Kitchen Warehouse who not only offer very competitive pricing but will also be able to advise you on the best layout.
More kitchen space saving ideas can be found on Pinterest. Be warned though, you might lose a few hours checking them out!
Bedroom
The bedroom has one of the most underused but practical areas for space-saving in the entire house – under the bed.
You can free up so much space by investing in a couple of inexpensive boxes which can be used for bedding, seasonal clothes or those 20 pairs of shoes that aren't ever worn (I do live with three females!).
With wardrobes, you can be clever and add an extra rail halfway up to make more hanging space and invest in more boxes for storage on top of the wardrobe.
If you have alcoves in your bedroom, instead of putting furniture in the space you could easily build shelving so the whole area is used not only full width but vertically as well.
::
As you can see I have given it some serious thought. I don't think we've fully made up our mind to move but with the extra money and using the space-saving tips above, it definitely is food for thought.
Penny for your thoughts: What space saving ideas do you use which might be helpful to us?
Image via Flickr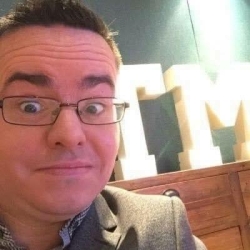 Latest posts by Ricky Willis
(see all)