Start earning better returns on your savings. Use promo code SK1NT01 as your VIP passcode to access to Chip+1 with a market-leading savings bonus of 1.25% (variable) – get VIP access to Chip+1 here.
This site contains affiliate links. We may receive a commission for purchases made through these links.
[Learn more]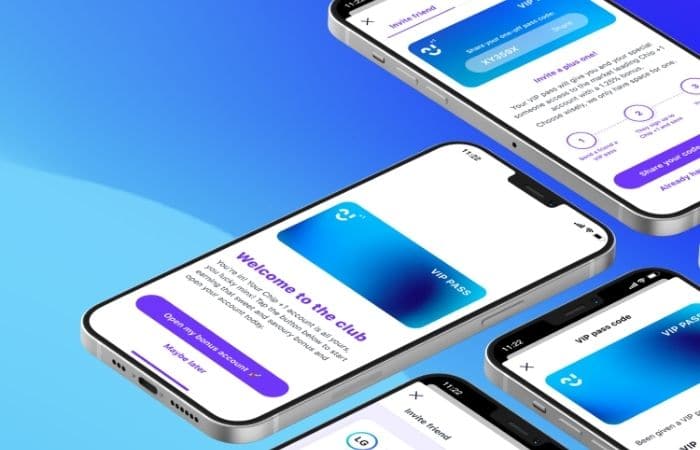 Even if you're paying off debt, trying to save a bit of money each month is really important. You need to have a little stashed away to cover things you've not got included in your day to day budget.
Like what if your fridge freezer packed in? Or what if your child's school shoes came apart and sound like flip flops when they walk?
Finding money at the drop of a hat doesn't need to be hard.
The Money Advice Service has said there are 16 million people who have less than £100 saved. If you're one of those people, then it can be really easy (it really can) to start getting a small pot of money put aside.
In fact, it's even easier if you automate your savings with an app like Chip.
Chip+1 – savings account pays a bonus of 1.25% (variable)
Chip+1 is an easy-access savings account with the market's leading return (1.25% variable).
Chip+1 has around 100 times better returns than most high street savings accounts.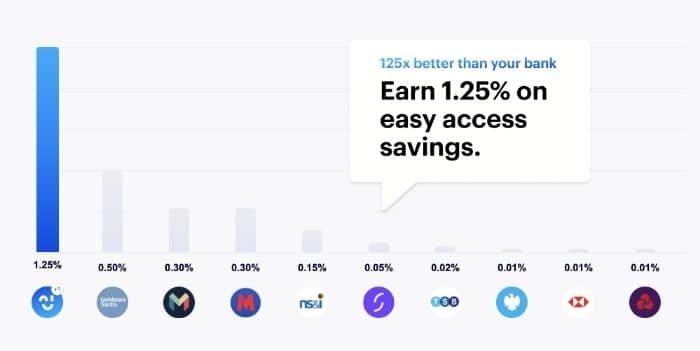 Not everyone can get access through; you need to be referred and have a +1 invite.
You can unlock access to your account using the VIP passcode SK1NT01.
How can I open a Chip+1 account?
You can open a Chip+1 account quicker than it takes to make a cuppa tea!
Download Chip
Complete sign up with all your details (connect your bank account etc)
Head to the "accounts" tab
Open a Chip+1 account and enter the VIP passcode SK1NT01
Deposit money
It's that easy!
You can choose to divert your autosaves into your Chip+1 account and will have the market's best return on savings.
Your 1.25% bonus will be added to your Chip+1 balance every 12 weeks, and it's paid on the first £5,000.
However, you can still save up to £85,000, which is eligible for the FSCS guarantee.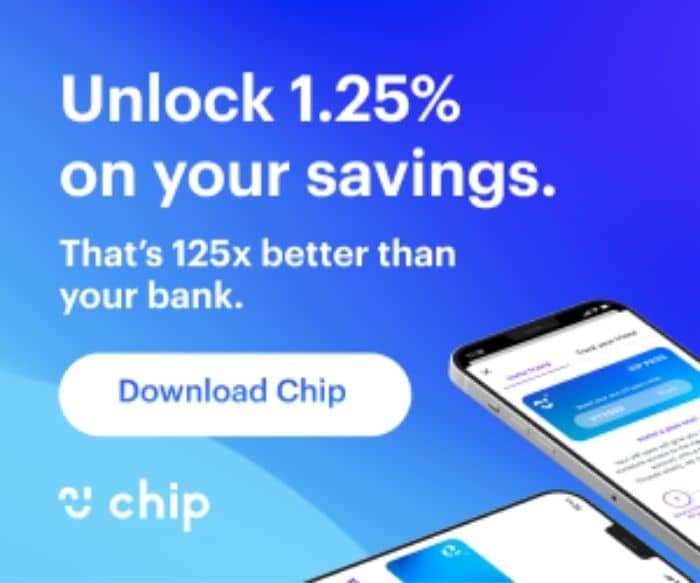 How does Chip app work?
Chip is a free to use app that automatically grows your savings. It calculates how much you can afford to save and automatically saves that money for you in your Chip account.
After you link your bank account, it uses clever algorithms to work out how much money you won't miss, making sure you'll have enough money until next payday. It even works if you don't get paid regularly.
They look at how much you spend on direct debits/standing orders and general card payments/cash withdrawals to see how you can build your savings but without feeling it.
Your transfer could be as little as a few quid or even around £50, depending on how much spare cash they think you can afford (and how much you've got in your bank). The average saving is around £20, and the average Chip saver puts aside £1,800 a year – all without noticing! It really is clever stuff!
250,000 people save with Chip and (as a Chip saver myself) we collectively save millions a month!
You're able to start saving if you've got an account with Bank of Scotland, Barclays, Danske, First Direct, HSBC, Halifax, Lloyds Bank, Marks & Spencer, Monzo, Nationwide, Natwest, RBS, Revolut, Santander, Starling, TSB, Ulster Bank.
Is the Chip app safe?
Yes.
Having used the app for around three years, we've had absolutely no issues!
It accesses your bank as read-only so isn't able to do anything to your account other than review your transactions (to see how much you can afford to save). The savings get transferred via a direct debit which you agree to as part of setting up your account.
When you connect your online banking login details, they are protected using 256-bit encryption, and Chip does not store your data, which is the same level of encryption as banks use.
Some people have mentioned they are worried about using bank login details in the app. However, this isn't an issue.
From January 2018, the government changed how banking works and banks now have to open up their systems to 3rd party apps (like Chip).
The way we use technology is changing, and you may remember your bank updating their terms and conditions a few months back to show that apps like Chip are ok to link to.
Chip is authorised by the Financial Conduct Authority under the Payment Service Regulations 2017 no. 911255 for the provision of payment services.
Money in a Chip+1 savings account is safely held in an FSCS eligible savings account, meaning your savings are governments backed up to £85,000.
Chip reviews from real users
Don't just take our word for it!
Here are a few comments from people who started using the app when they found out about it on Skint Dad:
With a new house, recent wedding and baby to pay for I really didn't feel I had any spare money to save but having chip has made it really easy to ferret away several hundred pounds already, seriously without me noticing.

Victoria
Savings were always one of those things that I knew I should have, but never quite got round to doing…that was until I discovered Chip! Now saving has never been easier!

At first I was dubious about the amounts the Chip algorithm was calculating, I thought there was no way I could afford to save that much on a regular basis. But it turns out I was completely wrong, I now have a steadily growing savings account with Chip!

Ashley
Chip has really helped me to save and buy things I wouldn't have purchased otherwise, kept the Mrs happy with the new furniture. I wouldn't have used it without Skint Dad's recommendation. Now I use the app all the time!
Mike
Thanks to Ricky at Skint Dad, I've managed to save around £200 in a few months without even noticing, which is pretty awesome for someone as bad with money as I am! Chip is easy to use and a great pain free way to start accumulating a wee nest egg, and I especially like that you can save even if you're overdrawn. Recommended.
Amanda
I struggle to save a regular amount each month so therefore never really saved. I never noticed or miss the money that Chip saves and it soon mounts up, I've recommended it to everyone as it's a fantastic and easy way to save (particularly for lazy people like me!). Huge thanks to Chip as the money I've saved will pay for my car insurance all in one go (first time ever), car service and spending for my holiday, happy times!
Kay
How do I withdraw my money?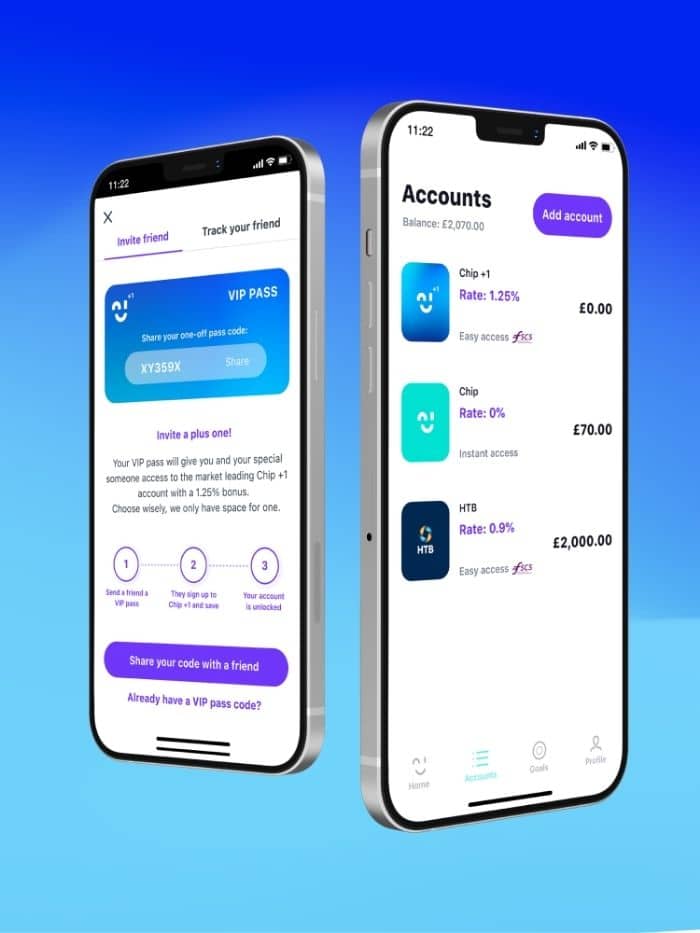 You can see your money going up, and you're able to withdraw your cash from your Chip wallet or Interest account whenever you want (which is when the chart goes down).
If you need your money (perhaps you've hit your savings goal or need it for an emergency), then you can request to withdraw as much as you need from the Chip app.
Ask before 2 pm on a weekday, and you will get your money back into your bank account on the same day. If it's after 2 pm or at the weekend, then your money will be back in your bank account the next working day.
Chip+1 is an easy access account, and you can withdraw your money whenever you want.
Withdrawals take between 1 to 2 working days to complete and for the money to reach your linked bank account.
What if I have an overdraft?
You can choose to make savings even if you are in your overdraft. This option is off as standard, so it's something you will need to turn on if you plan to use it.
Overdraft charges are HIGH. Did you know that they are usually higher than a credit card?! They are really expensive.
The best thing would be to look to clear them. However, I know, all too well, how hard it is to get rid of that overdraft.
One option is to use Chip to save while in your overdraft. When you get to, say, £100 transfer it back to your current account to start clearing your overdraft.
When trying to clear my overdraft, I felt having the money in my main account too much of a temptation. By saving the money elsewhere, it was out of sight, out of mind.
Clearing off a little every few months, the interest would slowly come down, and I could see the light at the end of the tunnel.
You can choose to disable overdraft saving if you want to.
Chip Overdraft Guarantee
They are so sure of the algorithms that they promise to never intentionally go into your overdraft and leave you short of cash.
They are so confident about this that they've set up the Chip Overdraft Guarantee. If they ever make an automatic save and it causes you to go into your overdraft, they'll deposit a £10 savings bonus in your account to say sorry.
However, please note, if you've selected the option in the app to save into your overdraft (see point above), then the overdraft guarantee doesn't apply.
How do I save less?
So Chip works out how much it thinks you can afford and makes a save once a week or so.
However, if you feel that the app is saving too much, then you can change the savings level within the settings.
You're also able to pause the option to save if you need a break.
In the same way, you can increase your savings level if you feel you could afford it. If you want or can afford it, you can also add up to £100 a day manually (up to 6 times a month).
Can I talk to someone?
All customer support is built into the app.
Instead of having to call the bank and wait on hold, you're able to start a live chat.
It's open from 8 am to 5 pm during the week, and they've always got back to me quickly.
If I've messaged over the weekend, I usually get a response early on Monday morning.
Final thoughts on the Chip app review
Having used Chip for ages now, I love the fact that it makes saving really easy.
Because I haven't been saving much money each time I didn't miss the cash from my bank account, but it really adds up quickly. Within a few months, I had hundreds of pounds stashed away!
Saving using Chip has made me feel that saving money is possible and achievable.
I just wish I started using it earlier.
If you want access to a market-leading savings bonus, you can only get access to Chip+1 with a special VIP access code.
Enter the Chip promo code SK1NT01 to earn a return of 1.25% (variable).
Download the app on either the iTunes Store or on Google Play, and start saving like you never have before!
<div id="mediavine-settings" data-blocklist-auto-insert-sticky="1″ data-expires-at="2021-01-30″></div>
Latest posts by Naomi Willis
(see all)