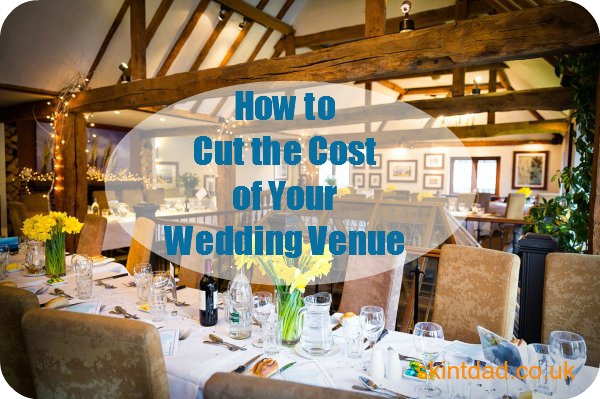 £10 BONUS OFFER: Earn easy cash by watching videos, playing games, and entering surveys.

Get a £10 sign up bonus when you join today.

Join Swagbucks here >>
When it comes to choosing your wedding venue you may want a massive castle wedding with all the bells and whistles but is it realistic?
Don't get me wrong, I would love to be in a position where money was no object and we could have whatever venue we wanted but this is not reality!
The reality is that we are going to be doing our wedding on a budget.
Now when I say budget I don't mean any guests in a registry office on a Tuesday morning. We might be skint but we are not broke!
We want a wedding in which both are families can come together to celebrate our marriage. A wedding where we can look back in years to come and remember what a perfect day it was.
Now you may not think it's possible to get the perfect venue on a budget but there are ways you can have your dream wedding but slash the costs.
Without looking at many venues, we already knew which one we wanted. In fact, we knew where we wanted to get married before we even viewed it properly (although we had been there many times before). So because of this, we had to be clever. Here are some hints and tips to help you work out ways to cut the cost of your wedding venue.
Tis' the season?
The prime times to book weddings are in the summer. I mean let's face it, what's nicer than to have photos taken on a summer's day with the wedding party? However, living in England, it sometimes doesn't matter whether you're getting married in January or July, the weather can be just as unpredictable.
As they are in higher demand, you will get charged more for a summer wedding so, with this in mind, if you could shy away from the more popular months and book something between October and February, you may automatically find your perfect venue at a cut price.
We have picked a December wedding. It's my birthday in December and Ricky (being the romantic that he is) suggested that we get married on that day.
Which day?
So you've managed to initially get a saving with the time of year but you can also cut costs on the actual day you choose.
If you pick a more popular date it also comes at a premium. Do you need to get married on Halloween, New Year's Eve or Valentine's Day? Although it may be romantic and you could make a nice theme to go with it, you will probably find an increase in the price too.
Saturdays also cost more money. The best option is to opt for a Sunday, or even better a week day.
My birthday falls on a Sunday in the year we're marrying. The more I think about it, romantic Skint Dad may have suggested my birthday as the wedding day so there'll be less chance of him forgetting an anniversary date, and he won't need to buy me a birthday present as my mind will be on other things…! Whether it was so he didn't forget dates, or so he could be ultra thrifty, it is still a little romantic.
How many guests?
Does your brother's, second niece's, forth cousin's goldfish really need to attend your wedding?
The idea of a big wedding may sound great but you'll end up buying dinner for people you've not met for years just to make your grandmother happy.
Another way to cut the cost of your wedding venue is to try to settle on less than 50 guests and most venues create great packages that'll be hard to beat.
This is exactly what we did. It'd be nice to have a big crowd but, at the same, it seems even nicer to just have family with us, then open the invite out to friends in the evening.
Can you haggle?
When you start to look at prices, venues may break down the costs for food per person, with different set menus, plus drinks and the venue hire itself, chair covers, toastmaster, cake knife – they really do thrown everything into the equation. The best thing is not to agree to anything while on a visit but take lots of notes and try and get a leaflet or brochure to take away with you.
Sit down with a coffee or tea and work through the amount of people you want to invite and what you really need. It's scary how quickly it adds up.
Ask the venue if they do a package price where they throw popular picks into a great price. Plus, if they do a reduced package price, it doesn't hurt to ask if they have any more wiggle room with their prices.
Remember, if you don't ask, you don't get.
Want to cut the cost of your wedding venue more…?
When to book
It may be cutting it fine but you could risk booking a venue as late as possible. If a wedding venue has had a cancellation or just a gap, then they may slash costs so they don't lose out.
Marry alone, party later
Register your marriage during the week at the registry office at their fixed times, with no guests (you may be able to have up to 4 people) for very little money, then have a "party" (do not mention the marriage word otherwise a premium gets added to the cost) elsewhere.
If you want the party to be more realistic, after marrying during the week, you can have an officiant read vows in front of family at a later date. This will leave the impression that you get married in front of your guests but you will have officially married and signed the register a day/week or so before.
Don't pay
There are lots of options if you would like to have a gathering with friends and family but really don't want to part with your cash at all.
There are many pubs that would be happy to hire out a function room with the knowledge that your guests will be buying drinks, keeping their profits up.
You may even have a kind relative with a big house or garden that you could gate crash.
If the weather is planned to be OK, why not take your guests to a local park or beach and have a picnic celebration.
Our chosen venue: The Barn, Tunbridge Wells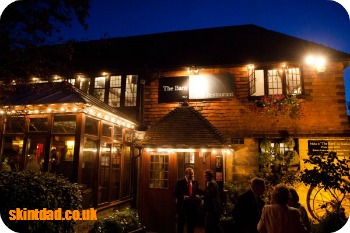 Ricky and I shared some of our first dates in The Barn and we always knew it was special in our hearts.
The Barn has been in the centre of Tunbridge Wells for years, well before both Ricky and I were born and as we have grown, The Barn has turned from somewhere we used to meet for lunch, or enjoy a bit of dinner on a Sunday afternoon, to a place we take our children for a special occasion.
In more recent times, couples have been hiring The Barn for their weddings and in 2013 they were awarded the Best Boutique Wedding Venue of the Year in the Kent Wedding Awards. You can easily see why when you go in and speak with the owners Philippe and Janet.
They genuinely care about making the wedding our own and make us feel like we are the only people having a wedding there this year. Very importantly, they listen. This really helps as we know what we are saying is going to be considered and answered properly.
Choosing The Barn as our wedding venue was an easy choice – they make great fresh food, they are attentive and have an amazing staff, we have been given exclusive use of the entire venue and have also got a 'mini-honeymoon' at Bailbrook Lodge in Bath added in too.
Whatever you decide, remember it's your day and ultimately it's down to you. In our case, we wanted to have a venue which meant something to us. We could have chosen a venue for less than £200 and just had a couple of guests but that wasn't what we wanted. We could have gone the other way and spend thousands and thousands and got even further into debt, but again that's not what we wanted.
When we first sat down (after Ricky had proposed) and discussed the details, we knew what position we were in financially and we knew what we could and couldn't afford. It's because of this we didn't make any rash decisions. We always wanted to marry at The Barn and although it wasn't the cheapest, it was far from the most expensive. However, when we looked at the big picture and took into consideration all of the extras we would get, it was most certainly the best overall value for us.

If you are wedding planning then good luck! It would be good to know what you are doing and how you are planning to cut costs but still get the wedding of your dreams.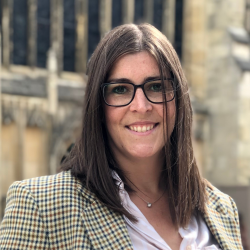 Latest posts by Naomi Willis
(see all)