For every 20 people you know, one or more of them have most likely fallen foul to a scam.
Over the last five years alone, there has been a reported 60% increase in criminal activity relating to online scams and identity theft.
To put it more into context, a massive 48% of you would have been targeted by a scammer at some point whether that be online, by post, on the phone or even on holiday.
It's Not All Doom and Gloom
The statistics above are pretty scary, aren't they?
I mean if one in 20 people are being scammed then you're most probably thinking whether you one of those people or will you be one of those people in the near future.
Being scammed must be a horrible feeling – think about it, you're going about your own business as you would normally do and then BAM! someone has invaded your privacy and either hacked your online accounts, defrauded your bank accounts or even worse, stolen your identity.
It's one of those situations where I'm sorry to say that you will never be 100% sure that you won't fall foul of a scammer but, if you follow some simple rules, and stay vigilant, then there is a good chance that you won't get caught out.
Each June is Scams Awareness Month and Trading Standards have teamed up with the Citizens Advice Bureau to raise awareness of this UK wide problem.
By giving consumers access to detailed information and advice on how to protect yourself from being scammed, they are fighting back against the scammers. 
What To Look Out For 
They're a number of things you can do and look out for to prevent being scammed.
If you're contacted by anyone either in the street, on the phone or online and they are requesting personal information like your PIN number or account details for an online account, be aware.
They could try a number of approaches to wow you for the information and may try to sell you an amazing product or service but what they're selling may just be a scam.
Some other signs that it could well be a scam:
You didn't buy that lottery ticket at the newsagents so you definitely didn't win it

They are asking for any kind of financial information

They are asking you to transfer money

You are promised an easy way to win or obtain a large amount of money

They have requested information and are putting pressure on you to respond quickly
The main thing to keep in mind is that if you are in a situation that doesn't feel right then walk away.
And I mean anything – even if the person on the phone or in person seems 99% legitimate but you still have a niggling feeling in the back of your mind, walk away.
You can always find another way to confirm the situation is legit later on without the worry of being scammed.
I've Been Scammed, What Now?!
So even though you've been vigilant and taken precautions, unluckily you've fallen foul of a scammer.
If it's your bank account, credit/debit cards, or cheques that have been involved in a scam then without hesitation contact your bank or building society immediately.
They will be able to cancel your cards and put a stop to transactions on your account instantly. 
If it's any other type of scam then contact Action Fraud. Their phone number is 0300 123 2040 (local rate number) and you can find them online at www.actionfraud.police.uk.
They are the UK's national reporting centre for internet and fraud crime. You're able to report a scam with Action Fraud 24/7 and they will be able to advise you on the best course of action going forward.
Resources 
There is a wealth of information online which will help you take the right actions when faced with scams and scammers:
Finally
Anyone can be caught out by a scammer and going back to the title of this post – Are You Dumb Enough To Be Scammed By A Scammer? – I think no, no one is.
It's the criminals that are the dumb ones to think they can keep getting away with it! 
If you have a tip to prevent being scammed or scams to look out for then please leave a comment below. I'd love to hear from you.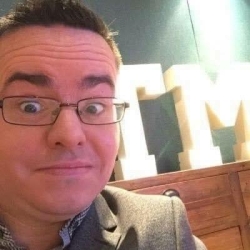 Latest posts by Ricky Willis
(see all)