If you've trawled the internet for quick or easy ways to make money, then you'll have likely heard of paid clinical trials before.
These somewhat ominous clinical trials involve any number of procedures that are used for research and development.
It's important to be aware of the potential benefits that paid clinical trials can offer but also the downsides of them.
When you offer yourself for these medical trials, you should fully understand just how impactful these trials could be to your body.
Is it worth the £500, £1,500, or even up to £5,000 reward if there are potential long-term side effects?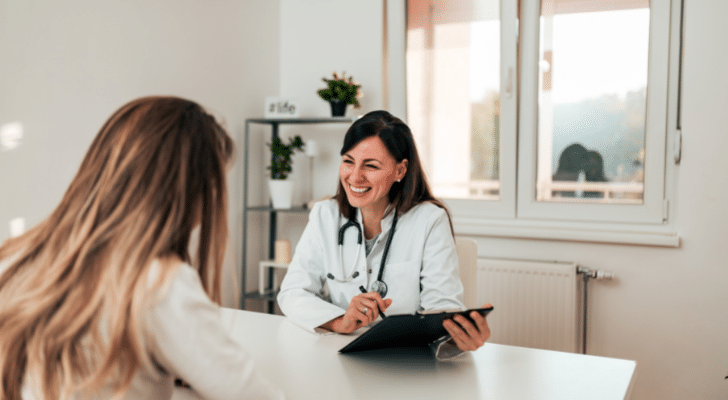 £10 BONUS OFFER: Earn easy cash by watching videos, playing games, and entering surveys.

Get a £10 sign up bonus when you join today.

Join Swagbucks here >>
In this guide, you'll learn everything there is to know about clinical trials, what they typically involve and where you can find them.
There are also some helpful sites to find some of the highest-paid clinical trials to date.
What does a clinical trial involve?
If you've never heard of clinical trials before or you have, and you've always been curious about what it involves, they're essentially medical research studies that involve people.
They typically involve testing out different treatments to see if they're safe for humans and how well they work.
Some trials will ask for healthy members of the public, others may require a certain set of conditions in order to be eligible.
How much will you get paid for a clinical trial?
Clinical trials are very popular with students and those who are struggling for money and need it quickly and as painlessly as possible.
Typically, payment for a clinical trial will vary depending on how much budget is available and the level of risks involved.
There are lots of different organisations out there that undertake clinical trials. Some rewards vary from around £500, whereas others can deliver up to £5,000 per clinical trial.
Of course, these may be as simple as sleep studies to having to contract the flu or another type of virus and then receiving various medications to see what works and what doesn't.
For some, earning this money can feel and sound like a doddle; for others, it might not be the most ideal choice.
Where can I find the best clinical trials for me?
There are a variety of different clinical trials out there, but it's important that when you pick a clinical trial, it comes from a reputable and well-known organisation.
The best place to start is, of course, the NHS. They have a clinical trials webpage that will introduce you to these trials and give you some tips on how to start your search.
It's important that you're only going with legitimate companies and this can be done by checking that the clinical trial has been approved by the Medicines and Healthcare products Regulatory Agency (MHRA).
If they haven't, then avoid them at all costs.
Highest paid clinical trials in the UK
With the knowledge that finding a reputable organisation is key for clinical trials, here are some of the highest-paid clinical trial options in the UK.
These are also some of the most reputable for offering medical trials:
FluCamp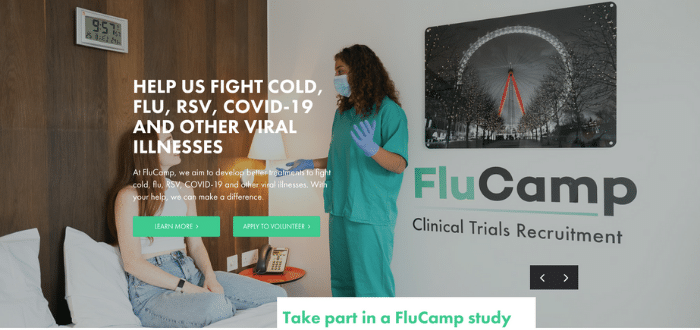 As the name may indicate, FluCamp focuses its attention is on viruses and how our body behaves with different viruses affecting the immune system.
For those both with healthy bodies and those with conditions like asthma, FluCamp welcomes anyone and everyone to help understand how viral illnesses impact the body and to eradicate them where possible.
According to FluCamp, their latest trial paid out £2,750, whilst one of the longer trials paid out a staggering £4,200.
The payment can vary depending on the length of the trial and various factors in regards to what's expected from the volunteer.
Trials4us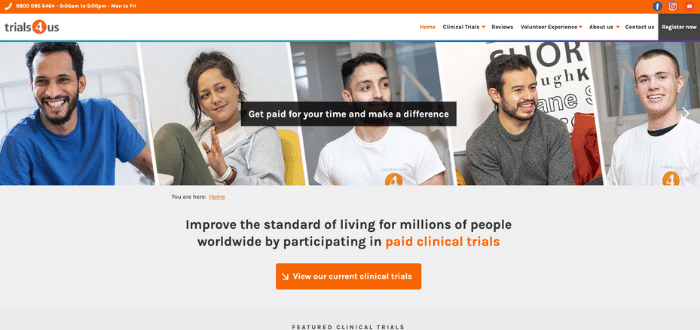 Trials4us is a good place for drug trials of all shapes and sizes. They are always looking for different individuals to help with their clinical studies.
For example, they may be looking for healthy volunteers like healthy black males and females aged between 18-45, to hypertensive males and females aged between 18-75.
The pay for untested drugs trial is decided by how much is required of the volunteer. This could be anywhere between £1,700-£3,800 on average.
London Trials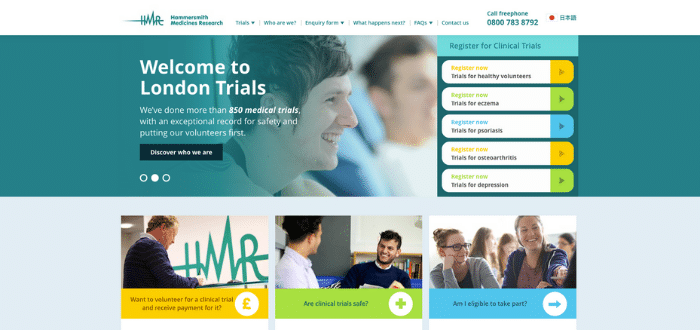 There are a number of clinical studies available with London Trials (also known as Hammersmith Medicines Research), from those suffering from eczema to healthy men required for a new medicine to treat Fragile X syndrome.
There are lots of different ones available with this company, so if you're looking for variety, then you'll find it here.
Paid trials could pay out anywhere from £2,000 to £5,000.
Quotient Sciences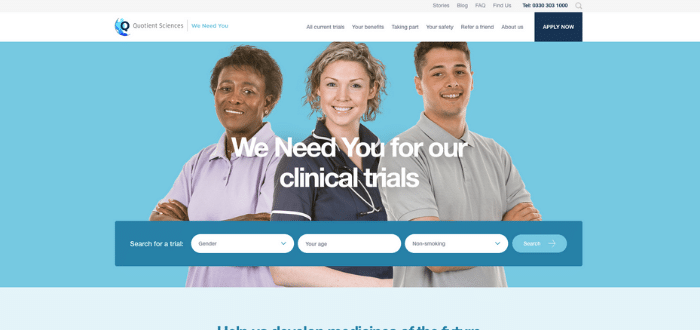 Another great clinical trial organisation is Quotient which offers a wealth of trials from injections to oral medication.
These range from day visits to overnight stays and longer durations. The amount you receive will depend on your trial, and you'll need to be registered in order to take part.
These trials could pay out hefty amounts, with some current trials delivering between £1,000 up to £2,500.
Are clinical trials right for you?
It's important to be aware of the dangers that can come with clinical trials.
You may be expected to take medication and conduct many tests on your body. Many clinical trials may have side effects, so it's good to know what these are in advance.
You will usually be expected to stay overnight, although travel expenses and food are covered for you.
The benefits of clinical trials are that you're a part of supporting medical advancements and new treatments that could help future generations with various conditions and treatment options. And, you obviously get a financial reward.
If you don't feel comfortable, perhaps paid market research or online paid surveys would be better for you.
FAQs
Are clinical trials safe?

All clinical trials will have risks, so we can't say that a clinical trial is 100% safe.

Of course, these trials will have been approved by the Healthcare Products Regulatory Agency, but there could always be unknowns with new drugs and medicines that even the researchers aren't aware of.
How long do paid medical trials last?

Paid medical testing can vary from one study to the next.

Sometimes it might just be one overnight stay, but other times it could involve months of tests and follow-ups. It's worth knowing this before proceeding.
Are clinical trials a good way to make money?

Yes, despite some perhaps being a lot less enjoyable than others, they're a great way to make easy money.
How many clinical trial volunteers are needed for each trial?

This varies from one study to another. For some, they may need a dozen, for others, it's hundreds.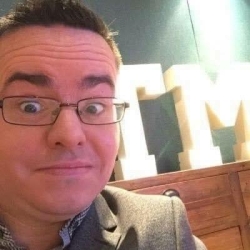 Latest posts by Ricky Willis
(see all)