I needed to find a budget wedding dress so I took the plunge a week or so back and parted with the cash.
There were a few things that I had to ensure before I confirmed the purchase.
Firstly, the most obvious point was that I was on a strict budget! I read somewhere the other day that the average cost of a wedding dress in the UK is around £1,300 (!!). Sorry, but I think that's nuts. That's a massive chunk out of our budget.
So, the second thing you need to do is research and decide what you actually want, and what will make you happy.
Where to find THE budget wedding dress
Wedding Dress Hire
If you don't mind if you don't keep your dress and want the latest style from the runway, dress hire may be an option for you.
As part of the price, a lot of the dresses also come with veils, shoes and sometimes jewellery too.
You could grab yourself a wedding dress for a week for around £300 – £800.
Sample Sales and Factory Outlets
Looking for a classic wedding dress on a budget? Why not start with going to a sample sale or factory outlet. They sell dresses off the peg for 70% cheaper than the labelled price. Now if that's not a budget wedding dress I don't know what is?
The dresses are normally new with some that may have been used for catwalks or modelling. They have usually discontinued lines or unused samples.
You could potentially look to bag a dress between £150 and £450.
High Street Wedding Dress
Head to the high street for a budget wedding dress and you'll be surprised how much choice you'll get. Some well known shops have a selection of dresses that won't hurt the purse so much.
As well as the bride, BHS also cater for bridesmaids and the boys.
They quite often have special sales and do a mean winter sale. The price for a budget wedding dress starts at £80.
The next stop is the supermarket.
Yes, as well as picking up the makings of a Sunday roast, Tesco also does a small range of bridal wear.
Most of their clothes are best for bridesmaids but it never hurts having a look. The prices start at £60.
Debenhams have quite a wide range of dresses to choose from and also have outfits for the mother of the bride, groom and your bridesmaids.
Prices start at £115 but their Blue Cross sales are pretty epic and have 70% off. Their sales are on either over the summer or in the new year so you have to get your timing right.
TK Maxx stock brands (some of which you may not have heard of) at lower prices.
Brands include Phase Eight which have their own wedding selection on their site starting at £250 and Coast whose prices on their site start from £180. Their dresses start at £80.
House of Fraser have dresses starting from £175 and John Lewis dresses starting from £180. Again, they stock a variety of brands such as TX Maxx, just maybe not as competitively priced.
Monsoon have quite a collection of dresses, starting from £89, but I just love their flower girl dresses. They are very cute, even if touching on the high side of the budget.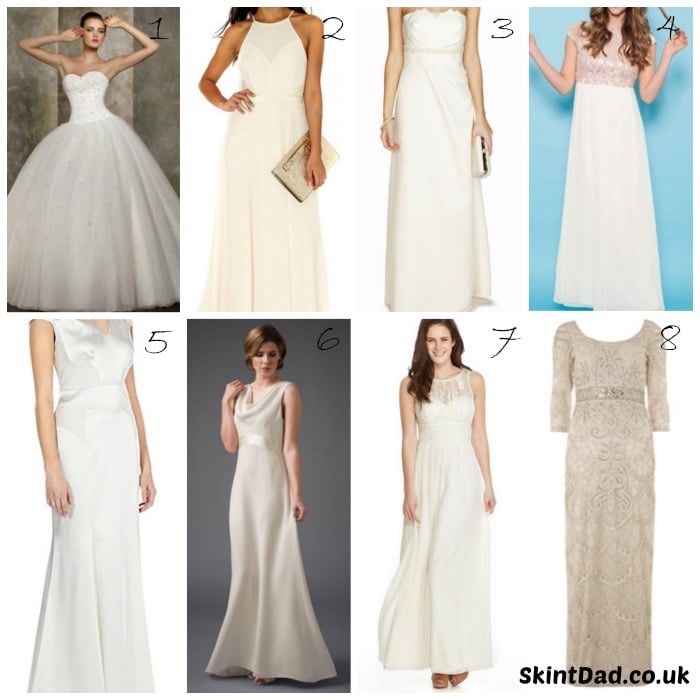 £10 BONUS OFFER: Earn easy cash by watching videos, playing games, and entering surveys.

Get a £10 sign up bonus when you join today.

Join Swagbucks here >>
Wedding Dress from eBay, £49.99
Kamilinka Lace Backless Maxi Dress from Miss Guided, £39.99
Ivy Long Bridal Dress from BHS, £62.50 (was £125)
Coast Megan Maxi Dress exclusive from Debenhams, £150 (was £250)
Nina Bridal Dress from Monsoon, £68.50 (was £229)
Other High Street
Why get a "normal" wedding dress? If you're not into the big floaty dresses, why get one? You can pick up some lovely dresses/prom dresses/bridesmaid style dresses on the high street or online for a fraction of the value.
Any time you put the word "wedding" in front of something the prices go up. Try searching for occasion wear or prom dresses and you'll be surprised how wedding like they are. Who'd know the difference – other than you?
Try places like ASOS, Warehouse, New Look or Zara and use the filters to search for white, cream and ivory dresses. Season by season, they normally have something that can be workable.
You could grab an absolute bargain from just £30 but you do need to have a good hunt around. Remember to also get cashback and find a voucher code too.
Second Hand
If you think about how much time you spend in your wedding dress, it's not really that long.
You could end up buying one of the most expensive dresses of your life that you will wear just once. Just think of how much per hour that'll cost you.
Instead of buying your own dress, you not buy one from someone else? There are sites that specialise in wedding dresses like Sell My Wedding Dress and wedding sites like Confetti have a forum where people sell their things on.
Why not also look at other sites like Preloved or eBay which also have areas for wedding attire.
There are numerous selling groups popping up all over Facebook too.
If you're very lucky you could grab a budget wedding dress bargain on eBay for 99p (although maybe slightly unlikely).
Dresses on the other sites are likely to be priced or won at auction from £50 up to around £1,000 depending on the brand.
Charity Shop
Similar to buying second hand, you can do it in a shop environment and get to try the dress on.
Not all wedding dresses are going to be second hand. Some may be end of line, or even brand new ones that have been kindly donated.
Charity shops have been growing and growing as a place to buy your wedding dress. A number of them now have bridal specific shops like Oxfam and Red Cross.
More local charity shops also do this too such as Hospice in the Weald in my town.
Have a quick Google or search for a charity shop near you on Charity Retail Association's store locator.
Even if the charity shop doesn't have a bridal speciality, it still doesn't hurt to have a look through the rails as you never know what could have been donated.
Prices start from around £50 but do go high depending on the brand.
Upcycle
Maybe you have a friend who got married recently and they have a dress they no longer want, or your mum has kept her dress and is happy for you to alter it.
How about looking in your own wardrobe and seeing if there is something that you already own that you could upcycle.
Not only are you being very good with your budget but you are being eco-friendly too.
This could cost you next to nothing.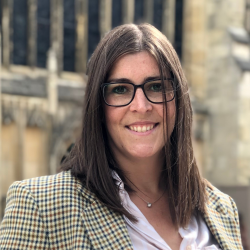 Latest posts by Naomi Willis
(see all)