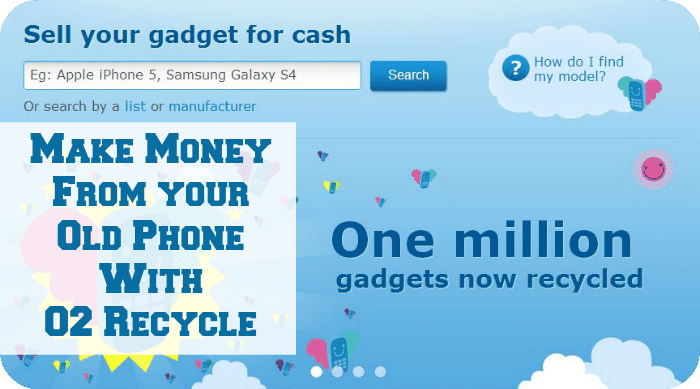 £10 BONUS OFFER: Earn easy cash by watching videos, playing games, and entering surveys.

Get a £10 sign up bonus when you join today.

Join Swagbucks here >>
This morning I was sorting through some old boxes which hadn't been unpacked since we'd moved in about a year ago (yes I know). I actually think anyone who has moved in the last year or so has a couple of boxes they never get around to unpacking.
I wasn't even looking for anything in particular. I just came across them in the cupboard and thought why not. Also, I know for a fact it would score a few brownie points with Skint Mum.
Most of what was in there were junk. Packs of playing cards, tea light candles, paperwork, a Take That DVD (not mine!) and a few music CDs. There was one item though that caught my eye and that was an old mobile phone of mine. It was an iPhone 4 which was still in reasonable condition with the box, earphones and even a charger!
I'd totally forgotten about it. Just before we moved I had upgraded to the phone I have now and packed the old one away. Now though, almost a year later, I had found it and was going to try and turn it into cold hard cash using the O2 Recycle service.
What is O2 Recycle and why use them?
Whether you are an O2 customer or not, you can use O2 Recycle to make cash by recycling your unused mobile phones. You can also recycle gadgets such as sat-navs, cameras and iPods using the O2 Recycle service as well.

As well as guaranteeing top prices paid through their Top Price Promise; O2 Recycle offer a number of other reasons to use their service.
Same day payment
100% satisfaction guaranteed (or your phone back for free)
Free post and packaging (O2 Recycle will send you a Packetpost Returns pack with everything you need to send your gadget to them for free)
Open to everyone regardless of network
SSL secure registration
How do you use O2 Recycle?
The O2 Recycle website is very user friendly and walks you through every step of the way. Ultimately though, the process is broken down into easy steps.
Find your gadget
Here you just enter the model or make into the search bar. You can also search by list or manufacturer. If you cannot find your phone by searching or by checking the list, you will not be able to recycle your phone. Once that's done you then get taken to another screen where you chose your network.
Select your payment method and place your order
Here is where you will find how much money your phone is worth. If you are happy with the offer, you then need to decide how you want to be paid. There are four methods of payment which include an Amazon.co.uk Gift certificate which is worth 5% more than normal cash. I chose to go with the bank transfer option. If you are an O2 customer, you can choose to have the money credited towards your O2 bill.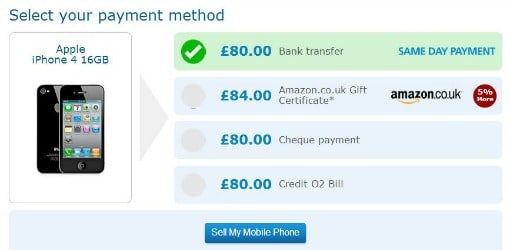 Next up you either need to sign in to an existing account or sign up for a new account.

Enter you details to create the O2 Recycle account.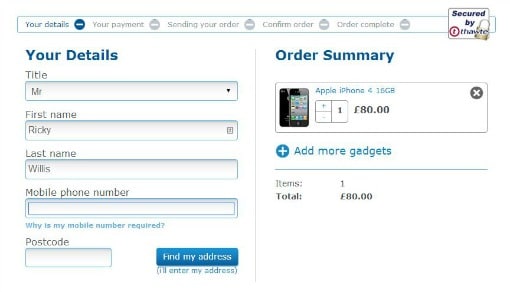 Enter your payment details.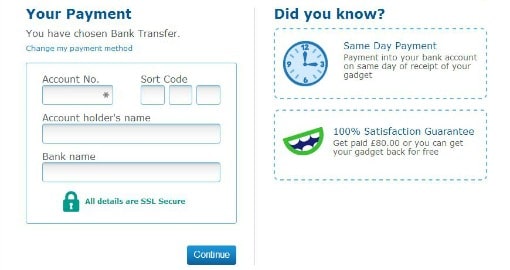 Next you get a choice to either print a label and package the item yourself or you can select the option for O2 to send you a free postage pack.

The last thing to do is to check your details and confirm your order.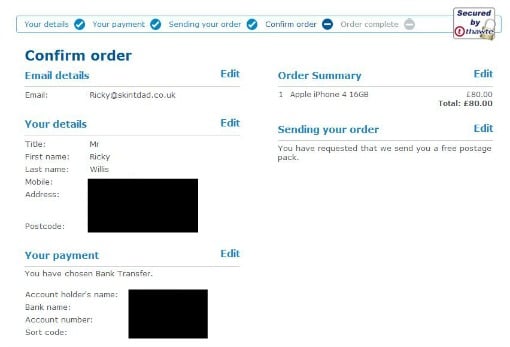 Before you send the phone to O2 make sure all data is deleted and it's securely packaged.
O2 have a step-by-step guide for this which you can find here. Once the phone is in the hands of O2 they will give it the once (or twice) over to make sure everything is working. At this point, they grade the phone.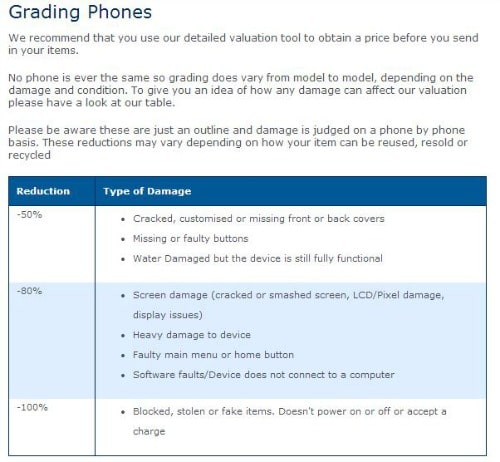 Once graded, O2 will contact you to confirm the offered price. If there is any damage, they will reduce the offered amount as set out by the grading chart above.
At this point, you have two days to accept their offer or decline it and have the phone sent back to you free of charge.
If you are happy with the price fantastic, you've just made some easy money!
So what to do now? Well if I was you, I would go find them old phones and gadgets hiding in the unpacked boxes or at the back of those chest of drawers in the bedroom.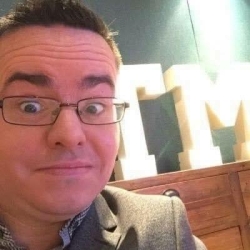 Latest posts by Ricky Willis
(see all)