Popping to the shops at the weekend can be more easily said than done. It seems to be a mission in my household. I don't know about yours?
To name a few of our regular issues:
Making sure everyone is dressed properly and appropriately – you couldn't imagine some of the mismatched outfits D has walked out of her bedroom in!
Making sure that everyone has cleaned their teeth and brushed their hair. How is this hard? It's something the children have to do everyday but seems to totally evade their minds.
Making sure everyone has matching shoes. C likes to hide shoes. I don't know why! She moves them about and puts them in random places. I've found shoes in the washing machine, under pillows, in cupboards with pots and pans. And her favourite thing instead of hiding them is filling them with small toys so your feet don't actually fit in the shoes.
Anyway, I digress. My point is that getting out of the house can be a nightmare and it gets added to as soon as we hit the town centre by everyone, at the same time, saying "I'm hungry!".
I hate spending more money than I have to when shopping and one of the biggest spends in the past is on takeaway fast food to curb the children's hunger.
So, this week, we have recreated our family's favourite lunchtime take out – the burrito!
Fakeaway 16 November 2013
"Mexican Beef and Bean Burrito with Mexican Rice and Salsa"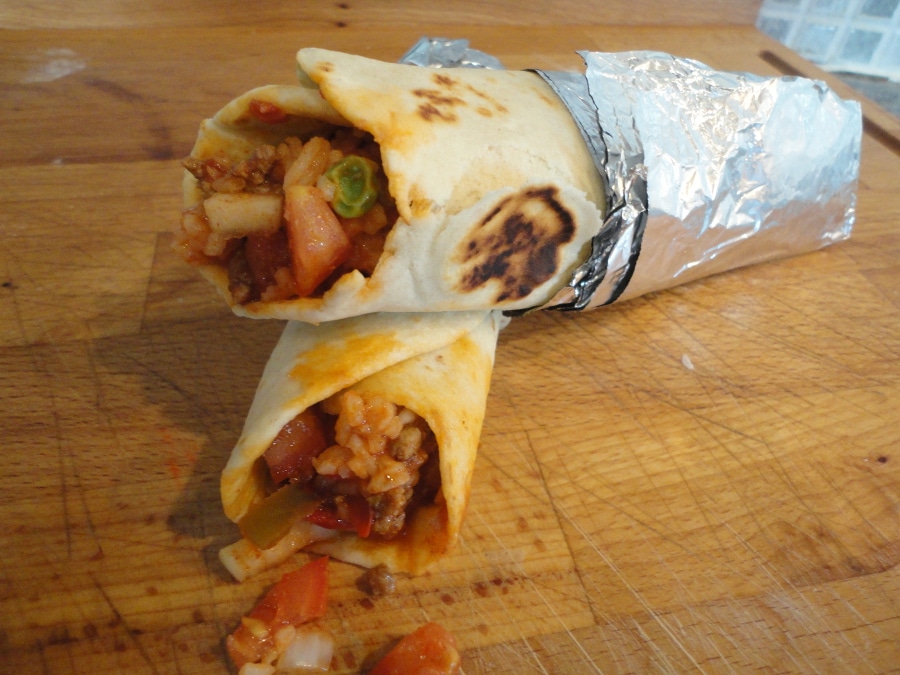 £10 BONUS OFFER: Earn easy cash by watching videos, playing games, and entering surveys.

Get a £10 sign up bonus when you join today.

Join Swagbucks here >>
Total cost: £4.67 for a family of 4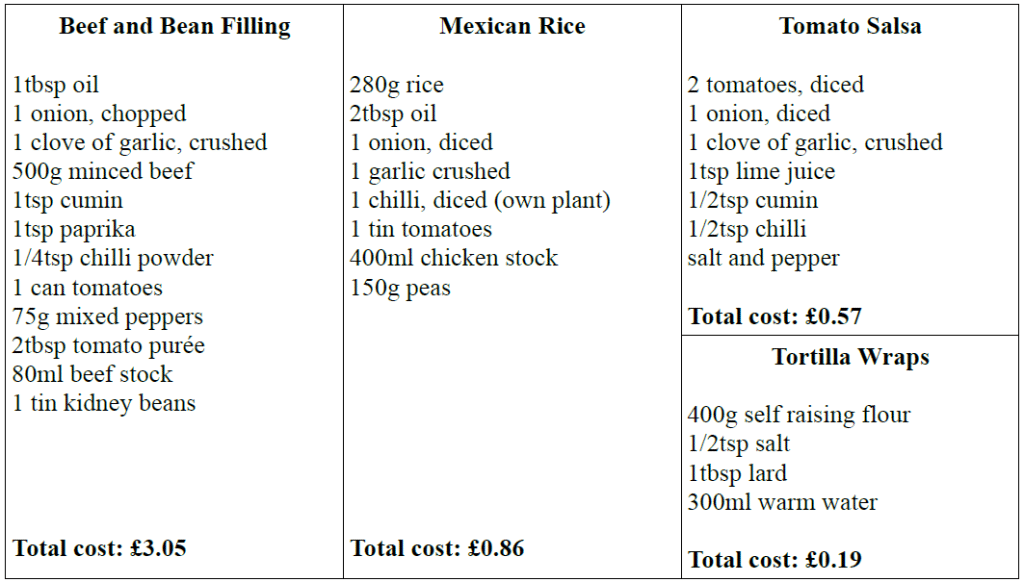 Ingredients
All ingredients used were either supermarket own brands or the lowest price.
We calculated the cost of each of the ingredients separately by looking at the item's total value, then working out what the amount we would need. For example, mixed herbs are £1.39 for 100g, for a 5g teaspoon full it would be 7p (£1.39/100 x 5 = 0.0695).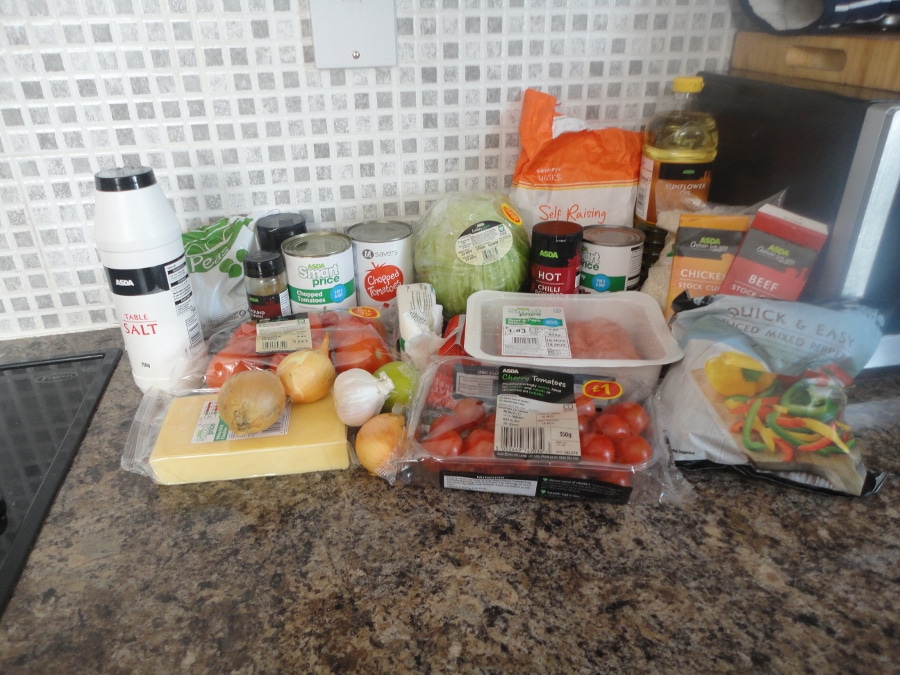 Tortilla Wraps
You can make these the day before and, if you keep them in a sealed container, they keep well for a few days in the cupboard.
Put the flour, salt and lard in a bowl and work in the butter with your fingers.
Add the water, a little at a time. You may not need to use all the water.

Once all the ingredients are combined, turn the dough onto a floured surface and knead for 2 minutes.

Add to a bowl with a little oil over the top. Cover with a tea towel and leave to rest for 10 minutes.
Split into 8 golf sized balls.
On a lightly floured surface, roll the balls flat.
Heat a pan and add one tortilla at a time. When bubbles start to appear, flip it over and finish cooking for 2 minutes maximum.
Once cooked, leave under a warm tea towel.
Tomato Salsa
Put all the ingredients in a bowl and mix together.

Place in the fridge for 30 minutes before serving to allow the flavours to develop.
Beef and Bean Filling
Cook the Beef and Bean Filling and the Mexican Rice at the same time.
Heat oil in a pan and when hot add the onion and garlic.

Once the onion and garlic have softened, add the mince and brown.

Add the spices, stir in and cook for 1 minute.

Stir in the tomatoes, peppers, tomato purée and stock.

Bring to the boil then reduce to a simmer and cook for 10 minutes.

Add the kidney beans and cook for a further 5 minutes until the beans have heated through.
Skint Dad Tip: You can cook this for longer than 10 minutes for a more tender beef. Just add a little water to stop the sauce from completely drying out.
Mexican Rice
Heat oil in a pan and when hot add the onion, garlic and chilli.

Add the rice and stir for 1 minute to absorb the oil.

Stir in the tomatoes and stock and bring to the boil.

Cover and reduce to a simmer for 10 minutes until all the water is absorbed.

Add the peas and cook for a further 3 minutes.
For a perfect burrito
Place a tortilla on a flat surface.

Add some beef and bean filling, rice and salsa to the middle of the wrap.

Roll the wrap, keeping secure with foil.
You can then take the wraps out on the go, or open them up and eat straight away. Although nothing stops you serving it all up on a plate.
Nom, nom, nom!
This made enough for two wraps each which is plenty for lunch but there was loads of left overs.
This won't get wasted though. The rice is lovely to be eaten cold as an alternative to a sandwich in the school lunch box or it can all be reheated and eaten for lunch or dinner in the next few days.
I'm glad we tried a lunchtime Fakeaway but, this certainly doesn't stop this being eaten as a dinner.
If you fancy, still coming in under the £5 budget, you could always make the wraps up and place them in the oven with 50g grated cheese over the top for a lovely baked alternative.
If you enjoyed this recipe, make sure you sign up to our newsletter below so you can keep up to date with our future Saturday Night Fakeaways.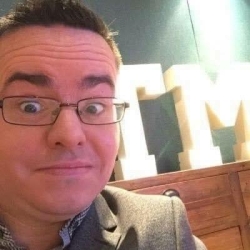 Latest posts by Ricky Willis
(see all)