Buying any type of meat is normally quite expensive. That's why we were pleasantly surprised with our Muscle Food review and how they manage to offer top quality meat at such a low price.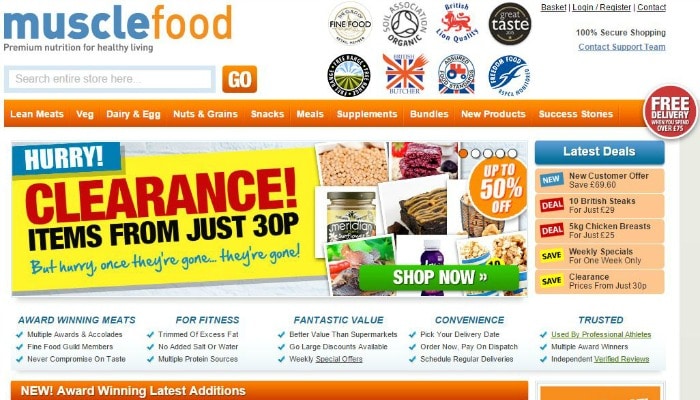 £10 BONUS OFFER: Earn easy cash by watching videos, playing games, and entering surveys.

Get a £10 sign up bonus when you join today.

Join Swagbucks here >>
When I go shopping 99% of the time it's always at a supermarket. Occasionally we will go to a farmers market or the local butchers but it's one of the big six (we can include Aldi and Lidl) where our food shop happens. We don't just use the same store either as we have found that by shopping around the different stores, you can cut the food bill quite dramatically!
So anyway, I had an email ping into my inbox from a company called Muscle Food. They'd stumbled across my blog and saw that I write quite a lot about food and supermarkets and wondered if I would like to try out some of the meat products on their site.
My first thoughts were slightly confused as to why a site called Muscle Food would contact me when they could obviously see I didn't cover health and fitness (apart from walking everywhere because buses are just too damn expensive!).
However, out of curiosity, I went onto their site to see what it was all about.
Muscle Food review and first impressions
So the site loaded in and straight away I could see why they thought I would be a good fit to review their products.
Although the name MuscleFood.com sounds like it's geared towards gym rats (and to a certain degree it is), the range of food products and their prices are astounding!
After scanning a few of the deals on the homepage I knew I had found a goldmine with cheap prices!
Muscle Food sent me their new customer super lean selection which valued at £144.60. However, if you're a new customer to the site you can get a huge discount and this massive selection will cost you just £75 with free delivery.
There are enough meat and vegetables to make over 85 meals!
This is what was included: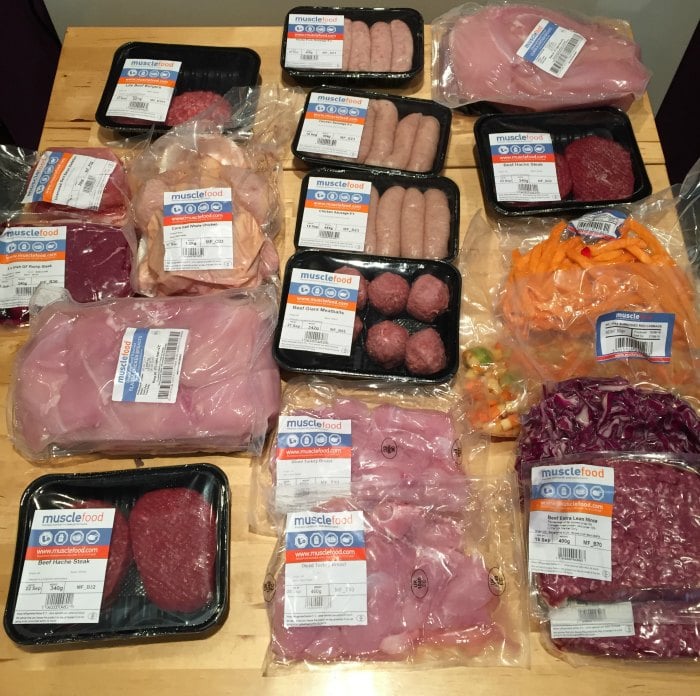 New customer lean selection:
2 x 2.5kg Premium Chicken Breast Fillets – RRP £38
2 x 6-7oz Irish Grass Fed Rump Steaks – RRP £12
4 x 6-7oz British Beef Hache Steaks – RRP£16
2 x 400g British Extra Lean Steak Mince – RRP £8.58
1 x 1.2kg Whole Corn-Fed Chicken – RRP £16
2 x 400g Premium Diced Turkey Breast – RRP £11.88
2 x 454g Lean Chicken Breast Sausages – RRP £10
2 x 4oz Lite Beef Burgers – RRP £7.96
…and fresh vegetables:
1 x 500g Fresh Skinny Sweet Potato Fries (these are absolutely delicious!!) – RRP £2.99
1 x 500g Fresh Slow Cooker Mix – RRP £2.99
1 x 500g Shredded Red Cabbage – RRP £1.99
…and these FREE!!
1 x 454g Meaty Pork Sausages – RRP £7
1 x 340g Giant British Lean Meatballs – RRP £4
1 x 350g Low Fat Bacon Medallions – RRP £4.05
As an extra bonus, they also send you a free £5 Muscle Food Voucher and a 500g Fresh Salmon Fillet Voucher that you can use on a future order!
Buy the Muscle Food Lean selection
The food
The haul arrived in two very large boxes, packed very carefully with frozen cool bags to keep everything chilled before it reaches the freezer.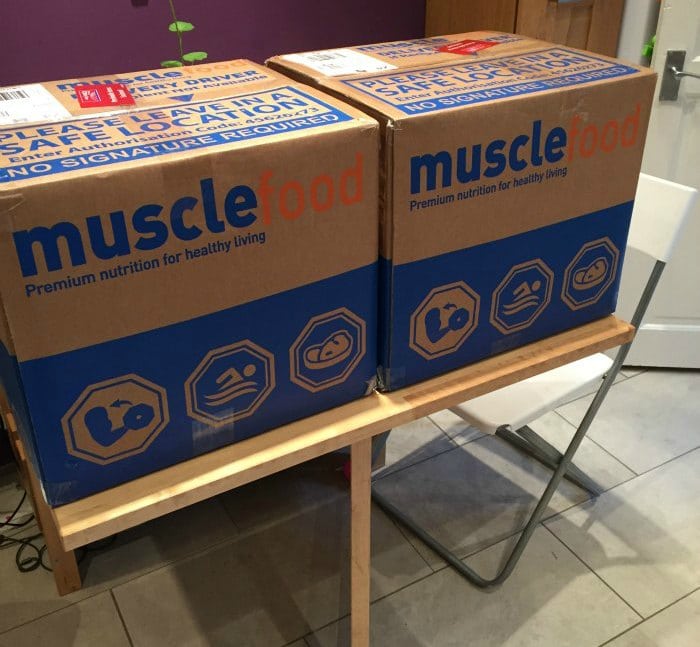 The food itself did look very odd to be honest. They vacuum pack the food so there is shrinkage – the whole chicken was half the size of a normal chicken but after opening the bag and letting it defrost, it was soon at the right size. Keeping the food in the way is great for storage. My freezer can fill up very quickly and I was worried that it wasn't going to fit but it all managed to get in.
When you see how much meat is actually in the pack, and then think about the price of all of it, I was actually worried about the quality of the food but I had nothing to worry about. The meat cooked really well, tasted fantastic and much of it is GMO free, free range and Freedom Food RSPCA monitored.
Big chicken!
One of the big surprises was the Premium Chicken Breast Fillets. This selection pack gets you 2 x 2.5 kg of chicken. In the supermarket, 5kg is equivalent to 40 x 125g chicken breasts. The thing is, the Muscle Food chicken breasts are DOUBLE the size of the supermarket's! You therefore get 20-25 but, they one can easily feed more than one person.
I spent a bit of time when the food arrived, unpacking it and sorting it into individual freezer bags. That way, it's easy to grab out one of the massive chicken breasts and not have to worry about defrosting too much at one time.
What to cook and other recipes
It's been a long time since we had steak so we did something that we don't usually do – we cooked two meals in one evening.
The kids had sausage and mash (which they loved). The sausages are much bigger than the supermarket so found that one for Chloe was too much and Daniella (who will usually have two) struggled.
We then had a treat and had steak and sweet potato chips! Divine!
We've had lots of turkey and chicken currys and I've had grilled chicken and veg for lunches. The food is very versatile and can be used in the same way as any other meat.
For loads of other ideas, Muscle Food have put together recipes for main meals and also loads of delicious-looking puddings. The great thing about these recipes is that they take into account people who are looking for lean and healthy food. The Salted Caramel Protein Brownies may have to be tried in the Skint household soon!
Muscle Food offers
On top of the new customer super lean selection deal where you get £144.60 worth of food for just £75, Muscle Food also have other offers running too.

Weekly deals
Each week, Muscle Food feature some cracking deals that last just one week only.
Their Weekly Deals showcase promotions which expire each Monday with some of their most popular items getting their prices discounted.
Clearance and sale
As well as weekly discounts they have a selection of Muscle Food clearance items that have passed their best before date or are close to hitting the date.
This isn't generally for meat but you can get hold of savoury snacks and protein products at very low prices.
Student 10% discount
If you're a student and are registered with UNiDAYS you can get a 10% discount off your Muscle Food orders as well! Bonus!!
You can also get a discount as a Blue Light Card holder (check out the full Blue Light Card discount list here).
Muscle Food Loyalty Points
So you've got all the deals and offers, at a great price. You may wonder if it's worth staying with your usual supermarket as you can get Match and More, Nectar or Clubcard points which may counteract any savings but Muscle Food run their own loyalty scheme as well.
When you've made your first Musclefood order, your online account starts to build up loyalty points (no need to have another plastic card filling up your purse or wallet).
For each pound you spend you'll receive 1 point. Keep an eye out for bonus events as well – Muscle Food hold triple and double point days and weekends too.
Each point you earn is worth 1p so when you get 100 points you'll have £1 ready to redeem.
You don't just have to shop to claim Muscle Food Loyalty Points.
Refer a friend
Whether it's a close friend or a Facebook "friend" you haven't seen for years if you share a unique Muscle Food code that you can find in your account with them – and they use it – you'll receive 500 points – that's £5 worth of credit!
Write a review
After trying the food, if you log into your account and write up a review of how you found the meats and other foods you'll be given 10 loyalty points.
You can claim this up to a maximum of 50 times. So 50 Muscle Food reviews at 10 points each could see you with another 500 points (or £5).
How to redeem loyalty points
It's really easy to claim your points when you've got some in your account.
Make an order like normal and then click "loyalty point products" at the checkout. There is a large selection of products you can choose from and can add them to your basket in exchange for your loyalty points.
Final thoughts
Muscle Food caught me out of the blue somewhat. I had never really considered looking at them as a choice for my food shop as I thought they were more of a fitness website (who I believed to be overpriced) but I was very wrong.
Their food is amazing value and is very competitive versus the selection from the supermarket.
Even if you're not a fitness fanatic, it's definitely worth looking past how the website is branded. If you are looking for quality cheap, good valued meat, veg, meals or snacks then Muscle Food should be added to your list of places to shop!
Check out the latest offers from Muscle Food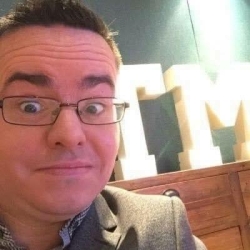 Latest posts by Ricky Willis
(see all)