Money here, money there – it can go so quickly!
While it can be nice to spend money every now and then, if you don't budget your incomings and outgoings then you can be easily caught short by the end of the month.
However, most budgets only take into account the things you usually spend each month.
This is where a sinking fund comes into your monthly budget.
What's a sinking fund?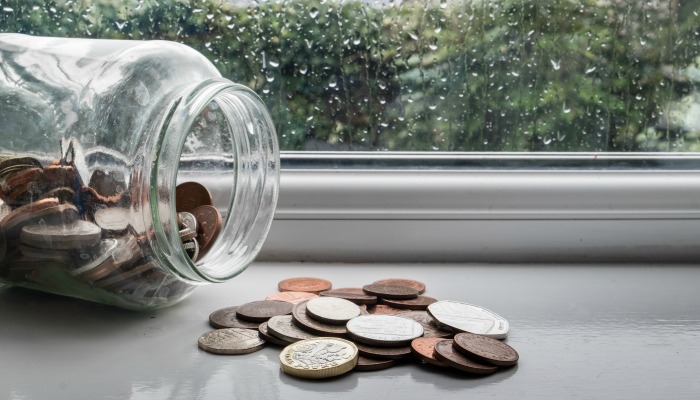 £10 BONUS OFFER: Earn easy cash by watching videos, playing games, and entering surveys.

Get a £10 sign up bonus when you join today.

Join Swagbucks here >>
A sinking fund is about managing for the things that you know you will HAVE to pay out for but aren't part of your day to day normal spending.
Things you use your sinking fund for may not be part of your normal monthly budget and might pop up a few times a year or even just once a year.
Without a sinking fund, when this thing happens you won't have any spare cash to pay for it.
A sinking fund really helps you plan intentionally for the year of spending ahead.
This could be for one-off spends like:
Car MOT (and potential repairs)
Opticians appointment and new frames
Dentist work
House repairs/improvements
Clothes for growing kids
New school uniform and kits
Birthdays
Christmas
Holidays
Considering sinking fund categories allows you to consider that you do need to save and removes the stress of not having money for when something creeps up.
Cause let's face it – we all know Christmas is coming (and the exact date), but somehow it just sneaks up on us and you wonder how you're going to do it all!
Having a sinking fund also means you don't need to turn to credit to pay for things and get hit with sky high interest.
A sinking fund is not the same as just saving in general.
While saving is great and will mean you've got money to buy something, like a new car or maybe a family holiday, if you use up all your general savings, then you've got nothing left when you need to visit the dentist or fix your boiler.
How to work out what you need to save?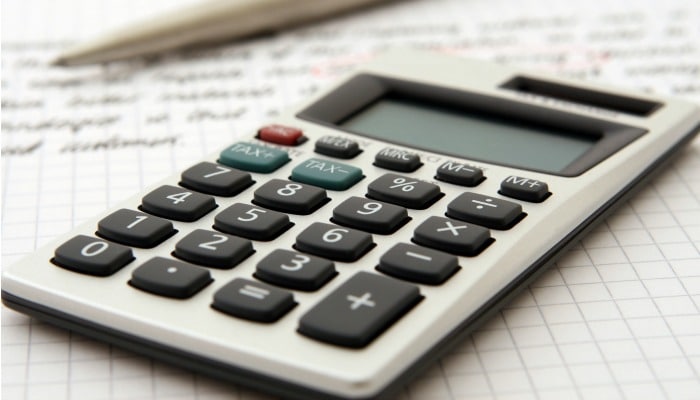 It's always best to make sure you have a log or a tally (whether you want to use a free sinking fund printable or your own spreadsheet) to track what you need and how much you need to save.
This way, you know how far off your target you are and where the money is assigned (so you don't spend it on something else).
The best thing to do is to work out how much you plan to pay for everything.
You know an MOT will cost you up to £54.85 (maximum cost, depending on where you go), so you can split that cost across the whole year.
£54.85 divided by 12 months = £4.57 a month
Then think about Christmas: say you want to spend £500 all in with gifts and food…
£500 divided by 12 months = £41.67 a month
However, the average in 2017 on gifts alone for Christmas was £475.51, plus £225.02 for food and drinks! So, make sure you're realistic with what your budget needs to be.
While spending £500 in one hit sounds massive, if you can save money aside each month in a sinking fund, it makes it less painful.
How to create a sinking fund
There are 5 quick steps to create a sinking fund:
Step 1: What are you saving for?
Have a think about what sneaks up on you every year?
Do you find yourself turning to a credit card to pay the car MOT?
Get a calendar and past bank statements to work out what happens at different times.
Step 2: How much do you need to save?
Work out how much you need to save in total, then divide it by the number of weeks or months until you need to spend the money.
If you want to start saving for Christmas, starting in January you can save over 11/1 months. However, if it's September now, you will need to increase the amount you save each month.
Step 3: Set the sinking fund in your budget
It doesn't matter if you keep your budget in paper, Excel or using an app.
Head to your budget and add the sinking fund line to your monthly or weekly budget.
This makes sure you don't spend any money on other things.
Step 4: Where are you going to save the sinking fund?
Open new savings accounts attached to your bank or use a separate savings account with an alternative bank to save.
Keeping sinking funds in your main account will carry a risk of spending it early.
This can also help as most savings accounts have interest rates to earn you a little money too (hey, it may only be pennies, but it's better than nothing).
Step 5: Keep a record of your savings
You will see the money adding up in your savings account, but it's always a good idea to track how much you save each time, and what the target is.
This can help keep you motivated.
If this is your first time with sinking funds, this can help you the second time around decide if you need to start saving for your funds sooner.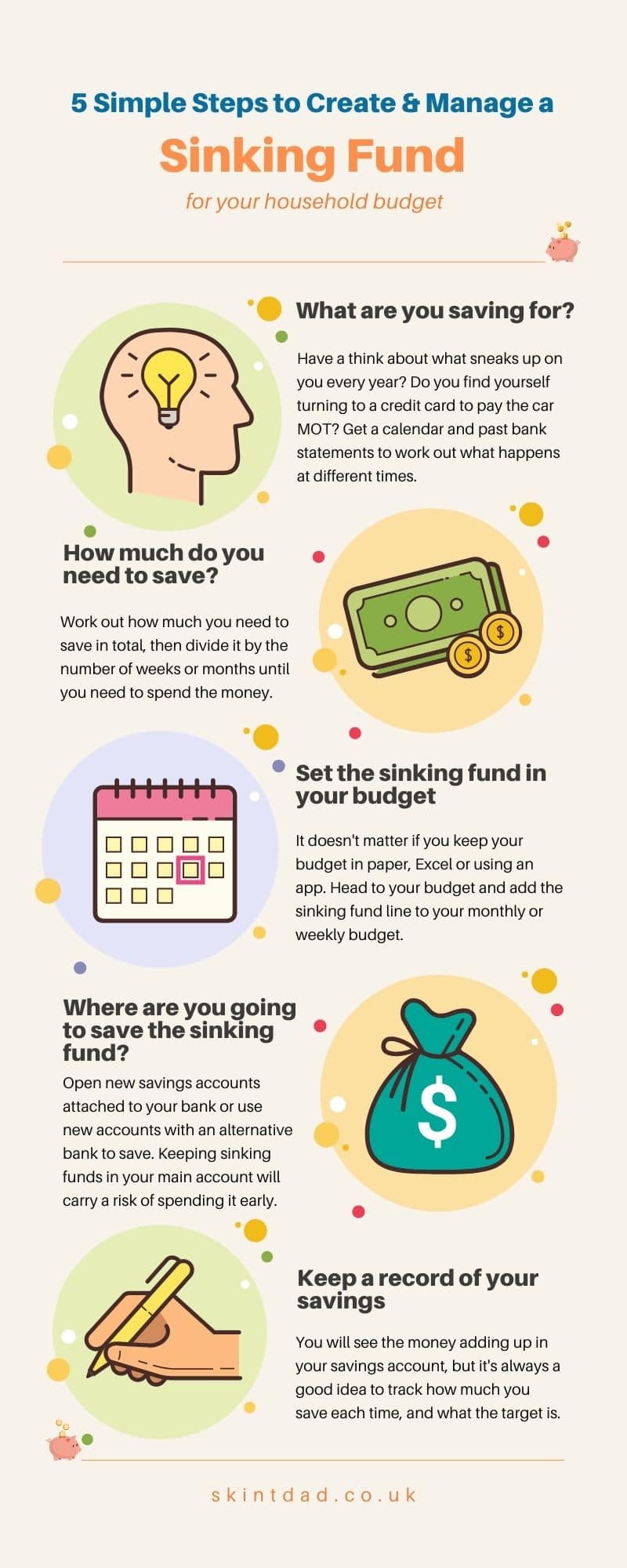 How many sinking funds do you need?
If you are saving for Christmas, a holiday and dental costs, then I find it easier to have multiple sinking funds as well as accounts to keep the money.
You may find this overkill, especially if you are tracking and recording your savings.
However, for me, I find it easier to set aside the funds in individually named sinking funds accounts.
Where to save for sinking funds?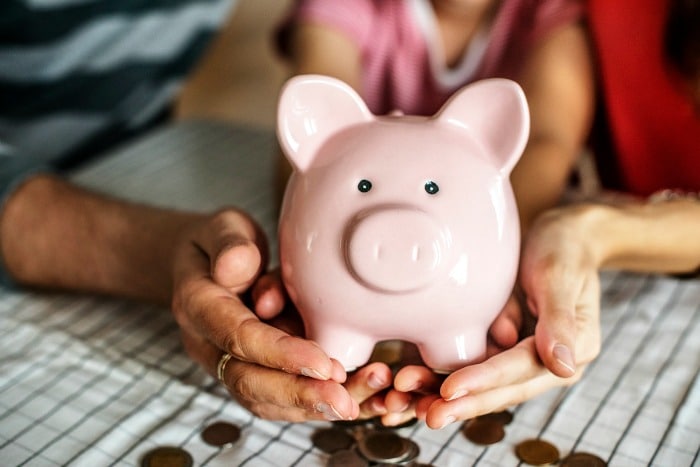 Instead of keeping the money saved for a sinking fund in your main savings account, it can be best to save the money in a separate account.
This way, it's easier not to dip into it and spend it on other things.
You do need to make sure the money is easy to access though.
You don't want to save your money in an account that locks it away otherwise you won't be able to withdraw and spend it as you need through the year.
Online banking
Most banks allow you to set up separate savings accounts and you can rename them so you know what you're saving for.
If you choose a saving account linked to your current account, you will be able to easily track what you save all in one place.
However, interest rates will be quite low, but they will likely be higher than keeping the money in your current account.
Money apps
If you like keeping up with your money on the go, get an account with someone like Chip, you can save for individual goals.
Alternatively, with Monzo, you can create lots of different "pots" and save money for your own target.
Is a sinking fund the same as an emergency fund?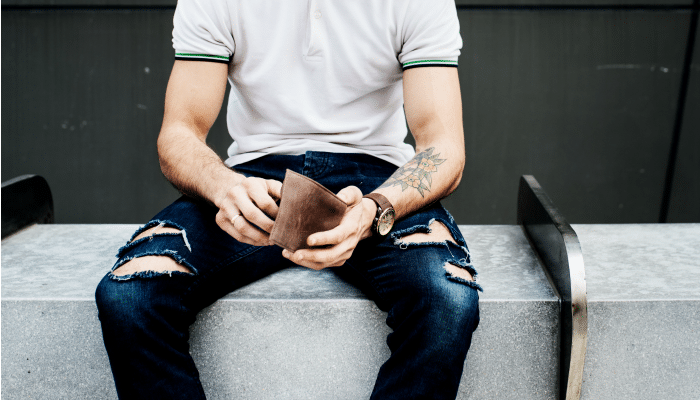 An emergency fund is having money there IN CASE something unexpected happens.
An emergency fund should usually be enough cash somewhere safe to cover you for one to three months' worth of your outgoings if something out of the blue happens.
Like if you suddenly lose your job and need to pay your bills and expenses while you look for a new job.
Or if your washing machine suddenly just stops working and you need to replace it.
It could even be something like if you're served notice on the home you rent with your family and need to find the money to pay for moving costs and any fees with the letting agents.
Economic meaning of sinking funds
Getting away from the household budget, sinking funds were (and still are) used in economics.
It was first used in the 1700s, as a way to reduce the national debt in Great Britain.
In more modern finances, it's used as a way companies set aside money to pay off or retire their bonds or debts.
It can also be considered as a reserve fund to help replace capital equipment.
Although, in business and accounting, a reserve fund is usually saved up to prepare for unexpected costs (like a household emergency fund), whereas the sinking fund is for specific costs.
But, the way I see it, there is no reason to use a similar methodology to help with a household budget.
---
Read next: How to easily keep a Spending Diary (plus FREE Spending Diary template)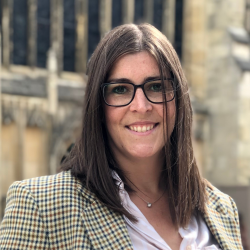 Latest posts by Naomi Willis
(see all)