When you refurbish your bathroom, you'll want to strike a delicate balance between keeping costs low and bringing those sleek aesthetics associated with modern bathrooms design trends.
The tips in this article will help you find the right balance between saving money during the refurbishment and saving money over the long term to get good value for your money.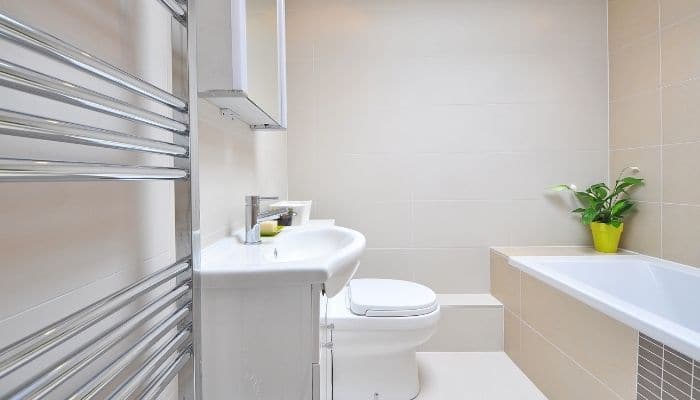 £10 BONUS OFFER: Earn easy cash by watching videos, playing games, and entering surveys.

Get a £10 sign up bonus when you join today.

Join Swagbucks here >>
1 – Use existing pipework and think about maintenance before starting
Our first tip on keeping renovation costs down is keeping your existing pipework and designing your bathroom to use the outlets. Having the toilet in the same place will make it very straightforward to take one away and attach the other. Even switching a shower for a bath can be easy. Just keep an idea of where the waste is positioned to keep expenses at a minimum.
Aside from your bathroom elements' positioning, there are still things to consider for easy maintenance and lower expenses.
For example, a close coupled toilet will be the cheapest and easiest to install for your bathroom. If you prefer a back to wall or wall hung pan, you should consider a toilet unit or bulkhead. A toilet unit is an excellent alternative to having the cistern positioned behind the wall.
Installing a cistern behind the wall costs more, and it makes maintenance far more complex, especially if you have it behind a tiled wall.
2 – Research online to find what products you need
Most people start their search online when looking to upgrade their home, and with good reason. You'll find far more attractive prices online than you typically would from your tradesmen or local DIY store. There are many companies online, too, allowing you to buy a full bathroom at a steal, such as Bathroom Planet.
You can always get a quote online from an eCommerce site and ask your contractor if they can offer it for a better price. Contractors have access to trade accounts and are also known for adding a margin to materials' cost to make a better profit.
If your tradesman can't beat the online quote, then have them quote for installation only, and you should be well on your way for an outstanding deal on this new bathroom.
Another critical consideration when buying materials for your bathroom aside from money is the timing. You'll want to time this well to arrive a day before your contractors start in an ideal world. Doing this will ensure that you are still covered and can get a replacement if there are any issues with your products.
You can always buy the products more in advance, but it would be best to thoroughly check over each item to ensure it's in good condition. The last thing you'd want is a cracked ceramic pan sitting in your garage for six months.
When checking the products, also take care of the packaging. Cut along seams and carefully remove the products. If you do have to return something, you will need the box to be in good condition.
3 – Don't tile full height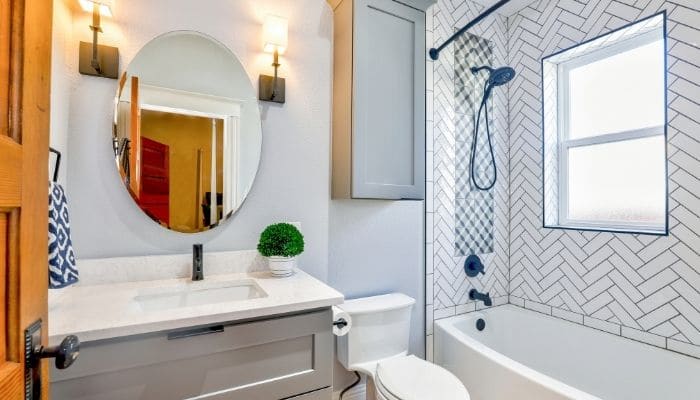 Having more tiles in your bathroom increases the costs dramatically. If you choose to go full height on each wall, you will see your refurb's overall price increase significantly with materials and labour costs.
Luckily, there are many other solutions to consider which can be far kinder to your wallet. The first is just tiling less. You can opt for half height tiling around your bathroom or even just around the shower/bath space and splashback above your basin.
Another option would be to use wet wall panels. These are far more cost-effective than tiling and can be just around the most likely areas to get wet or over every wall. The other benefit of a wet wall is that it is amazingly fast to install.
If you do buy tiles, you'll thank yourself in the future if you pick up an extra box or two in case of cracks. You will struggle to pick up the same tiles in a few years, making it difficult to replace a single damaged tile.
4 – Buy high-quality products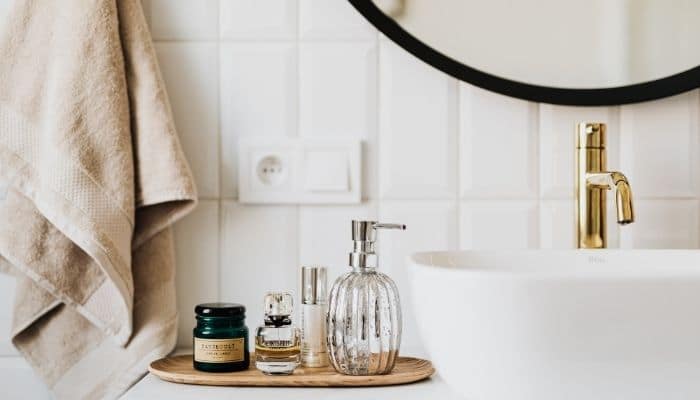 Buying low-cost bathroom goods might appear to be a great way to save a few pounds on your refurb, and why not? What possibly could be the difference between a £30 basin and the £150 one? Quite a lot, actually.
The use of premium materials and meticulous manufacturing processes are excellent reasons why premium bathroom goods are a must for someone looking to save on a new bathroom. Of course, the initial costs are higher, but you are all but assured of a very low-maintenance space and not likely to be replacing it any time soon.
Having to replace a cracked shower tray can be a nightmare as you'll need to have the shower enclosure removed, and the tray is taken out and replaced. Not an expense you'll want to be covering.
There are many luxury bathroom brands in the UK to consider, such as Roca, Vitra, and Ideal Standard. Each offers a wide array of products to finish off your entire bathroom in style. You will also commonly see guarantee's on goods lasting over a decade.
After you upgrade your morning shower with a higher-end setup, you will never want to go back.
As explained above, you can save in other areas such as tiling to help your money go further regarding what products you install.
5 – Pick your trademan carefully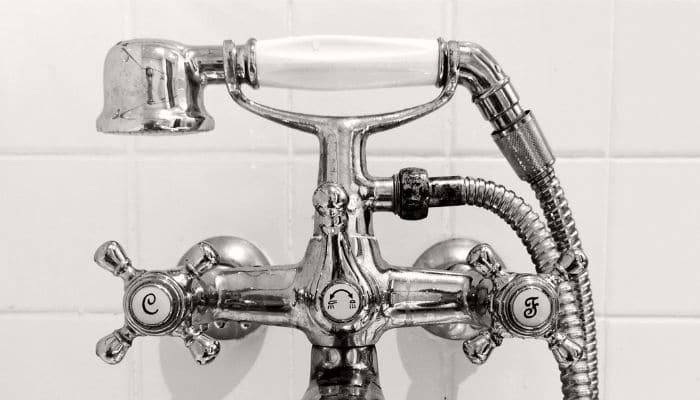 They may offer attractive prices, but low-quality traders do things that cost you money in the long run.
It can be anything from incorrectly installing flooring so that water seeps in to not correctly installing pipework leading to severe problems down the road.
By all means, get numerous quotes, but get them from reputable traders. Get quotes from people who have good online reputations and make it very clear what you want. It's a lot easier to go back and forth discussing options than making modifications made after the job is complete.
There are times when good traders offer low prices, but in most cases, the bargain basement-priced builders and contractors are of the most inferior quality.
For more information on this, Rated People have a checklist on how to hire a tradesman.
Latest posts by Lorna Beattie
(see all)