I hate train delays. Ok, they're not really on my mind as much now my commute, as a stay at home dad, is non-existent. I used to travel from the South East to North London on a daily basis and down to Southampton on quite a number of occasions too.
Delays happened at least once a week and it threw out all my timings. The long journey got even longer and I normally missed the children's bed times and ended up having to reheat dinner, rather than enjoying it as a family. Luckily for me, those days of commuting are a distant memory as now I sit on the floor most days, playing dolls with Chloe or watching repeats of Peppa Pig (actually repeats of Peppa Pig may be worse than delayed trains!).
It's still not all good news as Skint Mum still travels by train for her work. Her journey isn't far but delays seem to happen everyday.
Our train lines are run by Southeastern Railway….what can I say about them? Some of the highest charges in the UK, worst customer service in the UK – joy!
Following the consistent rain over the last few months, the London to Hastings line has been hit by numerous landslides and landslips which has thrown all train journeys out; they cancelled loads of trains, changed the timetables, have laid on replacement buses and closed stations.

Even with these changes while they fix the lines, the delays still happen. To be honest, even before the rain, the delays still happened!
With most of my rant over, the ORR (Office of Rail Regulation) has carried out a study which was published last week found that three quarters of rail passengers "do not know very much" or "nothing at all" about their compensation and refunds rights when trains are delayed or cancelled.
Just imagine how much money is going unclaimed. So, spread the news. Tell your friends, family, neighbours and anyone you know that they can get compensation for train delays, and that it's quite easy.
Don't Travel – Straight Refund
You can get a refund if you decide not to travel travel at all if the train is cancelled or delayed.
If there is any other reason you decide not to travel, you can also apply for a refund but you will need to pay an administration charge of up to £10.
Travel – Get Train Delay Compensation
Depending on which train operator you travel with, you have two options for compensation. Also, depending on the circumstances, there are some delays that train companies may not pay compensation for.
Each train company decide on the amount that they will give under their own Passenger's Charter.
1. Basic Compensation under Personal Charters
There is a minimum amount that all train companies need to provide, which is detailed in the
National Rail Conditions of Carriage.
Most companies do pay more than the minimum but, if your train is 60 minutes late, the lowest levels you can claim for compensation are:
20% of the price paid for a single ticket
10% of the price paid for a return ticket if the delay is only on one leg of the journey
20% of the price paid for a return ticket if both legs are delayed
20% of the price of a Weekly Season Ticket divided by 7
For monthly or annual tickets, the compensation amount is decided by the train provider.
There is a long list of things they won't cover train delay compensation for such as "exceptionally severe weather conditions". When a lot of the delays at the moment have been caused by the weather, isn't really what we need to hear.
2. Enhanced Compensation Delay Repay
If your train provider is Chiltern Railways, CrossCountry, East Coast, East Midlands Trains, First Capital Connect, Greater Anglia, London Midland, Southeastern, Southern or Virgin Trains they operate "Delay Repay".
The rules for Delay Repay are simpler than the Personal Charters. You can claim compensation for a delay of 30 minutes and get a higher percentage for the longer the train is late. Claims need to be put in for all journeys, including Season Ticket Holders.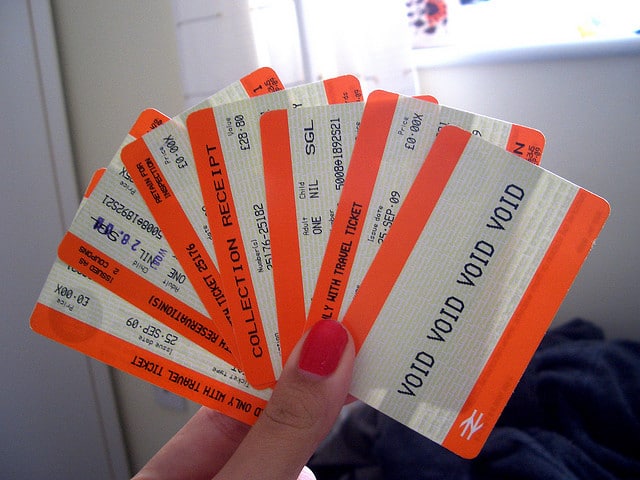 £10 BONUS OFFER: Earn easy cash by watching videos, playing games, and entering surveys.

Get a £10 sign up bonus when you join today.

Join Swagbucks here >>
You can also claim compensation for any delay – like bad weather – so it gives you more of a chance of getting compensation.

How to Claim Train Delay Compensation
It's easy – as long as you've kept your ticket. If you don't have a ticket you won't be able to claim.
If you didn't travel and just want a refund, you will need to get a refund then and there from a ticket office, or in advance of your travel. You can't really do this retrospectively as it'd be a bit hard to say you didn't travel without proving it.
If you are claiming for train delay compensation, you need to make the claim within 28 days. You'll need to download a form from your train provider's website (then send snail mail) or, for speed, use their online claim form and you will have to provide the ticket as proof. The compensation is paid in vouchers which you can normally only use in person at a ticket office.
Memory Like a Sieve?
Now, if you're like me and can't remember what you had for breakfast, let alone which trains were delayed last week or three weeks before, there are some crafty tools popping up over the web.
One of my favourites is Delay Repay Sniper. You can sign up for the first month free and there after pay from £2.99 per month. However, if you don't need to make a claim, you can apply to them for a refund for that month.
I popped in Skint Mum's route and it said that 133 journeys were delayed for the previous month with around £70 of compensation that could be due. Obviously, she only usually does two journeys a day (there and back), and the journeys that were delayed may not have been the ones she would normally take, but it shows the level of claims that could be made!
Are you one of the 75% who didn't know about compensation for train delays? Will you be making a claim?
Photo: Alice Bartlett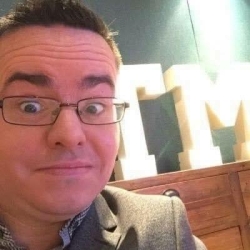 Latest posts by Ricky Willis
(see all)