Back before Skint Dad was a Dad, there was the odd chance that I went to the pub on a Friday or Saturday night for a few beers with the lads. After probably more than I should have had, we always ended up at the kebab house to order a chicken shish. This was just the routine and the way we always ended the night – fun memories!
I don't often get out with the lads now for drinks but that still doesn't stop me from wanting a kebab every so often.
This is Skint Dad's twist on an easy to make delicious chicken kebab that you can make at home.
______________________________________________________
Fakeaway 2 November 2013
"Trio of Chicken Kebab, in Tortilla Wrap with Salad and Turmeric Rice"
(Shish, Tandoori and Chilli Lime)
Total cost £4.72 for a family of 4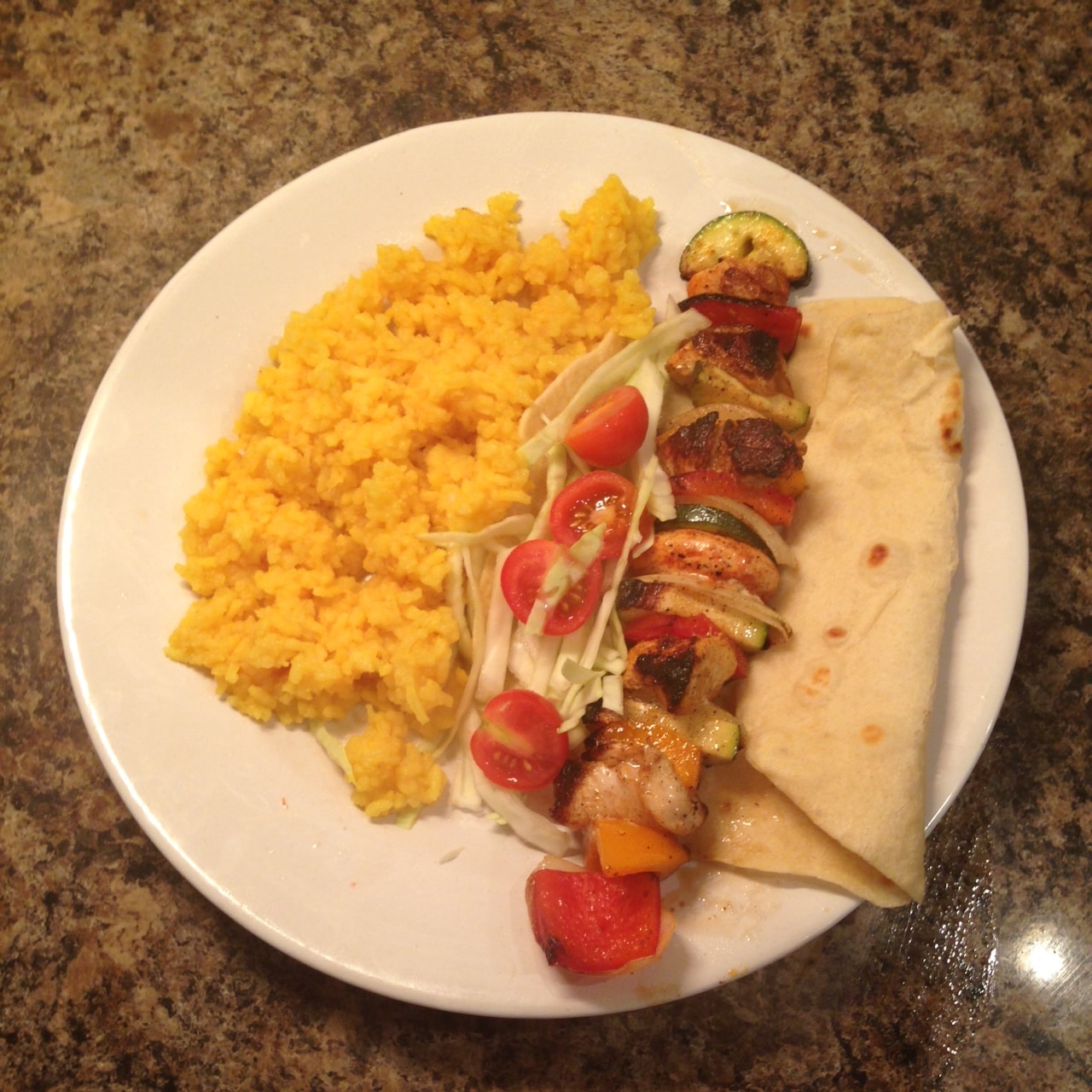 £10 BONUS OFFER: Earn easy cash by watching videos, playing games, and entering surveys.

Get a £10 sign up bonus when you join today.

Join Swagbucks here >>
Ingredients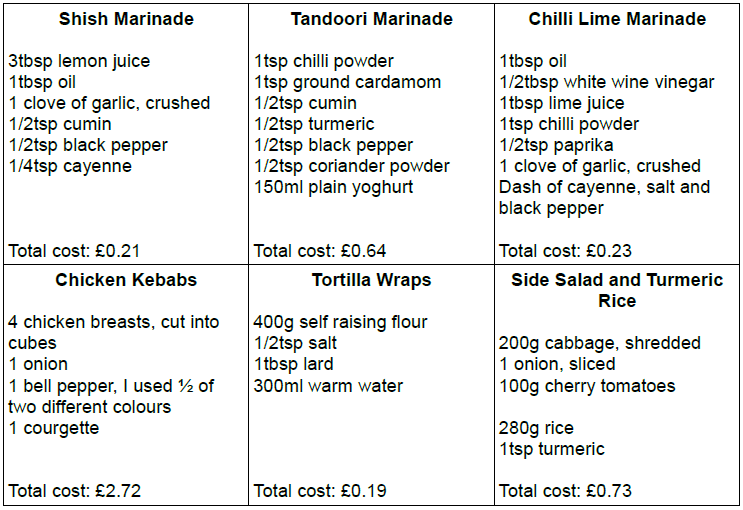 All ingredients used were either supermarket own brands or the lowest price.
We calculated the cost of each of the ingredients separately by looking at the item's total value, then working out what the amount we would need. For example, mixed herbs are £1.39 for 100g, for a 5g teaspoon full it would be 7p (£1.39/100 x 5 = 0.0695).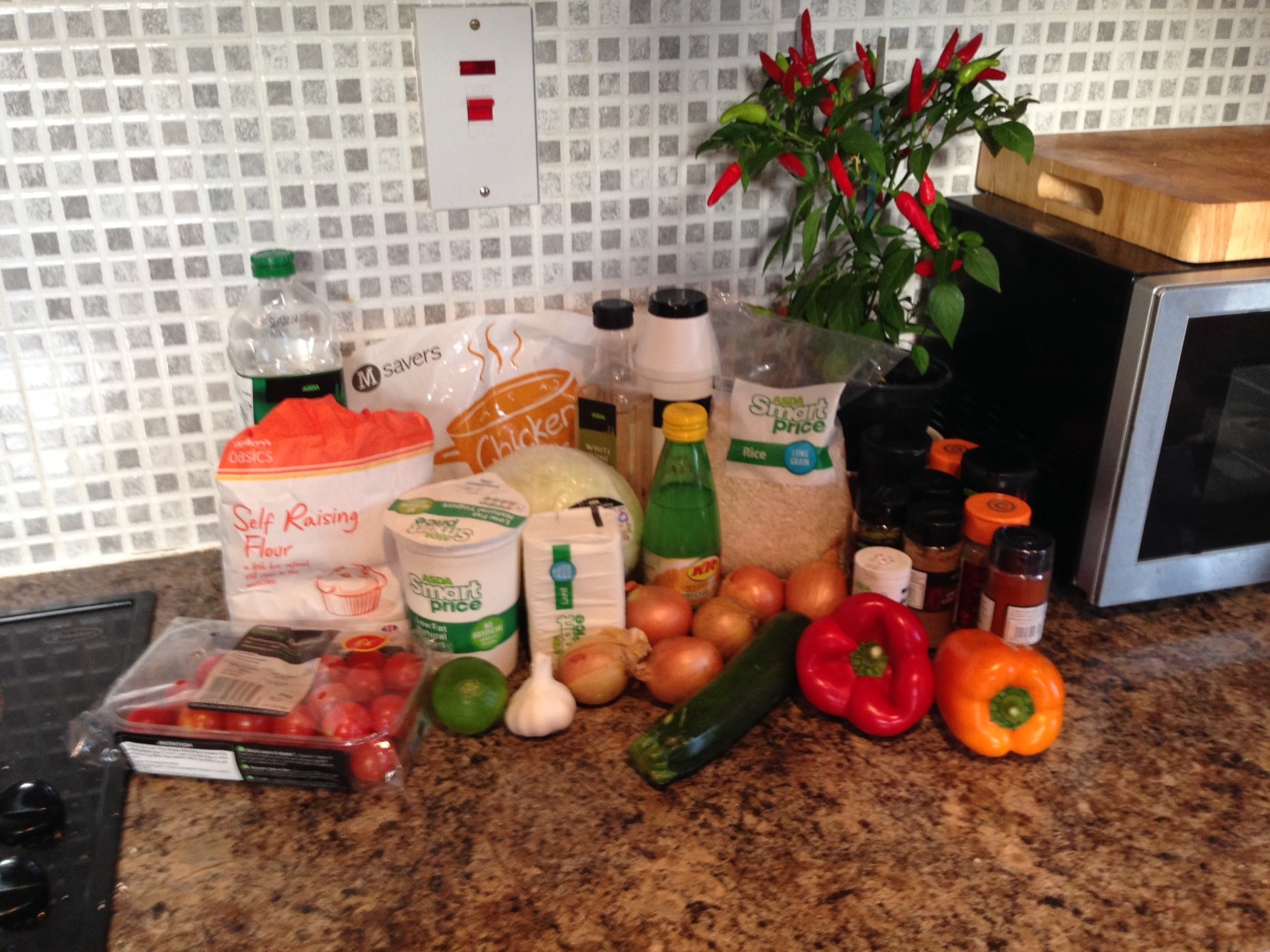 Trio of Chicken Kebab
Prepare each marinade one at a time, following the same method, splitting the chicken cubes into three piles.
Put all the marinade ingredients in a bowl and mix.

Add the chicken to the marinade and coat.

Put cling film over the top and put in the fridge for a minimum of 2 hours. Leave overnight for a more intense flavour.
You can prepare the tortilla a day in advance if you need. They keep well for about 2 days.
Cut the vegetables into chunky pieces.

Add the chicken and vegetables to the skewers, alternate between them to give variety and colour.

Heat a griddle and cook over a high heat with a little oil for 20 minutes turning during cooking (alternatively, place skewers under the grill for 20 minutes turning during cooking).

While the chicken is cooking, cook the rice as per packet instructions, adding the turmeric to the water and prepare the side salad.
Tortilla Wraps
Put the flour, salt and lard in a bowl and work in the butter with your fingers.

Add the water, a little at a time. You may not need to use all the water.

Once all the ingredients are combined, turn the dough onto a floured surface and knead for 2 minutes.

Add to a bowl with a little oil over the top. Cover with a tea towel and leave to rest for 10 minutes.

Split into golf sized balls. You'll get between 8 and 10.

On a lightly floured surface, roll the ball flat.

Heat a pan and add one tortilla at a time. When bubbles start to appear, flip it over and finish cooking for 2 minutes maximum.

Once cooked, leave under a warm tea towel.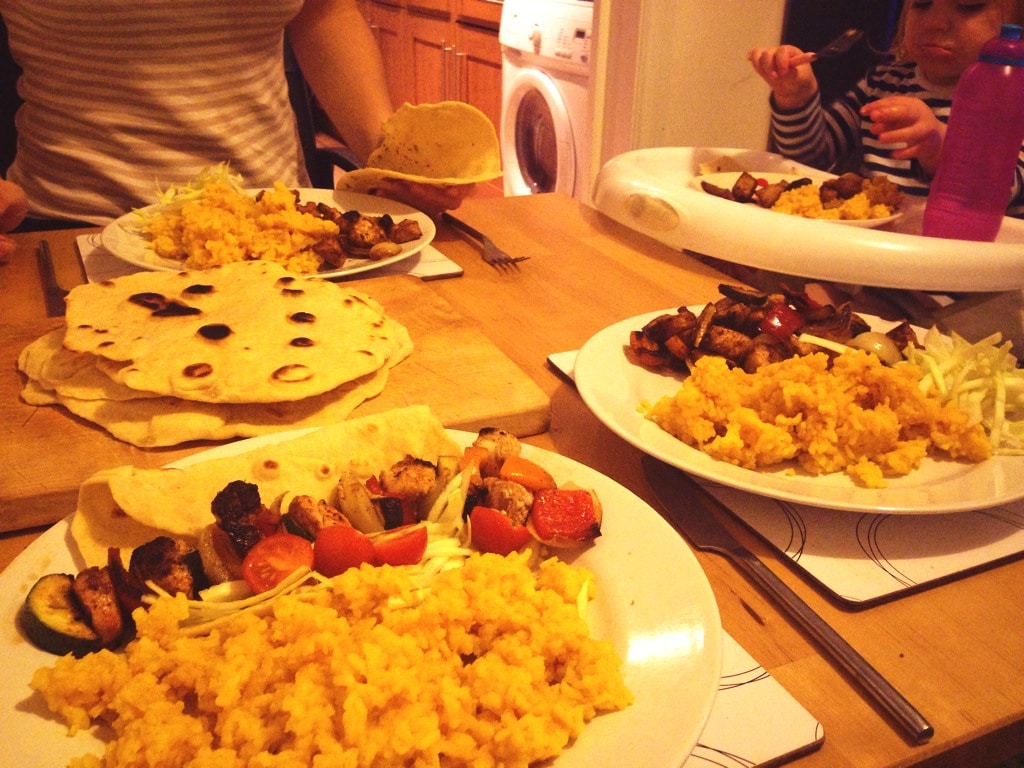 Wolf down but try to avoid indigestion!
______________________________________________________
This was stunning, if I do say so myself!
A shish kebab is nice and good enough but, I wanted to make this a little more interesting for the Fakeaway. Although there are three different types of marinade, they are so easy to put together, and if you marinate the chicken the night before, the only thing that takes the time is putting the food on the skewers. However, even if you do only marinate for a few hours, the flavours do come through really well.
The Shish, Tandoori and Chilli Lime are amazing on their own and each mouthful surprises you, as you don't know which one you'll get. I found myself saying each mouthful was my favourite, then I had the first flavour again and changed my mind again.
If you don't have skewers, you could even just put the chicken and vegetables in a pan with oil and fry instead.
If you enjoyed this recipe, make sure to follow us below so you can keep up to date with our future Saturday Night Fakeaways.
What do you want Skint Dad to make next week?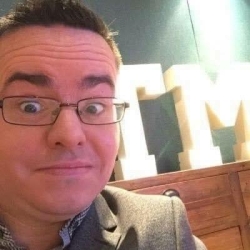 Latest posts by Ricky Willis
(see all)