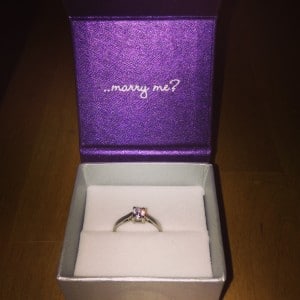 £10 BONUS OFFER: Earn easy cash by watching videos, playing games, and entering surveys.

Get a £10 sign up bonus when you join today.

Join Swagbucks here >>
Have you ever wanted something so bad but didn't think you had a chance of getting it?
The first time I met Skint Mum was in a pub (a bit cliché I know). We didn't know each other at the time but I remember thinking how beautiful she was, and that she could drink a pint of beer in 8 seconds you know! I'm joking, of course, it was closer to 7 ;-) pretty impressive. 
Anyway, I remember that first meeting well. As I was trying to squeeze my way to the bar all of a sudden there was I scream. I had accidentally stepped on the toes of a beautiful lady who wasn't too pleased with me. This lady was Skint Mum.
After apologising and using my Skint Dad charm on her I asked if I could buy her a drink. She said no. Luckily I persisted and eventually, she gave in, the rest was history. 
Fast forward to the present day and Skint Mum and I are still together with a couple of kids to boot. We, like most couples, have had our ups and downs but all in all, it's been pretty much plain sailing, well that is apart from our "little debt" problem. 
It wasn't so long ago that we were in a pretty desperate situation where money was concerned but with a positive mindset, we are turning our lives around and taking control. Learning money saving tips and tricks and sharing them with you wonderful readers along the way. 
Anyway, back to Skint Mum. For a long time, she has been desperate to marry me. I can understand why, I mean who wouldn't? I've no job, I'm only 5ft 8", a consistent talker and I enjoy watching the news, all the time. ;-) 
So marriage has been a topic on and off for a little while and although I would marry Skint Mum in a heartbeat I hadn't asked her yet.
It always seemed to be the wrong time and there was the little problem of being a Skint Dad which meant, yep you guessed it, I was skint!
And then things started to change.
As I mentioned previously, we had been struggling financially and not budgeting to the best of our ability which we were more than capable of doing. It got to a point where everything come to a head and I had my "moment of clarity" which in turn lead me to write this blog and change my life!
But there was one thing missing still, a ring on Skint Mum's finger.
Up to that point, I'd always felt that I needed to spend a fortune on an engagement ring because that's what you do isn't it? I mean unless you spend a minimum of a month's salary on it then you don't really care, right? Well that is a stupid way of thinking, isn't it? I mean, whether you pay £10 or £1,000 it doesn't change or take away the fact that there are two people who love each other so much that they want to spend the rest of their lives together. Well, that is Skint Mum and I, we are soul mates and she is always in my heart. 
So I'd been thinking about it for a good few weeks and searching the internet for something suitable and within my budget which if I am honest was tiny. Then I came across the most perfect ring.
This ring was inexpensive, £39.99 to be precise, but there was something special about it. It was special because, although cheap, it allowed the buyer to return to the store when funds allowed to upgrade the ring to a more expensive one if they wished. The store would allow the buyer to keep the original ring and discount the £39.99 off of the new ring! Brilliant I thought!! Plus it looked great and like similar very expensive real gems.
I placed the order for the ring that day and being a smart shopper I went through a cashback site and managed to claim £4 back ;-)
I was excited and nervous at the same time. This was it. I was finally going to ask Skint Mum to marry me! 
It was a Wednesday when I placed the order and they quoted 7-10 days for delivery which I thought would give me enough time to plan how I was going to ask her.
Things had really changed for us and were still changing everyday. We were managing our money, budgeting, cutting costs but not missing out. In fact, I would say we were living a more fulfilled life.
My blog was going from strength to strength. What started off as a parenting blog written by a dad was now my platform to write about how we are coping with being in debt and what we are doing to come out of it.
It was something I was and still am really enjoying. From inspirational posts to fakeaways under a fiver, I love learning, writing and sharing ways to save money. Every day I am coming up with new ways to be money savvy, whether it's cooking on a budget, cutting back on bills or buying that new gizmo you just have to have. I am learning it all. 
For a blog that has only been going since the beginning of September, some crazy things have happened.
My blog has been:
picked as "blog of the day" on mumsnet

read and retweeted on Twitter by Martin Lewis from MoneySavingExpert

seen by a national weekly magazine who are writing a feature about my blog and journey of becoming debt free (the feature will be in the magazine at the beginning of January)

offered a regular feature on a London on a budget website where I can share my budget meals.
All of this has been beyond my wildest dreams but to top it all off I was tweeted by Annie, who writes the blog Savvy Annie, about the Savoo Smartest Shopper competition. Savoo is running this competition to find the "UK's smartest, shrewdest and most imaginative money-saver". 
I have loads of ideas to save money, some I am putting into practice now and others that we are working on and will be doing in the near future. So, I decided to enter and let them know how we shop and what we do in our everyday lives that makes a big difference to our budget. 
Not thinking too much more of it, I carried on living and blogging, only to get an email on the Friday morning from Savoo to tell me that I had been short listed as one of the best 10 entries. I have been invited to meet with the judges next Saturday to let them know face to face why I deserve the title of "Smartest Shopper in the UK". 
So the excitable bunny that I am, I was bouncing off the ceiling! I cannot even start to describe the emotions I was going through. Shopping smart hadn't just changed my life, it has saved my life. Now to reach the final 10 of this competition gave me assurances that I was heading in the right direction.
So Skint Mum left for work and I tried to carry as normal. About an hour later the postman arrived and knocked on the door. As I opened it he handed me a small package!! Yep, you guessed it, it was the ring! 
OMG! This day had just become a lot more crazier. Well after getting the news from Savoo, I knew to top it off I would have to ask Skint Mum that night :-O
I quickly called around to see if I could get a babysitter and, if luck would have it, my niece who normally works on a Friday night offered to take the night off so she could look after the children.
With the babysitter arranged, I then looked online for somewhere to take Skint Mum for a meal. Being a smart shopper I also checked my O2 Moments app and managed to get 20% at a local restaurant. Result!
I now phoned Skint Mum and told her that because I had made it to the final 10 of the Savoo competition I was going to take her out this evening to celebrate. It was hard to convince her as we hadn't been out for months and had been so good at not overspending.
When she got home I had already run her a nice bath and lit some candles. I think she thought I was rather mad and I knew she didn't have a clue about my plans.
My niece arrived and we headed out to the restaurant. We had the most wonderful evening. Skint Mum looked stunning and at the moment I couldn't have been happier, all along knowing I was going to pop the question. 
We stayed in the restaurant for at least 2 hours, eating, drinking and enjoying each others company. We were having a wonderful time.
When we had finished Skint Mum asked what I had planned now and I told her we would head home. It was raining hard outside and we didn't have an umbrella but our spirits were high and we didn't care.
As we stepped out into the street with the rain beating on our faces I told Skint Mum to come with me in the opposite direction. 
Strangely she didn't argue and followed my lead. A couple of minutes up the road we were soaked. As I turned to her and took her hand I told her I loved her. I knew that this was the moment.
Her eyes sparkled like the ring in my pocket and, as I got down one knee, I couldn't tell if it was tears or rain running down her face.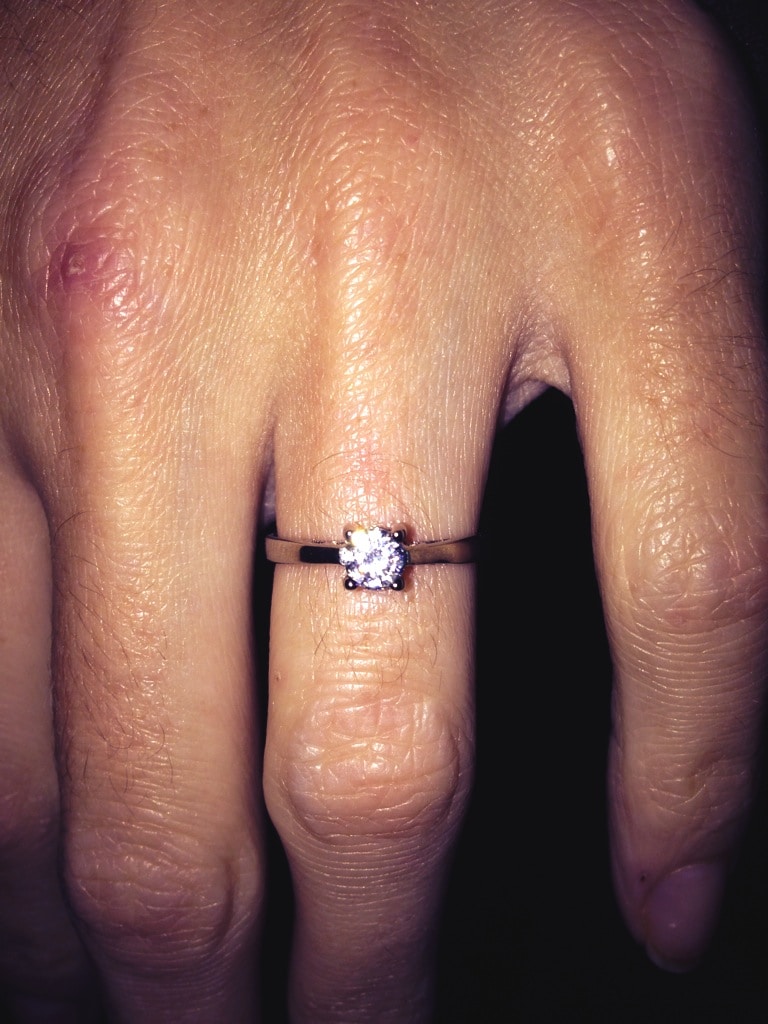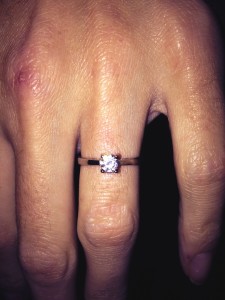 She acceptable my proposal and we kissed in the rain. I may have been in debt but at that moment I felt the richest man in the world and I still do.
As we walked around the corner we were outside the pub where I had first met Skint Mum. We hadn't been back there since that first night we met. We now stepped back through the door as the future Mr and Mrs Skint.
Dreams do come true, wishes can be fulfilled. Embrace life and take those chances.
Now the wedding on a budget planning begins……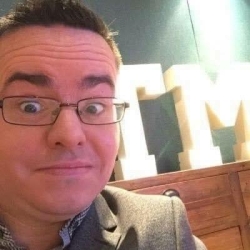 Latest posts by Ricky Willis
(see all)