You can earn adidas eGift cards when you trade in adidas clothing, footwear and accessories – even if they've seen better days!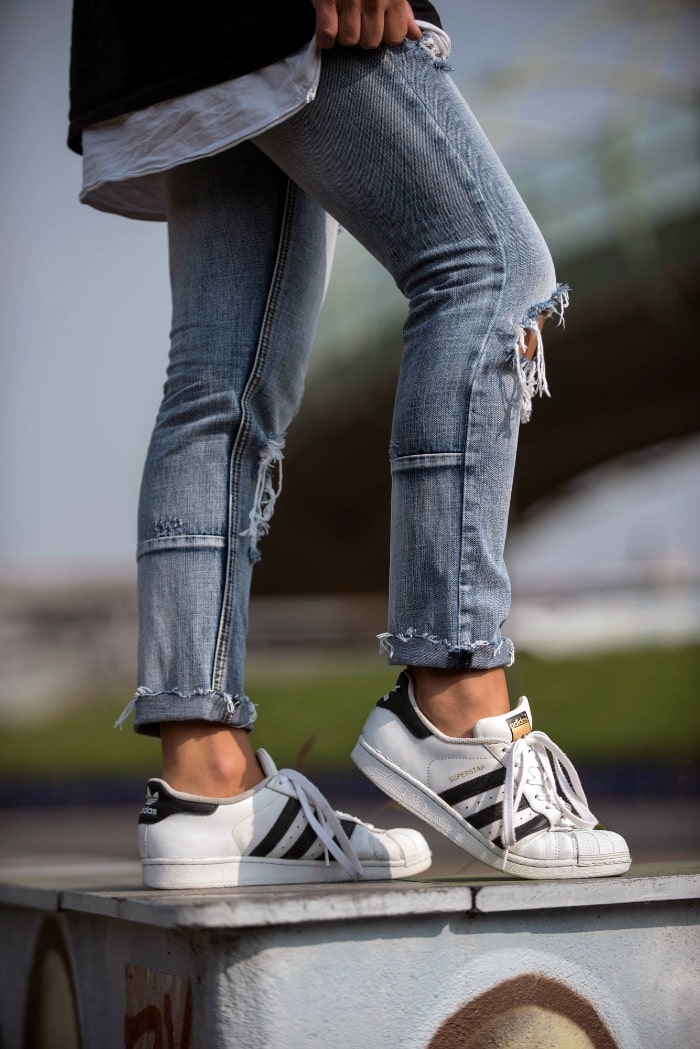 £10 BONUS OFFER: Earn easy cash by watching videos, playing games, and entering surveys.

Get a £10 sign up bonus when you join today.

Join Swagbucks here >>
When you've finished with your clothing for whatever reason – it's broken, or is no longer in fashion – what do you do with it?
Some people may bin in.
Others might send it to a charity shop.
And others may look to sell clothes for cash.
But, if you've got adidas clothing, you're able to trade it in with them and get adidas gift cards in exchange.
Adidas Infinite Play
Although launched in October/November 2019, the scheme was cancelled in around July 2020 with little or no warning.
Their slogan "INFINITE PLAY: BECAUSE THERE IS NO AWAY" is discontinued.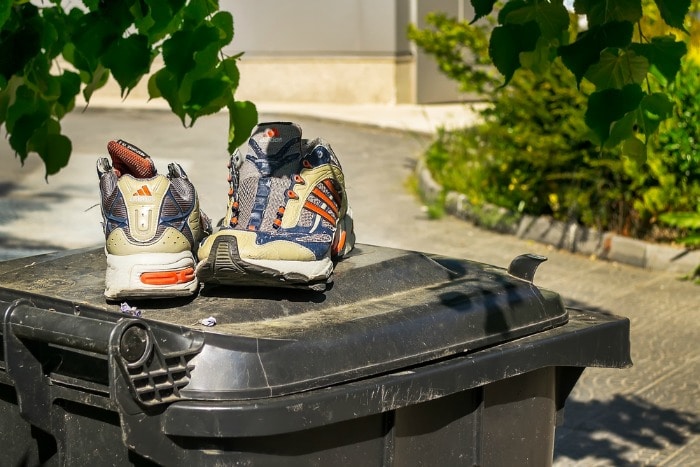 adidas say that their gear is "made to be played and replayed, time and time again".
They also say that their clothing and footwear will always have value.
Whether it's like new or worn out – they want you to trade it in, and they'll swap it for Adidas eGift cards.
They'll even take your old socks!
How does adidas trade in work?
It's doesn't matter if your socks have a hole or you've managed to keep your trainers in pristine condition, adidas will arrange to:
collect your item
sort it
clean it
repair it, and
give it a new life
Your item is given a fair sell back price, and they go on to handle it ethically once they've got it back.
If it cannot be sold, perhaps it's really worn out, they'll turn it into something new, to make sure there will be no waste.
It's all managed via the adidas app.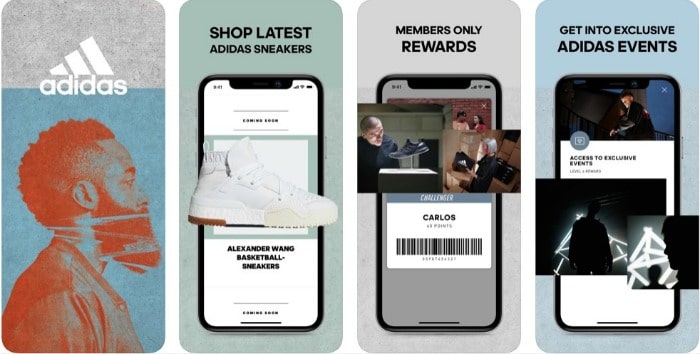 You're able to choose what you want to send back, and you can have your gear picked up, or can arrange to send it back yourself.
You then get rewarded with an eGift Card as well as 200 Creators Club points (their loyalty programme).
The money you get for the trade-in will depend on the item's current price, age and overall condition.
When it comes to sending it back, depending on your location, they will either send a courier to collect your items, or they'll send you a free prepaid package to post it.
You also need to trade in a combined minimum of £20 worth of stuff, but there's no maximum value of what you can trade in.
Too good to be true?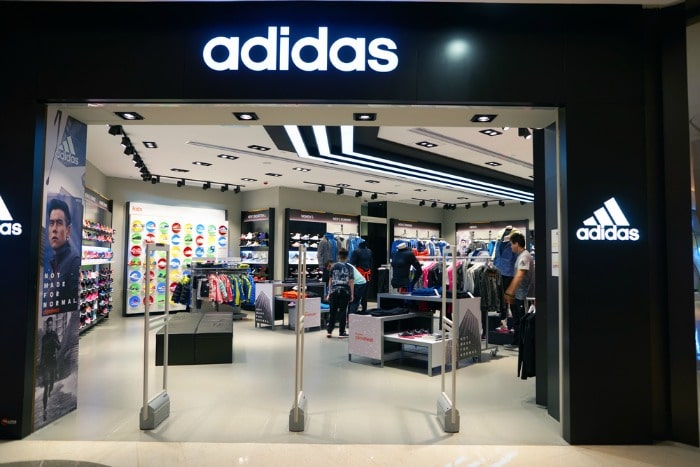 Nope, this is a legit way to make money back on your adidas gear.
Instead of selling your clothes for cash on other sites (and potentially waiting a while for them to sell), you've got an immediate way to cash in.
However, to be able to use the trade in service, you will need to have orders in your adidas account.
So, if you've not been shopping online or in store with them before, you won't have anything to trade in.
Shopped at JD Sport, Sports Direct, or elsewhere? Then your clothing cannot be traded in – it's just directly with adidas.
You're only able to swap and get rewarded for items you've purchased via the adidas site, app, or store.
Also, the item needed to be less than 5 years old – this is as far back as the history will show in your account.
What else can the app do?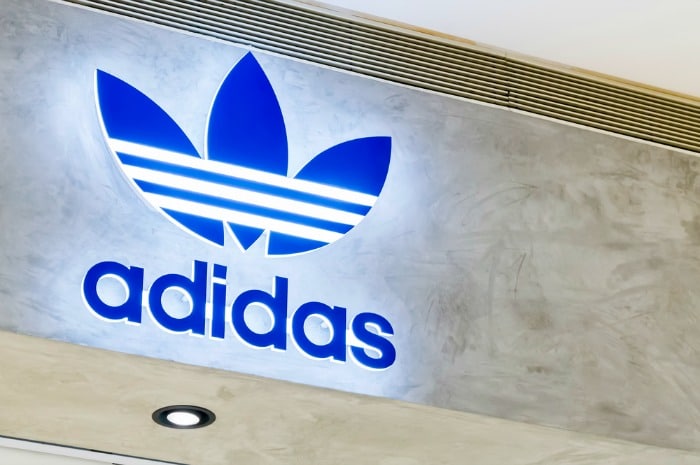 If you buy a fair bit of adidas clothing, shoes or gear, you may find it useful to keep the adidas app.
You can earn points for your purchases (online and in an adidas store) and then can level up.
At first, you get basic access, but as you go up the membership levels, you get things like a free gift on your birthday (my guess is it's a discount code), free personalisation of shoes and apparel, and get invited to exclusive parties and events.
You can earn the following points:
100 points – for completing your profile
10 points per £1 spent
50 points – for writing a review
?? points – you get surprise points on your birthday (so tell them when it is)
50 points – for sharing a photo wearing your new adidas stuff
Download the adidas app:
Apple iStore | Google Play Store
Do any other stores do this?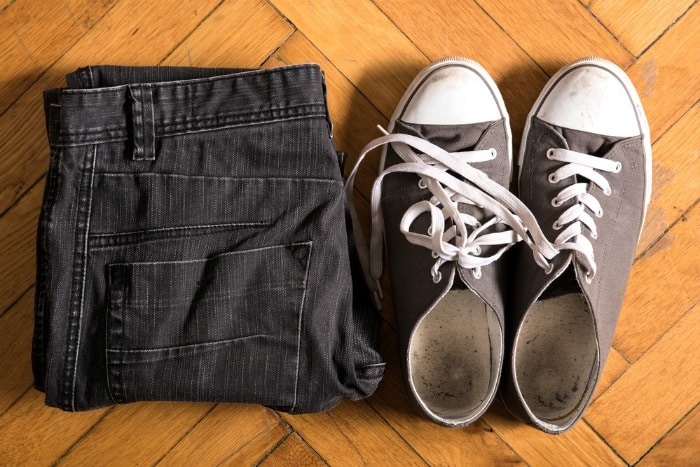 adidas isn't the first shop to pay you for unwanted clothing.
John Lewis also pays you for unwanted clothes you've bought through them.
Again, when you trade back your old clothing, it's either resold to someone else, mended so it can be resold later or recycled into something new.
M&S offer something slightly different and allow you to take in an unwanted item, and Oxfam will look to resell it in one of their stores.
Known as Shwopping, you'll earn 50 M&S Sparks points and will be given a £5 M&S clothing and home voucher to use in store.
H&M will give you a voucher for £5 off a £25 spend if you drop off a bag of clothes in store.
A supermarket carrier is a perfect size, and it can be clothing from anywhere.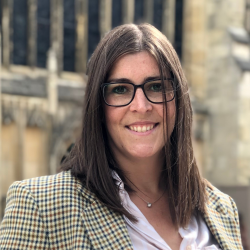 Latest posts by Naomi Willis
(see all)