Put your hand up if you've ever bought a nice top in the sale for a bargain price. Keep your hand up if this top is still in the back of the wardrobe, having never been worn, with its tags still on.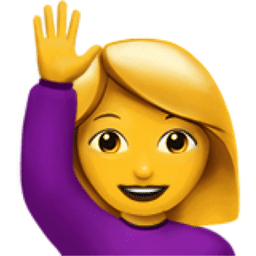 £10 BONUS OFFER: Earn easy cash by watching videos, playing games, and entering surveys.

Get a £10 sign up bonus when you join today.

Join Swagbucks here >>
Whoops!
Don't worry, you're not the only one.
Shoppers own around £10 billion of clothes, that are stuffed in wardrobes and are not being worn! And, 30% of the stuff in our wardrobes has not been worn for over a year!
So how many tops and trousers and skirts and scarves and shoes do you have that you no longer wear?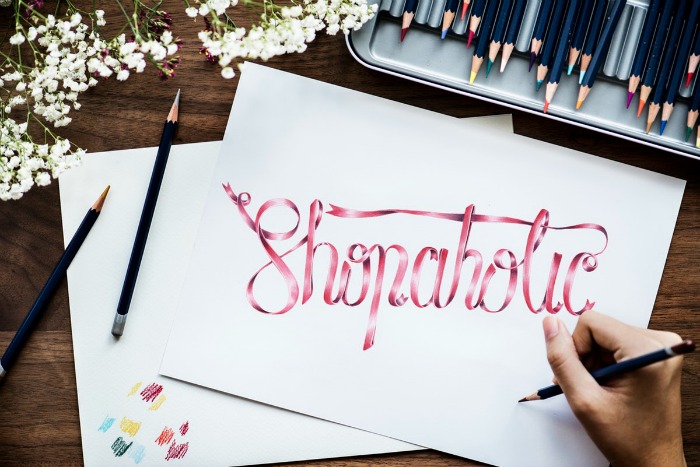 Instead of letting them gather dust in your wardrobe, or even be hidden in a storage bag under the bed, dig them out, and swap your clothes for money.
If it's past the date you can return your top or that skirt for a refund or store credit, then your clothes don't just need to be sent to the charity shop as there are plenty of ways you can make money when you sell clothes for cash.
Sell my clothes online for cash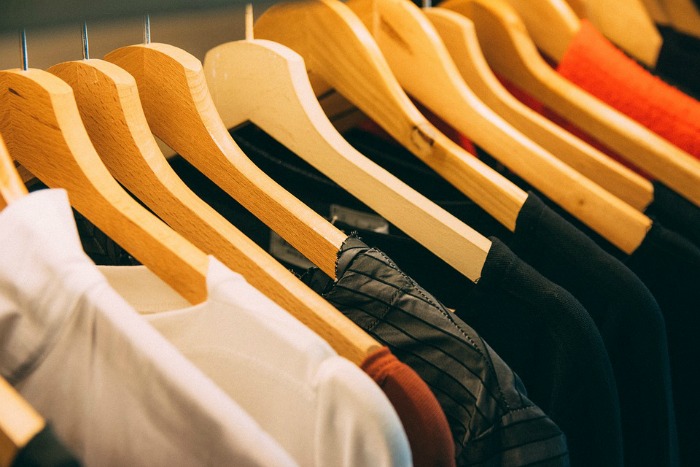 It doesn't even need to take that much effort and there are loads of different places you can sell clothes for cash.
Then all you need to do is imagine what you'll do with all the profits you make back – hopefully not buy more clothes :)
Where to sell second hand clothes for cash?
You've got so many different choices when you want to sell unwanted clothes.
(If you don't want to sell unwanted clothes, but you're after a bargain, this will also be useful to you, as you'll know the best places to shop.)
Selling clothes online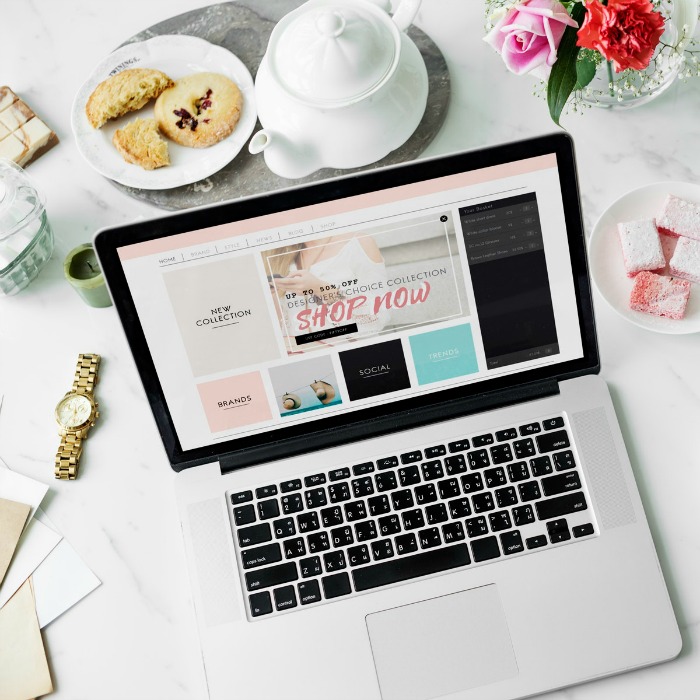 Selling clothes online can be one of the easiest ways to make a few quid.
No having to get up at silly o'clock in the morning to go to a boot fair and no having to tag everything for a jumble sale.
You can choose what you want to sell from the luxury of your own home.
Preloved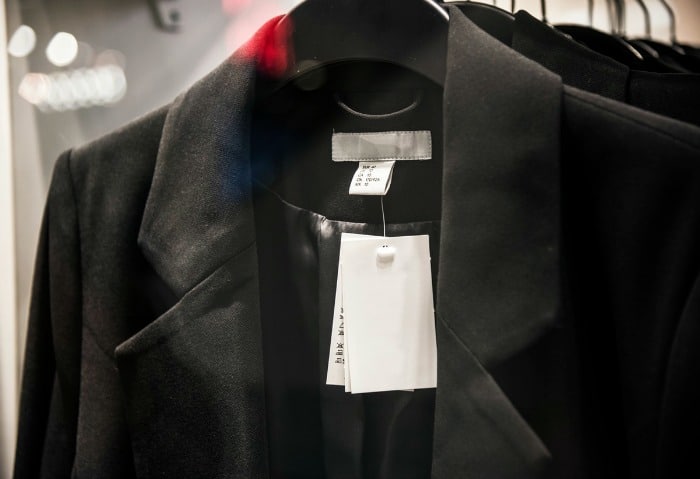 You can place an ad for free on Preloved. There are no listing fees and no selling fees when you sell your clothes.
You can sell women's and men's clothes, but there's also a calling for designer gear and wedding dresses too.
It's a free membership site and all communication is done via Preloved, which means the buyer won't get your actual email.
The searches are based on location so you won't need to worry about sending packages and you can choose that the buyer collects and pays cash.
Vinted

Vinted is a popular site for buyers, so it's where you want to be if you're looking to sell clothes for cash online.
You need to have an account (it's free to sign up) and all the transactions and communication with buyers is done via their secure site.
When you get paid, you can keep the money in the account to shop with Vinted (dangerous :) ) or you can cash straight out to your bank.
To sell it's totally free. It's the buyers who pay the fees – they can pay from 3% – 8% depending on the item's price, plus a fixed fee of 30p – 80p.
If you happen to be browsing and see something you fall in love with (again, dangerous…you're meant to be making money, not spending it!) you have the option to swap items. You just contact the other seller and ask if they fancy swapping – it's like free shopping.
ASOS Marketplace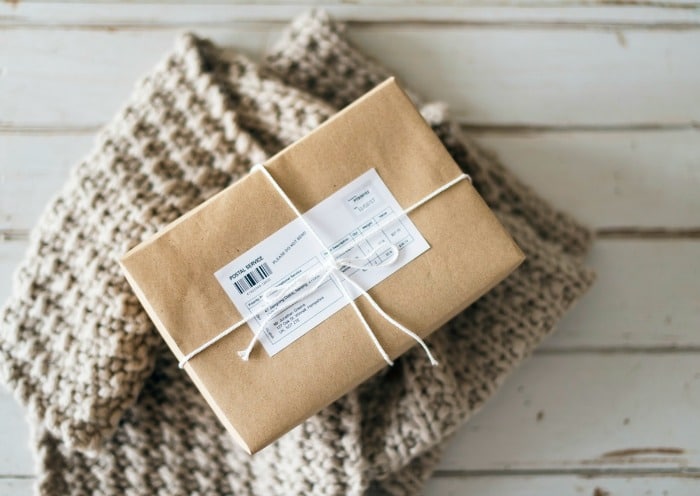 This isn't the place to be selling an unwanted Primark dress from last summer. The ASOS Marketplace was set up to sell vintage stock.
If you rummage at the back of your wardrobe, have you got some old sportswear from the 1990s? Or some acid washed jeans from the 80s? Or even a velour shirt from the 70s?
While you may never want to wear it again, the 20 somethings of today who use ASOS love vintage!
You'll need to open a boutique (sounds fancy, but it's easy), pay £20 a month to keep it open and you need to have a minimum of 15 items listed. You will then need to pay a fee when you sell something.
Make decent money selling clothes and find out how to start a clothing business
Depop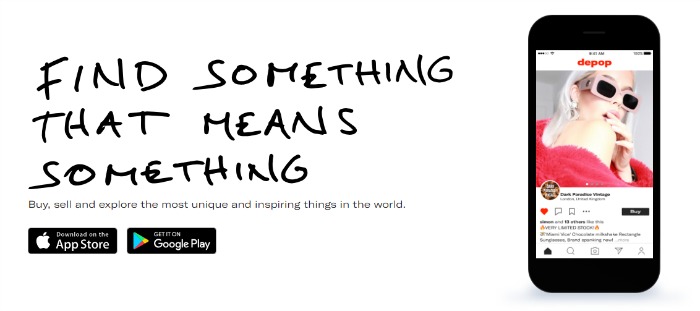 It's like eBay meets Instagram with Depop!
You have to set up a "shop" but this is like your selling profile. From here, you can then start listing stuff you want to sell – whether that's clothes, shoes or accessories.
You need to have PayPal to become a seller as that's how you'll be paid and it helps to protect transactions.
Depop takes a 10% cut as a selling fee per transaction (which you only pay when you sell something). You also need to factor in PayPal fees too.
Shpock boot sale app

An easy way to get cash for clothes, the Shpock car boot sale app aims to connect you with stuff for sale locally.
Unlike some other local apps, this has a lot on it locally (we live outside London where nothing ever seems to happen!)
You can sell more than just clothes via Shpock but it's a handy app to shift your stuff.
The app is totally free to use and it's free to list and sell your items. However, you are able to pay to promote your listings; either by upgrading the size of your spot on the feed, being the first in the feed or at the top of searches.
eBay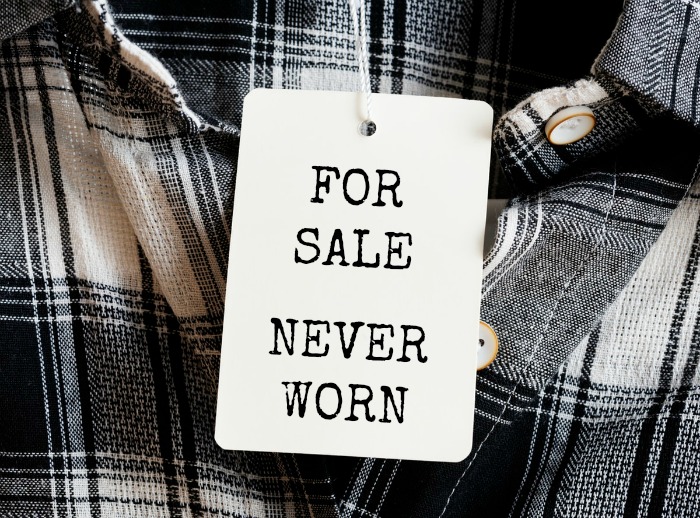 Now we can't really leave eBay out. It's like the grandpa of online auction sites.
People can be a bit hit and miss with eBay, and fees have put a few people off, but it's still the biggest platform when it comes to selling second-hand clothes.
Perhaps look to use their BIN (buy it now) listings instead of their auction bids as I've heard better feedback with this option.
Remember that you get your first 20 items listed for free a month, then pay 10% final transaction value, including postage. If the item doesn't sell then you don't pay a fee.
Sell my clothes for cash
Recycling clothes for cash can be an easier way to get money for clothes, with less effort.
There is cash for clothes vans in some towns and cities where you roll up with bin liners full of clothes and shoes. They weigh them out and give you the cash.
In the 21st century, there's no more heading to them, as they can now come to you!
Return to Earn send you a bag which you fill up. You then agree on a date for them to collect the bag from your house (you don't even need to be in) and you'll get paid for your clothes.
In exchange for your good quality clothes, they'll pay 50p per kilogram (however, if you like them on Facebook they'll give you a referral code to get it up to 70p a kg).
You won't earn as much as selling your clothes individually, but it's a far quicker win. They pay via cheque (there's a processing fee), by PayPal immediately or as an M&S ecode.
Designer clothes?
If you've got more than high street in your wardrobe then you can earn a few more quid.
You'll want to check their condition, sort them into brands and don't get sold short.
Look to flog your labels on sites like Hardly Ever Worn It (HEWI).
For HEWI you pay a 15% commission when you sell your clothes and with Clothing Agency you pay £3.75 for each item listed and there are no further selling fees. So you need to balance up how much your item will sell for versus the fees.
Wedding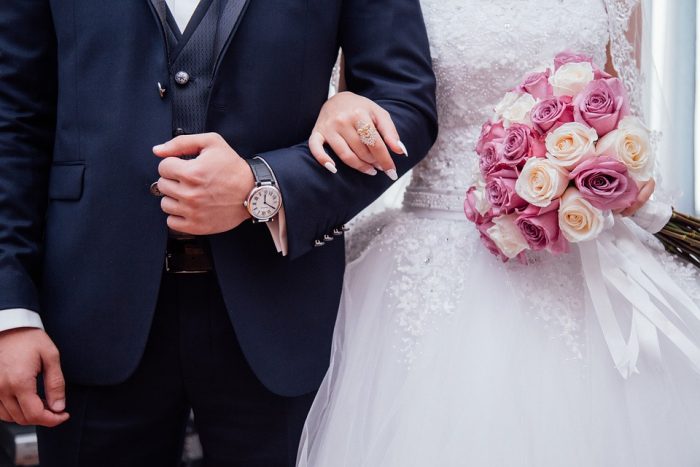 Do you need to need to keep your wedding dress or do you want to keep your dress?
While there's a lot of sentimental value if you don't have room anymore or you need the cash, selling your wedding dress is an option.
There are specialist sites like Bride2Bride where you pay a one-off fee of £12 to list the dress, but there are no other commissions payable. Your listing will last for 12 months (but will hopefully sell much quicker!)
Sell My Wedding Dress also charges a one-off fee. You can either choose to pay £10 for a 6 month listing which is best if you're selling a current, well known and sought after dress/style, or your dress is priced very reasonably. The other option is to pay £15 for a 12-month listing.
Now, you just need to decide if you want to try it on again to get some photos for the listing, or if you'll have an afternoon going back through your wedding photos!
Swap for vouchers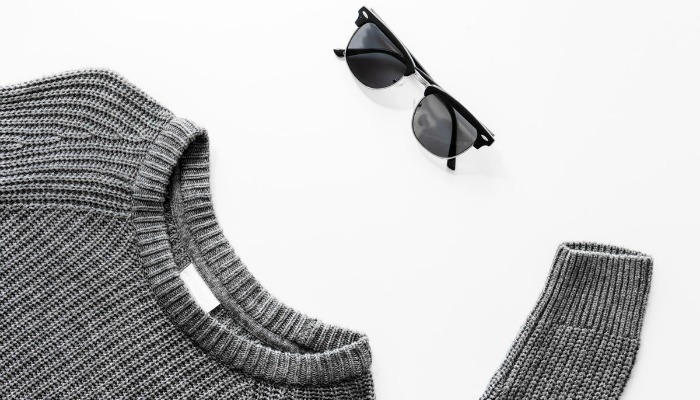 If you don't want to go through the whole selling thing, there is an alternative that'll see you not lose out entirely.
This won't see you getting cash for clothes, but there are still some perks.
Adidas
Adidas has a way to return their clothes directly to them and you rewards you in exchange.
Their Adidas Infinite Play scheme pays you in adidas eGift vouchers.
They'll look to resell the clothes or recycle them if they're no longer fit for purpose (yes, that does mean you can send them back your holey socks!)
M&S
M&S work alongside Oxfam to help recycle your clothing.
Known as Shwopping, you simply take an unwanted item to an M&S store (it doesn't need to be M&S clothing) and Oxfam will resell it in their shops, reuse it in another country or recycle the fibres.
If you do Shwopping in an M&S store you'll get 50 Sparks points added to your Sparks loyalty card. If you're planning on Shwopping at an Oxfam store, you'll be given a £5 M&S clothing and home voucher to spend in-store.
H&M
According to H&M, up to 95% of clothes that are thrown away but could have been re-worn or recycled.
To stop waste, in exchange for your used or unwanted clothes, H&M will give you a voucher to use in store.
You need to give in a bag of clothing and they'll give you a voucher to get £5 off a £25 spend.
On double-checking with H&M, they've told me it's no specific size bag – something like a supermarket carrier will be fine.
Nectar
Also running alongside Oxfam, you're able to Tag Your Bag when you donate to Oxfam and collect Nectar points.
It doesn't have to just be clothes, but you can also add books or even DVDs. Just drop the bag off at your nearest Oxfam store (remember to Gift Aid so they can raise 25% more) and you'll earn Nectar points when your stuff sells.
You need to register for Tag Your Bag, order the tags online and link your Nectar card for it to work.
John Lewis
John Lewis runs a recycling scheme for clothes you've bought directly from them.
You simply sell back your unwanted clothes to them – even if they are damaged.
Asda George
Launched in 2021, the Take Back scheme at Asda allows you to recycle your unwanted clothes and get a 10% off voucher to use at George.com.
You get a QRcode or label and can drop off your items at a "to you" click and collect service in Asda's stores.
Top tips for getting cash for clothes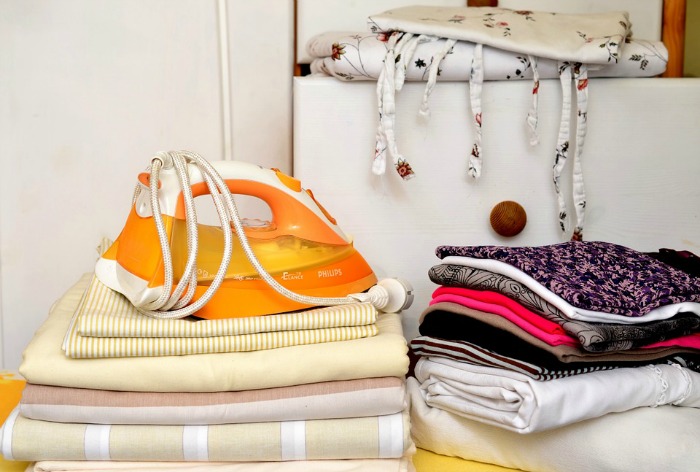 Wanna make sure you can make the most when you sell clothes for cash?
Follow these tips to make sure you sell second-hand clothing easily:
Wash clothes before you sell them and iron out any creases – you wouldn't want to buy something dirty and nor would anyone else.
Take great photos with clothes on quality hangers in daylight. Try and take a couple of photos – from the front and back – so people can see what they're buying.
Be honest about the quality of the clothing, and list the size, colour, brand and materials.
Research, research, research (but don't shop – that defeats the purpose). Take a look at what others are selling so you can get an idea of how to make a great listing.
Be realistic in your pricing. You want to be competitive but not overprice your clothes so no one will buy.
Consider cross-posting on your Facebook account or on Instagram (and get hashtagging) as someone you know may be happy to buy.
A winter coat won't sell for much in the summer so be conscious about what you're selling and when (Sunday is a busy time for eBay listings ending.)
---
Ok, Ok, I know this is about getting rid of your stuff, but if you are after some bargains…
Read next:
Cheap Shoes: The Ultimate UK Buyers Guide
Best things to buy and sell for profit (UK)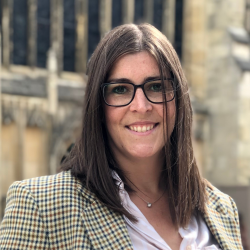 Latest posts by Naomi Willis
(see all)