Amazon Dash Button is a small Wi-Fi device that allows you to reorder your favourite products with the push of a button – but is it worth it?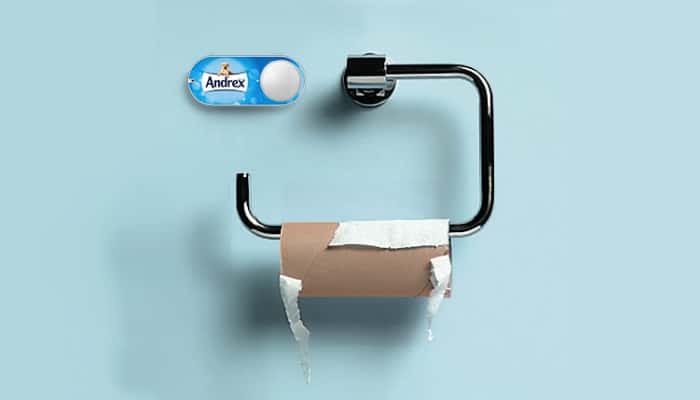 £10 BONUS OFFER: Earn easy cash by watching videos, playing games, and entering surveys.

Get a £10 sign up bonus when you join today.

Join Swagbucks here >>
What seems like just a few years back, the world wide web launched making sharing content and ideas so much more possible. Even with all the technological advances of late, the idea that your fridge can order a pint of milk still seems like a dream too far in the future.
Not anymore!
What is Amazon Dash Button?
Amazon Dash Button is a little device that can reorder household goods for you and stop you needing to make last-minute trips to the shops because you run out of something.
When you notice that you are running low on a product, you simply press the Dash Button and an order will be placed. As this is for Amazon Prime members your order will come the next day at no extra cost.
The little clicker costs £4.99 but you will get a £4.99 discount on the first order you make with it, so it ends up being free.
The device comes with a hook that you hang near to where you need it. Or, it also comes with an adhesive back so you can stick it straight onto an appliance.
So whether you're running out of pet food, nappies, your favourite coffee or shampoo; with a click of a button you can have your products the next day.
The Dash Button can be set up through the Amazon app (available on Apple and Android) for one particular product and needs to be used with a Wi-Fi connection. You need to have one Button for each item you want to reorder.
Each time an order is made, you receive a notification to your smartphone. Having the notifications should stop little fingers pressing the Button thinking it's a game and if an order is made accidentally, you can log onto the app and cancel it.
As added protection, if the button is accidentally pressed, say, 50 times, you'll be relieved to know that you won't be getting 50 tubs of washing up liquid. (Has anyone ever done similar with carrot or onion with an online supermarket *guilty*). Choose the order protection setting and a new order will not come out to you until your first order has been delivered.
We're not always organised
To be fair there are days that I am terribly organised. Skint Mum is worse! The amount of times she's left for work and had to come back as she's forgotten her bus pass. Then come back 5 minutes later as she left her phone!
Dinner can be the same. Somehow, though total lack of communication, each of us thinks the other is sorting dinner then 5:30 rolls around and everything is still in the freezer!
We both work, get our head's buried in what we're doing and chores around the house slip.
While we can usually keep track of making sure we have enough food in the cupboards, things like washing liquid, shampoo or loo roll seem to disappear in thin air.
How can we use so much?!
And why does no one ever say if we're running low?!
We're not THAT unorganised
Even if we do forget to keep spare few rolls in the bathroom, we've quite lucky as there's a CostCutter just around the corner and we head there quite often.
Some of the stuff can be on the expensive side but they sell 12 rolls of Nicky loo roll for just £3 – bargain hey?
We do know which products will likely to run out quicker than others and will check before a shop to see if we need to add them to our list.
Same goes when we head out for a top up shop; we will try to do a quick check to make sure we're not out so another run to the shop is needed.
Do you need Amazon Dash Button?
Well, even if you are super busy and forgetful Dash Button might not be really needed.
While the tech lover inside me wants to embrace new technology, I'm wondering if using it will get people to spend more money?

We managed fine before it and we'll manage fine without it. However, maybe that's what they said about sliced bread?
The thing is, Amazon do have a massive range of deals and if you prefer to buy branded items then you could very well be making a saving versus the supermarket.
We asked members of the Reduce Your Supermarket Spend community what they think of Dash Button.
Branded products
When I look at it, I'm seeing things from more of a frugal and cost saving point of view.
While many people refuse to buy anything other than store own brand, many Skint Dad readers I've spoken to refuse to brand down on some products; mostly coffee, toilet roll and cola.
However, they still don't want to pay full price and will always bulk buy when it's on offer to make sure they get the best overall price.
Chrissie wasn't a fan of the Dash Button and would not be buying one. "It's possibly the most lazy thing I have ever seen! I also prefer to shop around and have no loyalty to certain places but loyalty to myself and saving money!" Chrissie is also worried about what Amazon will do with future prices. "They will probably put up the price of popular products that use this device."
Help with day to day living
If nipping out to the shop each time you run out is too much then some think it may be a good idea.
One member of the community who was very happy with this new bit of kit was Bryce. "This is gonna be a lifesaver! As someone who has autism and dyslexia I am 100% going to get this because this is going to be extremely useful for people with disabilities and help with their independent living."
Bryce also predicts more possibilities in the future. "I can see other rivals creating similar devices which will allow you to create your own buttons and link it though your mobile via bluetooth instead."
However, Jo who is disabled wasn't as much on a fan and won't be using it. "The prices fluctuate so rapidly every month on Amazon that I can guarantee there will be times you will get overcharged, doesn't make it frugal in my opinion."
Mandy is a student and Amazon Prime member (try a free Amazon Prime trial). "An unexpected health condition means I can't just pop to the shop so one day delivery is very helpful.
"This may be good for some disabilities or elderly, and maybe even businesses but probably not the majority."
Are you forgetful?
If you find yourself running out of items quite often, what could you do instead of getting a Dash Button?
Hazel isn't planning to buy an Amazon Dash. "If thing start to run low or are needed we write it on blackboard I have on kitchen wall, then if I going shopping I take a picture and that's my shopping list."
Do you need the products so quickly?
It's great that with Prime membership (try Prime for free) the items you reorder can be delivered the next day. However, some of the products you can pair with the Dash Button may not be considered something that you need straight way.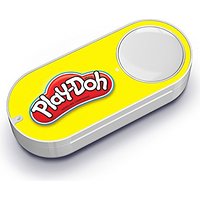 Some of my favourite Buttons are Play-Doh, Nerf (the blasters with bullets!), Wunderbrow and Durex.
Sure if you're out of washing powder then next day delivery would come in useful but do you really need Play-Doh that quick?
I don't think you have to pair the item you want to the design of the Button – but if you didn't then it would just get confusing!
So what do you think? Will it make things more organised in your house or do you think you can go on without?
---
Read next: You need Amazon Prime to access a lot of services. Is it worth it? Take a look at our Amazon Prime review.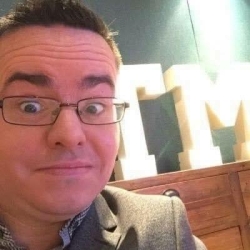 Latest posts by Ricky Willis
(see all)