Earn money every month by taking photos of non-Amazon receipts and taking short surveys with the Amazon Shopper Panel app.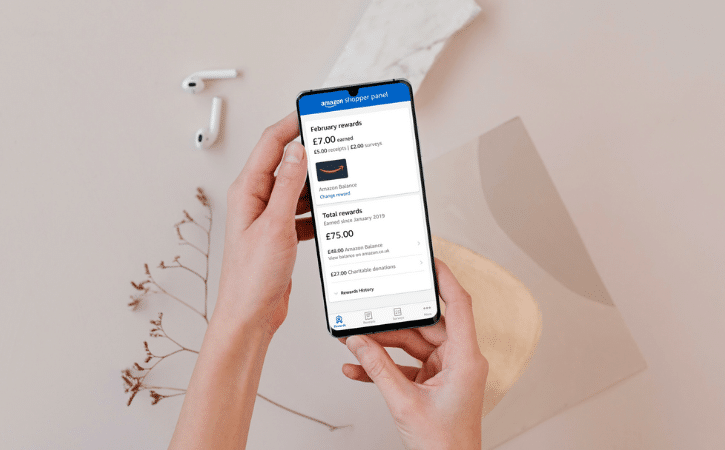 £10 BONUS OFFER: Earn easy cash by watching videos, playing games, and entering surveys.

Get a £10 sign up bonus when you join today.

Join Swagbucks here >>
Similar to other apps where you can scan receipts for money, with the Amazon Shopper Panel app, you earn monthly rewards for sharing receipts.
One of the best things about this app versus others is getting a monthly reward instead of waiting a few months to tot up enough credit!
Plus, even if you're not an Amazon shopper, this will work for you as it accepts purchases made in store and online from non-Amazon retailers.
Here's everything you need to know about the app and how you can get started.
How Amazon Shopper Panel works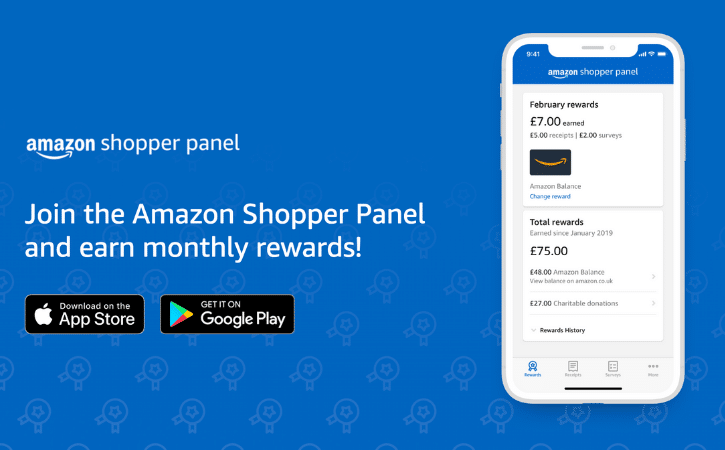 The app is super simple to use.
After shopping, click Receipt from the bottom of the menu.
Then, click on Upload Receipt and you can either take a photo from within the app or upload a photo you've already taken.
They say it can take around 6 hours to process a receipt, but ours seem to be approved in less than 5 minutes.
Once you've uploaded 10 receipts in a month, you are eligible for a £5 reward – and that's it!
You can use eligible receipts from retailers other than Amazon.
If you are uploading receipts from an online shop, you can forward the email from your purchase to receipts@panel.amazon.co.uk from the email registered on your Amazon Shopper account.
On top of receipts, you can complete short and snappy surveys to earn extra. One I did lasted around 15 seconds and earned me 25p.
What types of receipts are eligible for rewards?
They accept all sorts of receipts from retailers and entertainment outlets.
You can upload receipts from grocery stores, pharmacies, department stores, restaurants, cinemas, and theme parks.
Receipts need to be less than 30 days old.
You need to share a receipt before 11:59 PM UK time on the last day of a month to be eligible for that month's reward.
The receipt needs to be clear, readable, and show the retailer's name and the date.
For emailed receipts, the receipt must show in the body of the email, and it cannot include attachments.
What stops you from getting a reward
You don't earn any more for sharing more than 10 receipts, and any extras you add are not carried over to the next month.
Anything you buy from Amazon.co.uk and other Amazon stores, including Whole Foods Market and Amazon Fresh, is not eligible and will be rejected.
They also won't accept receipts for gambling, mortgage and rent, transport, school tuition fees or childcare, medical expenses, legal or financial services, handwritten receipts, non-English language receipts, and receipts from outside the UK or duplicate receipts.
How much can you earn?
Each month, you can earn a set £5 every month for uploading 10 receipts.
If you upload more than 10 it won't earn you any more. Also, any over the 10 limit won't roll over to the following month.
Find out more ways to earn a free Amazon gift card.
So, if you have a fair few receipts from wombling, it may be worth holding onto them until the following month and using them within the 30 day eligibility limit.
On top of the receipts earnings, you can top up your rewards by earning more through taking surveys.
They are only short surveys, and the amount you earn for each one will be different.
How to cash out the rewards
When it comes to paying out, you have two choices.
Either, you can opt to receive Amazon credit.
Your earnings will be added as credit to your Amazon Balance each month, and this will be done automatically for you.
So, the next time you check out, your earnings will be automatically applied at checkout.
However, you can choose to save them up and use them later on (perhaps save them for Christmas/birthdays/any other purchase).
Alternatively, you can choose to use your reward towards a charitable donation.
You can choose the charitable organisation you donate to within the app (Alzheimer's Society, British Red Cross, Cancer Research UK, Marie Curie, RSPCA, Save the Children Fund). The selected charity will receive 100% of the donation.
You can choose one reward a month and cannot split where your earnings go.
When will I receive my rewards?
Amazon Shopper sends rewards to your gift card balance once a month.
This is usually within the first two days of a new month.
So, anything you earn in May should be shown in your balance by the 2nd of June.
You'll also get an email to confirm what you've earned.
How can you join?
Getting started with the Amazon Shopper Panel app is not a free for all.
Some customers receive an email invitation to download the app and can go straight ahead in using it.
Don't worry; you can still join the waitlist if you've not had an invitation.
For us, it took less than a month from joining the waitlist to getting invited.
To opt-in, download the app from the App Store or the Google Play Store and register with the same email you use for your Amazon account.
As soon as a space opens up for you, you'll get an email.
What does Amazon do with the receipts?
You essentially share personal information with Amazon each time you upload a receipt.
While the Amazon Shopper Panel app is perfectly safe, they will be able to see how you shop and what you buy.
In terms of what they actually do afterwards:
They use the data from your purchases to combine with data they already hold on your to plan and measure ad campaigns they think you'll be interested in.
Survey result data helps with research for new or existing products, and data from the research can be shared anonymously with third parties (although nothing that relates to you as an individual).
They may use your purchase information to improve the selection of product offers through Amazon and Whole Foods Market, plus content provided through other services like Prime Video.
FAQs
Do you need to have an Amazon account to join their Shopper Panel?
The rewards are credited to your Amazon account as vouchers, so you must have an Amazon Account to join the Amazon Shopper Panel.
How do I join the waitlist?
Download the app and register. You will get an email when a spot opens up.
How many receipts can I add a month?
You can add as many receipts as you want. However, you will only earn the reward for the first 10 receipts you upload.
What if I don't add 10 receipts?
If you don't have 10 receipts to upload in a month, you will not reach the £5 reward threshold. However, you will still cash out for any surveys you've taken in the month.
What if a receipt says it's not eligible?
If a receipt comes

If a scanned receipt comes back as not eligible, and you think it should have been approved, you can request them to review it.

Click the Receipts option from the bottom of the menu, click on the receipt in question from the history and click "Request Review".

They will usually have completed their check within 6 hours.
Can I delete receipts after uploading them?
If, after uploading a receipt, you want to delete it for any reason, it's easy to do.

Find the receipt you want to delete, click the three dots in the top right-hand corner, then choose "Delete receipt".

However, doing this in a current month will mean it will not count towards your 10 receipt count for the month.

If you delete a receipt from a past month where you've already received a reward, it won't impact anything.
How long does Amazon keep the data?
Amazon keeps the data from receipts, answers to survey questions, and images for up to 13 months.

You can view data from your receipts in the app for at least 12 months.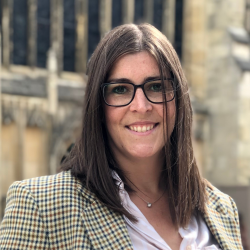 Latest posts by Naomi Willis
(see all)