Finding the right property can be stressful if you don't know where to start, whether renting, letting, or selling.
The good news? The internet has provided us with property websites that can help you find the best property option based on your needs.
£10 BONUS OFFER: Earn easy cash by watching videos, playing games, and entering surveys.

Get a £10 sign up bonus when you join today.

Join Swagbucks here >>
We've gone through the best UK property websites and the best rental websites, then break down what makes each a good option. 
So if you are on the hunt for one of the cheapest places to live in the UK, get ready; let's get house hunting. 

Rightmove was started in 2000 by four corporate agencies and from there it grew from strength to strength, reaching The Financial Times Stock Exchange 100.
It now has a market value of £5 billion, making them one of the most successful property portals in the UK.
Rightmove is one of the best property websites because it boasts over 800,000 property listings, making this the largest company on our list.
This company also has the experience to give you the best advice, so its article and blog section are trustworthy when it comes to getting the correct input before investing in a property.
Plus, as a seller, you can get a good idea of listing prices with listed prices of what other properties have sold for in your area.

OnTheMarket is a property portal that brings you the very best listings in the UK and internationally before anyone else in the industry. There are thousands of listings to rent or buy online from the website or convenient app.
All the properties listed are already available with the services of letting or local estate agents, which makes the process a lot easier. You can request a viewing straight from the site, and the agent will be in contact to make a suitable time and date.
You can also set up alerts and be in total control of what properties make their way to you. This can come in super handy if you want to be first in line since UK properties generally go very fast due to the competitive housing market.
Even when you are looking at renting a house with bad credit, these websites can help you find an estate agent to help.

PrimeLocation is one of the top property websites in the UK. It is marketed towards the upper and middle-class housing markets.
The company offers properties to buy and lease and if you're looking to sell or rent, then, PrimeLocation can upload your listing. There are options available within the UK and over 60 overseas destinations, so there are options for everyone, whatever your needs or dream destination.
The site is extremely popular, advertising properties for more than 16,000 letting agents and estate agents across the globe.
People love this company because the website is super easy to navigate; you simply input what you're looking for, where, and your budget. The rest is up to PrimeLocation. The company will provide you with all the info you need to make the best choice and put you in contact with the agent.
Plus, you don't have to worry about your information getting leaked; the privacy policy keeps you safe, so there is no need to stress about every estate agency emailing you with listings.

There are so many things you ask yourself when you're looking for property, and one big one should be, what is the area you're considering like?
In this case, StreetCheck is a wonderful tool to have in your back pocket when you're in the market for property and looking through property portals. It works by collecting information about properties and people all over the UK. It has everything you might want to know about your area.
The service is free, gathering information from various databases like Land Registry data and government websites. Based on your search criteria, you can gain access to everything you need to know about buying or renting in a specific area.
You'll be able to find information like grades, broadband availability, and locality.

Property News should be your first stop if you're moving to or within Northern Ireland. This property site boasts thousands of properties to rent or buy throughout the area.
All listings have updated photos and information, so you know exactly what to expect when viewing with estate agents. The options are endless: new homes, commercial property, rental properties, resale homes, student properties, and land.
There are also various styles and types available with Property News, so if you know what you're looking for, this site quickly provides you with details of likely properties you'd be interested in.

Founded in 2000, Gumtree has become a go-to for many households. What started as two friends wanting to help people find everything they need when moving to a city has turned into one of the largest online classifieds in the world.
Gumtree is the largest classifieds in the UK and has become a staple of the property portals for those looking for a place to live. While some may think it's a little outdated, you'll find everything you could possibly need on this site, including a house, furniture, car, and perhaps a job too.
So, if you're looking for a new start or simply want a change of scenery, Gumtree has you covered.

CrowdToLive works a little differently from other average property websites. It works by helping those that need funds (Champions) for a project to reach out for crowdfunding. Investors then join the venture, and they purchase the property together.
The Champions then pay rent to investors for the piece they don't own. So basically, the investors make money from the rent received.
Champions benefit by not putting down the total amount for a property. But the whole point is purchasing a property without incurring debt.
It's a little complex but can be a much better option than paying the interest on a mortgage, which can be a serious amount of money.
If you're unsure about investments or where to get started when looking at property websites, you can find great advice on the best way forward for you at CrowdToLive.
Zoopla is one of the best property portals, and it's so popular because it works like a mini search engine. You input all the information about what you're looking for, and it will find you the perfect space.
It also has comprehensive pricing estimates to determine if you're making the right choice. Zoopla advertises itself as more of a partner; it understands your needs aren't always for monetary gain but also to ensure you live your life to the fullest in your space.
Two aspects make the site attractive. Firstly, you can draw on a live map, indicating where you'd prefer your property to be.
Secondly, it boasts a travel feature where you can dictate how much time you want to travel each day and the site will give you property options within that range.
What sets this site apart from other property websites is that there's an app available to help you stay connected while you're on the go. This can be a particularly helpful feature for viewing days.
And even more conveniently, Zoopla can put you in contact with estate agents in your area, whether you're buying or selling.
You can also look at pricing fluctuations in the area you're interested in. And remember to take advantage of the free valuation tool to help you see how much your property might be worth.
It's everything you need from property websites; all rolled into one.

Trovit is a type of property search engine that gathers classifieds from all over the web and directs you to the best ones.
You can easily read and go through all the classifieds to see which ones you want to explore more, rather than going through and having to click each one on regular property websites, which can take up a lot of time.
Impressively, the service is available in 58 countries and can translate 22 languages. With so much information available, fortunately, you can filter your search to make it very specific and sign up for alerts so you know when something new comes on the market that fits your requirements.
Plus, there's a handy app; it doesn't get more convenient than that when it comes to finding a property.

If you have always dreamed of living by the water, Waterside Properties is one of the best property portals for you.
The company has over 30 years of experience in the waterside property market within the UK, so they really know what they're doing.
This website has everything you need to find your perfect waterfront property and has thousands of listings to choose from based on location, price, and personal needs.
Waterside Properties also gives you access to properties in other countries too. So, if you're looking for that retirement investment in a prime location, you're in for a treat.
Whether you're looking for a coastal property in a marina, seaside, or riverside, you'll be able to find your perfect property with Waterside Properties.
Plus, the website has a section for used boats for you to rent or buy, which is super convenient for all your water activity needs.

Nestoria is a property search engine that provides you with the perfect property details based on your needs.
You can filter the database and find properties that work for you. The whole process is quick and easy – two words you typically don't readily use to describe finding a place to live!
Filters include location, property type, and how old or new the property is.
Nestoria is the fifth largest property portal in the UK, and for a good reason. The company pulls together all the best listings across the web that fit your criteria and sends them straight to you, whether you're renting or buying.

If you've always wanted to invest in UK property but haven't found the right one in a prime location, then Property Venture is your go-to.
The website works with the country's top investors and property professionals to help you make the best investment decisions. You'll have access to property developers and investors looking to embark on a joint venture. All are available to help you find the perfect investment opportunity.
The great thing about Property Venture is that the company works to fulfil your needs; it is a consultation service. And you don't need to worry about getting pushed into something you aren't looking for, which is often the case when it comes to investment.

Nethouseprices' online journey began in 1994, but the company has been making record property sales since 1995. The service is all about remaining transparent and making things fair and equal for both sellers and buyers.
One of the best features is that you can look at historical values, ensuring that you're getting the right price for the area based on previous sales and rentals.
Plus, there are online valuations to help you check that you are selling your house for a fair price. Aiming too high or too low will affect your property's scalability, regardless if it's in a prime location.
On the other side of the equation, buying a house for the first time can be stressful, but it doesn't need to be. Nethouseprices offers advice on where to start, giving in your first offer, and everything in between.
The service updates its information constantly, so you get the most up-to-date prices. Plus, the property news portal on the website offers fantastic advice on buying property in the UK based on current trends.
The online forum is also extremely valuable, with people in the industry giving advice and suggestions.

Founded in 2004, HomesGoFast is one of the best property websites in the UK. It offers house sales in Greece, Italy, Bulgaria, Spain, Florida, and Thailand.
That's not all; there are properties available worldwide, including all across the US, Dubai, and 48 other countries. The scope is huge!
It's the perfect choice for those in the property market looking for a home abroad. There are multiple options, including new developments, investment properties owned by the bank, or cheap investment properties.
The convenient keyword search helps keep things simple, and you can use it to select the type of property listings you're looking for as well as the destination.
You can also find properties in the UK. So, whether you're looking for a new home, a retirement investment, or a holiday home, HomesGoFast has an option for you.
Plus, if you're looking to sell, property owners can list their properties with ease.

Mitula is a search engine that takes various properties from across the web and displays them conveniently in one place for you to make the best property choice for your needs.
The service is available in more than 45 countries and 18 languages. The 170 property websites the engine uses to find properties give you the top listings that these websites have to offer.
You can easily break down your search by property types, areas, and estate agents. Plus, the website doesn't only offer properties; you can also look for a job or car.
And, once you've sorted out where you want to live, use this address changes checklist so you don't forget who to tell you've moved.
FAQ
Which UK property website is the best?
This is based on your needs, but the best overall and with the most tools to help you out is Zoopla. It has a mapping tool to help you find the best space in a particular area. It is a good option for renting or buying properties in the UK.
What are the best property websites to look for property in the UK?
Property search engines are an excellent way to go, and most will offer you comprehensive results. These sites use the information you provide to find properties that meet all your needs. They work by collecting all the relevant properties across the web and giving them to you in one easy place.
Any of the sites listed above are a great place to start looking – just choose the one that most suits your needs.
Is using property websites a good option for finding a property?
Absolutely, looking at properties online allows you to see real-life photos of the property with up-to-date information that you'll want to know before going for a viewing. Websites also allow you to filter your search to prevent getting bombarded with unwanted properties.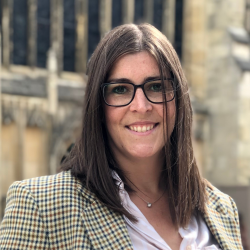 Latest posts by Naomi Willis
(see all)