You've finally got a move date confirmed!
Your first thoughts will turn to find boxes and packing, but you also need to remember to tell many people about your address change.
So you can spend more time enjoying your new home, we've created a list of everyone you need to contact with your address change, with a free printable checklist.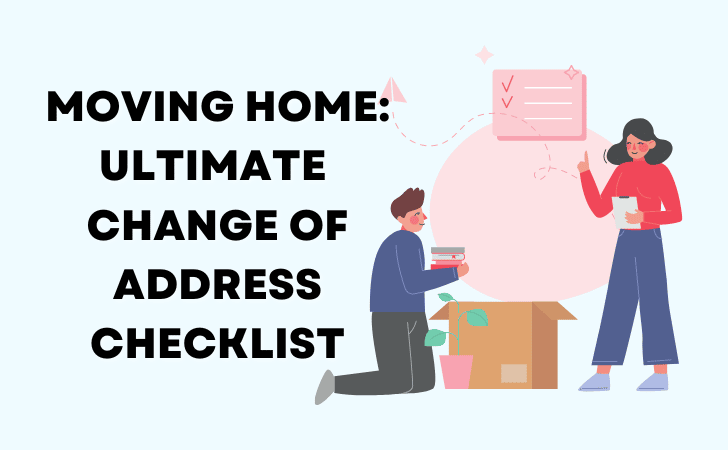 £10 BONUS OFFER: Earn easy cash by watching videos, playing games, and entering surveys.

Get a £10 sign up bonus when you join today.

Join Swagbucks here >>
Scroll down for a free printable address changes checklist.
Personal
Family and friends – letting those nearest to you will be at the top of the list.
Employer – tell your HR team know that you are moving. You may also consider booking a day of annual leave for the move.
Accountant – if you have an accountant, give them your updated address and phone number.
Solicitor – if you have bought a house, your solicitor will already know. If you have a solicitor for another reason, or you're renting, you can email with your new details.
Utilities
Gas – you will need to take a meter reading on the day of your move (and your old and new home). Contact them before, so they are aware, and contact them after the move with the final reading so they can issue your last bill.
Electric – in the same way as your gas company (you may well have the same utility provider, take a reading and let the company know your final reading. This prevents you from being overbilled.
Water – you may pay two companies for water – fresh and sewerage. Your water company usually has an online form you can complete before your move.
Government
Council tax – you need to get in touch with your local authority to let them know when you are moving and where you are moving to. Your council will have a form online.
Electoral roll – you can use the Register to Vote service to update your address. This is good for your credit report.
Benefits – whether you receive Universal Credit, Pension Credit, Disability Benefit, Job Centre Plus or others, you can find the details here of how to report a change in your circumstances.
HMRC – let HMRC know via your Government Gateway account that you've moved. This will update your address for Income Tax, National Insurance, State Pension, tax credits and Child Benefits.
Personal finances
High street bank/building society – it's important your bank knows where you live and that any important letters get to you, even if you have it set up for digital mail, some letters come in the post. When you make payments, the card address needs to be added, which is why it's worth changing addresses as soon as possible. You can either do it in a branch, online or via their internet banking.
Banking apps – don't forget about any fintech/challenger banks you hold accounts with. The same applies to high street accounts.
Savings account / Child Trust Fund – Do you hold any savings accounts away from your main account? If you have children, you may have misplaced their Child Trust Fund details in the past, but they are easy to find.
Investments – Update providers of any investment accounts you own – from ISAs to general investments, they'll want to keep track of your new address.
Premium Bonds – don't forget to log in and update your NS&I savings account – I hope you win!
Pension – although you might not need it for a long time, be sure to update your address with any work or private pensions you hold. They send out annual statements, which you won't want to miss.
Credit cards/loans – ensure you change your address with any credit card providers, loans, hire purchase or store cards you have (even if you have a zero balance). Having your up to date details can help prevent ID fraud.
Debt collection agencies – if you have any debts passed to an agency or are paying off a CCJ or IVA, be sure to let the company know that you've moved.
Credit referencing agencies – Experian, Equifax, Credit Karma – whichever credit referencing agencies you are using, make sure that they have your current details as well. You can then track your full credit report accurately to help prevent any fraud.
Insurance
There are lots of different kinds of insurance. You may need to change addresses with the following:
Vehicle
Property
Health
Life
Travel (although you won't need to change details for your EHIC)
Pet
Business
Credit insurance
Income protection
Critical illness
Gadget insurance
Household services
Mobile phone – you can update your details online.
Landline – you'll need to give your landline telephone provider enough notice so they can disconnect your line. They will likely want to set you up with the same services at your new address. You may be tied into a contract, so have to.
Broadband – your broadband provider is likely to be the same as your landline. If not, give them plenty of notice for your move.
TV licence – log in to the TV Licence website and update your address. Your current licence will be moved over as soon as you move. However, you can notify them up to three months in advance. You need to have a licence if you watch any live TV across any channel or if you watch BBC iPlayer. If you don't it could be one bill to cancel.
TV subscriptions and streaming services – if you have paid TV services, you will need to let the company know in advance of your move and potentially need to book a new install. For any streaming services, such as Netflix or NOW, you will need to update your address online for billing purposes.
Cleaners – let any regular general cleaning and window cleaners know you're moving.
Gardener – if you pay for gardening services, make sure they know when you're leaving, so they don't turn up after you've gone.
Milk delivery – update your new address with your milk delivery service. They can remove you from their round. Hopefully, your new address has a similar service offered locally.
Motoring
DVLA – get a new driving licence with your updated address from the DVLA. It's free to do and avoid you getting a fine.
Logbook – the V5C vehicle registration form needs to have your current address and name. You can either send the form off or use the online form, which is open from 7 AM to 8 PM daily. Again, you can be fined if this isn't up to date.
Car insurance – you need to let your provider know that you've moved and update them on how you will be keeping your car (in a garage, on the road etc). This can affect your insurance premiums, but it might mean you get a refund. Sometimes you need to pay an admin fee!
Breakdown cover – let your breakdown company know where you've moved to. This is particularly important if you have home start cover.
Car finance – if you have finance on your car, let the provider know.
Education
Nurseries, schools, colleges, universities – drop an email to you or your child's provider and let them know when and where you're moving to.
Online or distance learning providers – if you are undertaking any additional education, it's also worth letting them know, as they will likely send a certificate or qualification when you complete your studies.
Student loan – if you're taken out student finance in the past, you can update your address with them here.
Health
Doctor – give your GP a call later in the day and let them know you've moved. They might ask you to find a new practice if you've moved out of their area and they are oversubscribed.
Dentist – it's helpful to drop them a line and let them know you've moved.
Opticians – your optician's office likely writes once a year or two to remind you to book a new appointment, so let them know you've moved, and the letter won't get lost.
Blood Service – let the NHS Blood Donation team know you've moved. You can do this via your account online or by using their app. This can ensure they contact you and show you appointments best suited to when you are now living.
Pets
Vet – get in touch with your pet's veterinarian with your new details.
Microchip – if your pet goes missing, you want to be rest assured that you'll be reunited quickly. Update your address for the microchip.
Pet insurance provider – as with other insurance, ensure they have your most up to date address and phone number.
Shopping
Supermarket online delivery – it may be that you hold off changing details until you need to get an order in. However, it might be worthwhile booking a delivery before you move so you know you'll have a full fridge on the first night.
Favourite retailers – again, it's not overly urgent, but you don't want to forget to change your address with any online shops. You wouldn't want deliveries going astray!
Loyalty cards – be sure to update your Clubcard, Nectar, Advantage Card and any other reward cards you use.
Hobbies and entertainment
Library – if you are moving out of an area, you may need to shut down your account and start up one in your new county. While you may not visit too often, membership is well worth it for the free eBooks and audiobooks
Gym – update your gym with your new address.
Clubs – are your kids in any clubs in the evenings or at weekends? You need to let them know you've moved and make sure they have a suitable contact number.
Newsagent – if you have a newspaper or magazine delivered regularly, be sure to let your newsagent know your address change.
Professional memberships – do you pay for a membership for work? Get in touch with them, as you will likely get magazines sent out.
Subscription boxes – veg boxes, wine, coffee, flowers? Do you have any regular subscription boxes in the post? Be sure to update your address with any of these companies.
Pick My Postcode or other lotteries – if your postcode is linked to any lotteries like the free Pick My Postcode draw, you can update your address when you move.
Download a free printable change of address checklist here.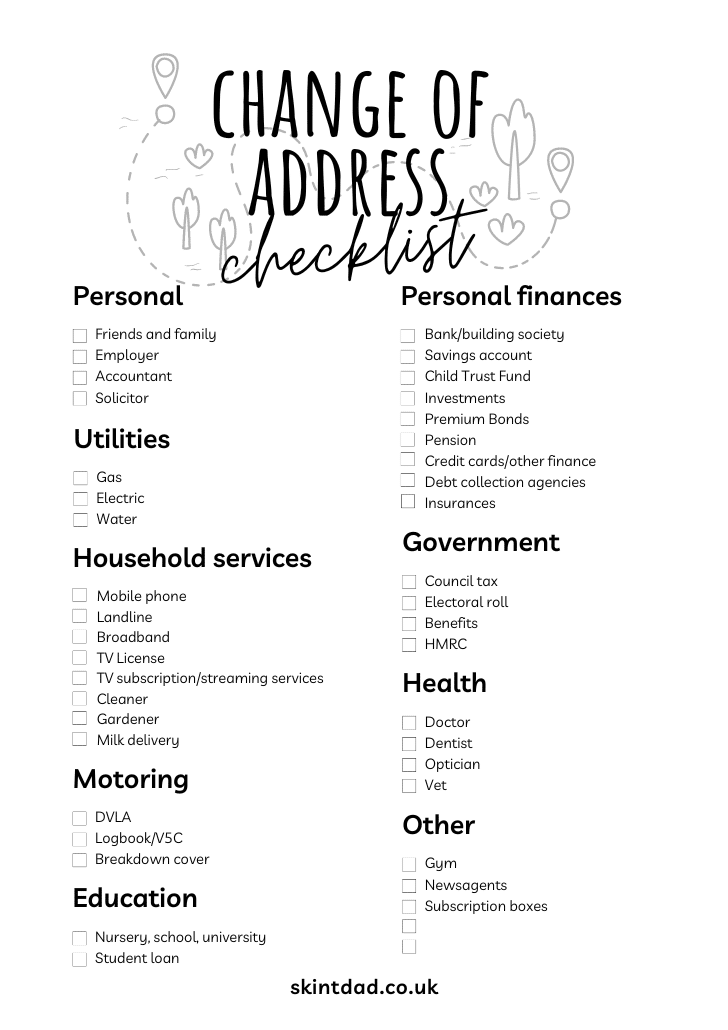 ---
Hopefully, this has you covered, but as everyone has different circumstances, there could be something on the address changes list that isn't there for you.
Perhaps there is a favourite holiday magazine you get once a year?
Or maybe you entered a competition, and they write to tell you that you've won – after you move.
Just in case, it doesn't hurt to set up a mail redirection for a set period so anything that slips by can be picked up.
Perhaps you're not even moving yet, or you're struggling to rent a house with bad credit, or maybe you're just looking for inspiration. In which case, take a look a the best UK property websites to find your next home and check out the cheapest places to live in the UK.
We hope you have a happy life in your new home and that unpacking isn't too difficult!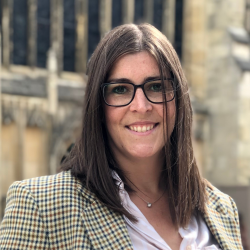 Latest posts by Naomi Willis
(see all)